The 49th edition of the Angoulême International Comics Festival will take place on January 27th-30th, 2022. One of the world's largest and most prominent comics festivals, Angoulême is also known for its prestigious awards, and we are extremely happy to announce that 10 books from our catalog have been nominated across all categories. Scroll down to start binge-reading them!
By Juanjo Guarnido and Juan Díaz Canales
Nominated for the Grand Prix
Everyone's favorite cat detective is back, and yes, we mean John Blacksad. This time, he's on a particularly thorny case, as he's responsible for protecting the president of a mafia-infiltrated union. This new four-volume story of the bestselling series takes us from soaring heights to terrifying depths as Blacksad navigates from the lofty world of New York theatre to the seedy nether regions of the city, where the criminal classes ply their questionable trades. Towering above them all is the figure of Solomon, a construction magnate well on his way to rebuilding the five boroughs, come hell or high water.
Print release by Dark Horse Comics, summer 2022.
Nominated for the Grand Prix
In part two of this autobiographical tale, Florence has left her childhood behind and is crashing headlong into the awkwardness and pain of adolescence. Her body is changing, but she is still just as cruelly clueless about it as she ever has been. And now, The Thing—the one you're not supposed to talk about—is starting to pulse… Florence Dupré la Tour continues her masterpiece of inks and watercolors in this gut-wrenching, hilarious, and ultimately powerful look at what happens when a child is deprived of a proper education: the more they grow up, the smaller the adults around them get.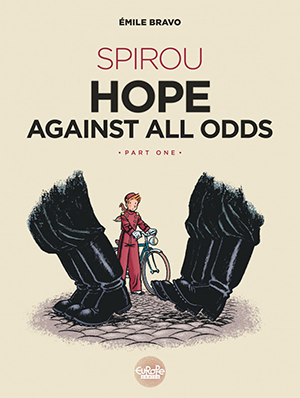 By Émile Bravo
Part 3 is nominated for the Grand Prix
It seemed inevitable that Europe would once again be in the dark clutches of war, and now that conflict has broken out, Spirou must face its horrible reality while staying true to himself. He does his best to maintain his friendship with Fantasio, even as the latter enlists in the Belgian army. And when Spirou meets Felix, a German‐Jewish painter, his eyes are opened to the plight of the Jewish people and the dangerous situation in Europe and beyond. On top of all that, Spirou's girlfriend Kassandra has been lost in the confusion of the war. In the first of four volumes, the orphan bellhop's adventures will take him all across war-torn Belgium, discovering the world as it falls apart around him.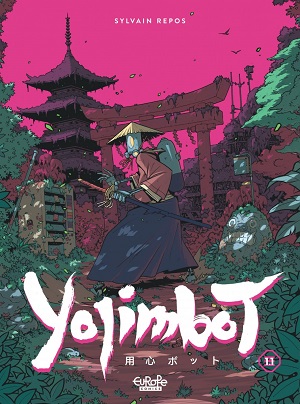 Nominated for the Grand Prix
In a dystopian not-too-distant future in Japan, Hiro lives with his father on an island populated by androids, where they eke out a meager existence while trying to keep out of sight. But when they run afoul of a troop of high-tech military thugs, Hiro's dad sacrifices himself to save his son, turning Hiro's already-bleak world upside-down. He is then rescued by a samurai robot called a "yojimbot," and together they seek to avenge his father's death and make contact with a mysterious associate known only as the "rights holder," before the soldiers and their drones close in…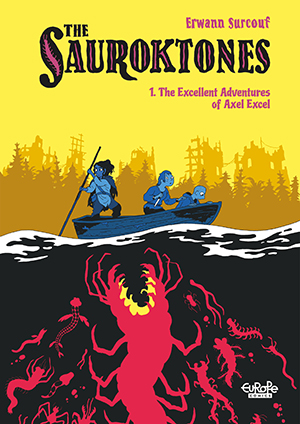 Cycle 2 is nominated for the Young Adult Prize
In the near future, the Earth has become a very different place. An unknown disaster has upended our way of life: cars sit rusting where they stopped, cities have been reduced to no man's lands, and invertebrates have mutated into giant, deadly beasts. Faced with the threat of these roaming monsters, humanity's hopes lie with the Sauroktones, small bands of warriors who risk their lives to fight these creatures. Amid it all, three youths are thrown together by circumstance, and will go to great lengths to stay united, help each other, and make their way through the strange, futuro-medieval landscape of a ravaged world.
Nominated for the Eco-Award
Jean-Louis Payet is a man on the run. Reeling from a breakup, he changes his name and heads south from his home on Réunion Island. Way south: the remote Kerguelen Islands, an inhospitable archipelago whose scientific bases are civilization's last bastion before the frozen Antarctic wastes. The mere journey, aboard a resupply vessel, will take a month. Payet spends the endless hours feeling diffident and superior, pining for his ex, hating his fellow passengers, and dreaming of a new life. But when he reaches the windswept wilderness of the former Desolation Islands, will he finally come face to face with something he can't run away from?
By Rochebrune, Denis Bajram and Valérie Mangin
Nominated for the Reader's Choice Award (High School)
A small exploratory vessel crashes onto an unknown ocean planet after its crew is seized by a sudden madness. After escaping their sinking ship, the five survivors are helped to the surface by giant squid-like creatures who guide them to what appears to be the planet's only island. To their surprise, they are greeted on the shore by primitive humans, who prove to be welcoming despite their cannibalistic rituals. But their fixed smiles and total docility suggest that something more sinister is going on. Are the castaways doomed to join them in submitting to the will of the mysterious Great One?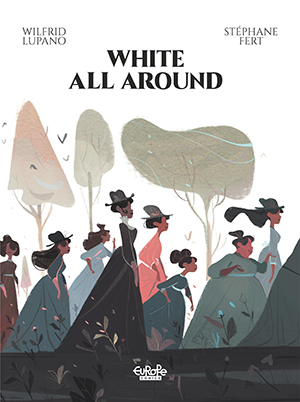 By Stéphane Fert and Wilfrid Lupano
Nominated for the Reader's Choice Award (High School)
Canterbury, Connecticut, 1832: a charming female boarding school has found success among the locals, with two dozen girls enrolled. Some in town question the purpose of educating young girls—but surely there's no harm in trying? At least not until the Prudence Crandall School announces its plans to start accepting black students. Thirty years before the abolition of slavery in the United States, in the so-called "free" North, these students will be met by a wave of hostility that puts the future of the school in question, and their very lives in peril. Even in the land of the free, not all of America's children are welcome.
Nominated for the Reader's Choice Award (Middle School)
School friends during the day, Alex and Julie meet in secret at night to enjoy a little urban exploration. Deserted villas, forgotten clinics, and derelict factories are their favorite playgrounds. But one night, their exploration becomes a nightmare when they come face to face with the ghosts of two young girls in an abandoned mansion. Alex and Julie are certain about one thing: they can see the dead. But what if they're also able to heal the wounds of the past…?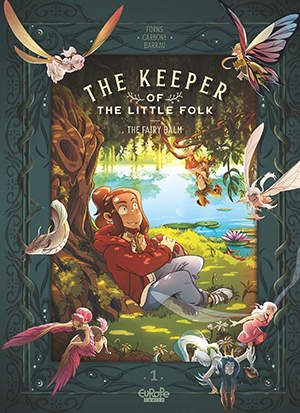 By Charline Forns, Carbone and Véronique Barrau
Nominated for the Reader's Choice Award (Elementary School)
While visiting her in the hospital, Élina discovers that her grandmother is the Keeper of the Little Folk, protecting fairies, nymphs, naiads, and other fantastical creatures! And now, her grandmother is ready to pass her responsibilities on to Élina. It's not a moment too soon—Llyam and Nelvyna, creatures of the Little Folk, have sent up a distress signal, because a naiad has gone missing from Bird Lake. Will Élina be able to figure out how to see the fairy creatures in time to help them in their search?
Cover banner from Yojimbot © Sylvain Repos / Dargaud