To all comics fans who also love sports, here is a reading list of comics series and one shot graphic novels around some of the most popular ones — football, boxing, cycling and car racing.
Adolescence is a terrible time for most people. For Louca, it's especially bad! Generally mediocre, a poor student, awkward with girls… he's a walking disaster. But Louca has decided: starting tomorrow, he's going to change! Still, that's easier said than done… especially when your own mind keeps changing! Luckily, Louca will get a helping hand from a certain fellow named Nathan. Good-looking, amazing at football, funny, smart… this Nathan certainly seems like the perfect guy, and the best coach Louca could possibly hope for. With one little exception: Nathan is a ghost… How did Nathan die? Why can only Louca see him? Will Nathan manage to turn Louca into the kind of guy people want to be with? Will Louca manage both to pass his exams, and to win over Julie, the girl of his dreams?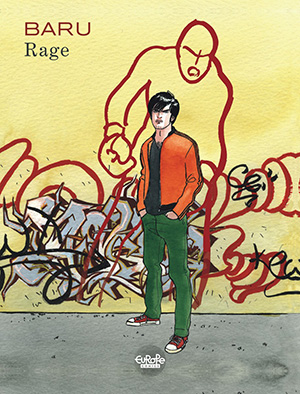 Rage
Anton "Witko" Witkowski didn't pull himself by his bootstraps. He punched his way up out of the projects where he was born, to world renown as middleweight champion. He's larger-than-life, a force of nature. He gets what he wants. He taunts his opponents. He breaks up with women by leaving them a red Corvette. It's his way or the highway. With violent colors, dynamic linework, and unflagging narrative drive, Baru delivers a masterful meditation on pride, loyalty, and manhood in a world where the system's stacked against some people, and all they have is their friends—and their rage.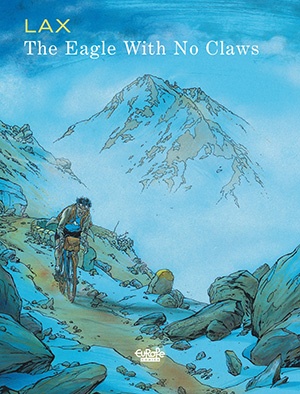 The Eagle With No Claws
1907: In a small town in the Pyrenees, a young soldier regularly climbs one of the tallest peaks to deliver supplies to an observatory. There, he makes a friend whose great passion for the Tour de France pushes ambitious Amédée to take up cycling and dream of winning the Tour himself. But the road to the Tour de France is more challenging and dangerous than he thought, and a terrible accident leaves him handicapped. Still, Amédée remains undaunted and trains even harder, which sets him on the road to cycling stardom… until war breaks out and interrupts his plans yet again. An inspiring tale of courage and human achievement, set against the fascinating backdrop of one of the world's most grueling tests of endurance.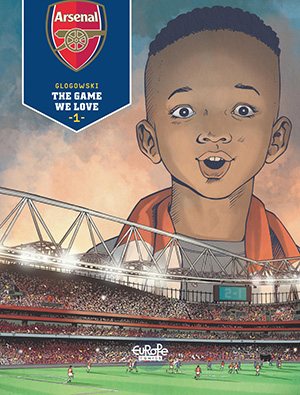 Arsenal FC
Andrew, 35 years old, decides to take his new girlfriend's 10-year-old son to see the Gunners play. For Nathan, it's the first time in his life stepping foot inside a football stadium. He should be thrilled—but he can't help wondering about Andrew's motives. If there's one thing that can break the ice and bring the two together, it's Andrew's passion for the Arsenal Football Club and its rich history.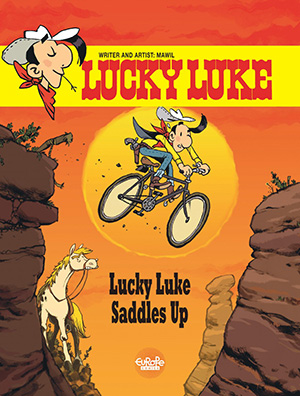 Lucky Luke Saddles Up
"What… a… darn… stupid… contraption!" The 1st Columbia San Francisco Bicycle Race seems like the perfect opportunity for Albert Overman to impress the nation with his revolutionary design. But when a rival manufacturer hires two goons to intercept him, it's up to Lucky Luke to save the day once more. The lonesome cowboy will find himself swapping stirrups for pedals as he heads west in the saddle of Overman's invention. Will he make it to the starting line in time, or will the dawning of the modern age be stopped by ruthless thugs, stubborn hillbillies, and wary Apache? And what will Jolly Jumper think of his cowboy changing steeds?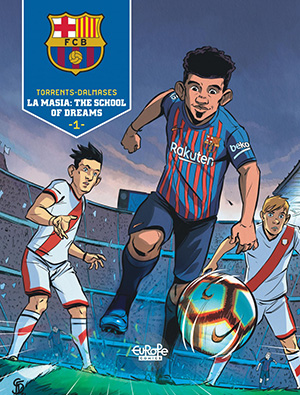 FC Barcelona
Joaquim, a boy from Barcelona, and Manu, whose family is from Guinea, seem to have nothing in common, except for one thing: a passion for football. At age twelve, they both join the FC Barcelona youth team at "La Masia," the club's football academy. But not just anyone can make it with Barça. Together, Joaquim and Manu will face immense challenges as they try to turn their dreams into reality. An adventure of friendship at the heart of a legendary club.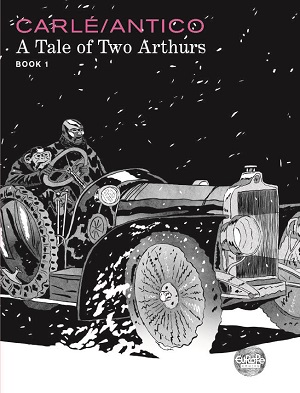 A Tale of Two Arthurs is an impressionistic chronicle of two very different men: Jack Arthur Johnson, the black American boxer, and Arthur Cravan, the white French poet and provocateur. These two men fought an improbable boxing match in Barcelona in 1916 which acts as the pivot point of this double-portrait which is also a kind of mirror: for despite their differences they were both fiercely independent individuals who in their own ways defied the mores of their time with a mixture of bravado, intelligence, and brute strength. Accompanying both men on their journeys is a celebrity chimpanzee named Consul who serves as the uniting thread — as well as the unlikely narrator — of this adventurous and ambitious comic.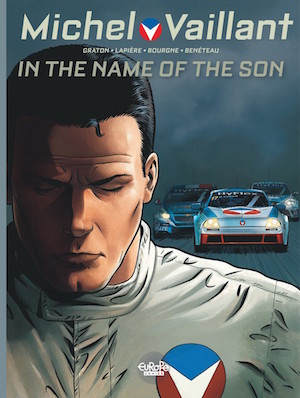 Michel Vaillant
Michel Vaillant is the star of all the biggest international auto racing circuits, and he's revving up for a whole lot more than just a spin around the block. The Vaillant team finds itself up against new technological innovations, as well as some disconcerting changes in the world of auto racing. The fate of the Vaillant dynasty is in the hands of three generations of men and women. The first challenge is to fight their way to the top on the race track, with their sights set on Formula 1. The second is to try to keep the family together, despite increasingly differing points of views. And it will be up to Michel to ensure their success on both fronts.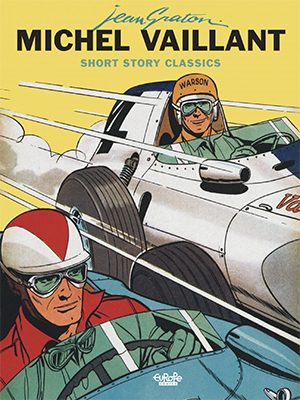 Michel Vaillant: Short Story Classics
In 1957, Jean Graton created the legendary race car driver Michel Vaillant, who was featured in a series of short stories published in Tintin magazine. These stories marked the beginning of a long-running adventure saga that continues to this day. This collection includes seven early stories that brought Vaillant onto the scene and made him what he is today. A fascinating look into the origins of a classic, with a vibrant retro style.
New York. November 1933. Seven years of Prohibition is about to come to an end—seven years of mafia control of the illegal alcohol trade, of high-level corruption … and of the speakeasy, whose clientele enjoy not only liquor, but the Golden Age of Jazz. A world Irish boxer Jack Doyle is reluctantly drawn back to, to settle old scores. But what he thinks will be a simple fight turns into a web of exploitation and double-dealing … and a tangle with the elusive Miss Lena. To get free he will have to use all his native cunning…
This first volume of the Ken Games series gives us a profile of Peter Fermat (aka Rock), a young man who, like each of the three main characters, is leading a double life. His story opens with a boxing match which has a nasty ending for the up-and-coming boxer, despite his victory. It's not long before we discover that Rock is not only striving to make it in the boxing world, but is also something of a mathematical genius, which is how he met his best friend, TJ. For the first time in all their years of friendship, TJ introduces Rock to a girlfriend, the lovely Anne. Anne and Rock soon establish a bond of trust when Rock discovers that Anne too is living a double life, even though Anne's secret is not exactly what she leads Rock to believe. This is just the beginning of the tangled web of lies and deception that gets ever more convoluted as the series goes on…
Cover banner from FC Barcelona © Eduard Torrents & Cesc / Dupuis