From captivating works of fiction to unforgettable memoirs and eye-opening non-fiction, here is a collection of comics and graphic novels every woman should read! The driving force of these inspiring books is the protagonist's journey toward a more fulfilled self! 
On the day of her sixtieth birthday, Josy refuses to blow out the candles on her cake. Her bags are packed. She's come to a decision: she's going to win back her freedom by taking off in her old Volkswagen minibus! Even if it means leaving behind her husband and family. In a state of shock, they all blame her for making such a selfish move. But is it really so selfish to listen to that little voice deep within? Josy soon finds support among new friends who have faced similar scorn and incomprehension from family and society… But will that be enough to stop her from leaving once more? Perhaps a newfound love can help her find her way…
In the aftermath of the murderous attack on the Charlie Hebdo offices on January 7, 2015, cartoonist Catherine Meurisse struggles with the trauma of losing her friends and looks for a way to move forward with her life and her art. She soon enters a dissociative state where she loses her memories, especially those associated with esthetic experiences. This leads her on a quest to seek beauty and lightness in the world around her with the help of guiding lights including Proust, Stendhal, Baudelaire, and two provocative graffiti artists. Throughout the book, Meurisse uses her limber cartooning and dynamic writing to weave a tapestry of raw emotion and philosophical reflection laced with a strain of wry humor.
Penelope is a Belgian physician who works with Doctors Without Borders in war-torn Syria. She returns to Belgium when she can in order to see her husband and daughter, but the transition is hard. Her latest trip home for the holidays proves even tougher than usual, as the coexistence of the two excruciatingly different worlds she inhabits becomes increasingly fraught.
Catherine Meurisse once again draws upon her memories. Her stay in a far-off, strange-yet-familiar land, at the Japanese villa Kujoyama in 2018, provides the artist with another opportunity to pursue her creative quest, this time where the West and Far East meet. In the manner of Lewis Carroll, the young artist lets characters out of legend lead her through pictorial landscapes. Imagination and dialogue are key to penetrating the secrets of this strange territory and discovering why the young explorer finds it so fascinating. This Alice daydreams and wonders, returning every now and then to reality and nature, that dynamic dictator of events and situations. After The Great Outdoors, Catherine Meurisse continues her pursuit of beauty in an unknown land, between mountain and sea, illustrating landscapes that reflect the seasons and the artist's progress. Truly splendid!
"Girls, living in the country will be your chance," her parents tell her. And so Catherine Meurisse spends her childhood outdoors. Construction all around her: an old farmhouse renovated into a home, trees planted, a garden created, dreams cultivated. They dig, they graft, they plant a rosebush "adopted" from Montaigne, a fig tree from Rabelais. They observe the tumult of the outside world: new developments in industrial agriculture, the citification of rural France… With her characteristic humor, Catherine Meurisse has composed a witty poem dedicated to the countryside where her vocation as an artist first took form. The Great Outdoors, like Lightness, her previous album, is a testament to her conviction that nature and art —everything that grows, everything that lives against all opposition— always offer us a chance.
Claire is a thirtysomething neonatal nurse who is becoming increasingly discouraged about her prospects of getting into a long-term relationship and starting a family. She thinks she may have finally met her man in Franck—if not a Prince Charming then at least a friendly and compatible person—but societal pressures and gender norms seem to rear their heads at every turn and Claire begins to wonder if it will ever be possible for her to be happy with another person on her own terms.
Aude Picault's chronicle of everyday romance is full of wit and sympathy but it is also backed up by a bibliography of feminist essays and studies of gender relations, offering a valuable and complicated case study of the challenges facing modern women.
Amalia is on the verge of burnout. Her family life—with her husband, Karim; her 4-year-old daughter, Lili; and her 17-year-old stepdaughter, Nora—is nothing but rushing around, screaming, and doors slamming. At work, they talk about agility, flexibility, and adaptation, but her workload is slipping away from her. As she drives through the countryside, she sees diseased wheat fields and polluted rivers. She can't even listen to the radio without some new story about deadly attacks and a dying climate. Amalia struggles, tries, fails… and eventually, she cracks.
In Florence's childhood, there is a Thing you're not supposed to talk about. It seems like everyone knows about it… except for her. And she can't ask any questions—it's forbidden to speak the word. What happens to children who grow up in prudish isolation, once they hit puberty? Can they ever overcome the shame instilled by a sexless education? In this autobiographical story, Florence Dupré la Tour unveils her childhood in heart-wrenching inks and watercolors: a story of the heavy weight of tradition that forces women to be submissive, and how to resist and escape that fate.
When Clémence, a student and actress struggling with personal issues, sees how miserable her grandmother is in her nursing home, she decides to break her out and take her on a road trip to the coast so she can see her childhood home one last time. But traveling with a senior with Alzheimer's Disease comes with a fair amount of challenges, and the journey is fraught with highs, lows, and near misses. Still, it's a chance for the two women to reconnect, with each other and with themselves, and it's a chance for Clémence to give Grammy the gift of one last thrilling and joyful experience.
This is the story of a girl growing up in the 1990s – a middle-schooler who finds herself lost in the gulf between childhood and adolescence, developing paralyzing fears of failure, school, other people, and her own changing body. Along the way, she becomes obsessed with the Beatles… which might be just what she needs to find her way back to being okay. Yeah yeah yeah!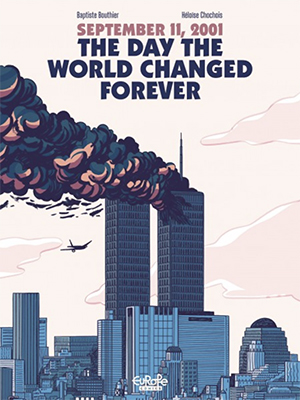 September 11, 2001: The Day the World Changed Forever
What do younger generations know about the terrible tragedy that shook America and the world on September 11, 2001? In this gripping documentary work by journalist Baptiste Bouthier and illustrator Heloïse Chochois, we first learn about the historic day from several inside perspectives. In the second half, the authors take stock of 9/11 in the days, weeks, and years that followed, from tramautized America to George W. Bush's crusade against the "axis of evil." A not-be-missed piece of graphic non-fiction, published 20 years after the events in question.
Jean is a medical student who's about to start her final residency rotation in gynecology. But she'd much rather practice surgery than listen to simpering women moan about their problems all day. Plus, this department is headed by the notorious Dr. Karma, renowned throughout the hospital for his stubborn mindset and unorthodox practices. However, in her first week, Jean begins to realize that Dr. Karma's reputation isn't fully accurate, and, perhaps, the complexities of women's stories are worth listening to and respecting. A modern classic of a revolution in women's medical care, adapted from the bestselling novel by Martin Winckler.
Estelle is a nurse at an assisted living center, where she spends her days caring for the residents, taking part in their card games, and tending to them as the end draws near. But dealing with their unfulfilled dreams and lonely final moments is no easy task. As she gets closer to the residents, Estelle experiences a new, inebriating freedom, but also risks losing herself along the way… A touching, far-reaching tale told from the rarely seen perspective of nursing home caretakers.
What is this "love" everyone talks about? Viola doesn't yet know. But it is a question she is asking herself more and more, because at her age there are some kinds of problems you feel even in the air that you breathe: your self-image and the way you think others see you, the relationship between you and your body and the other gender, couple issues, the freedom to follow your aspirations, and the need to fit in socially accepted categories. On vacation with her parents, during the idle hours of the afternoon while everyone is sleeping, Viola's encounters and experiences will help her grow as a person and get answers to the hard questions that everyone has to face sooner or later, and she will reshape her identity, in a summer she'll never forget.
The FEMEN movement began in Ukraine in 2008. It has since spread throughout the world, as far as Spain, Sweden and Belgium. In France it really began to catch on when Inna Shevchenko arrived in Paris, where she sought asylum after she was deported from Ukraine. She took refuge in the "Lavoir Moderne Parisien" theatre, which has now become the training ground of FEMEN activists in France. This project is a fictional story based on real events and witness testimonies collected by the author, who has been in personal contact with FEMEN France for over 4 years. The aim is to study this social phenomenon and open up debate on the subject without taking sides or pronouncing judgment. The journal follows the story of a young French girl who, after a number of negative experiences connected to her social status as a woman in contemporary society, decides to join the movement. It's not easy, and there will be consequences in her personal and professional life. She soon begins to question herself. A fascinating album that helps us understand the inner workings of the controversial feminist organization.
Going Green: Giving It (Almost) My All for the Planet
From recycling and making your own deodorant to buying second-hand furniture, Maïté Robert brings us a collection of humorous and thought-provoking vignettes about the many steps people can take in their day-to-day activities to live a more planet-friendly, environmentally-aware life… and about how easy it is to postpone such admirable resolutions. Told in the first-person and drawn from the author's personal victories and setbacks in her own efforts to go green.
Eve, Snow White, Karaba the Sorceress, Scheherazade, the Little Mermaid, the Queen of Sheba… From the dawn of mythology to medieval fairytales and today's pop culture, these women characters have filled our childhoods and fueled our imaginations. But do we know their real stories? These ladies of legend have almost always been presented from a male viewpoint. Their stories have been used to fuel negative stereotypes and keep women in their place: in the subordinate, rigid, and caricatured roles of evil temptress, devoted wife, femme fatale, jealous stepmother, or sweet ingenue… But what if the same legends were—finally—told by women?
Rose is not a happy young woman; she is closed off and angry and she hates her job. But her life changes drastically when she inherits her father's bakery in a small town in Brittany. Returning to a place that brought her both joy and grief forces her to confront painful memories of her past and find the courage to open her heart to a new, happier life that awaits her if she will just let it. A story about new beginnings, filled with small town charm, delicious pastries and the warmth of home and friends.
"Tales from behind the Window" is based on memories of an Anatolian grandmother and women she knew who suffered from male dominance over their lives. Writer and illustrator Edanur Kuntman seeks a unique way to express and give voice to women in her grandmother's memories and in our reality who were not able to reconcile their inner emotional depth with their rural worlds in Northern Turkey. One long and two short stories included in this book revolve around terrifying emotional burdens such as forced marriages, being betrayed by patriarchs, and lost love, which have haunted and still haunt many in rural Anatolia.
The Diary of the (Nearly) Zero-Waste Family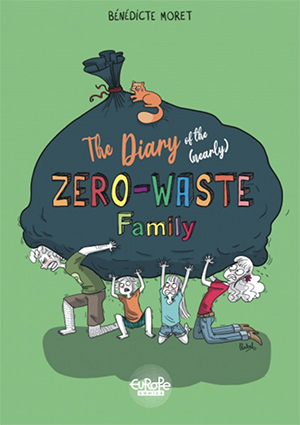 In 2014, a French family of four decided to start living a "zero waste" lifestyle for a year, which made headlines and eventually led to a new career centered on their experience and approach: through downsizing, composting, recycling, eliminating, DIY, buying in bulk, resourcefulness, and rigorous self-discipline, they essentially managed to reduce their yearly household waste down to one small jar of miscellaneous items. This is their story, as told and drawn by the mother herself. Entertaining, educational, and as vitally topical as you can get!
40-year-old Flora has just gone through a bitter divorce after 20 years of marriage. Thankfully, she can count on the support of her friends: Roxane, the cool hippie who loves to garden, Lea, the tireless career woman, and her old neighbor, Venerable. Like her friends, Flora would love to find her soul mate, but it's just not that simple. She has several promising dates, but once the first flush of passion is over, her lovers seem to disappear into the night. Why does this keep happening? Is she not attractive enough? Is she so difficult to be around? Or is she being sabotaged by someone close to her? A story for the divorced (and perpetually single) 40-somethings who just want to take a moment to catch their breath, and maybe even enjoy their singledom, told through the eyes of Flora and her hilarious entourage.
Flavia Antunes grew up in a favela. Her father was a casualty of gang warfare; her mother, a cleaning lady, is all she has left. That is, until she meets Mr. Lima, a wealthy old man who introduces her to her future: the piano. Music will take her far from home, all the way to a prestigious Paris conservatory. Being a foreign student is hard: low-paying jobs, prejudiced landlords, competitive peers. But Paris also has its perks, like love, friendship, and undreamt-of opportunities… Can Flavia find a way to balance the demands of the heart and her demanding art?
Three young women lacking direction struggle with the challenges of life and relationships: Violet has dumped her boyfriend and is finding it hard to move on; Leila has betrayed her best friend and finds herself now ostracized by her social circle; and Helen struggles to find a balance between her personal life and the doctoral thesis taking up all her time and energy. A realistic slice-of-life portrayal of the growing pains of young adulthood.
Header image: Amalia © Aude Picault / Dargaud