You can go anywhere in a book, so go far and beyond through these titles listed below, all of which are clamoring to give you a artistic dose of nature. From humbling snowy mountains and rolling hills to breathtaking seasides and river banks, from golden sand dunes and vast deserts to thick woods, and from mundane and melancholic plains to exotic forests, from the poles to the equator, here is a list of beautiful comics and graphic novels that celebrate the glory of nature!
United States, 1937. In the middle of the Great Depression, 22-year-old photographer John Clark is brought on by the nascent Farm Security Administration to document the calamitous conditions of the Dust Bowl in the central and southern states, in order to bring the farmers' plight to the public eye. When he starts working through his shooting script, however, he finds his subjects to be unreceptive. What good are a couple of photos against relentless and deadly dust storms? The more he shoots, the more John discovers the awful extent of their struggles, coming to question his own role and responsibilities in this tragedy sweeping through the center of the country. A moving and unforgettable tale, inspired by real-life stories of courage and perseverance against all odds.
Canterbury, Connecticut, 1832: a charming female boarding school has found success among the locals, with two dozen girls enrolled. Some in town question the purpose of educating young girls—but surely there's no harm in trying? At least not until the Prudence Crandall School announces its plans to start accepting black students. Thirty years before the abolition of slavery in the United States, in the so-called "free" North, these students will be met by a wave of hostility that puts the future of the school in question, and their very lives in peril. Even in the land of the free, not all of America's children are welcome.
A poetic fable for grown-ups full of wisdom and beauty, by two Belgian masters of graphic storytelling. Out on the high seas lives a whale unlike any other, who spends her days reading stories to all who will listen, taken from the vast library hidden in her belly. When the whale bumps into a sea postman's boat one fateful night, it's the beginning of an extraordinary friendship. But not every story can have a happy ending…
Catherine Meurisse once again draws upon her memories. Her stay in a far-off, strange-yet-familiar land, at the Japanese villa Kujoyama in 2018, provides the artist with another opportunity to pursue her creative quest, this time where the West and Far East meet. In the manner of Lewis Carroll, the young artist lets characters out of legend lead her through pictorial landscapes. Imagination and dialogue are key to penetrating the secrets of this strange territory and discovering why the young explorer finds it so fascinating. This Alice daydreams and wonders, returning every now and then to reality and nature, that dynamic dictator of events and situations. After The Great Outdoors, Catherine Meurisse continues her pursuit of beauty in an unknown land, between mountain and sea, illustrating landscapes that reflect the seasons and the artist's progress. Truly splendid!
"Girls, living in the country will be your chance," her parents tell her. And so Catherine Meurisse spends her childhood outdoors. Construction all around her: an old farmhouse renovated into a home, trees planted, a garden created, dreams cultivated. They dig, they graft, they plant a rosebush "adopted" from Montaigne, a fig tree from Rabelais. They observe the tumult of the outside world: new developments in industrial agriculture, the citification of rural France… With her characteristic humor, Catherine Meurisse has composed a witty poem dedicated to the countryside where her vocation as an artist first took form. The Great Outdoors, like Lightness, her previous album, is a testament to her conviction that nature and art —everything that grows, everything that lives against all opposition— always offer us a chance.
1906. William is ten years old when his family leaves London for Barellito, a small Italian fishing village. The quiet of the village will not last long, however, thanks to the ripples created by the arrival of William and his family. His own life, too, is about to be upturned, in this remarkable and wondrous new land where he will find new southern landscapes, a new kind of liberty, and above all new friends: Paolo, Nino, and the charming Lisa, united forever by an extraordinary event and a strange object…
An exiled princess, a knight and his young companion travel across a kingdom in turmoil to rally support so the princess can reclaim her throne. On a journey fraught with danger, they briefly find sanctuary in an isolated community of woman warriors before departing for the city of Ohman. Not only is a mysterious treasure said to be hidden there, but a peasant uprising, inspired by a mythical text about equality, is in full, bloody swing. In the first volume of this sweeping graphic novel, each person's convictions will be put to the test.
"Ivory Pearl" is the final work by the French master of noir fiction, Jean-Patrick Manchette. But this wide-reaching geopolitical thriller, blending action and adventure, was only known to readers in its unfinished form, as written by Manchette before his passing in 1995. Now, using his father's notes, Doug Headline has finally put together the full tale, alongside artist Max Cabanes. Together, they have brought Ivory Pearl to vivid life in a graphic novel not to be missed.
1907: In a small town in the Pyrenees, a young soldier regularly climbs one of the tallest peaks to deliver supplies to an observatory. There, he makes a friend whose great passion for the Tour de France pushes ambitious Amédée to take up cycling and dream of winning the Tour himself. But the road to the Tour de France is more challenging and dangerous than he thought, and a terrible accident leaves him handicapped. Still, Amédée remains undaunted and trains even harder, which sets him on the road to cycling stardom… until war breaks out and interrupts his plans yet again. An inspiring tale of courage and human achievement, set against the fascinating backdrop of one of the world's most grueling tests of endurance.
No one thought he'd ever dare to return. In this African country where the dictatorship has banned all forms of cultural expression, the storyteller named Once-Upon-A-Time has already had a brush with death. For refusing to stop performing his puppet shows, he lost both his hands, severed at the wrist with the slash of a machete. Now he's back, ready to begin performing again, and ready to take on the powers that be…
1937: An island somewhere in the middle of the ocean, which Count Zaroff has chosen as his new hunting ground. He's tired of hunting the usual game — animals are far too easy to kill. He has set himself the supreme challenge: a prey that is both dangerous and unpredictable, in fact the only prey worth hunting — people. But when the Count brings down a Mafia boss, the "family" lands on the island looking for revenge. Suddenly, the roles are reversed and the Count finds himself being hunted. To make matters worse, the Mafiosi have kidnapped the Count's sister and her children and brought them to the island. If Zaroff doesn't find them soon, they'll all be killed. And he'll be next.
Arizona, 1948. Novelist François Combe has taken up residence with his wife, his son, and his mistress in the strange no man's land of the Santa Cruz Valley. His imagination is sparked by the surrounding desert, its ghost towns, and other vestiges of the pioneer past. The present, too, draws him in, especially in the border town of Nogales, where luxury and lust come together against a backdrop of misery and servitude… and where games of the flesh are paid for in blood. Sometimes the grass isn't always greener on the other side of the border.
1920s Nairobi. When two Africans are found gruesomely murdered, all signs point to John Wallace, a promising young plantation owner with a bright future ahead of him and a beautiful bride-to-be. What drove him to kill these men? His silence and a corrupt system lead to internment, without a trial, in a vicious Kenyan prison camp. But sadistic guards, conspiring cellmates, and harsh desert labor are no match for the suffering that Wallace feels inside over the life he lost, and how best to get it back. He's willing to do anything for revenge—even loose the mysterious beast lurking within…
Extinctions: Twilight of the Species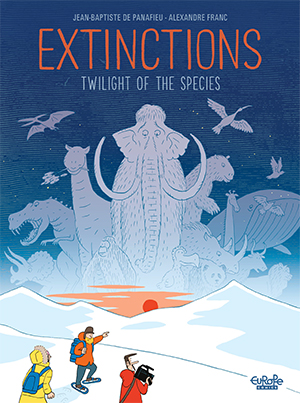 Two journalists travel to an island in the Arctic Circle where scientists are searching for fossils of extinct animals. Like all journalists, they have a lot of questions: how is it possible for an entire species to completely disappear? Word has it that we're in the midst of a sixth mass extinction, but what exactly does that mean? How did the first five happen? What is the scientific definition of an extinction? Alexandre Franc adeptly illustrates the narrative by Jean-Baptiste de Panafieu, a specialist in natural sciences and doctor of biological oceanology. Panafieu, who has already authored a number of popular science books, gives a clear explanation of what mass extinctions are, cleverly comparing past extinctions with the one we are witnessing now. The two authors present us with a clear, intelligent, and lighthearted perspective on a fascinating phenomenon.
Jean-Louis Payet is a man on the run. Reeling from a breakup, he changes his name and heads south from his home on Réunion Island. Way south: the remote Kerguelen Islands, an inhospitable archipelago whose scientific bases are civilization's last bastion before the frozen Antarctic wastes. The mere journey, aboard a resupply vessel, will take a month. Payet spends the endless hours feeling diffident and superior, pining for his ex, hating his fellow passengers, and dreaming of a new life. But when he reaches the windswept wilderness of the former Desolation Islands, will he finally come face to face with something he can't run away from?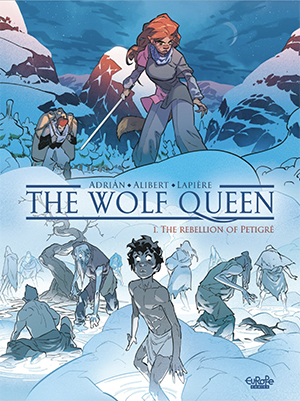 In a distant time when summer and winter alternate as quickly as night and day, giant insects have replaced most other lifeforms. Wolves have become civilized and switch their gender at every moon. Egg-laying women rule over men. And the half-wizard Tometeu tribe ride around on small caterpillars and beetles.
Amongst this throng are Petrigré, Rum, Angus, and JJJ: heroes in search of love, identity, dreams, freedom, and also a treasure hidden in the heart of the icy mountains…
Will they find it? What will be? Gold and silver? Supreme power? An unstoppable weapon of destruction? And what consequences will it have for all the tribes teetering on the brink of war?
USA, 1970. Joe is driving his camper in the wide open spaces of the Wild West. He makes several acquaintances along the way: a small coyote, to start with, but also local thugs, F.B.I. agents, a U.S. Marshal, old friends who seem to be more or less trustworthy… But who is this good ol' Joe? Those who cross his path tend to see their life expectancy dangerously decrease…
At the turn of the 20th century, society is in tumult. Anarchist groups have turned from political terrorism to nonviolent revolution, seeking to escape the world's injustice by returning to nature. Against this backdrop of upheaval, Fortuné Henry travels alone to a remote clearing on the edge of the vast Ardennes Forest, there to found his own colony: L'Essai. Many will join him. Some will leave. Others will stay. In colors by turns muted and vibrant, but always sensitively attuned to the setting and character, Nicolas Debon breathes life into the true story of a short-lived utopia.
Gabriel dreams of buying back Malaterre, an estate built by his ancestors in the heart of the jungle over a century ago. Of going there, living there, and restoring the Lesaffre family honor. Of passing it on to his children. But he knows nothing about the country or managing a timber forest. He will have to risk it all, taking his two eldest with him and separating them from their mother and younger brother. All of this, of course, is completely crazy.
the late 1920s, Melvin Z. Woodworth is an author with writer's block and a mystery to solve. He takes a vacation to the Swiss Alps to try and kill two birds with one stone—and do some excellent hiking and skiing while he's at it. But the little village, so long slumbering on the wrong side of the Industrial Revolution, is threatened by a force of nature—and, of course, contains secrets of its own. Cosey's masterful graphic novel is presented here in full-color English translation for the first time: an ode to nature, culture, mythology, and a simpler—yet riskier—time.
Deep in the heart of an enchanted forest, a small village of children lives unaffected by the passage of time thanks to a powerful stone that protects them from it. But when the stone is shattered and a thief runs off with one of the shards, four of the children must set out at once in search of the missing shard before their village is swallowed up by time and everybody in it dies. Armed with four crystals with special powers, the children bravely make their way through the dangerous forest to hunt down the thief, making friends and enemies along the way and encountering one strange creature after another.
He used to play a dangerous game, running cash for the mob. Now he calls himself Tango, and he lives in a little village rising like a small island out of the rocky sea of the Andes. He's made a few friends since he arrived, with whom he's got a lot in common: they've all got secrets from their past, and they're not exactly who they say they are. One by one, their secrets are revealed in a storm of violence when old friends come knocking, demanding past debts be paid. High up in the Bolivian hills, a mountain community is once again upended by the arrival of strangers and the troubles they seem to bring with them.
Nine millennia ago, the Luvi Tribe in Mid-Anatolia is struggling to survive. The men of the holy council of elders are no longer pleased with their lives. The master tracker, Nhun, a young woman, takes on an existential challenge for herself and all of her tribe. The tribe's strongest man, Alu the Agape, does not know what to do. This is their love story, where Nhun and Alu find themselves among the quarrels of the elders, both holy men and women.
In 1912, Matisse is feeling a little fed up. In Paris, Picasso is hogging the limelight, so Matisse decides it's time for some fresh air, a little space, and a different kind of light. That's it, he'll cross the Mediterranean and start painting a new kind of nature. He's going to Tangier. Problem is, when he finally gets there, it starts raining. In Villa de France, his palatial hotel looking down over Tangier, he has to make do with painting what he can: his bedroom. And so it begins: Room 35 is consigned to canvas, in a series that goes on to become legendary in art history.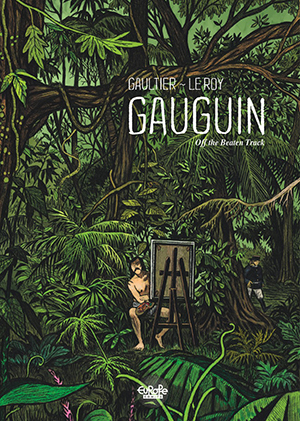 Gauguin – Off the Beaten Track
Fed up with his life in France, Paul Gauguin sets out for Tahiti, where he subsequently decides to settle. As he immerses himself in the culture of a tropical country that couldn't be more different from his own, the painter not only gains a new lease on life, but begins producing some of his most inspired work.
Three willful women: one old wicked, one young and selfish, and the third in the prime of her life. A man murdered three ways: stabbed, bludgeoned, and drowned in a stream. The mystery brings brash young Inspector Laurenç to the postcard-perfect Norman village of Giverny, home to Impressionist Claude Monet's gardens and studio. Like any small town, Giverny has its secrets. But have they to do with greed? Lust? Missing paintings? Jealous husbands? Laurenç soon finds himself head over heels for a pretty schoolteacher—and in over his head. Dider Cassegrain brings Michel Bussi's bestselling novel to life in lush, delicate watercolors worthy of the famous canvases that lend the book its name: Monet's immortal Water Lilies…
In the aftermath of the murderous attack on the Charlie Hebdo offices on January 7, 2015, cartoonist Catherine Meurisse struggles with the trauma of losing her friends and looks for a way to move forward with her life and her art. She soon enters a dissociative state where she loses her memories, especially those associated with esthetic experiences. This leads her on a quest to seek beauty and lightness in the world around her with the help of guiding lights including Proust, Stendhal, Baudelaire, and two provocative graffiti artists. Throughout the book, Meurisse uses her limber cartooning and dynamic writing to weave a tapestry of raw emotion and philosophical reflection laced with a strain of wry humor.
Tom Thomson, whose grandiose landscapes of Ontario's wilderness marked the entry of Canadian art into the modern era, died at a young age under troubling circumstances. His career as a painter was as brief as it was fundamental, in that it inspired the next great generation of Canadian painters, the iconic Group of Seven. Returning to the circumstances of the painter's sudden disappearance just as he was beginning to attain recognition, Sandrine Revel retraces his journey, sketching a subtle portrait of the artist while questioning nostalgia in art as it attaches itself to artists. This is a book about memory and the past: troubling, beautiful, and melancholic, like the passage of time.
Renée Stone is a successful English mystery novelist and an independent free spirit. In this first book of the series, she finds herself in Ethiopia for the coronation of Haile Selassie I in 1930. There she meets John Malowan, a bumbling archaeologist whose grandfather unearthed the Epic of Gilgamesh. Unbeknownst to Stone and Malowan, a host of parties are conspiring to take advantage of the grandson in order to get their hands on a hidden treasure that dates back to Mesopotamian times. Renée Stone finds herself in the midst of a murder mystery full of colorful characters who could have come straight out of her novels.
Zoc has an unusual gift: her hair attracts water, allowing her to drag huge quantities of it along behind her. But somehow her extraordinary ability only ever seems to get her into trouble. Struggling to discover her purpose in life, Zoc finds a way of using her talents to help a flooded town. On her journey, she'll encounter wandering minstrels, hostile townsfolk, and the fiery Kael, whose equally unusual gift might just make for the perfect friendship.
A graphic novel about Charles-François Daubigny, an important precursor of Impressionism.
Header image: The Lion of Judah © Stephen Desberg, Hugues Labiano / Dargaud