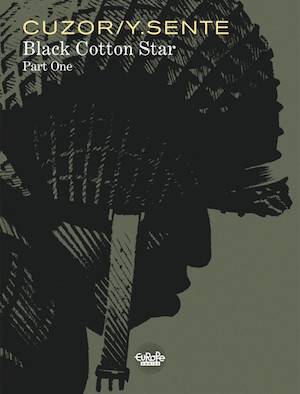 Black Cotton Star
Philadelphia, 1776: George Washington asks Betsy Ross to design the first flag of the future United States of America. Her housemaid, Angela Brown, adds to it a secret tribute to the black community: a black cotton star that she slips under one of the white stars. Dover, 1944: A soldier named Lincoln receives a letter that reveals Angela Brown's memoirs. Does the star that she mentions truly exist? In light of this revelation, three African-American soldiers set out o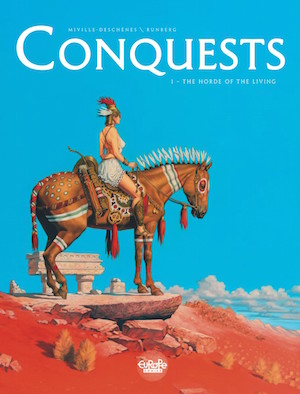 n a dangerous mission, ranging from liberated Paris to the snow-covered Ardennes, seeking answers, and the ultimate prize…
Many years ago, the plains of Mesopotamia were dominated by three powerful nomadic tribes: the Scythians, the Cimmerians and the Sarmatians.  Weary of their endless battles, the monarchs of the three tribes forged a sacred alliance.  Together, they constructed the most fearsome army in the known world, otherwise known as "The Horde." Little did they know that at that very moment, the Hittites were regrouping on the edge of their territory and preparing to invade. Neither did they know that the Hittites had infiltrated their ranks with master spies — starting with the radiant Thusia, a mysterious scribe whose beauty has drawn the attention of Kymris, the Cimmerians' warrior-king.  It is the dawn of the Horde's greatest challenge: a war that will set all Mesopotamia aflame.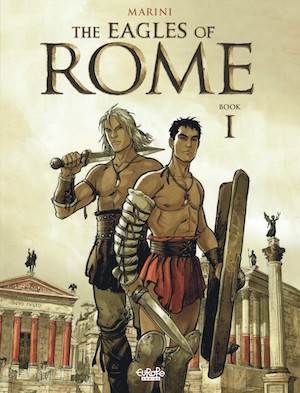 The Eagles of Rome
The strategic general Drusus is entrusted with the mission of bringing the indomitable barbarians of Germania under the Roman Empire's control. Once the battle is won, Prince Sigmar offers his son, Arminius, as a hostage to the Romans. Caesar consigns the education of the young barbarian to one of his most trusted companions, Titus Valerius Falco. Titus has a son of the same age as Arminius, an unruly young man called Marcus, also in need of an education worthy of his name. Together, these two budding soldiers go through full training, and are time and again subjected to the steely discipline and harsh tests of their tutor, an ex-legionary. Through these trying experiences, the insolent young Roman and the hot-headed German gradually transform their reciprocal hatred into a strong friendship… especially as they begin to discover the irresistible charms of their various female contemporaries…
Chinaman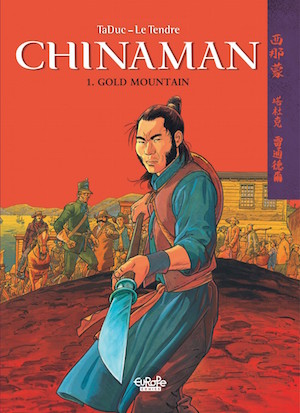 In the second half of the 19th century, a Chinese man wanders the plains of the American West. In the first volume, John Chinaman lands in San Francisco, tasked by the Elders of Canton with disciplining the local Triads. But this mission will be his last. now on, his fate will be irrevocably tied to America's westward expansion. From now on, his fate will be irrevocably tied to America's westward expansion.
Allow us to introduce Olympia, an exquisite young woman living in post-First-World-War Berlin, a time when the town was continually shaken up by internal revolutions and cultural turbulence. Olympia is beautiful. Louise Brooks-style beautiful. She is the archetype of that generation of war-women, the likes of which we'll never see again. Her father, Count Van Den Golzt, sends his daughter to Berlin following the Bolsheviks' establishment in Courlande, a move that he knew was a threat to the safety of his family. She soon becomes a fascinating character, with lovers from all walks of life, from bespectacled Communist intellectuals, to pimps. Alongside her decadent lifestyle, she fights passionately for the Socialist cause. Nihilistic, but driven, she ends up in the arms of the most unlikely suitor.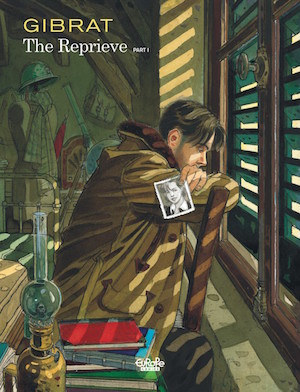 June 1943. Julien Sarlat jumps from the train transporting him to Germany and manages to get back to his small village in the Aveyron, Cambeyrac, where he hides, without the villagers' knowledge, to await the end of the hostilities. In a strange turn of fate, the train that he was on is bombed, and one of the corpses is identified as his. In the eyes of society, he is now dead. Taking advantage of this unexpected situation, he hides away in the attic of his old school teacher, who was arrested by the French Gestapo for suspected communist leanings. From that moment on Julien, from his observatory overlooking the village square, is the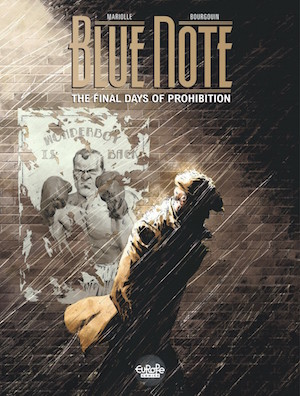 spectator of this everyday theater of ordinary people going about their business. Love, hatred, envy, cowardice, passion and heroism: the onlooker sees the most.
New York. November 1933. Seven years of Prohibition is about to come to an end—seven years of mafia control of the illegal alcohol trade, of high-level corruption … and of the speakeasy, whose clientele enjoy not only liquor, but the Golden Age of Jazz. A world Irish boxer Jack Doyle is reluctantly drawn back to, to settle old scores. But what he thinks will be a simple fight turns into a web  of exploitation and double-dealing … and a tangle with the elusive Miss Lena. To get free he will have to use all his native cunning…
Muchacho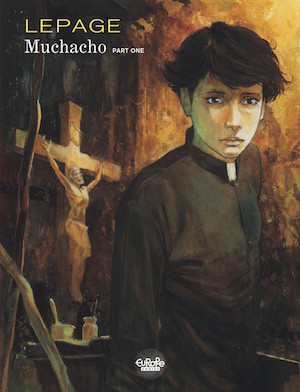 In 1976 Nicaragua "Tacit" Somoza rules the small Central American country with the support of the ruthless Guardia. The son of a powerful family from the capital, Managua, Gabriel is a young priest with an incredible talent for sacred art. He is sent to enhance his painting skills with Ruben, a priest in San Juan–a little village located at the base of a mountain. Despite his difficulty integrating with the villagers due to his father's reputation, Gabriel slowly gets to know them and, eventually, to love them. Encouraged by Ruben, he paints the villagers. He paints them as they are–men and women of flesh and blood. But Gabriel is soon witness to acts of military repression of the locals. It doesn't take long for him and the villagers to get swept away in these times of growing rebellion and smoldering revolution. Artistic passion, romantic passion, revolutionary passion. Passion courses though the pages of Muchacho, a two-part series.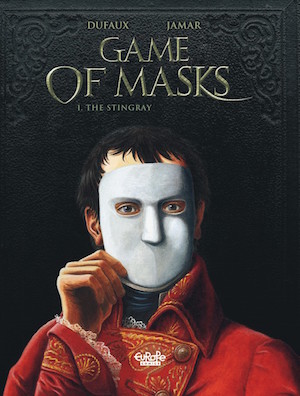 Paris, 1802. Bonaparte has just been proclaimed First Consul, provoking Fouché's departure from the Police headquarters. The two men are now both set on finding a certain object, stolen by a beautiful prostitute, which could change their destiny. Bonaparte calls on the services of François, a petty thief otherwise known as "The Torpedo," to recover the mysterious object.
Giant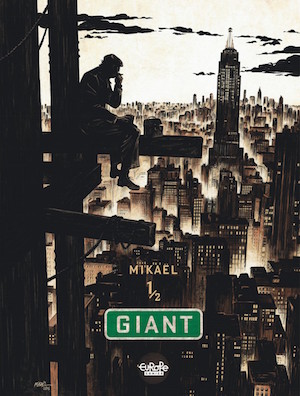 March 1932, New York. Dan Shackelton is an Irish migrant. Like many of his fellow countrymen, he has found work on the construction site of the Rockefeller Center. He is to replace Ryan Murphy, a worker who died on the site. Dan works with a quiet, broad-shouldered man named Giant who is in charge of informing Ryan Murphy's family of the news. But Giant decides not to say anything. Instead, he sends a substantial sum of money accompanied by an unsigned, typewritten letter. When he receives a response from Ryan's widow, Mary Ann, Giant writes to her again, tangling himself up in a web of lies. Little by little, the enigmatic Giant starts to come out of his shell, until one day, when Mary Ann shows up in New York with her three children, ready to join her husband.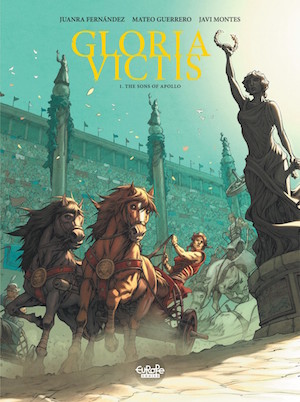 Gloria Victis
There was a time when certain mortals could become gods. At this time, two thousand years ago, men would pass into legend by risking their lives to entertain the crowds; famous charioteers who, perched on their chariots like Apollo, would fight for their lives and their honor in the arena. This is the story of one of  those heroes: Aelio Hermeros, perhaps one of the greates chariot riders of all time. He was a mortal immortalized in the memory of those who saw him compete, who witnessed his defeats,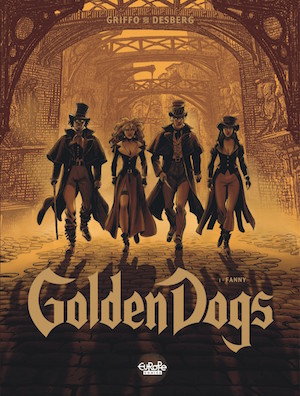 his victories, his blood spilled and, most of all, his glory.
Fanny, like so many other girls of her time, has been driven to selling her body to survive. She has since become the most sought-after prostitute of her brothel. She knows people, she knows things, and she is determined to one day move on to a better life. One day, the handsome and enigmatic James Orwood seeks her out, and makes her a proposition that might just be the making of her. He wants to use her reputed powers of seduction to get information from the rich and powerful. They form an alliance, along with Lario and Lucrecia, all four of them bringing a unique skill to the table. This could be the beginning of something great…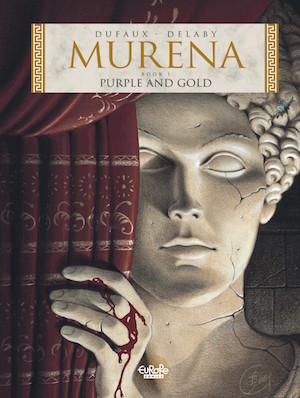 Murena
It's stinking hot, and the crowd is beginning to lose interest in the last few gladiators still fighting for survival in the arena. Only the Emperor Claudius is still riveted, determined to stick it out until the death rattle of the last fighter announces the end of the day's frivolities. Life is just as ferocious outside the arena. Everyone wants the power; everyone is willing to kill to get it… For Agrippina, Claudius' second wife, her dear husband has served his purpose. Now that he has acknowledged her son, Nero, as his heir, it's high time he disappeared.
But Agrippina has time against her: there's talk of Claudius wanting to renounce her in favor of the woman he loves, Lolia Paulina. Needless to say, it doesn't end well for poor Lolia…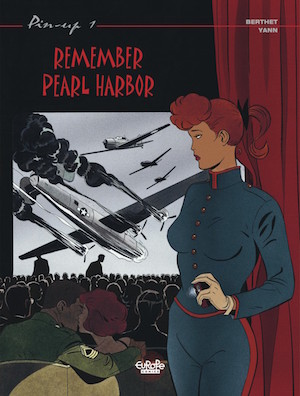 It's 1943 and all-American Joe is heading off to fight the Japanese. His distraught fiancé Dottie Partington is fired from her job as a movie usher, and a friend helps her find employment at the Yoyo Club, a cabaret favored by soon-to-be-deployed US Air Force personnel. In the meantime, Joe is marooned on an atoll in the South Pacific, where he experiences firsthand the terror of war, and encounters a motley crew of fictional and real-life characters. Back in the States, famed cartoonist Milton approaches Dottie and uses her as the model for his new comic strip, "Poison Ivy," which centers on the adventures of a patriotic vamp capable of making soldiers "forget their girlfriends back home." The strip is a runaway success and kindles the fantasies of GIs across the globe, eventually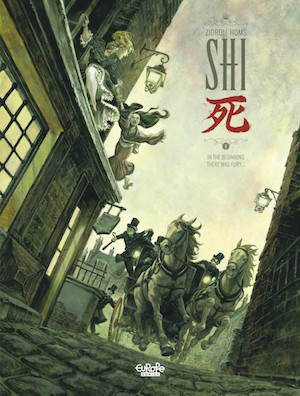 reaching even Joe.
During the 1851 Great Exhibition in London, two women's lives become irrevocably intertwined when they both fall victim to a nefarious underground fraternity of ex-soldiers from England's upper crust who have sworn their lives to defending the British Empire—as well as their own decadent lifestyles. In this first volume, young rebel Jennifer Winterfield and the mysterious Kitamakura from Japan forge an unlikely alliance along with Jennifer's doctor uncle and a street urchin named Pickles. Together they lay the groundwork for a criminal organization that will go on to sow terror in the hearts of the colonialists and industrialists who tried to put them down.
The Bleiberg Project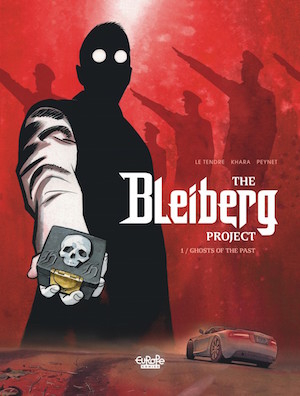 The life of Jeremy Corbin, an unhappy, alcoholic Wall Street trader, takes a drastic turn when he learns shocking news about his long-lost father. He soon finds himself headed to Switzerland to pick up a mysterious safe deposit box whose contents hold the key to a terrible secret: horrific experiments carried out by the Nazis during WWII in their quest to create the Superman. With modern-day Nazis on his tail, a pretty, wise-cracking CIA agent assigned to protect him, and a deadly spy from Israeli intelligence blasting onto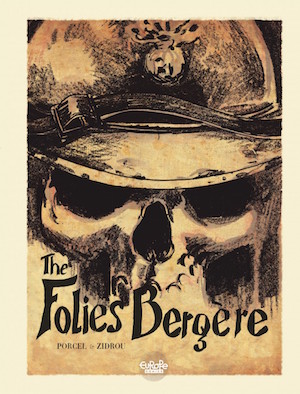 the scene at the most critical moments, his early-morning cocktail is suddenly the last thing on Jeremy's mind.
We're right in the middle of World War I, deep in the trenches. The soldiers are confronted by unimaginable suffering and violent death on a daily basis. Considered as nothing more than cannon fodder by their superiors, they try desperately to survive. Partly as an act of defiance in the face of hardship, partly as the ultimate irony, the soldiers nickname their regiment after the famous Parisian cabaret club "Folies Bergère." They laugh and joke, they write, they draw, they fight, they die in appalling circumstances, they kill themselves, they lose their minds. And then one of their number is sentenced to death by firing squad — and miraculously survives…
The United States… the late twenties. Like many others, the company Fisherman's Dream staggers under the 'crash'. In the midst of this economic nightmare, we meet a young girl, Dixie. The recent events will push her and her family to hit the road, in pursuit of the elusive American Dream.
In 1945, the war in Europe is over. Camp survivors have no homes to go back to and they want only one thing – to leave Europe. No country wants to welcome them. They could feel safe in only one place, a Jewish state that does not yet exist, though it had once been promised by the British. Without any hesitation, "displaced persons" are once again herded behind barbed wire. In some cases, they remain in the same camps from which they were supposedly liberated. A brigade forms along the frontiers of Italy, Austria and Yugoslavia, under the watchful eye of the British army. This brigade decides to do justice as it sees fit. Across Europe, the news spreads – a Jewish army in Europe! Armed Jewish soldiers! The brigade goes into action. It devotes itself to saving Jews and will stop at nothing. It is willing to go even further; tracking down Nazi war criminals not being a priority for the Allies, the brigade decides it will find them on its own. When it succeeds, it settles the score quickly and mercilessly.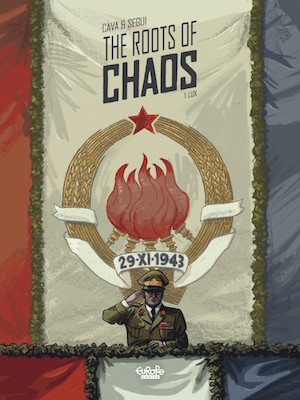 The Roots of Chaos
March 1953. Alexander is walking through the streets of London with a bomb in his hand. It is destined for Marshal Tito, during his controversial visit to Great Britain. Alexander's story began several months earlier, when his mother was struck by a car and instantly killed. Trying to understand why and how his mother, who was in an institution for senile elderly people, wound up so far from her home, Alexander finds himself caught up in a spiral of terror involving the British secret service, strange Serbian nationalists, and the island of Majorca… all of which culminate, several months later, with Alexander finding himself on the bank of the Thames, holding a bag with a bomb in it…
Vice Squad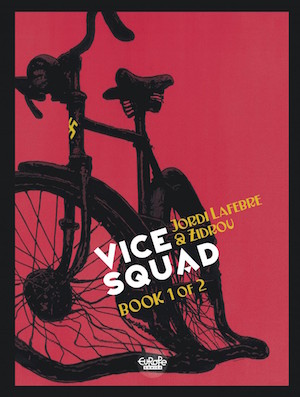 It is the winter of 1937, and Aimé Louzeau lives with his mother and their servant. One day, he goes to the Quai des Orfèvres, the police prefecture of Paris, to speak with the vice squad. He currently works in the Criminal Investigation department, but crimes of passion and back alley stabbings really aren't his thing, so he requests a transfer from Chief Inspector Séverin. The atmosphere immediately darkens, as Louzeau is thrown straight into the interrogation of a pimp called Guapito and his prostitute.
You Can't Just Kiss Anyone You Want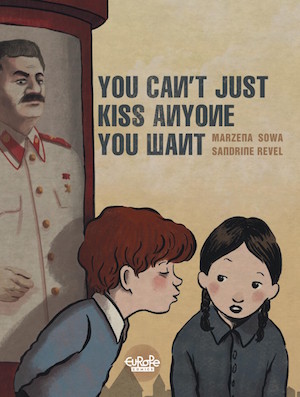 A little boy tries to kiss a little girl. No big deal. The little girl gets away and sends the little boy packing. Nothing more than an anecdote amongst many others of any normal childhood. But if this event takes place at school in a Socialist republic, half way through a propaganda movie, years before the wall is even showing the slightest sign of giving out… Well, it's asking for trouble. This is the story of two children in a society in which paranoia and obsessive control mean that even the most innocent gesture can be blown completely out of proportion.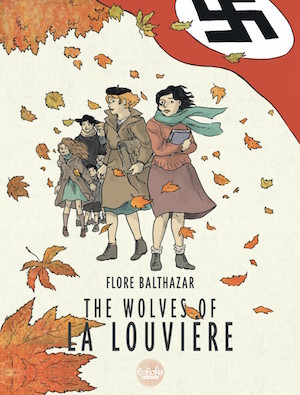 The Wolves of La Louvière
Belgium, 1940. The German army is spreading across Europe, and tiny Belgium is conquered in 18 days. During the four long years of the Nazi occupation, the women of La Louvière have to figure out some way to stay alive, to live their lives, and to keep up hope. Their world is drawn through teenage Marcelle's journal: What does she do? How do her family members endure? Which women in town collaborate with the occupying forces, and which women choose to fight? As always in wartime, the women take over for the absent men and keep their world spinning.
Operation Copperhead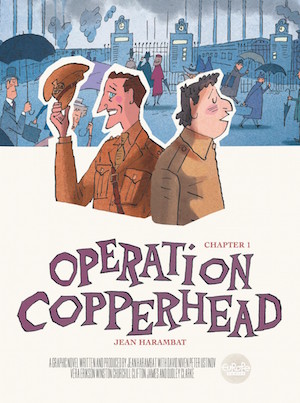 Adventure, drama, spies, secrets, and even a dash of romance. This extraordinary story tells the tale of two movie stars being pulled into the intrigue of counterintelligence and disinformation campaigns during World War II. Churchill is looking for someone to impersonate Britain's top general, and it's up to David Niven and Peter Ustinov to train the lucky lad. They're in a race against the clock and a battle against all the usual vices—wine and women included—to turn a second-rate actor into General Montgomery in this uproarious and award-winning graphic novel, where the truth might be stranger than fiction.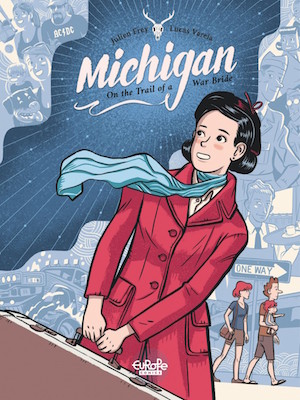 Michigan
When Julien arrives in Michigan to meet his wife's American family, he gets to know the American Midwest, as well as some unusual cousins. But above all, he meets Odette, his French great aunt with what one might call a resilient personality. Originally from Paris, she married an American soldier at the end of the Second World War. Like her, 200,000 other European "war brides" left behind their families and their countries to be with the G.I.s they loved.
The Czech Coup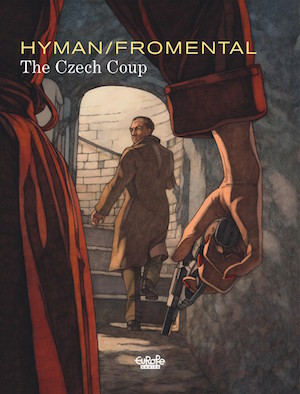 A former actress and spy, Elizabeth Montagu, is tasked with guiding British author Graham Greene around postwar Vienna, as he conducts research for a screenplay. However, the visit of "G.," a former spy himself, soon proves to be just as mysterious as his best-selling thrillers, winding through Vienna's shadowy underground before leading to a Prague on the cusp of revolution…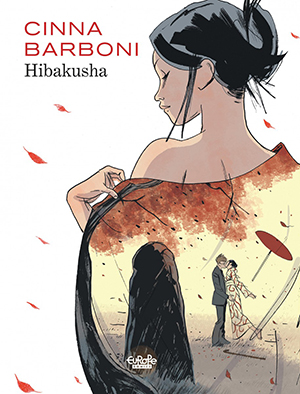 Hibakusha
Ludwig has never been a soldier. A childhood injury left him lame in one leg, which has allowed him to largely sit out the war on the sidelines, as a translator. Fleeing his passionless marriage, he accepts an assignment in Japan, allowing him to return to the land of his youth. But the year is 1945. It is not a good time to be Japanese, or German… much less stationed in Hiroshima. Ludwig is tempted by love and, in furtively tampering with his translations of classified documents, by the chance to do something heroic. But none of that will save him…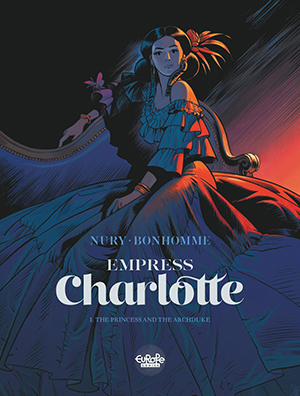 Charlotte Imperatrice
At sixteen, Princess Charlotte falls in love with an Austrian archduke, Maximilian of the House of Habsburg. Soon enough, she finds herself enmeshed in the cruel and unpredictable world of international diplomacy as her marriage founders. Increasingly shrewd, naïveté and idealism replaced by practicality and skepticism, Charlotte will help ensure that she and Maximilian are sent to Mexico to reign as emperor and empress…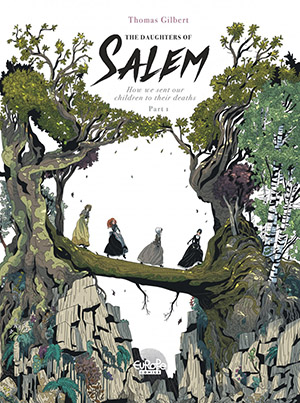 The Daughters of Salem
Colonial Massachusets, early 1690's. When a young girl in a Puritan town rejects a farmer boy's gift and instead slips out into the forest to dance with a young man from the Abenaki tribe, it sets off a chain of events resulting in one of the worst cases of mass hysteria in U.S. history, as neighbor turns against neighbor and friends accuse friends of the most terrible things. A fictional re-imagining of the Salem Witch Trials, in which gender politics, religion, xenophobia, innocent games of fortunetelling, and one man's sinful indiscretion are all factors that lead to the deadly witch hunt.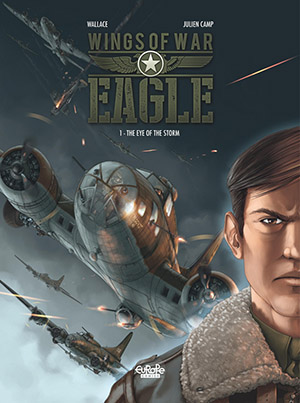 Wings of War
The son of a hero from the Great War who made his fortune in the steel industry, James O'Brady is destined for a great career in politics. When his father is appointed ambassador to Germany, James goes with him, to get an inside of view of the geopolitical landscape in the mid-1930s. But James follows his own path… which is destined to cross that of a young German fighter pilot.
The year is 1934. Rasputin holds the reins of government. When the Czar is mortally wounded in an ambush, the mad monk turns to his Council of Dark Mages and his former mentor, Baba Yaga. Together, they concoct a plan that involves trench warfare mechas, mind-to-mind transfers, and the long-lost heir to the Romanoff throne: Kyril Noskov, a hero of the war that's been raging since 1914, to which generations of Russian youth have been sacrificed. Roulot and Rodier's reimagining of a Russia that never was blends science fact and dark fantasy into a spellbinding fable of the price of power.
1843, Paris. A sensational trial stuns the art world and has the streets of the capital buzzing. Is the famous art dealer Daniel Northbrook nothing but a swindler? Count Skarbek, a rich Polish businessman, will do everything he can to prove it. A gripping romantic thriller and a poignant story of love, hatred, passion, and revenge in the vein of the great popular fiction by Hugo and Dumas.
On May 10th, 1940, Nazi Germany attacked France, Belgium, the Netherlands, and Luxembourg. Their advance was swift, and led to the fall of France just six weeks later. In the fictional French village of Pontain-L'Écluse, 13-year-old François is shocked to see his fellow villagers—and even some of his family members—accept this occupation and submit to the laws and behavior of the German invaders. Determined to thwart the enemy, he enlists his friend Eusèbe to help sabotage the Nazis and motivate his village to unite against them. A fascinating tale of the Resistance and of actions taken by its youngest activitsts, inspired by true stories.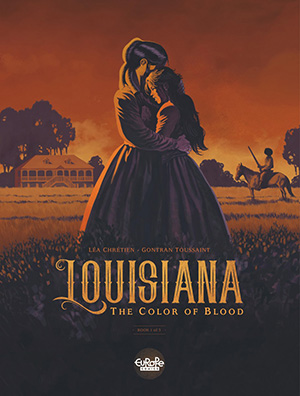 Louisiana
Louisiana, 1961. The elderly Louise shoos away questions from granddaughters eager to know more about the family's distant past. But what is she hiding? As she unburdens herself to Hazel, the maid, memories and legends come pouring out from the years following the birth of the American nation: a sugarcane plantation, an abusive patriarch, a fearful wife, a headstrong daughter, and a mysterious voodoo priestess. What other dark secrets lurk, long-repressed, in the recesses of history? Léa Chrétien and Gontran Toussaint deliver a vivid, atmospheric story of generations of strong women and the secret things they do to survive, from the Civil War to the civil rights era.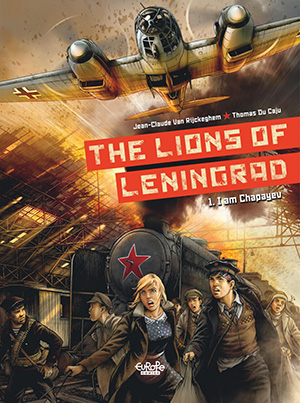 The Lions of Leningrad
On January 27, 1962, a concert at the Maly Theatre in Leningrad is interrupted by a gunshot and an ex-state prisoner is arrested. At the police station, the mysterious gunman recalls the early summer of 1941… When the German army begins its invasion of Soviet Russia, four children are evacuated to the countryside: Maxim, the son of a senior Communist Party official; Pyotr, the son of writers; Anka, the daughter of a concert violinist; and Grigory, the son of a pilot that was executed for insubordination. The farm where they are staying is attacked and the train that is supposed to take them to safety is blown to bits by German planes. The four children must find their way back to Leningrad through enemy lines. This adventure will test their friendship to the limit…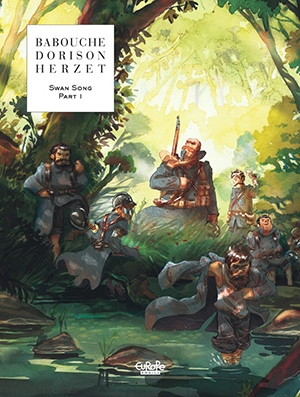 Swan Song
1917. Nivelle "The Butcher" commands the French Army, and the attacks he keeps ordering are pointless slaughters. The soldiers can't take it anymore. Discontent is turning into rebellion, and a petition begins to circulate in secret. When it makes its way to the men of Sergeant Sabiane, they see an opportunity, and what started as a simple cry of defiance becomes a full-blown mutiny when a handful of them decide to take the petition to Paris…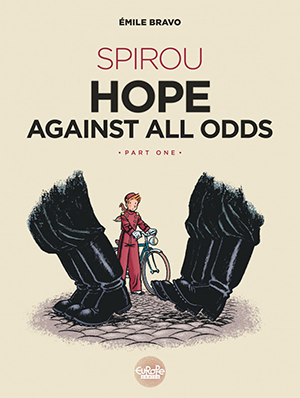 Spirou: Hope Against All Odds
It seemed inevitable that Europe would once again be in the dark clutches of war, and now that conflict has broken out, Spirou must face its horrible reality while staying true to himself. He does his best to maintain his friendship with Fantasio, even as the latter enlists in the Belgian army. And when Spirou meets Felix, a German‐Jewish painter, his eyes are opened to the "Jewish issue" and the dangerous situation in Europe and beyond. On top of all that, Spirou's girlfriend Kassandra has been lost in the confusion of the war. In the first of four volumes, the orphan bellhop's adventures will take him all across war-torn Belgium, discovering the world as it falls apart around him.
Spirou and Fantasio are caught up in another amazing adventure, set in a real historical context. It's summer 1989, a few months before the fall of the Berlin Wall, and the evil Zantafio is trying to take over East Germany. When he kidnaps the Count of Champignac, our two heroes find out and try to rescue him. But to do that, they have to cross Europe's most heavily guarded border. East Germany's notorious Secret Police, the Stasi, are soon hot on their trail, and Fantasio is arrested. So Spirou now has to free his friend as well as foil Zantafio's diabolical scheme.
After years of violence, a relative peace has returned to the Holy Land. Yet the magic and afflictions that permeate the region haven't gone away. When Gauthier of Flanders, a wandering knight, stops at a caravansary and gives water to a Christian woman who is held prisoner by the Order of Assassins, he has no idea what evil is about to be unleashed upon the world… nor that he will be brought to stand against a deadly demon. The opening chapter of a new arc, following the 4-volume Hierus Halem cycle (published by Cinebook).
Harlem, 1931. Prohibition is still in effect, the Great Depression is getting worse by the day, and people are desperate for hope. For a decade, Stephanie St. Clair, a.k.a. Queenie, an immigrant from the French Antilles, has been running a lottery in Harlem that has provided just that: a chance for a way out. But with the end of Prohibition looming, bootlegger Dutch Schultz is looking to diversify his business before the booze industry dries up. And he sees Harlem as ripe for the picking, especially with the police and politicians for sale to the highest bidder—at least if you're white. It may be wintertime in New York, but things are heating up in Harlem.
During the depths of the Great Depression, an orphan reinvents himself as Al Chrysler and strives to win the heart of the local grocer's daughter. In doing so, he falls in with a newly arrived petty criminal who soon has him and his friends working for the local mafia. As the stakes get higher, Al soon realizes he's gotten in too deep, and is caught up in a chain of events beyond his control.
It is the early 1920s. The Volstead Act has recently prohibited the sale and consumption of alcohol, which means that an active black market has sprung up—a market controlled by legendary gangsters such as Al Capone. Supplies must be secretly shipped from France to its outpost in Saint-Pierre, Newfoundland. This dangerous and illegal trade involves aviators flying primitive sea planes—aviators such as Bessie the "Black Angel," whose mixed heritage also makes her the target of the flourishing Ku Klux Klan. Based on the historical figure of Bessie Coleman, she flies in the face of injustice, prejudice, and discrimination.
Canterbury, Connecticut, 1832: a charming female boarding school has found success among the locals, with two dozen girls enrolled. Some in town question the purpose of educating young girls—but surely there's no harm in trying? At least not until the Prudence Crandall School announces its plans to start accepting black students. Thirty years before the abolition of slavery in the United States, in the so-called "free" North, these students will be met by a wave of hostility that puts the future of the school in question, and their very lives in peril. Even in the land of the free, not all of America's children are welcome.
The Famous Quartet of Piraeus was formed in 1934 as a café band. It was the first group featuring the bouzouki and the baglama, and consisted of frontman Markos Vamvakaris, Giorgos Batis, Anestos Delias, and Stratos Pagioumtzis. Markos' fiery love for Zingoala, his first wife, is the main and painful source of inspiration for the founder of rebetiko music. Starting as a skinner at a slaughterhouse, Markos becomes a pioneer who paves new paths for traditional Greek music and entertainment, running constantly afoul of the musical mores of the era—as well as the police, his wife, and the dictatorship of Metaxas. And all the while, war is approaching in the background like an inevitable chorus…
United States, 1937. In the middle of the Great Depression, 22-year-old photographer John Clark is brought on by the nascent Farm Security Administration to document the calamitous conditions of the Dust Bowl in the central and southern states, in order to bring the farmers' plight to the public eye. When he starts working through his shooting script, however, he finds his subjects to be unreceptive. What good are a couple of photos against relentless and deadly dust storms? The more he shoots, the more John discovers the awful extent of their struggles, coming to question his own role and responsibilities in this tragedy sweeping through the center of the country. A moving and unforgettable tale, inspired by real-life stories of courage and perseverance against all odds.
Madrid, winter of 1956. Franco's fascist dictatorship controls the press and maintains the fiction of an idyllic nation. Faced with the Regime's attempts to cover up the country's most sordid crimes, two journalists from the crime beat, the jaded veteran Emilio Sanz and the young and intrepid Léon Lenoir, seek to reveal the truth. Confronted by a wave of unexplained murders, the duo sets out to uncover the dark secret connecting them, buried in a cruel past. Brilliantly written and illustrated by Teresa Valero, Sanz and Lenoir's investigation plunges us headfirst into an era and society as dark and as violent as it is full of hope. A bracing journalistic thriller revealing the lengths the Francoist regime was willing to go to in its attempts to stifle any form of dissent.
Renée Stone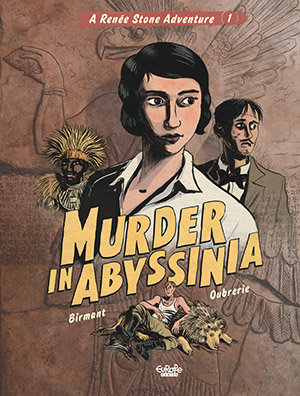 Renée Stone is a successful English mystery novelist and an independent free spirit. In this first book of the series, she finds herself in Ethiopia for the coronation of Haile Selassie I in 1930. There she meets John Malowan, a bumbling archaeologist whose grandfather unearthed the Epic of Gilgamesh. Unbeknownst to Stone and Malowan, a host of parties are conspiring to take advantage of the grandson in order to get their hands on a hidden treasure that dates back to Mesopotamian times. Renée Stone finds herself in the midst of a murder mystery full of colorful characters who could have come straight out of her novels.
Silesia, 1930. Three children play with toy airplanes. Three friends – Max the Polish Jew, Werner and Hanna the Germans. All dream of becoming pilots, but they won't all have the same opportunities, and the world is heading down a dark road… 1944. Max is now an ace in the US Navy, while Hanna is one of Germany's top test pilots. Will anything remain of their old friendship, as the sides they each chose are locked in a struggle to the death?
Three friends, united by their love of flying, torn apart by different origins. Amidst the madness of WW2, what will prove strongest: friendship, or loyalty?
Header image: Black Cotton Star © Steve Cuzor & Yves Sente / Dupuis