Every life is a story. And some lives are so extraordinary that the stories they create can compete with the most enthralling fictional narratives. Here are some of the most remarkable stories of people from all walks of life. From artists and scientists to organised criminals. From political activists and Holocaust survivors to electric heiresses who've managed to make their lives a piece of art in itself.
Fed up with his life in France, Paul Gauguin sets out for Tahiti, where he subsequently decides to settle. As he immerses himself in the culture of a tropical country that couldn't be more different from his own, the painter not only gains a new lease on life, but begins producing some of his most inspired work.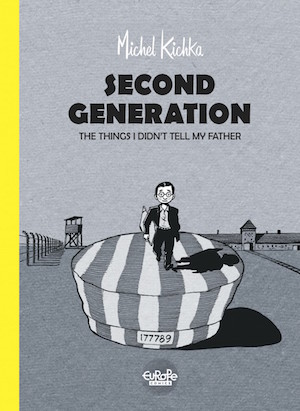 Second Generation: The Things I Didn't Tell My Father
This is an autobiographical tale in which Michel Kichka goes back over the significant moments of a childhood, an adolescence, and a life overshadowed by the Holocaust, from Belgium to The Promised Land, from nightmares to funny anecdotes, moments of joy and liberation.
Marie Curie is the only woman ever to have received two Nobel prizes: the Nobel Prize for Physics in 1903, shared with her husband, Pierre Curie, and the Nobel Prize for Chemistry for her work with polonium and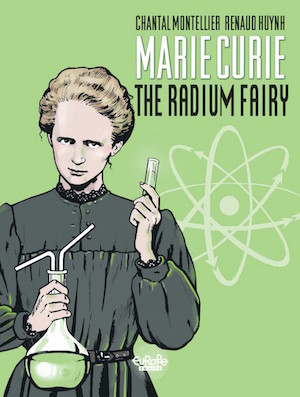 radium in 1911. She was also the first woman ever to teach at the Sorbonne. This inspired comic is set at the time she received her second Nobel Prize, when a vicious press campaign was launched against her, denouncing her affair with the physician Paul Langevin. Through her flash-backs, we're invited to witness the key moments of this exceptional woman's life and work.
This is the story of Marcel Rayman, a young Polish Jew whose face is featured on the infamous 'Affiche Rouge', propaganda circulated in occupied France in an attempt to discredit the Parisian resistance. The Nazi abomination drove Rayman to set aside his pacifist principles and take up arms in the ranks of Missak Manoukian's resistance movement. For two long years, during which he saw his entire family deported, Marcel Rayman led a clandestine life, shrouded in death, fear and treachery.
Charles-François Daubigny was one of the painters of the Barbizon school, and is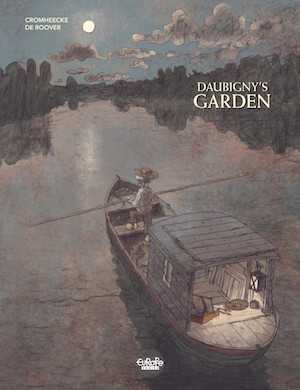 considered an important precursor of Impressionism. Born in Paris, into a family of painters and was taught the art by his father Edmond François Daubigny and his uncle, miniaturist Pierre Daubigny. Initially Daubigny painted in a traditional style, but this changed after 1843 when he settled in Barbizon to work outside in nature.
Pablo Escobar is widely considered to have been the most successful criminal in history and to have invented modern-day drug trafficking. At the height of his career, the Colombian kingpin was making a million dollars a day smuggling cocaine into the United States. Here is the tale of the final days of "El Patrón," folk hero to some, public enemy number one to others, doting father and family man, ruthless murderer and an outlaw like no other.
This is the tale of Luisa Casati Amman, otherwise known as 'The Marchesa', an Italian heiress whose life ambition was to transform herself into a living, breathing work of art. She was obsessed with beauty and extravagance, and devoted her entire family fortune to purchasing the means to astonish her contemporaries with her daredevil style. But her originality extended to more than just the adornment of her own person; she embellished her whole life with a succession of fantastical parties, large houses, ostentatious pets and outrageous public appearances. But, as ever, such exorbitance can hardly last forever… This intriguing biography traces the rise and fall of one of the 20th century's most fascinating personalities.
"Before, there were trees and countryside. Man didn't intervene. Stalin decided to "rectify" that space, and now, instead of trees, there are concrete buildings, everywhere. Stalin had a factory built. Thanks to that, lots of people got jobs, like my dad." Born in 1979, Marzi is a 7-year-old Polish girl who looks wide-eyed at the world around her: her parents, her family, her school friends and the crabby women at the grocery store who don't even smile for a fruit delivery. Marzi lives on a council estate in an industrial town, and is a cheerful, carefree, mischievous and perceptive little girl, bound to run into many adventures!
Based on the life and crimes of François Troukens, "Bandit" delves into the former armed robber's childhood and early criminal acts, recounts some of his most famous and audacious heists and the life on the run that followed, and shows how even a Public Enemy Number One can change his ways and embark on the path towards redemption.
This is the story of the distinguished Don Miguel de Cervantes Saavedra, and the misfortunes and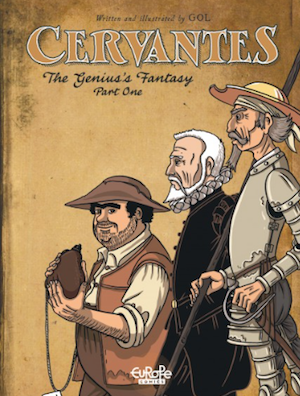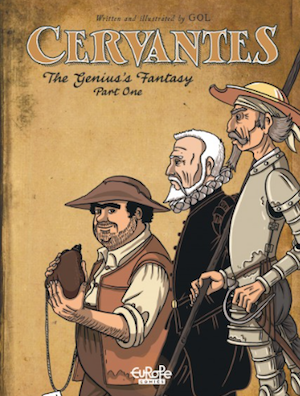 blessings to be visited upon him over the course of his most remarkable life. The life of the most renowned Spanish writer, father of Don Quixote and Sancho Pansa,  are told in a light and funny way in this two-part graphic novel.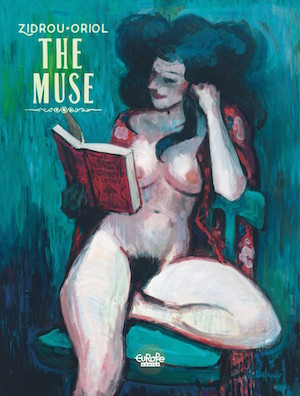 The Muse
From his Barcelona studio in 1939, an aging Catalan painter shares with his model the mystery of his best friend Vidal Balaguer, "the forgotten genius" of Catalan Modernism, who vanished on the eve of 1900. His story his linked to the disappearance a few months earlier of his muse and lover, Mar, the subject of his most famous painting, "Young Lady in a Mantón." But there are other disappearances, too, of people, a corpse, some oranges, and a stubbornly silent canary named Stradivarius. A police detective is convinced that Balaguer murdered his model but by the end of the story we may come to believe that, as the painter himself reflects, "the murder weapon is not always what you might think!"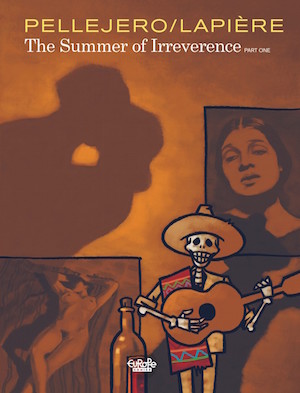 The Summer of Irreverence
Mexico, August 1923. Edward Weston has just abandoned his wife and children and joined his mistress Tina Modotti. Daughter of Italian emigrants, Tina started out on a career as a Hollywood actress before discovering a passion for photography, in Edward's wake. In Mexico, the lovers soon discover that revolution goes hand in hand with artistic expression. The walls of public institutions are colored with the vibrant paintings of Diego Rivera, Xavier Guerrero and all those who would go down in art history as ' the muralists.' In this pivotal period between the old world, still struggling in the aftermath of the First World War, and the new world, yet to be constructed, Tina and Edward become deeply involved in the artistic political movement of the epoch. For Tina, sex, freedom, art and politics become the pillars of her lifestyle, leading her to sometimes make choices that are difficult for Edward to deal with. But passion burns the senses, and suffering kindles the fires of creation…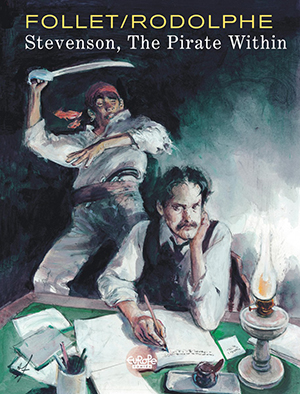 Stevenson the Pirate Within
This is the fascinating life story of Robert Louis Stevenson, the beloved author of classics such as "Treasure Island" and "Strange Case of Dr. Jekyll and Mr. Hyde," from his early days as an aspiring writer to his first published works, his love affair and then marriage to Fanny Osbourne, his success as an author, his many travels across Europe and the U.S., and finally his voyage to the islands of the South Pacific, where he eventually built the house of his dreams. Stevenson never let his weak lungs (which he referred to as pirates waging a battle inside him) and delicate constitution stand in the way of his insatiable thirst for adventure, living life on his own terms until the very end.
Violeta – Corazon Maldito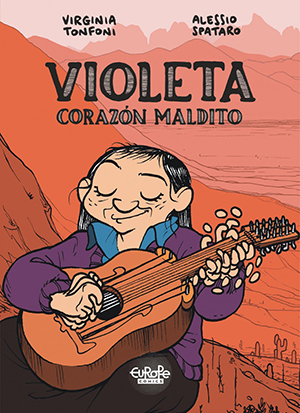 Violeta Parra was a musician, a poetess, an all-round artist, and the soul of the popular tradition of Chile. The year 2017 marked the 100th anniversary of her birth. Violeta's life was painful and intense, devoted to art and love: for decades, she crossed America and Europe making people all around the world fall in love with the authentic folklore of her homeland. Virginia Tonfoni (writer) and Alessio Spataro (artist) tell her incredible story for the first time here in graphic novel format.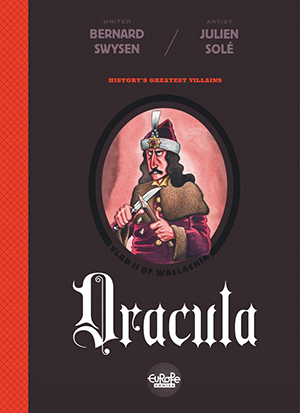 History's Greatest Villain's – Dracula
Everyone knows about Dracula the vampire, but have you ever heard of Voivode Vlad Dracula of Wallachia? Perhaps you know him better by his nickname: Vlad the Impaler! The bloodthirsty prince was the inspiration for Bram Stoker's notorious character, but although the real Dracula gained infamy for his favorite method of execution—impaling—few know the true details of his life. Swysen and Solé have created an intimate and accurate portrait of this vicious tyrant, allowing you to follow his journey from childhood to death, with guaranteed laughs along the way.
East-West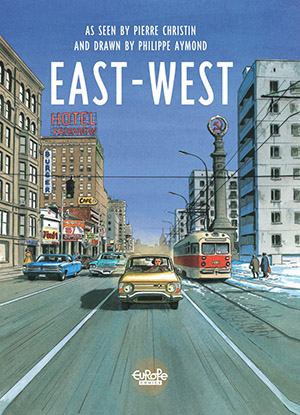 Prolific comic book author Pierre Christin, who penned the game-changing classic sci-fi series "Valerian and Laureline," switches to autobiography here to bring us the thoughtful, enlightening tale of two vastly different lands, the American West during the civil rights movement and the counter-culture phenomenon, and the Eastern Bloc during the Cold War, as seen through the eyes of an inquisitive French artist and journalist with a love for travel, intellectual query, gypsies, and jazz. Christin and his faithful road companion and "Valerian" co-creator Jean-Claude Mézières drive across landscapes ranging from Utah to Bulgaria in a series of cars each more dilapidated than the next, encountering people and adventures of all kinds in a story that is part travel journal, part geo-political documentary, and part artistic coming-of-age.
Born into an aristocratic family, Percy Bysshe Shelley has no intentions of following in his father's political footsteps. The rebellious young poet finds himself drawn to more scandalous pursuits: supporting anti-royalist and anti-clerical causes, championing vegetarianism, and extolling the virtues of atheism, an act that ultimately leads to his expulsion from Oxford University. Book 1 of "Shelley" lets us dive into Percy's tumultuous childhood, giving us an insight into his friendships with some of the finest progressive thinkers of the times, not to mention his blossoming relationship with his future wife and author of "Frankenstein," Mary.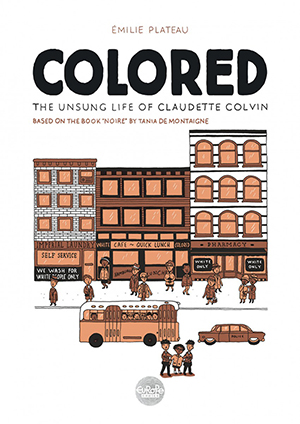 Colored: The Unsung Life of Claudette Colvin
A few months before Rosa Parks refused to give up her seat on a segregated bus in Montgomery, Alabama, kicking off the U.S. civil rights movement, making headlines around he world and becoming an enduring symbol of the fight for dignity and equality, another young black woman refused to give up her seat on a segregated bus in Montgomery, Alabama. She was the wrong person at the right time, and so History did not choose her. Her name was Claudette Colvin and this is her story.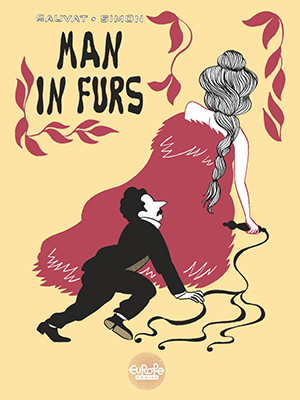 Man in Furs
In 1870, Leopold von Sacher-Masoch publishes "Venus in Furs," an erotic novel revealing the author's desire to be dominated by a woman. After the success of the novel, a woman turns up at his doorstep and offers to take on the role of the dominant woman. He submits to her completely and they get married. Years later, Leopold has remarried and lives a quiet life, far removed from the sexual escapades of his first marriage. This is when he learns that his surname is being used, to his detriment, to describe a new sexual perversion: masochism.
Kinderland
East Berlin, summer of 1989: Mirco Watzke is caught in a bind. Usually a model student, the seventh grader has got himself in trouble with a couple of bullies from the Free German Youth, and the only person who can help is the mysterious new kid in school… Vivid and funny, tender and nuanced, "Kinderland" chronicles East Germany's final months as seen through the eyes of a child. It's a story of friendship, courage, and trust, but also of growing up between Young Pioneers and the church, fathers who "disappear," and a ping-pong tournament interrupted by the fall of the Berlin Wall. Winner of the Max & Moritz Award for Best Comic at the 2014 Erlangen International Comics Festival.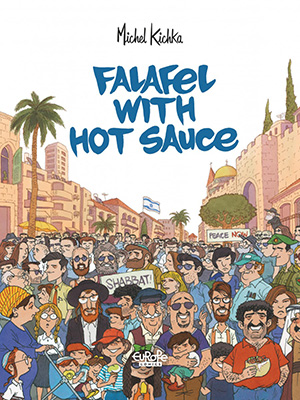 Falafel with Hot Sauce
Acclaimed political cartoonist and comic book author Michel Kichka (Second Generation) brings us the fascinating, informative, and uplifting autobiographical tale of his love affair with Israel, a land he was inspired to move to at the age of twenty. From culture shock and Israeli customs to the mandatory military service, from art school to political conflict and human tragedies, he delivers a richly detailed account of his life as an artist, family man, peace advocate and Belgian Jew turned Israeli, living in the beautiful and troubled city of Jerusalem.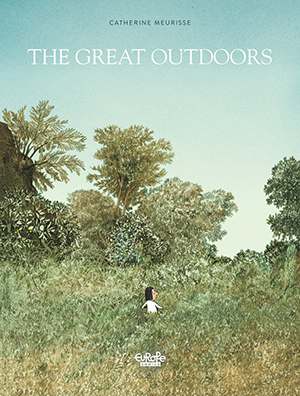 The Great Outdoors
"Girls, living in the country will be your chance," her parents tell her. And so Catherine Meurisse spends her childhood outdoors. Construction all around her: an old farmhouse renovated into a home, trees planted, a garden created, dreams cultivated. They dig, they graft, they plant a rosebush "adopted" from Montaigne, a fig tree from Rabelais. They observe the tumult of the outside world: new developments in industrial agriculture, the citification of rural France… With her characteristic humor, Catherine Meurisse has composed a witty poem dedicated to the countryside where her vocation as an artist first took form. The Great Outdoors, like Lightness, her previous album, is a testament to her conviction that nature and art —everything that grows, everything that lives against all opposition— always offer us a chance.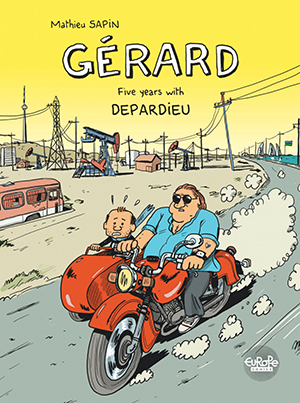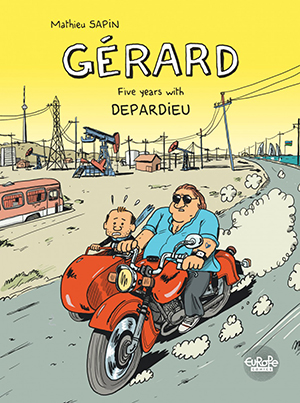 Gérard
Mathieu Sapin has made a career as a nonfiction cartoon chronicler. In a blend of witty, insightful diary and documentary vérité, he has tackled topics from moviemaking to the making of a presidential campaign, and provided behind-the-scenes looks at the presidential Palais d'Élysée. But the French government is no match for his latest subject: larger-than-life film star Gérard Depardieu, the most famous Frenchman in the world! From Azerbaijan to Bavaria, passing through Moscow and Portugal, Sapin tags along on a wild ride, creating a faithful portrait of a man full of contradictions.
In 1864, a year after the death of Eugène Delacroix, Alexandre Dumas recounted the memories that marked his friendship with the great painter. From one anecdote to the next, Dumas' text reveals the personality of both painter and writer. All the while, a colorful portrait of the period takes shape; a period in which works of art are subject to fiery debates, intense admiration, and irrevocable rejection. With humor and passion, Catherine Meurisse invites herself into this very personal adaptation of Dumas' tribute to his friend.
Tom Thomson, whose grandiose landscapes of Ontario's wilderness marked the entry of Canadian art into the modern era, died at a young age under troubling circumstances. His career as a painter was as brief as it was fundamental, in that it inspired the next great generation of Canadian painters, the iconic Group of Seven. Returning to the circumstances of the painter's sudden disappearance just as he was beginning to attain recognition, Sandrine Revel retraces his journey, sketching a subtle portrait of the artist while questioning nostalgia in art as it attaches itself to artists. This is a book about memory and the past: troubling, beautiful, and melancholic, like the passage of time.
Susie has two older sisters: the vivacious Effie, and the elegant Sandra. Life is hard when you're the baby of the family! No one ever lets you do anything. No one ever pays any attention to you. Everyone makes fun of you. Bestselling children's author Susie Morgenstern takes readers back to 1950s Newark and all the everyday charms and heartbreaks of the year she turned ten: spelling bees, synagogue, Christmas lights, Halloween candy, nights out at the movies, sneaking fast food. In his joyous art, Johann G. Louis lovingly evokes the era and a young girl awakening to life.
Baudelaire: poète maudit, enfant terrible, lyric genius, crippling perfectionist. Bereft of a father at age five, he spent his days squandering the former's fortune on prostitutes and paintings, opium and alcohol, finery and laundry bills for his impeccably white dandy's collars. He loved a woman and gave her syphilis. This is her story. Muse, mulatto, mistress, mystery… little was known of Jeanne in her day, and even less remembered since. Yslaire pays tribute to a brimstone-and-hellfire affair from the annals of literature, two misunderstood souls who in their mutual misunderstanding afforded each other what little solace they found in life.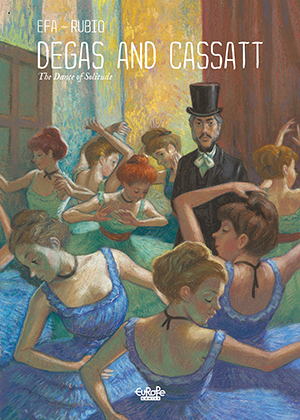 Degas & Cassatt
Founder of the Impressionist movement of which he was one of the most merciless critics, too bohemian for the bourgeois and too bourgeois for the artists, Edgar Degas was a man of many paradoxes. A loner, he loved only one woman without ever courting her. Looking into this unique relationship at the twilight of Degas' life, Efa and Rubio open the pages of the artist's notebooks hoping to unravel the mystery of this genius full of contradictions.
Header:  Gauguin: Off the Beaten Track © Maximilien Le Roy and Gaultier /  Le Lombard