"Such is the paradox of the Western in Franco-Belgian comic strips: far from its original territory, the Wild West is reinvented with a distance and freedom that the Americans themselves could never have allowed. After all, this is fairly normal: the European Western – and this is where all its charm lies – is living proof of enthusiasm that only passions that are condemned to remain a fantasy know how to galvanize."
From "The European Western: an Unusual Evolution" by Stéphane Beaujean, Artistic Director of the Angoulême International Comics Festival
1880. Kansas. Elijah Stern, the local undertaker, leads a calm and solitary life, until one day he is asked to carry out an autopsy on a man found dead in a brothel. Taking on the role of forensic pathologist, he discovers that the man had not died of natural causes and finds himself involved, against his better wishes, in the middle of a bonafide investigation. But Stern has no idea that the key to this case lies in his own past…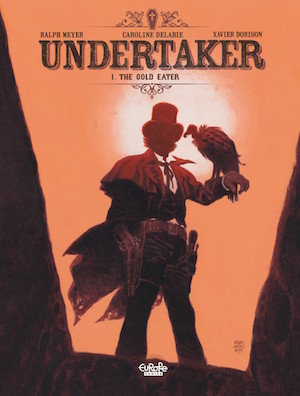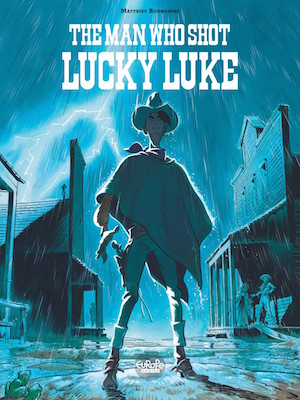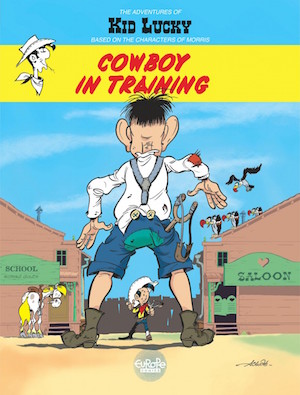 He's got a yellow shirt and a red neckerchief, unruly locks and a sprig of grass in his mouth. He maintains law and order at the Nothing Gulch School, and he runs faster than his shadow as soon as there's even the slightest hint of chores to be done. It's Kid Lucky, a young cowboy knee-high to a grasshopper, always ready to discover the customs of the Wild West, and, most of all, to muck about with his buddies. This is the birth of a legend: the greatest (but still quite small) cowboy of the Wild West! In th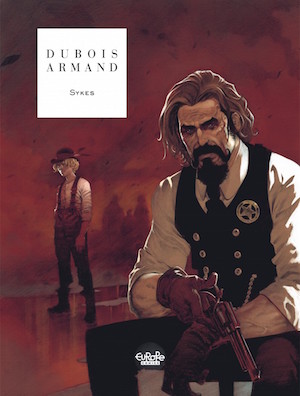 is first album, Kid Lucky learns his very first cowboy lessons.
From the very first moment he meets "Sentence" Sykes, young Jim Starret instantly recognizes a legend of the Old West, just like in the comic books he learned to read with. But his new hero is nowhere to be seen when the fearsome Clayton gang murders his mother before his very eyes. From that moment on, the now-orphaned Jim becomes obsessed with a sole objective: joining Sykes to track down his mother's killers. But what he doesn't yet realize is that legends of the Old West are forged by their demons.
Two families are en route to Wyoming when an ambush by Crow warriors leads to a massacre—and two little girls missing. Logan, a young man who served as a scout for the small convoy, brings the only other survivor, old Giuseppe, back to civilisation, and makes him a promise: he'll find the girls. Meanwhile, Salmon Leap, a young Lakota warrior turned away by the father of the woman he loves, seeks a glorious death—and along the way finds Sharon, one of the two girls… In the vast, wild expanses of an America still in formation, the destinies of two men and a little girl will intertwine, uniting them beyond all of their differences. A pure western.
"What… a… darn… stupid… contraption!" The 1st Columbia San Francisco Bicycle Race seems like the perfect opportunity for Albert Overman to impress the nation with his revolutionary design. But when a rival manufacturer hires two goons to intercept him, it's up to Lucky Luke to save the day once more. The lonesome cowboy will find himself swapping stirrups for pedals as he heads west in the saddle of Overman's invention. Will he make it to the starting line in time, or will the dawning of the modern age be stopped by ruthless thugs, stubborn hillbillies, and wary Apache? And what will Jolly Jumper think of his cowboy changing steeds?
Kansas, 1861. As tensions rise between the Northern and Southern states, a fanatical, violent preacher leaves a trail of corpses behind him, all the while calling people to take up arms against pro-slavery states. Close on his tail is a lone rider with a strange gift: he can read the past and future of those he touches. In the small town of Holton, a showdown is brewing, but things aren't quite as they seem…
The westward drive of Americans after the Civil War was unstoppable. For some, the vast territory meant new wealth and new opportunities. The ever-progressing railroads made many rich. Whereas others found their fortune selling the flesh of the less fortunate. In a brothel in Omaha, all manner of destinies intersect in a violent collision that many won't survive. This is the incredible story of Martha Cannary, a young woman who shrugged off what destiny had in store for her and made herself into a legend.
The year is 1849, and the future state of California is under the control of former soldiers from the Mexican-American War. Their leader, General Gomez, is busy buying up the locals' land for pennies on the dollar, so that he and his cronies can maximize their profits from the coming gold rush. But he and his men are dogged by a series of masked, would-be avengers all calling themselves Zorro. They are an almost laughable annoyance, simple peasants living out the fantasy of a local legend. Until one man shows up and starts picking off Gomez's men one by one, as stealthy as a fox. He brandishes a sword which he uses to carve the letter Z into his victims' cheeks… Could this be the true Zorro?
Header image:  "Stern" © Frédéric Maffre & Julien Maffre / Dargaud