"Our house is burning and we are looking the other way." This sentence was pronounced during the fourth Earth Summit in 2002, and has left its mark on more than one mind. It recently made its come back in a new form with "don't look up," used in the eponymous movie to symbolize the denial of the population when confronted with a deadly meteorite heading for Earth. It is also an obvious reference to our current ecological disasters that we prefer to ignore as well.
Christophe Blain and Jean-Marc Jancovici make a similar observation in their bestselling graphic novel, published by Dargaud in 2021 and set for release in English through Europe Comics. Contrary to what the title might suggest, our "world without end," as we imagine it, does not exist. And its end could come much sooner than expected.
In France, World Without End had a large impact on readers. Released in October 2021, the graphic novel has been a tremendous success with 380,000 copies sold and at least ten reprints. For the year 2021, it finished in the top ten bestselling comic books and graphic novels, alongside classics like Asterix & Obelix, Blake & Mortimer, and Blacksad. Its success reveals the public's growing interest in the climate and global warming at a time when the health of the environment has become a major concern and a matter of life and death for many.
Rather than denying what awaits us, Christophe Blain and Jean-Marc Jancovici do a deep dive into the environmental issues we are facing. They also show what challenges these issues present to our contemporary globalized societies. World Without End takes the shape of a graphic documentary which brings together precise information and analysis on the evolution of our relationship with energy. We discover the history of energy, where it comes from, how it works, and the technical innovations that have enabled its growing use. The graphic novel also shows how its use has been rendered invisible to the public eye, and which machines and modes of transportation are really involved in its production.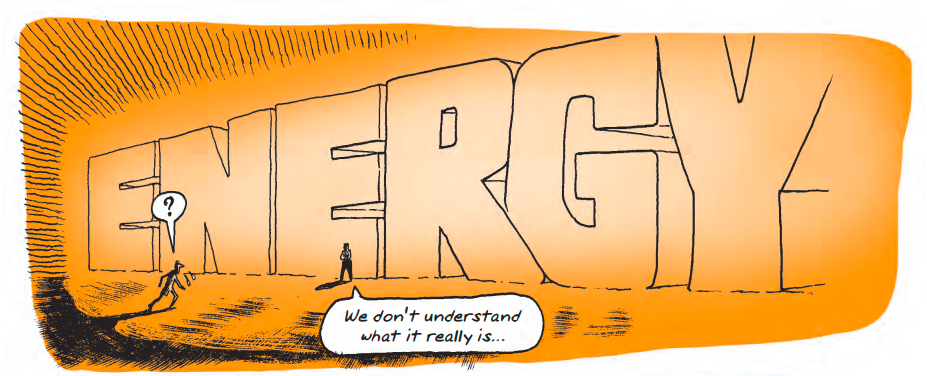 We have grown to believe that—and act as if—energy is limitless, thanks to our constant technological innovations. But that's not the case, an idea that is explored by the authors with humor and intelligence. Despite the heaviness of the subject, we still see the cartoonish style of Christophe Blain that characterized Quai d'Orsay (Dargaud; Weapons of Mass Diplomacy, SelfMadeHero), as well as his western Gus or his high-seas adventure Isaac the Pirate (both with Dargaud). In the context of World Without End, Blain's unique style adds some humor and lightness to a graphic novel that offers up a steady flow of information.
Perhaps what makes this book so compelling is the fact that it draws on the personal passions of its authors. For his part, Christophe Blain decided that he wanted to get involved in a cause that was precious to him: climate change. It was at the advice of his brother that he contacted Jean-Marc Jancovici, a brilliant polytech grad and engineer, and a key figure in the global response to climate change. Throughout this book, Jancovici provides the conclusions of years of research on the subject of energy and its impact on the climate and the earth's ecosystems.
At the beginning of his career, Jancovici was initially aiming for the Hollywood film industry. He didn't know much about climate change or energy issues. But in the 1990s he became increasingly interested in the environment, coming across various papers on the topic. As he delved further into these issues, he discovered a climate Pandora's box that could no longer be ignored. He has now committed himself fully to the fight against excessive energy use, with undertakings such as the think tank "The Shift Project" or his consulting firm Carbone 4 which helps companies to reduce their carbon emissions.
World Without End appears as a holistic panorama of the changes in our globalized modes of energy production and consumption. Jean-Marc Jancovici also invites us to question the notion of renewable energy. What is the real impact of the production practices involved in wind and solar power? How are companies using greenwashing to hide the resulting emissions and pollution?
He forces us to acknowledge the social and economic challenges that a decrease in production—however necessary—might represent. In a capitalist and interconnected society built on constant growth, such a process may not go smoothly.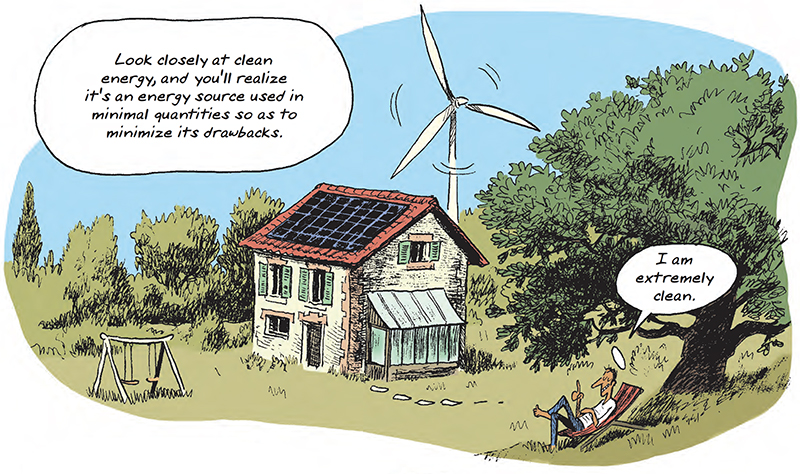 However, in addition to raising issues, the book also offers potential solutions. Jancovici suggests that we reconsider our relationship with nuclear energy, which is less deadly and destructive than people typically imagine. According to him, nuclear activities have less impact on the atmosphere and causes less deaths by disease than coal factories. But since the accidents are more impressive when it happens, we refuse this option which is currently the most sustainable one.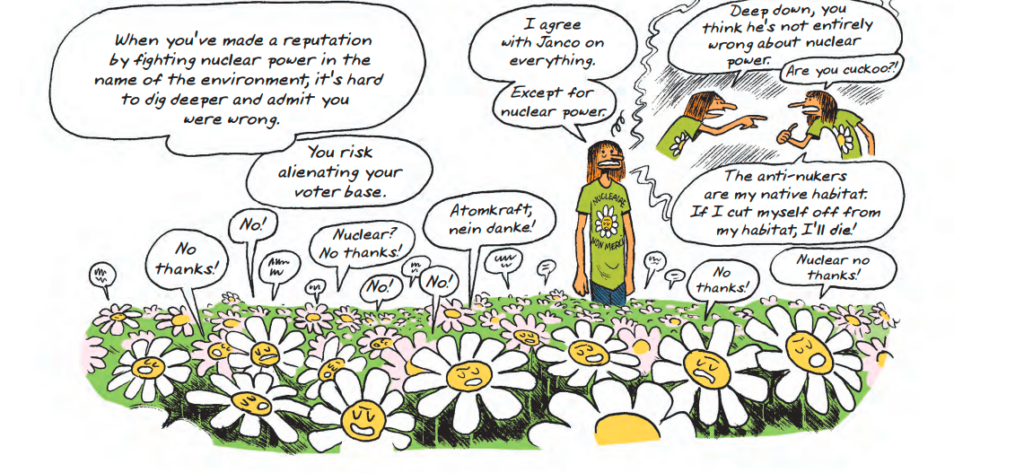 World Without End is a unique and necessary work. For those without the time and expertise to plunge into a voluminous   about the climate change, Blain and Jancovici offer an accessible and entertaining overview of the current climate conundrum. This graphic novel reveals the fragile ecological state of our planet and the magnitude of the changes ahead of us, if we wish to overcome this global challenge. It is a reality that our mind has trouble to grasp, but page by page, Blain and Jancovici bring us just a bit closer. And that might make all the difference.