One thing we know is that things change—always and for everyone. Take comics for instance. Who are the major players in comics publishing today? If we look ten years into the future, and even further, will they be the same?
Today, both readers and the media tend to apply the "major" label to American publishers Marvel Comics (which in one decade added nearly $20 billion to the Walt Disney Company coffers) and DC Comics, and if they have some sense of the manga scene, the Japanese Shueisha and Kodansha as well. All are companies that make hundreds of millions of dollars a year, whose products are widely-known and distributed in almost every corner of the world.
Looking below the 150 million dollar/euro mark—the limit used in the Wischenbart Report, a yearly ranking of the world's top fifty publishing companies—the group expands to include other historic brands, from countries such as Spain, France, and Italy (Sergio Bonelli Editore, for the latter). But to be considered a major, a company must hold a significant portion of the global market in its sector. Over 3/4 of the global music market is in the hands of the "big six"; film is dominated by the "big five," some of them perennial stalwarts; whereas the global video game industry is more fragmented, yet still is carried by 7 core companies, each capable of grossing over $2 billion a year.
The graph below provides a snapshot of the majors in international comics. Of course, a summary doesn't solve the problem of knowability: some data is public, some isn't; some is precise and some of it mere estimates from analysts or finance journalists. Parceling out the value of comics publishing activities is harder with brands that have been absorbed into conglomerates like Disney or AT&T, as well as with publishers not exclusively devoted to comics (like Panini in Italy or Média Participations in France).
Nonetheless, a snapshot can give us an idea, allowing us to identify ten majors that share the majority of the pie. The value of the global comics industry—of which there are only estimates (and very few at that)—is thought to be between $5 billion and $20 billion (my estimate would be $10 billion), of which ten principal players hold over 50%. Naturally, the numbers are lower than in other media—gaming generated $178 billion in 2020; the box office (excluding TV and online streaming) yielded $42 billion in 2019; music (concerts, sponsorships, and merchandising) made $22 billion in 2020—but still suffice to support a number of significant businesses. Here they are: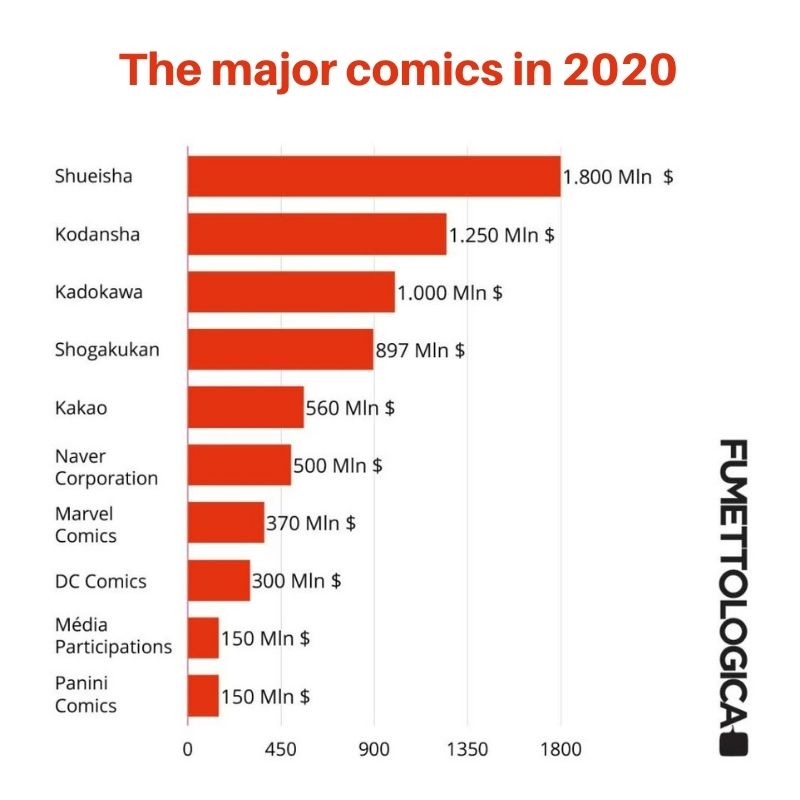 This snapshot represents the way things stand now. But multiple signs point to a future with one particular element—a country, a market, a driving force—whose role may not yet be universally clear: South Korea. Not only is it the country with the best-selling music group in the world (BTS) or the most-watched streaming series in the world (Squid Game), but also the most-read digital comics in the world: webtoons.
Signs of K-Comics, Signs of K-Majors
Taking the pulse of the international comics market is complex. What I'm presenting here is an overview based on certain indicators—sales data, business dynamics, and cultural trends—that have gone largely unnoticed and unremarked by the main figures in the comics world. In seven main points I'll answer the two general questions that seem to me most useful to consider:
What's happening in the industry of South Korean digital comics, also known as webtoons?
What is the impact of the leading companies in this new market?
1. The market is already there (and growing)
Let's start with the big economic picture. And with the biggest concern, which is entirely legitimate for those who don't know: when we talk about the webtoon market, do we have serious, consistent numbers in mind, or are we speculating based on projected niche markets that may or may not develop, but no one knows for sure? Let's look at the data: the comics market in the US is valued at $1.3 billion and the Francophone market at 600€ million, according to the most recent calculations from 2020. As for webtoons, revenues have already reached the dimensions of the American market, growing from $577 million in 2019 to $950 million in 2020. Enough said, except one more note for perspective: the US comics industry has been around for over a century, and Korean webtoons for just a decade. Let that sink in.
2. Webtoon companies are piggybacking on the K-pop phenomenon
Emblematic of the sector was the 2021 announcement of the expansion of webtoons featuring BTS, standard-bearers of the whole K-pop phenomenon, and already the focus of a "BTS Universe" series in 2019. But behind the BTS craze lies a much bigger cultural wave, with dozens of operations merging K-pop and Korean comics. Bands are increasingly hired to create soundtracks and theme songs for some of the more popular webtoons. And as everyone already knows (even Marvel), Korean music is reshaping the record industry—and young imaginations—on a global scale.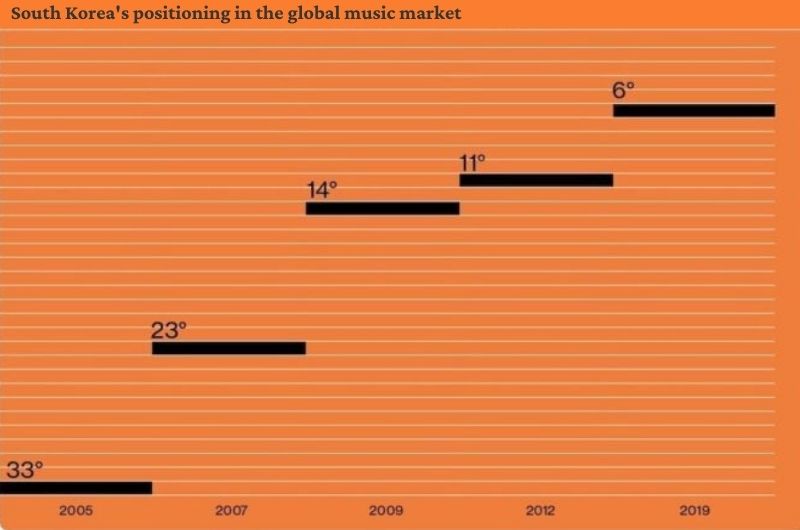 3. The webtoon market is already global
In 2018, webtoon app Lezhin made the news for garnering more downloads than Marvel or DC for several weeks. That burst of success was followed by continuous growth. Exports—webtoons read online outside Korea—generated $65 million in 2020. That might be less than 10% of the total webtoon market, but it's a 41% increase from 2019. At this rate, within a couple of years Korean digital comics exports could top $100 million. By contrast, I would estimate that Italian print and digital comics combined generate no more than 10-20€ million (though how much Italian-produced Disney comics contribute to that is hard to calculate). Simply put, Korean comics are already more global than Italian comics, and by quite a lot.
4. Future content majors
In 2019, webtoon publishers numbered over 40. Some companies, however, are more important than others, like Naver Corporation and Kakao. Think of them as Korean versions of a powerful mix of Google, WhatsApp, Facebook, Yahoo, Uber, Spotify, Revolut, WordPress, Quora, etc., which, among other things, provide web comics. Kakao's webtoons are featured on the platforms KakaoPage (formerly Daum), Piccoma, and Tapas; Naver is home to the platforms Webtoon.com and Line Manga. Platforms like Lezhin or Toomics (the first app to appear in Italian) have significant offerings and audiences domestically, but Naver and Kakao dominate in terms of numbers and future prospects.
These two conglomerates are taking advantage of the firepower and profits of their established services and investing in other content and companies they can bring into the webtoon sphere (e.g., Solo Leveling), as well as into fan fiction and the web novel. In early 2021, Naver purchased the Canadian company Wattpad for $600 million; in 2021 Kakao paid $440 million for the American company Radish.
Brian Kim, founder of Kakao, has become one of the richest people in South Korea (for a few weeks even surpassing the Samsung dynasty heir); the co-founder of Naver, Lee Hae-jin, "only" comes in at number 19. Both companies share the same overall vision: taking over the user-generated narrative content market to provide a kind of fandom-based, non-audiovisual YouTube or Netflix. Moreover, as noted in Korean business news, "Compared to films and dramas, webtoons and web novels enable them to make forays into global markets with relatively modest production costs."
5. New digital oligopolies
Let's be clear: the webtoon phenomenon has some problems, both new and old. The most classic has to do with the economic treatment of creators: like any platform, webtoon publishers take commissions on sales. The reported average is 30%, but often additional commissions are added (up to 15-20% more) that companies claim for marketing costs. In fact, Naver and Kakao were summoned to appear in parliament over accusations of exploitative practices regarding commissions and copyrights, and forced to apologize and work toward improving the situation.
This wasn't entirely new. A few weeks prior, the new tech giants had been the target of even harsher allegations. According to various government and majority representatives, Naver and Kakao risked presenting a novel problem: becoming "the new chaebol" (questionable South Korean business conglomerates controlled by family clans and politics), as The Economist has reported, and therefore requiring more legal regulations and limitations.
6. Korean publishers are going international…
Skeptics of the worldwide impact of Korean web comics would do well to observe two signs of the coming "invasion." The first has to do with content. Many webtoons are already properties that have drawn the attention of the global majors in movies, music, TV (35 TV shows in 2021), and video games. One representative example: Netflix has already acquired adaptation rights to several webtoons, part of a total investment in Korean content of $500 million in 2021 alone. The second, more strategic sign has to do with distribution: the new Korean majors look to a globally oriented future, systematically preparing themselves to enter worldwide markets.
"We are expecting [Kakao Entertainment] to become a global content firm within the next three years," Executive Vice President Jay Bae has declared. Kakao's overseas business head, Jayden Kang, was even clearer: "We will build webtoons as a global language." Kakao is already in Japan, Taiwan, Thailand, Indonesia, and, recently, in the US, with the surprising $510 million acquisition of Tapas, America's most established webtoon company (although Korean-founded).
7. …And they're already in Europe
In this respect Naver is even further ahead, having already made direct investments in a number of foreign countries. We covered their comprehensive US ad campaign in 2019, and they also launched their French version in 2019 (and established offices in France), their Spanish version in 2020, and their German version in 2021. This European expansion has already brought concrete results: last summer, Naver Webtoon was the most downloaded comics app on Google Play in France, totaling 2 million active users per month.
And Naver isn't the only webtoon company to have moved into Europe and America. In 2019, Korean Kidari Studio, part of the Daou conglomerate, purchased control of French company Delitoon, a pioneer in Francophone web comics, pushing their 2020 revenue to around $9 million. In 2020, RIDI Corp, the e-book market leader in South Korea, launched the app Manta webtoon in English, hitting 2 million downloads in 8 months thanks to their $3.99 monthly subscription, and aiming to be listed on the stock market. And in July, Toptoon extended their offerings to include English. Kakao is ready to launch a French-language version, and bought a multilingual localization company for that purpose. While the major players in Western TV have made incursions into the Asian market for a few years now, the major webtoon companies have likewise made forays into the Western market. And at a very rapid pace.
What are the most popular webtoons?
If industry dynamics interest you, and you're curious to know which webtoons are the most popular worldwide, you quickly run into a problem: measurability. In fact, webtoons are subject to the same issue as media from Amazon, Netflix, and the like: the data isn't public, and what is made available is generated by the communications and PR divisions of the respective companies, or else it consists of imprecise data produced by the few companies out there counting views, with substantially indirect technological tools.
To help orient ourselves, we found an unexpected resource on Twitter. An executive specialized in K-pop—YeonJeong Kim, Head of Global K-pop & K-content Partnerships—shared a graphic from a recent presentation in South Korea listing the most frequently Tweeted webtoons of the last three years (which doesn't mean the most viewed, but in the absence of more reliable data…).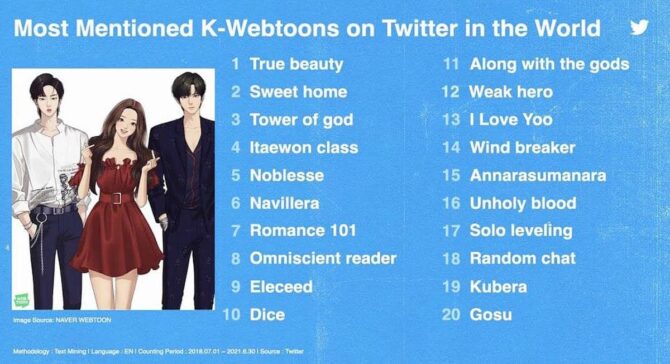 Do Western comics risk losing ground?
In Europe, homegrown webtoon platforms are still scarce, and Korean publishers seem to have an enormous competitive advantage. Moreover, it remains rare to see operators on the Old Continent not only with a clear vision, but also that are capable of sustaining investments along the lines of the global ambitions of the new Korean majors.
A brief personal anecdote: in 2018 I discovered a French startup that was getting ready to launch an app and web comics service, founded by entrepreneurs and programmers with solid experience in the French tech world and financed by the creator of one of the strongest and most exported Francophone animated series. A few months later, I was asked to consult on developing a strategy for entering the Italian market. We defined objectives and contractual conditions with the idea of starting within a year of the service's launch.
We had a meeting where I was shown the startup's business model and editorial concept, and after hearing their general vision—which was basically in line with the idea of native and mobile-first digital comics—I asked them to elaborate on their ideas for their offerings and the user experience. Hearing what they had in mind, I didn't think they had the essential ingredients for offering a reading experience that would be different from the unsuccessful first generation of digital comics in ebook and webtoon format. So I suggested that moving forward without seriously taking stock of the Korean model would pose a real problem for the project's future. They asked what I meant, and I gave them an overview with some examples, and I found that while they were very familiar with ComiXology and Izneo, they knew very little of the webtoon world. We would discuss again later. A while after, they wrote to me to say they were about to launch in France. But when they did, the platform didn't take off, and after just over two years, the startup shut down. It was the end of an entrepreneurial illusion that had not taken into account from the start the various elements necessary for the success of webtoons.
As I said, things change, always, for everyone, and comics are no exception. And with the webtoon ecosystem the time has come not only to take note of a trend, but for all of us to grapple with its effects. Korean companies have developed a model for a digital, narrative, and visual experience that represents the most important drive for change in the comics publishing industry. European comics publishers, meanwhile, have remained static, with only a few weak signs of catching up.
After the pioneering experience in France of Delitoon (later transferred to Korean hands), Belgian publisher Dupuis inaugurated its Webtoon Factory platform in 2019. In 2021 the Delcourt group launched the platform Verytoon. The first lights have also come on in Italy: the intrepid startup Jundo began activity in 2020, and TacoToon, Edizioni BD's digital initiative, launched in 2021.
Meanwhile, Korean publishers are investing in content and licensing, international expansion, and acquisitions, they're attracting readers in the four principal languages in Europe, and they're still growing. The race to become a major player in the comics scene of the future has begun. And we're already seeing new industry champions coming out of South Korea.
Webtoons might still be a passing train to be caught in order to have the opportunity to steer the current comics ecosystem toward new forms and new readers. Or possibly the train already passed by when we weren't looking, and now there's no longer any room for non-Korean passengers (publishers). It won't take long to find out.
Actually, after many days of research and reading Korean finance news as well as Naver's and Kakao's 2020/21 quarterly reports, I gathered some interesting new data and reformulated the graph pictured at the beginning of this article. The conclusion: due to the new industry dynamic developed more or less during the pandemic, Korean webtoon creators have already become major players in global comics.
It seems the future is now.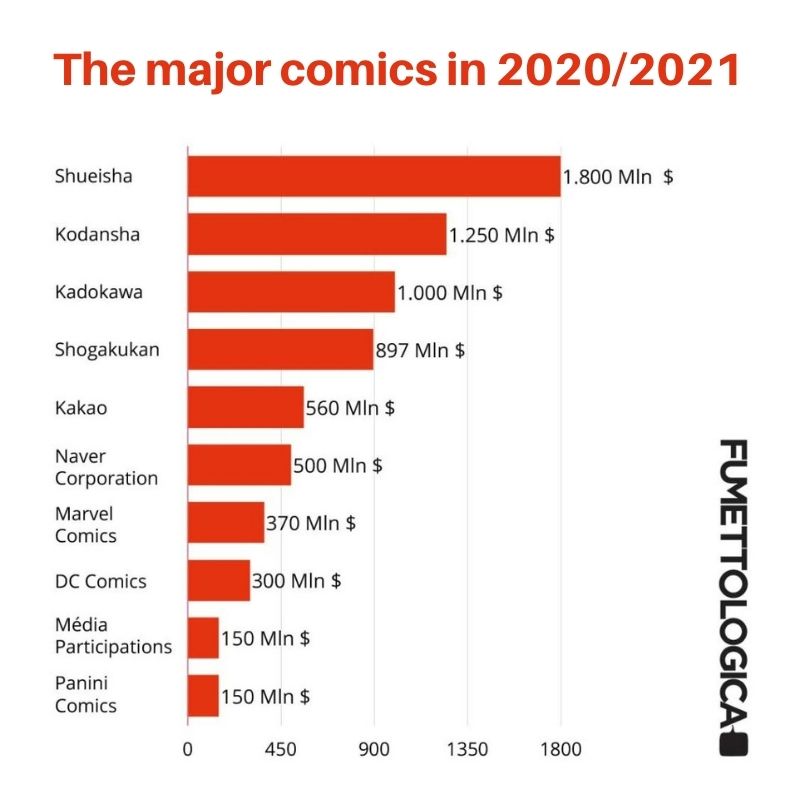 By Matteo Stefanelli
Translation by Jamie Richards
About the author: Matteo Stefanelli is an Italian university professor, essayist, blogger and critic, specialized in comics studies. In 2013 he founded the Fumettologica website.
About the translator: Jamie Richards is a literary translator from Italian and Spanish. She specializes in fiction and comics and has translated a number of modern authors.