Here is a reading list for those who love tales from former ages! From heroic fantasy comics with thrilling quests carried out by brave knights to historical fictions with conflicts of power at their heart, fans of sword battles and fortified castles will be definitely pleased!
A young man's destiny is changed forever when he encounters the deadly and bewitching Layla, a serpent-woman who lives in the swamp and feasts on the spirits and flesh of greedy men. Forever haunted by Layla's sensuous beauty, Froghert will do whatever he can, be it at the cost of his own life and soul, to protect her against power-hungry monarchs seeking to take possession of the enchanted stone she wears around her neck. A tale of obsession, avarice, and the blood-drenched quest for immortality.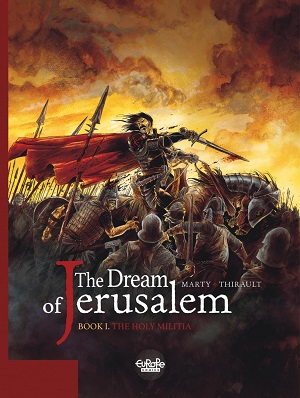 The Dream of Jerusalem
France, 1076. Hermance Languedolce, a child with miraculous healing powers, falls in with religious rebels and is branded a heretic. Hideously tortured, he summons a miracle and saves himself, only to be taken in by kind gypsies. When fearsome warrior Karlis Oresund is converted to Christ, he too receives a miraculous ability to sense evil. Entering the service of Bohemond of Taranto, he sets forth on a crusade to the Holy Land, conscripting Hermance by force along the way. Hermance can't or won't remember his powers, but can Karlis bring them out of the scarred young man?
Of all the terrifying warlords to wreak destruction across the empire, few can match the savagery of Ghorghor Bey. His name alone can cause even the bravest of soldiers to tremble in their boots, and noble lords and ladies throughout the land pray that he never comes knocking at their castle doors in search of gold, booze, and maidens. But few know the tragic story behind this fearsome warrior's rise to power. From his harrowing childhood to his first love(s), his devastating heartbreaks and crushing victories, read on and discover how a naive young half-ogre would go on to become Ghorghor the Terrible.
When Nanami, a bored adolescent living life on automatic, finds a strange book that appears to be "inhabited," she tracks down the book's owner only to be introduced to something even stranger: a theatre troupe whose members get projected into a parallel universe during rehearsal. The universe in question is the thrilling and romantic — but dangerous — world in which their play is set and in which wallflower Nanami becomes a warrior princess fighting for her life and her kingdom.
This first volume of the ongoing Spellbound series initiates us into Dufaux and Munuera's Medieval-style fantasy land, a land brimming with witchcraft, demons, enchantments and foul-play.
The whole of Middleland has been thrown into turmoil by the sudden and brutal murder of the king. The unfortunate victim's dying wish was that his daughter, Blanche, should take the throne, rather than her weak-spirited brother. Thus Blanche finds herself catapulted into a position of power that she never expected, or even wished for. The grief-stricken young woman is forced to renounce her lover, and on top of that, the enemy's army is assembled at the country's border, poising to strike. Blanche looks like she's off to a promising start as queen of the land, but unfortunately she's no match for the various plots to topple her… at least, not yet…
Once upon a time there was a peaceful kingdom where life was good. It was a little country forgotten by its powerful neighbors and their incessant wars. A lovely little piece of land where lived a great many people, and every day they enjoyed the bounties bestowed upon them by the earth and sky. Of course, there was a king, Alain and Adrien (his ugly sons who were nonetheless kind, helpful boys), a grumpy queen, Cécile (the bathroom-hogging princess), and Anne. Pretty little Anne. Anne, who sings to the rising sun; Anne, who lights up the king's nights; Anne, who speaks to the birds… Anne who opens a tavern where all these characters gather.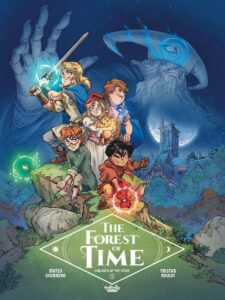 The Forest of Time
Deep in the heart of an enchanted forest, a small village of children lives unaffected by the passage of time thanks to a powerful stone that protects them from it. But when the stone is shattered and a thief runs off with one of the shards, four of the children must set out at once in search of the missing shard before their village is swallowed up by time and everybody in it dies. Armed with four crystals with special powers, the children bravely make their way through the dangerous forest to hunt down the thief, making friends and enemies along the way and encountering one strange creature after another.
Vesper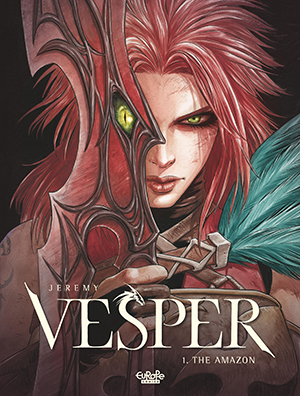 Vesper, the Amazon of the Knights of Nyx, is a formidable warrior versed in the practice of Etheric magic. She uses her talents in the service of Prince Crimson Nyx, with whom she shares the dream of a kingdom where people of all races can live together. But in the midst of celebrating an important victory for their kingdom, the two heroes are ambushed by the Ekklesia, a religious order that sees in them the manifestation of dark forces that must be stamped out… A fast-paced first entry of a thrilling fantasy series not to be missed.
King Edward of England is dead. Edward's son Harold, one of the potential successors, renounces his oath to yield the throne to William of Normandy. From that day forth, William will have no peace until his rightful claim to the throne is acknowledged. As the famous Halley comet soars across the heavens, giving rise to much speculation among the scholars of the time, William, Duke of Normandy, launches into the arrangements for the conquest that will change the face of England — one of the most formidable military expeditions History has ever seen.
This is a tale of ambition, broken oaths, battles, love, death and glory.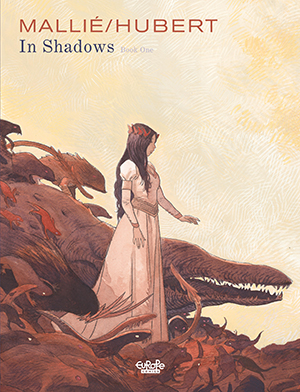 In Shadows
Arzhur, a disgraced knight, has taken on a new mission to restore his honor: save Princess Islen from the Black Castle. The only problem is, the mysterious Islen doesn't want to be saved…The reluctant pair must nonetheless cross the kingdom—pursued by a trio of sinister witches—in hopes of finding refuge with Islen's father, the king. But will their secrets catch up with them first?
An exiled princess, a knight and his young companion travel across a kingdom in turmoil to rally support so the princess can reclaim her throne. On a journey fraught with danger, they briefly find sanctuary in an isolated community of woman warriors before departing for the city of Ohman. Not only is a mysterious treasure said to be hidden there, but a peasant uprising, inspired by a mythical text about equality, is in full, bloody swing. In the first volume of this sweeping graphic novel, each person's convictions will be put to the test.
Tosca and Rinaldo are orphans. Ever since their parents died, they have been living hidden in the forest. Lucilla is the only daughter of the Duc di Castelguelfo, famous for his exploits defending the Republic of Siena. Lucilla's parents are too busy to pay much attention to their daughter, who still feels lonely despite being surrounded by an army of maids and servants. But everything changes when she meets Tosca – a mini Robin Hood living a life so different from her own – and their adventures through 14th-century Tuscany begin. In this first volume in the series, they will have to save Lucilla from a fate worse than death: marriage to a man she doesn't want.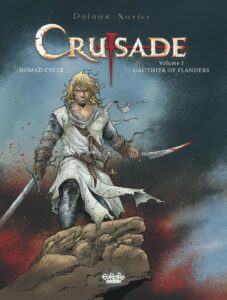 Crusade
After years of violence, a relative peace has returned to the Holy Land. Yet the magic and afflictions that permeate the region haven't gone away. When Gauthier of Flanders, a wandering knight, stops at a caravansary and gives water to a Christian woman who is held prisoner by the Order of Assassins, he has no idea what evil is about to be unleashed upon the world… nor that he will be brought to stand against a deadly demon. The opening chapter of a new arc, following the 4-volume Hierus Halem cycle (published by Cinebook).
On April 5th, 1514, a mysterious noblewoman leaves a newborn bearing only an unusual golden necklace at the gates of the Château du Clos Lucé in Amboise, France. Named "Cinq Avril" by the cooks who care for him, and taken under the wing of another resident of the castle, a certain Leonardo da Vinci, the child grows in energy and knowledge as he's instructed in a multitude of secrets. When his mentor dies, the young man discovers a posthumous letter explaining that he has the power to change the course of history if he can unravel the enigma of his birth.
Header image: The Dream of Jerusalem ©Philippe Thirault & Marty / Dupuis