Weather harrowing or magical, teenage years are an unforgettable season of life, that's why teen books are addictive for all ages, they're nostalgic and also offer a hope for a better future! Here is a list of  teen-centered  young adult (YA) comics and graphic novels which includes a wide range of genres such as sci-fi, action adventures, historical fiction, manga, humor and fantasy!
One day, Harmony wakes up in an unfamiliar basement having completely lost her memory. All she now knows of the world is the name of her "host," the mysterious voices in her head and a newly discovered talent for telekinesis. She's going to have to get her memory back pretty quickly in order to face the dangers that await her. There are so many unanswered questions, and the fight has only just begun…
One sunny summer day Jeremy finds an old-fashioned soccer ball in the attic. He and his friends decide to test it out behind a nearby castle, and that's when they bump into a strange butler who doesn't seem too pleased about the whole thing. He's so angry, in fact, that he keeps following the children around, trying to get his hands on their ball… Or is there another reason why he's so eager to get hold of the soccer ball? What is he hiding?
Agrippina, a wonderful prototype of the rebellious teenager, spends her time squabbling with her exasperated parents, determinately ignoring her infuriating brother, discussing the latest couplings with her girlfriends, studiously avoiding 'being normal', and falling madly in love with a different boy every two minutes. Quite simply hilarious.
Sycion, the jewel of ancient Greece, at the time of tyrants and myths… In order to right a wrong that threatens their tribes and fathers, Alcyon and Phoebe, two troublemaking friends, depart in search of Harmony's necklace, a legendary item forged by the god Hephaestus himself. Joined by Kyrilos, a young Spartan out to prove himself, their adventures in this world will be long, dangerous, and epic.
A monkey-faced man named Kid Noize who has a 1977 Mustang, a talking dog, and dreams of being a famous DJ, travels between worlds to deliver mysterious packages to people. Unfortunately, he has lost the package of his next recipient, a young boy named Sam who is having a hard time in life, grieving the loss of his mother while trying to adapt to a tough new town and school. Neither Sam nor Kid Noize has any idea what awaits them as they join forces to find the package that will help shape Sam's destiny…
Adolescence is a terrible time for most people. For Louca, it's especially bad! Generally mediocre, a poor student, awkward with girls… he's a walking disaster. But Louca has decided: starting tomorrow, he's going to change! Still, that's easier said than done… especially when your own mind keeps changing! Luckily, Louca will get a helping hand from a certain fellow named Nathan. Good-looking, amazing at football, funny, smart… this Nathan certainly seems like the perfect guy, and the best coach Louca could possibly hope for. With one little exception: Nathan is a ghost… How did Nathan die? Why can only Louca see him? Will Nathan manage to turn Louca into the kind of guy people want to be with? Will Louca manage both to pass his exams, and to win over Julie, the girl of his dreams?
The touching story of a child getting to know his grandfather, an Italian immigrant living in Belgium. 11-year-old Romeo thinks of his grandfather as nothing but an "old pain-in-the-butt." So when he finds out that he's going to have to spend a few days with him at his crumbling old house, without even a TV to keep him entertained… well, it's his idea of hell. But there are some surprises in store for Romeo during his visit. He changes his mind about a few things, perhaps thanks to his grandfather's neighbor, Lucy, who tells him about her own "nonno," and shows him how a spoil tip can be a thing of beauty. Or perhaps it's thanks to Romeo's dad, who speaks for the first time about his childhood relationship with his father. But it's mostly thanks to Ottavio who, beneath his old, grouchy exterior, conceals the hard life he has led, full of suffering and sacrifice. It is a life the 11-year-old Romeo finds hard to comprehend, but which gives him a deeper understanding of someone from another century. It started off as just a short holiday to a grey Belgian town. But this holiday turns into an opportunity for three generations of men to lift the silence that surrounds them. A touching story about Italian immigration, coal mining, communication between the generations and the difficultly of opening up when you've spent your whole life in silence.
"Before, there were trees and countryside. Man didn't intervene. Stalin decided to "rectify" that space, and now, instead of trees, there are concrete buildings, everywhere. Stalin had a factory built. Thanks to that, lots of people got jobs, like my dad." Born in 1979, Marzi is a 7-year-old Polish girl who looks wide-eyed at the world around her: her parents, her family, her school friends and the crabby women at the grocery store who don't even smile for a fruit delivery. Marzi lives on a council estate in an industrial town, and is a cheerful, carefree, mischievous and perceptive little girl, bound to run into many adventures!
Mia, Gauthier, Louka and Zouzou are inseparable. Like most teenagers, they'd much rather be playing video games or making music than doing their homework. Mia, the only girl in the group, doesn't really seem to click with the other girls in her class. But as they grow up, her tight-knit friendship group will become more and more complicated as girl-boy relationships start to get interesting…
When Nanami, a bored adolescent living life on automatic, finds a strange book that appears to be "inhabited," she tracks down the book's owner only to be introduced to something even stranger: a theatre troupe whose members get projected into a parallel universe during rehearsal. The universe in question is the thrilling and romantic — but dangerous — world in which their play is set and in which wallflower Nanami becomes a warrior princess fighting for her life and her kingdom.
The planet Oceania is covered with an ocean of vegetation. Humans navigate the green seas with futuristic ships. Teenagers Jon and Jasper spend most of their days surfing the vast waves of foliage, until one day, without warning, they're hit by a tsunami. Jon disappears beneath the leafy ocean surface and Jasper is picked up by a ship called the Poseidon. It is said that none return from the depths of this treacherous ocean. But the captain of the Poseidon tells a different story. Will Jon and Jasper ever find each other?
Nino would rather be outside playing than stuck inside doing homework—especially science homework. Then he discovers that one of the greatest scientists ever started out feeling the same way: Albert Einstein—the guy who invented that famous formula: E=mc2. And, as Ariane explains, there was a lot more to Einstein than just formulas. Thanks to him, we have GPS devices and electric gates, nuclear energy and … well, yes, also nuclear bombs. Einstein did everything he could to make the world a better place—but after all, he was only human!
Ever since she was a little girl, Rose has had a special and troubling power: the ability to "double" herself and travel outside her body. She always saw it as something wrong with her… until now. When her father is murdered, Rose's strange ability gives her a chance to find her father's killer, solve a series of mysterious cold cases, and untangle a centuries-old curse. But maybe some secrets should stay buried…
Oxana, a young dancer from the turn of the 19th century, is the victim of a terrible curse that plunges her into a deep sleep. She awakens a hundred years later with no memory of the past in a time that is not her own. Why has she lost her memory? What power does her strange medallion hold? What are the intentions of the mysterious man in white who comes to her assistance?
When your old man's a police captain, it can make for some lonely evenings at home! Tom would know. But when the investigation his father is working on implicates Fabian, one of the hall monitors at his middle school, Tom decides to find out for himself what's going on. With his best friend Lilia by his side, he sets out to catch the bad guys. They suddenly find themselves trailing suspects, following clues, going undercover, and even getting into high-speed chases! The only thing is they have to do it all in absolute secrecy, so that Tom's father doesn't suspect their involvement. To do so, they'll have to become real-life anonymous informers. But just where will all of this lead?
On May 10th, 1940, Nazi Germany attacked France, Belgium, the Netherlands, and Luxembourg. Their advance was swift, and led to the fall of France just six weeks later. In the fictional French village of Pontain-L'Écluse, 13-year-old François is shocked to see his fellow villagers—and even some of his family members—accept this occupation and submit to the laws and behavior of the German invaders. Determined to thwart the enemy, he enlists his friend Eusèbe to help sabotage the Nazis and motivate his village to unite against them. A fascinating tale of the Resistance and of actions taken by its youngest activitsts, inspired by true stories.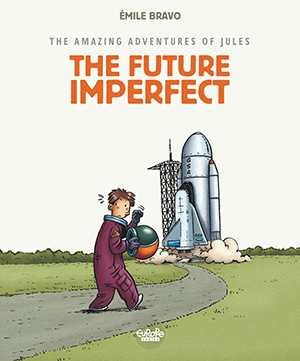 The Amazing Adventures of Jules
Jules, a nice boy living a quiet life without any particular problems (except his little brother set on murdering his guinea pig), is selected by the Global Space Agency to take part in the first expedition to planet Alpha aboard an interstellar spaceship. The journey will last 8 weeks for the passengers, and 8 months in Earth-time (because of relativity)… Thus Jules embarks upon the voyage of a lifetime, stowaway guinea pig in tow, accompanied by the other members of this glorious team of space explorers: a couple of eccentrics who collect Nobel prizes; a rather tetchy roommate; a drunken pilot who seems to mess up the landings every time and endangers interplanetary peace; and a pretty exobiologist who will study any extraterrestrial life they come across. Get ready for takeoff!
Tosca and Rinaldo are orphans. Ever since their parents died, they have been living hidden in the forest. Lucilla is the only daughter of the Duc di Castelguelfo, famous for his exploits defending the Republic of Siena. Lucilla's parents are too busy to pay much attention to their daughter, who still feels lonely despite being surrounded by an army of maids and servants. But everything changes when she meets Tosca – a mini Robin Hood living a life so different from her own – and their adventures through 14th-century Tuscany begin. In this first volume in the series, they will have to save Lucilla from a fate worse than death: marriage to a man she doesn't want.
Valentine is a secondary-school student like many others. Her daily life is filled with all the upheavals and self-questioning of adolescence. Self-conscious, she tries to assert herself within a group in which she is "the shy one". She spends most of her time with her girlfriends, at school or at parties on the weekend. She also tries desperately to get the attention of Felix, the boy she's in love with – and who has no idea she exists. To make things worse, he's in the "rival" class to her own… Little by little, this young woman learns to express herself and find her place in the cruel and treacherous world of adolescence, from MP3 players and Japanese mangas, to her first parties and her first whiskey and Coke.
Eleven‐year‐old Yasmina and her dad lead a modest life in a small city apartment. Luckily, the food-loving Yasmina can whip up just about anything in the kitchen, with an assist from her edible herb books and her friends from the community garden. That is, until the day the garden disappears, bulldozed and replaced by a field of potatoes that are both experimental… and completely addictive! The only solution is for Yasmina to track down and eradicate the source of the problem. A fun and colorful tale for all ages.
Three friends, their schoolgrounds, a secret. And fifteen years later, the discovery that they all thought there was only one secret, but each had their own. And there was one more, bigger than the others, that none were aware of. This is Zerocalcare's second graphic novel, the one that made him stand out as an intelligent, delicate, merciless narrator when it comes to describing his own weaknesses, which may be everyone's. A complete story in three parts at different times in the coming of age of young Calcare; three moments that have in common the all-too-familiar feeling of having tentacles at the throat.
A few months before Rosa Parks refused to give up her seat on a segregated bus in Montgomery, Alabama, kicking off the U.S. civil rights movement, making headlines around he world and becoming an enduring symbol of the fight for dignity and equality, another young black woman refused to give up her seat on a segregated bus in Montgomery, Alabama. She was the wrong person at the right time, and so History did not choose her. Her name was Claudette Colvin and this is her story.
Ulysses, mythical hero and king of Ithaca, left years ago to fight in the Trojan War. He never came home. His son, Telemachus, an impatient and immature prince who is as clumsy as he is ambitious, decides to go looking for him. On the way, he meets the hot-headed princess Polycaste, who helps him in his perilous adventure full of vengeful gods and terrifying monsters. Will the winds be favorable to them?
A group of young Canadians is out on a field trip in the Louisiana swamps when an epidemic breaks out, unlike any the world has ever seen. The highly contagious virus turns people into seemingly mindless creatures, monstrous in appearance and inhumanly strong when provoked. To halt its rapid spread, the U.S. government walls off the area. When one of their own succumbs to the disease, the kids are trapped in the contagion zone. To survive, they must fight bloodthirsty militias and infected creatures alike, as they hold out hope they can find a cure for their friend, before he becomes a menace to them all.
Emma and Violette are sisters who share the same dream of attending Paris's most prestigious dance school. Violette passes the first audition with flying colors, but Emma doesn't, and their world comes crashing down. But there may be more than one way to dance through life… This is the revelation at the heart of the first volume of this lively and graceful narrative.
Through a series of strange circumstances, Mehdi, a pickpocket making his living in the streets of the Abu caliphate, finds himself partaking in the entrance exam for Hikmadrassa, the most prestigious alchemy school on the continent. He might not know much about enchantments, spells and conjuring up golams, but he will soon discover that he's got a rare power all of his own! As he dives into the world of the golams, Medhi not only meets his first true friends, but he also comes to understand his origins and turns to face his destiny!
Newb wants to join the Toucan Patrol. But first, he'll have to earn the two things every toucan needs: a neckerchief and slide. How? By confronting his greatest fears. Geez! It's not going to be easy!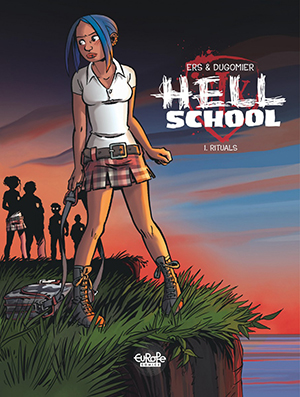 Hell School
Starting a new school is daunting at the best of times, but for Bastien, Hina, and Boris, their first year at the Institute of Excellence is going to be downright terrifying. New students at the ultra-elite private school are subjected to the "ritual"—weeks of hazing by the seniors—and if they refuse to take part, they are branded "bastards" for life and can say goodbye to any kind of social life. But something even more sinister is going on behind the scenes… Who is the mysterious benefactor paying Bastien's tuition, what is the principal hiding, and what are the real circumstances behind the deaths of former "bastard" alumni?
When a 13-year-old orphan sets out to find his parents and ends up in prehistoric times, he realises he's got a lot of work to do: so many things haven't been invented yet, like fire, soap… and vowels! Not to mention all the terrifying creatures and knuckledragging cavemen he has to deal with!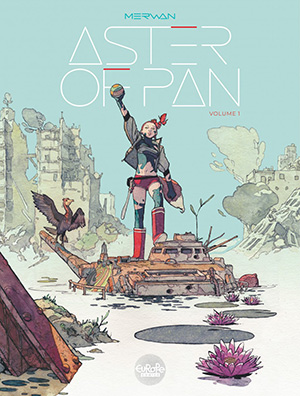 Aster of Pan
The year is 2068. The place, Fontainebleau forest, ancient home of some of France's mightiest monarchs on the outskirts of what was once Paris. The post-apocalyptic society of Pan survives by growing rice and scavenging among the ruins of a destroyed civilization. Their precarious existence comes under threat when the powerful, technologically advanced Federation of Fortuna forces them into a dangerous choice—submit to Fortuna's rule, or try to best them in a barbaric, ritualized game known as Celestial Mechanics. Pan's only hope? A hot-headed outcast they'd rejected for being "un-Pan": a girl named Aster.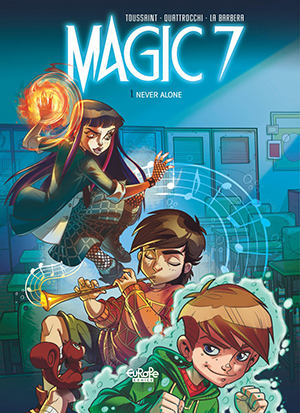 Magic 7
On his first day of class at a new school, Leo, a boy who talks to the ghosts of famous dead people for fun, meets Hamlin, who can talk to animals, and Farah, a human flamethrower. The new friends band together to track down the thief who has made off with the school's prized trophy, and must use all their powers to fight off an army of gigantic robots intent on destroying them. What they don't know is that this is all just part of a much, much bigger plan…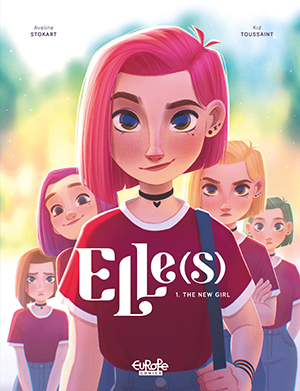 Elle(s)
Elle is just another teenage girl… most of the time. Bubbly and good-natured, she wastes no time making friends on her first day at her new school. But Elle has a secret: she hasn't come alone. She's brought with her a colorful mix of personalities, which come out when she least expects it… Who is Elle, really? And will her new friends stand by her when they find out the truth?
A group of students is on a field trip to an ancient castle when a storm erupts. As they are about to leave, four friends are cornered by the class bully, who tries to pull one of his usual pranks. Instead, they all get the scare of their lives when they fall down a tunnel that takes them into the future: a future where mankind has nearly disappeared from the face of the earth, and where nature has taken control. The friends will have to face up to this hostile new world—as well as their nemesis—if they're to have any chance of making it back home…
"My name's Jules. From the window of my Paris apartment, I'm looking in horror at the piles of bodies in the street below. My parents are on the other side of the world. They're almost certainly dead. My older brother, Pierre, can only drown his sorrow in drugs, but I must look after Alicia, a little girl who somehow escaped the virus and is all alone. But what can I do for her? My only hope is to join the other Warriors of Time masters… This meeting is where I'll find out who Khronos really is…"
You choose which volume to read first. The first four are parallel stories, so it doesn't matter which one you start with. But you must finish with Khronos, where the four threads are finally brought together.
A feisty cop, a cunning mercenary, and a super sweet kid must band together to survive in a hostile, lawless world!
In the megalopolis of Cielazur, the truth is sometimes concealed to keep up appearances. Asa, a young police officer with a thirst for justice, sees her life change course dramatically when she discovers a strange symbol engraved upon her late father's service weapon. As she begins to investigate, Asa realizes that in order to uncover the truth about her father's mysterious death, she will have to enter the Citadel: a mysterious ghetto where crime reigns supreme, and the laws of nature don't apply!
Header image: Mia and Co © Vanyda, Nicolas Hitori De / Dargaud