Add a splash of freshness to your reading list this summer with this vast selection of comics and graphic novels where water plays a central role in the plots!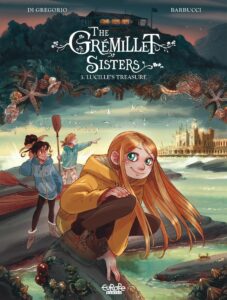 The Grémillet Sisters – 3. Lucille's Treasure
The Grémillet sisters are staring down a cold and rainy week at the beach… But as they soon find out, even the drabbest of places can hide marvels! Sarah, Cassiopeia, and Lucille have stumbled into another adventure, this one prompted by a secretive ancestor, a rumored pirate treasure, and a beached whale… The biggest mystery, however, might be little Lucille, who's behaving more oddly than ever. As the trio follows the trail of clues before them, will they be able to overcome their differences and discover the truth? Little do they know, but the clock is ticking…
Zoc has an unusual gift: her hair attracts water, allowing her to drag huge quantities of it along behind her. But somehow her extraordinary ability only ever seems to get her into trouble. Struggling to discover her purpose in life, Zoc finds a way of using her talents to help a flooded town. On her journey, she'll encounter wandering minstrels, hostile townsfolk, and the fiery Kael, whose equally unusual gift might just make for the perfect friendship.
A poetic fable for grown-ups full of wisdom and beauty, by two Belgian masters of graphic storytelling. Out on the high seas lives a whale unlike any other, who spends her days reading stories to all who will listen, taken from the vast library hidden in her belly. When the whale bumps into a sea postman's boat one fateful night, it's the beginning of an extraordinary friendship. But not every story can have a happy ending…
A young man's destiny is changed forever when he encounters the deadly and bewitching Layla, a serpent-woman who lives in the swamp and feasts on the spirits and flesh of greedy men. Forever haunted by Layla's sensuous beauty, Froghert will do whatever he can, be it at the cost of his own life and soul, to protect her against power-hungry monarchs seeking to take possession of the enchanted stone she wears around her neck. A tale of obsession, avarice, and the blood-drenched quest for immortality.
Okheania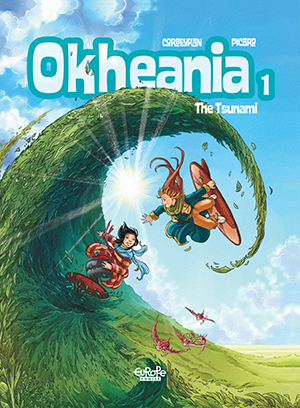 The planet Oceania is covered with an ocean of vegetation. Humans navigate the green seas with futuristic ships. Teenagers Jon and Jasper spend most of their days surfing the vast waves of foliage, until one day, without warning, they're hit by a tsunami. Jon disappears beneath the leafy ocean surface and Jasper is picked up by a ship called the Poseidon. It is said that none return from the depths of this treacherous ocean. But the captain of the Poseidon tells a different story. Will Jon and Jasper ever find each other?
The Monstrous Dreams of Mr. Providence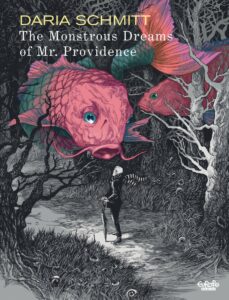 Mr. Providence is the caretaker at what seems by day to be an ordinary city park. But the park is home to mysterious entities that awaken when night falls, and Providence has sworn to protect its visitors despite the doubts of his corporate-minded new manager. A delicate balance is tipped into chaos with the discovery of a mysterious blank book—and the dark energies it threatens to unleash. All Providence wants is to escape: to somewhere quiet, isolated, and peaceful, like the strange high house he keeps seeing reflected in the park's pond…
When Esteban, a young Native American boy of just 12 years old, presents himself to the captain of the Leviathan for the post of 'harpooner', he's the laughing stock of the whole crew. But when the captain finds out that Esteban is the son of Suzanna of the Tehuelches tribe, he decides to take him on… as ship's boy. Despite his lowly post, this is Esteban's chance to discover the sailor's life, with all its hardship and its happiness, and maybe even a chance to prove what he's made of!
Marion starts a new life when she moves into the family house that her mother has recently inherited. She waves goodbye to city life and hello to a life by the sea, in the village where her grandparents lived for over 30 years. And it's just magical: a fantastic view and the beach just at the end of the garden. In the village, the older residents seem to have fond memories of Marion's grandfather, who died long before she was born. Now's her chance to find out more about her family history, about which, until now, she knew practically nothing. And then there are those sculpted rocks which are apparently a trace of forgotten legends…
1906. William is ten years old when his family leaves London for Barellito, a small Italian fishing village. The quiet of the village will not last long, however, thanks to the ripples created by the arrival of William and his family. His own life, too, is about to be upturned, in this remarkable and wondrous new land where he will find new southern landscapes, a new kind of liberty, and above all new friends: Paolo, Nino, and the charming Lisa, united forever by an extraordinary event and a strange object…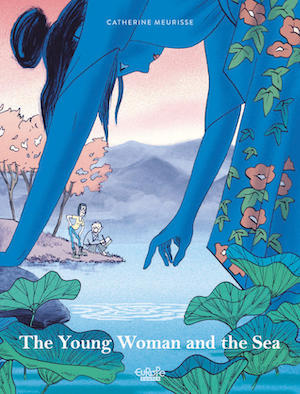 The Young Woman and the Sea
Catherine Meurisse once again draws upon her memories. Her stay in a far-off, strange-yet-familiar land, at the Japanese villa Kujoyama in 2018, provides the artist with another opportunity to pursue her creative quest, this time where the West and Far East meet. In the manner of Lewis Carroll, the young artist lets characters out of legend lead her through pictorial landscapes. Imagination and dialogue are key to penetrating the secrets of this strange territory and discovering why the young explorer finds it so fascinating. This Alice daydreams and wonders, returning every now and then to reality and nature, that dynamic dictator of events and situations. After The Great Outdoors, Catherine Meurisse continues her pursuit of beauty in an unknown land, between mountain and sea, illustrating landscapes that reflect the seasons and the artist's progress. Truly splendid!
Black Water Lilies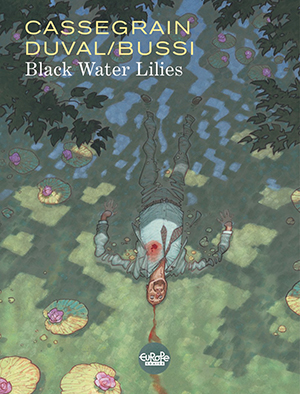 Three willful women: one old wicked, one young and selfish, and the third in the prime of her life. A man murdered three ways: stabbed, bludgeoned, and drowned in a stream. The mystery brings brash young Inspector Laurenç to the postcard-perfect Norman village of Giverny, home to Impressionist Claude Monet's gardens and studio. Like any small town, Giverny has its secrets. But have they to do with greed? Lust? Missing paintings? Jealous husbands? Laurenç soon finds himself head over heels for a pretty schoolteacher—and in over his head. Dider Cassegrain brings Michel Bussi's bestselling novel to life in lush, delicate watercolors worthy of the famous canvases that lend the book its name: Monet's immortal Water Lilies…
Jeremy – 5. The Plastic Hunter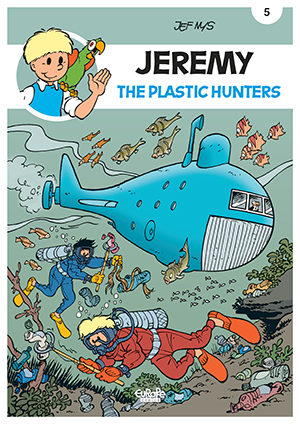 On land, at sea, and in the air… In his latest adventure, Jeremy is confronted with plastic trash wherever he goes! Enough is enough, and so he asks Professor Braynard to invent a machine to remove the plastic waste from the rivers and the seas. And the professor has just the thing: the "Plastic Hunter," a whale made of recycled plastic that transforms plastic waste into green energy. They quickly set about turning his plans into reality, but alas, not everyone has good intentions… A couple of villains have other plans for Professor Braynard's phenomenal invention!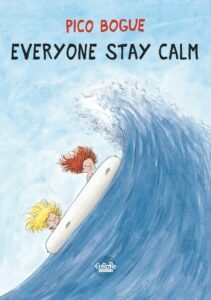 Pico Bogue – 6. Everyone Stay Calm
It's summertime, and Pico, Anna and their uncle Antoine fill up the car with all manner beach paraphernalia and head for the seaside. It's sure to be a vacation full of all sorts of magic and mischief!
In a voyage of discovery that takes us to the bottom of the sea, Hubert Reeves explains how the oceans formed, what makes them salty, and what causes currents and tides. He reveals the wonders of life below the waves and shows us how the oceans can determine the very future of our precious planet. This is why they need our protection.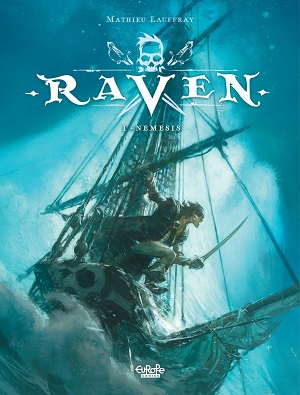 Raven
Raven is a fearless young pirate as capable of legendary exploits as he is of epic fails. In this inaugural volume, he finds himself on the high Caribbean seas on a search for a treasure meant for the Governor of Tortuga. Allied with the dreadful Lady Darksee, whose hope is to gain royal pardon, the terrible Governor must act quickly. But the impetuous and talented Raven has grand plans to beat them to it…
This is the fascinating life story of Robert Louis Stevenson, the beloved author of classics such as "Treasure Island" and "Strange Case of Dr. Jekyll and Mr. Hyde," from his early days as an aspiring writer to his first published works, his love affair and then marriage to Fanny Osbourne, his success as an author, his many travels across Europe and the U.S., and finally his voyage to the islands of the South Pacific, where he eventually built the house of his dreams. Stevenson never let his weak lungs (which he referred to as pirates waging a battle inside him) and delicate constitution stand in the way of his insatiable thirst for adventure, living life on his own terms until the very end.
The Campbells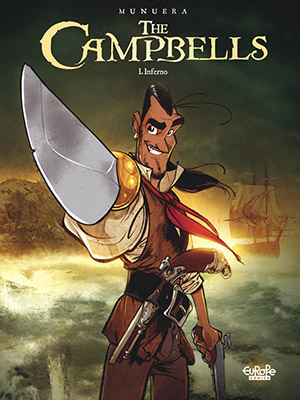 After his wife's brutal murder, Campbell, a pirate legend, gave up his life on the open seas to raise his two young daughters in peace. But, inevitably, his past eventually catches up with him in the form of Carapepino, a pretentious but clumsy pirate, desperately trying to win favour with the infamous Inferno. For his own sinister reasons, Inferno wants more than anything to get rid of Campbell and his offspring, once and for all. But Campbell and Inferno are bound to each other in ways that those around them would never have guessed…
Pirate Family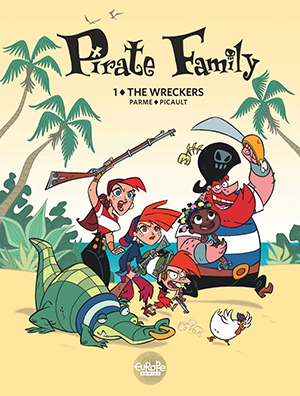 Turtle Island is in full swing! The pirates are planning a big party to celebrate the centennial of the island's founding hero, the magnificent Max Turtle. Meanwhile, a mysterious character invites himself to stay with the MacLimpets: Grandpa Duff. Victor is less than thrilled by this reunion with a father who has been absent for so many years… What can he be up to now?
Tramp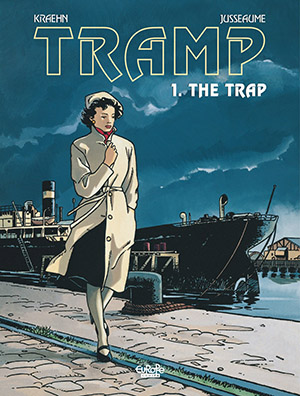 In the chilly gray port town of Rouen, De Trichère, a man who's made his fortune in shipping, is dying of cancer. He lost his wife to bombing during the war, and his daughter lost the use of her legs. Now the wheelchair-bound girl is all he has left, and he's willing to go to any lengths to secure her future. Cozying up to a former first mate with a reputation for sadism? Check. Insurance fraud on a massive scale? Check. Sending over fifty sailors to certain doom, sure, but even… murdering his own secretary when she finds out?
Tom Thomson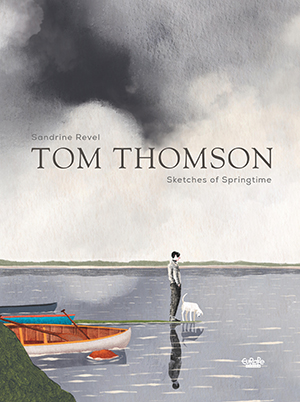 Tom Thomson, whose grandiose landscapes of Ontario's wilderness marked the entry of Canadian art into the modern era, died at a young age under troubling circumstances. His career as a painter was as brief as it was fundamental, in that it inspired the next great generation of Canadian painters, the iconic Group of Seven. Returning to the circumstances of the painter's sudden disappearance just as he was beginning to attain recognition, Sandrine Revel retraces his journey, sketching a subtle portrait of the artist while questioning nostalgia in art as it attaches itself to artists. This is a book about memory and the past: troubling, beautiful, and melancholic, like the passage of time.
Island Adventures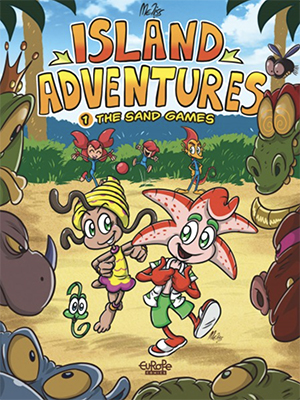 Many different beings live on the tiny but magical Island of the Sun, unknown to humans. Some were created at sea and others on land. Owley, the wise owl of the island, built a holiday resort so all of them can live together in harmony, while having fun on the same beach. But Starfizz, a human-like starfish who is full of ideas and loves building things, unwittingly drags sweet Shelly and tiny Magna Alga into a wild adventure across the sea on Shell Island, where the legendary Sand Games are being held… Will our friends emerge victorious and find a way back home?
An Enemy of the People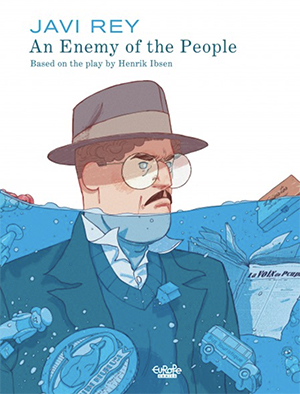 An adaptation of Ibsen's play: Dr. Stockmann discovers that his town's thermal springs are contaminated with bacteria, so he decides to warn everyone. But to fix the problem, expensive work would be necessary. The town's mayor, who is none other than the doctor's own brother, tries to silence Stockmann.