Sometime's it feels good to wander in a world of fantasy and esotericism, full of strange creatures, haunted souls or increbible powers. If fantasy worlds and supernatural phenomena get you fascinated, this reading list is made for you!
When a young girl is captured in the forest and brought to the city, only to escape shortly afterwards, all manner of individuals and organizations try to get their hands on her, no matter the cost. In a chilling and clever tour de force, the authors use the backdrop of the 1910 Great Flood of Paris to depict a world where animals rule and humans are viewed as curiosities, scientific guinea pigs, hunting trophies, and the occasional snack. A political satire that forces us to question our treatment of different species, the nature of intelligence, and more.
Jack is a typical grade school kid… except that he never speaks a word, is followed everywhere he goes by a flying bug, and can turn into any animal he wants, usually to come to the rescue of his family and classmates. Not everybody appreciates his strange behavior, however. When the town's children start disappearing into the forest, though, Jack's special ability is their only hope. Will Jack ever be understood and accepted by those around him? And will the townsfolk come to see the forest as anything besides a danger and a nuisance?
The year is 1934. Rasputin holds the reins of government. When the Czar is mortally wounded in an ambush, the mad monk turns to his Council of Dark Mages and his former mentor, Baba Yaga. Together, they concoct a plan that involves trench warfare mechas, mind-to-mind transfers, and the long-lost heir to the Romanoff throne: Kyril Noskov, a hero of the war that's been raging since 1914, to which generations of Russian youth have been sacrificed. Roulot and Rodier's reimagining of a Russia that never was blends science fact and dark fantasy into a spellbinding fable of the price of power.
It is the early 1900s and the three Francœur children are struggling to survive in the slums of Paris. But their lives change forever with the arrival of a mysterious stranger from their father's past. Countess Aristophania Bolt from the Kingdom of Azur claims she has come to help the trio, but between disturbing phenomena—tricks or sorcery?—and invisible threats, it is hard to know whom to trust…
France, 1565. Charles IX reigns with an aging Nostradamus as his advisor, but unrest is afoot in the land. The Black Plague, believed to be under control, rears its head anew. Superstition vies with newly born science in the people's hearts and minds. Through a countryside riven by religious and political rivalries travel Nostradamus' three young disciples, Arthus Trivium, Angelica Obscura, and Angulus Dante, solving mysteries with wits, weapons, and the erudition their master has imparted. But soon they are drawn into the web of a well-laid plot against Nostradamus' family, which may threaten the life of the king himself.
Fear is infectious on the Demarkacija… At over 7000 meters altitude, the Demarkacija is the final rampart between Velikiistok and Ieretik territory. In Bunker 37, Aleksi Stassik scrutinizes the approaching enemy and lies in wait for the attack. Above him, in the mountains, roams another enemy, even more terrifying that the first…
There are some things that a child should never have to endure, but life can be cruel sometimes. Clara is only seven years old when she loses her mother to cancer. Before she passes away, Clara's mother gives her a doll from the days of her own childhood. Clara doesn't particularly like the doll at first, but it'll prove to be a precious ally, accompanying little Clara along the rough road of grief and mourning, through all its stages.
The story takes place in a near future (more or less). The world is a huge factory, and the factory is the world. This world is presided over by "The Orifice," the company which revolutionized the working method. You put your hands inside two holes, and you work, without you (or anybody) actually knowing what you're working on… In the midst of all this is Lantz. Lantz is a comic book author. He's the one who came up with the New New Testament, the bestseller that the entire economy depends on. Problem is: he's got writer's block. Riddled with doubt, he doesn't know what he wants anymore, and his various frustrations are making him miserable. Lantz reflects the daily life of many among us. Will he be able to find an honorable way out of his psychological battles?
Children of the Gaia is a brief introduction to the post-apocalyptic world of the Gaia series. A family of monsters has to fight for food and survival every single day…
Through a series of strange circumstances, Mehdi, a pickpocket making his living in the streets of the Abu caliphate, finds himself partaking in the entrance exam for Hikmadrassa, the most prestigious alchemy school on the continent. He might not know much about enchantments, spells and conjuring up golams, but he will soon discover that he's got a rare power all of his own! As he dives into the world of the golams, Medhi not only meets his first true friends, but he also comes to understand his origins and turns to face his destiny!
A group of young Canadians is out on a field trip in the Louisiana swamps when an epidemic breaks out, unlike any the world has ever seen. The highly contagious virus turns people into seemingly mindless creatures, monstrous in appearance and inhumanly strong when provoked. To halt its rapid spread, the U.S. government walls off the area. When one of their own succumbs to the disease, the kids are trapped in the contagion zone. To survive, they must fight bloodthirsty militias and infected creatures alike, as they hold out hope they can find a cure for their friend, before he becomes a menace to them all.
One day, Harmony wakes up in an unfamiliar basement having completely lost her memory. All she now knows of the world is the name of her "host," the mysterious voices in her head and a newly discovered talent for telekinesis. She's going to have to get her memory back pretty quickly in order to face the dangers that await her. There are so many unanswered questions, and the fight has only just begun…
1471. Leading a band of faithful crossbowmen, Juan de Olid leaves Castile in secret, bound for adventure and the unknown lands of Sub-Saharan Africa. The expedition's objective is to bring back a unicorn horn as quickly as possible—the future of the kingdom depends on it. On the advice of the most pre-eminent experts of their day, Juan de Olid and his companions take along with them the one thing that can help them in their quest: a virgin. For the scent of unsullied maidens has the power to tame the most formidable of unicorns. Meanwhile, the apothecaries of King Henry IV of Castile, nicknamed "the Impotent," impatiently await this legendary horn, as it is said it can cure the King and ensure the continuation of the royal line…
A monkey-faced man named Kid Noize who has a 1977 Mustang, a talking dog, and dreams of being a famous DJ, travels between worlds to deliver mysterious packages to people. Unfortunately, he has lost the package of his next recipient, a young boy named Sam who is having a hard time in life, grieving the loss of his mother while trying to adapt to a tough new town and school. Neither Sam nor Kid Noize has any idea what awaits them as they join forces to find the package that will help shape Sam's destiny…
Adolescence is a terrible time for most people. For Louca, it's especially bad! Generally mediocre, a poor student, awkward with girls… he's a walking disaster. But Louca has decided: starting tomorrow, he's going to change! Still, that's easier said than done… especially when your own mind keeps changing! Luckily, Louca will get a helping hand from a certain fellow named Nathan. Good-looking, amazing at football, funny, smart… this Nathan certainly seems like the perfect guy, and the best coach Louca could possibly hope for. With one little exception: Nathan is a ghost… How did Nathan die? Why can only Louca see him? Will Nathan manage to turn Louca into the kind of guy people want to be with? Will Louca manage both to pass his exams, and to win over Julie, the girl of his dreams?
A fatal slip on the toy car that his son had left in the bathroom, and Victor Tourterelle is dispatched straight to the other side of the mirror, to the beautiful world of chalk desert, under a sky as black as ink. No noise, not a soul. In his new state, Victor finds that he's still fully conscious, more acutely than on earth, even. But his body is only bones. Little does the dead man know that he's at the dawn of the wildest adventure of all time…
England, last century. A castle: Blacktales. Every seven years its proprietor, the frightening Monsieur Noir, comes over to sign the new lease with his tenant. In Blacktales, two unrelenting opposing clans fight a ferocious and cunning struggle over the possession of a pen: the lease contract can be signed only with this pen, the signature giving absolute power. Into this troubled atmosphere arrives the recently orphaned Fanny: the pen, missing for two years has been located. It is in the hands of the two creatures whose ruthless sadism terrorises all the inhabitants of the place…
When Nanami, a bored adolescent living life on automatic, finds a strange book that appears to be "inhabited," she tracks down the book's owner only to be introduced to something even stranger: a theatre troupe whose members get projected into a parallel universe during rehearsal. The universe in question is the thrilling and romantic — but dangerous — world in which their play is set and in which wallflower Nanami becomes a warrior princess fighting for her life and her kingdom.
Rebellious Princess Natty of Orchidhali is a member of the floral caste and lives in a luxurious, sunshine-filled palace. But once she refuses her arranged marriage, she is forced to flee the palace. She ends up in the dark realm of the Untouchables, the very lowest caste of society, where a strange form of leprosy reigns as a result of the lack of sunlight. Natty meets an Untouchable named Sami, who is just as rebellious as she is, and together they make a plan to leave the shadows of the underworld and return to the light. But just as they are about to make their escape, a battalion of soldiers arrives, and Sami ends up in prison.
The planet Oceania is covered with an ocean of vegetation. Humans navigate the green seas with futuristic ships. Teenagers Jon and Jasper spend most of their days surfing the vast waves of foliage, until one day, without warning, they're hit by a tsunami. Jon disappears beneath the leafy ocean surface and Jasper is picked up by a ship called the Poseidon. It is said that none return from the depths of this treacherous ocean. But the captain of the Poseidon tells a different story. Will Jon and Jasper ever find each other?
Their reign is coming to an end. They had the power, they dominated the town, the whole world. Order prevailed. Their order. But then a certain pair of siblings came along — the Raptors. United by blood, decked out in skin-tight leather, slipping through the night, sowing disorder. The head of the town is worried, and not without reason. The immortal race to which he belongs is starting to discover what it means to die…
Is every man killed in combat reborn in the sky in the form of a star? Is seeing a bus in your dreams really a sign of impending death? In 1917, Jan Van Meer, an operative with the Allies' intelligence services and a renowned expert on folklore, travels across Europe in search of an engineer named Hellequin, inventor of the dream cannon and barbed plant-wire now obsessed with reading the ruins of war. Van Meer's mission: not to find Hellequin at all costs. With his trademark wit, original drawing style, and wild animation, David B. takes viewers deep into the torment of the Great War, where beliefs and superstitions inextricably mix with the horror of reality.
Technological revolutions are a time of incredible inventions, brilliant minds, and fantastic discoveries. As well as bad inventions, failed experiments, and bizarre ideas. "Revolutions" brings to life a series of alternate histories, and offers inventions so fantastic they could never be brought into existence in our world. Instead, these inventions disappear into oblivion, or transform into something completely other than what their makers intended. A truly "revolutionary" series of graphic novels.
A man with the ability to talk to ghosts who tell him where to find missing people loses his gift when the ghosts abandon him after he helps a young woman search for her husband. Anxious to get his gift back, he hires Rork, an investigator of paranormal mysteries with his own special abilities, to help him find the ghosts again. Their quest takes them through forest and desert, through visions and fantastical encounters, through run-ins with distracters and a blast from the past…
In times of yore did a forbidden love arise between Valgar of Valta, son of Halgerr the Golden-Haired, and Astridr, daughter of Thorgerr, and to them a son was born, Gunnar. But Thorgerr was a mighty lord, and with his hundred warriors hunted the couple down, ensorcelling his daughter and banishing her husband. Now, to rescue his true love, Valgar must embark upon a long and perilous quest that will take him into the forest depths to meet the monster called Ogerth the Serpentine, and the far south to fight the beastly devourers alongside Skarperdinn. But Skarperdinn's wife has other plans…
Blanche faces an overwhelming defeat on the battlefield due to the treachery of those she thought closest to her, driving her into exile. She storms onto the scene with vengeance in her heart and a new hardiness born of her disappointments. But her first priority is to save Maldoror from the clutches of the venomous Miranda. This cunning sorceress is cultivating a dangerous collaboration with Maldoror's pernicious little sister, who is desperately trying to keep her brother away from the World Below so that she can maintain her throne. Things are looking pretty dire for the outcast lovers, in fact, so dire, that Blanche ends up doing the unthinkable…
Of all the terrifying warlords to wreak destruction across the empire, few can match the savagery of Ghorghor Bey. His name alone can cause even the bravest of soldiers to tremble in their boots, and noble lords and ladies throughout the land pray that he never comes knocking at their castle doors in search of gold, booze, and maidens. But few know the tragic story behind this fearsome warrior's rise to power. From his harrowing childhood to his first love(s), his devastating heartbreaks and crushing victories, read on and discover how a naive young half-ogre would go on to become Ghorghor the Terrible.
At the center of the empire was the Oracle… The Oracle announced the coming of the one who would change the world. This is his story. One day, when Heads-or-Tails was out roaming the forest, he comes across a nameless man. He christens him Wismerhill, and from that day forth, the pair are inseparable. They start out on the road of adventure, and sooner or later end up joining a gang of amiable war dogs, feared throughout the land. Wismerhill soon proves his worth, and begins to demonstrate some surprising powers. But just as everything is going well, the light comes, bringing darkness in its wake…
France, 1076. Hermance Languedolce, a child with miraculous healing powers, falls in with religious rebels and is branded a heretic. Hideously tortured, he summons a miracle and saves himself, only to be taken in by kind gypsies. When fearsome warrior Karlis Oresund is converted to Christ, he too receives a miraculous ability to sense evil. Entering the service of Bohemond of Taranto, he sets forth on a crusade to the Holy Land, conscripting Hermance by force along the way. Hermance can't or won't remember his powers, but can Karlis bring them out of the scarred young man?
Luc is a frail child who's afraid of anything and everything, no thanks to his Italian grandmother and her dark bedtime stories. So when he disappears from his bedroom one night, everyone fears the worst. Has he been kidnapped? Did he run away like his sister once did? Little do they know, Luc has traveled to a mysterious land filled with monsters and strange creatures named Shadows and is about to embark on a terrifying journey around the world where he must learn to conquer his fears if he ever hopes to return home. Accompanying him on his journey is the mysterious Uomo Nero, the bogeyman from the nursery rhymes his nana used to sing to him…
In the forests of Dartmoor, creatures of legend hide in the treetops, swim in the rivers, and roam the hills… but they're invisible to those who don't know how to look properly. Scrubby, a child of the fairies swapped at birth with a human infant, has inherited this wonderful gift. With a little help from the Wise Man of Wistman's Wood, his eyes are opened to the secrets of the moors. And even when he is forced to leave his forest for Victorian London, his forest never leaves him…
From his Barcelona studio in 1939, an aging Catalan painter shares with his model the mystery of his best friend Vidal Balaguer, "the forgotten genius" of Catalan Modernism, who vanished on the eve of 1900. His story his linked to the disappearance a few months earlier of his muse and lover, Mar, the subject of his most famous painting, "Young Lady in a Mantón." But there are other disappearances, too, of people, a corpse, some oranges, and a stubbornly silent canary named Stradivarius. A police detective is convinced that Balaguer murdered his model but by the end of the story we may come to believe that, as the painter himself reflects, "the murder weapon is not always what you might think!"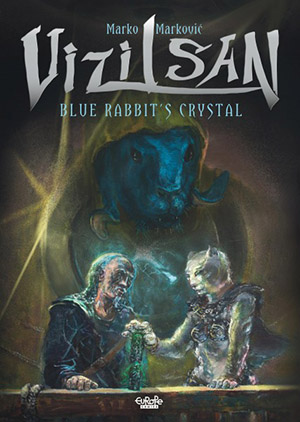 Vizilsan
Vizilsan is a world hemmed by dreams. Full of contrast, reminiscent of a world from a time long forgotten, yet blessed with certain technological accomplishments from a distant future. The lines between magic and science are blurred. The vast diversity of races poses the question of their origin – either from another planet or a different time. It is a wonderful world of dense forests, endless rivers, vast oceans, insurmountable mountain tops, arid deserts. A world full of life. Alas, the energy that once maintained this natural balance has begun wandering aimlessly due to crazed exploitation of natural resources, threatening to destroy that world. Few are aware. Few are trying to do something about it. A human duchess and a battle-hardened kaitian warrior, with the help of a few loyal friends, will try to restore the balance to the world and secure its survival. An epic adventure across the five continents of the world of Vizilsan now begins…
Taho-the-Quick, a poacher, has an encounter with the animal totem of his people, the dragon queen, who entrusts him with the dangerous mission of carrying her egg to her dragon brothers up in the mountains. On his journey, Taho-the-Quick will not only have to fight enemies but also join forces with unexpected allies, including the mysterious White Claw, a warrior with unparalleled skills. The survival of the dragon species and that of a whole people will depend on their partnership.
Jakob Kayne and his brother Samuel are the last of the Hippocrats. Sworn to treat those in need (and those who are deemed worthy), the two Healer-Alchemists have been tracked across the Archipelagos by manifold enemies, including the Inquisition. On his latest mission, Jakob, a formidable Memory-Eater whose face none can recall, is confronted by an obstacle as unexpected as it is persistent: feelings for his latest patient, Victoria Marcheda, amid the fiery destruction of the city of La Isabela.
A young man's destiny is changed forever when he encounters the deadly and bewitching Layla, a serpent-woman who lives in the swamp and feasts on the spirits and flesh of greedy men. Forever haunted by Layla's sensuous beauty, Froghert will do whatever he can, be it at the cost of his own life and soul, to protect her against power-hungry monarchs seeking to take possession of the enchanted stone she wears around her neck. A tale of obsession, avarice, and the blood-drenched quest for immortality.
In ancient Iran, a man with a mysterious past and an even more mysterious future arrives in the city of Gonur-Depe to start a new life as a merchant. There he meets a wealthy woman who vows to make his life miserable, but her plans are interrupted when the city is attacked by the army of an evil prince that has been possessed by an even more evil god. The man and woman manage to flee the blood-soaked city and embark on a long, brutal journey of survival through the desert, moving toward their destiny and the world-changing events about to unfold.
Nine millennia ago, the Luvi Tribe in Mid-Anatolia is struggling to survive. The men of the holy council of elders are no longer pleased with their lives. The master tracker, Nhun, a young woman, takes on an existential challenge for herself and all of her tribe. The tribe's strongest man, Alu the Agape, does not know what to do. This is their love story, where Nhun and Alu find themselves among the quarrels of the elders, both holy men and women.
The Zombillenium theme park is hiring… for all of eternity. Led by vampire Francis von Bloodt, Zombillenium and its sinister personnel welcome all comers for the time of their lives. The park isn't free from the financial crisis that's rocked all sectors of the economy, but its savior just might be on the way, the likes of which no one has ever seen… An impeccable black comedy from author Arthur de Pins.
Ever since she was a little girl, Rose has had a special and troubling power: the ability to "double" herself and travel outside her body. She always saw it as something wrong with her… until now. When her father is murdered, Rose's strange ability gives her a chance to find her father's killer, solve a series of mysterious cold cases, and untangle a centuries-old curse. But maybe some secrets should stay buried…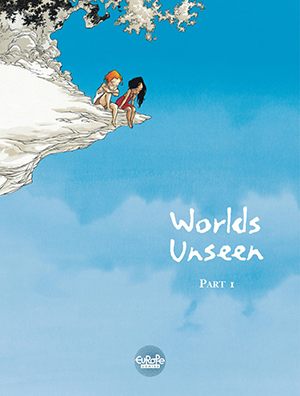 Worlds Unseen 
1906. William is ten years old when his family leaves London for Barellito, a small Italian fishing village. The quiet of the village will not last long, however, thanks to the ripples created by the arrival of William and his family. His own life, too, is about to be upturned, in this remarkable and wondrous new land where he will find new southern landscapes, a new kind of liberty, and above all new friends: Paolo, Nino, and the charming Lisa, united forever by an extraordinary event and a strange object…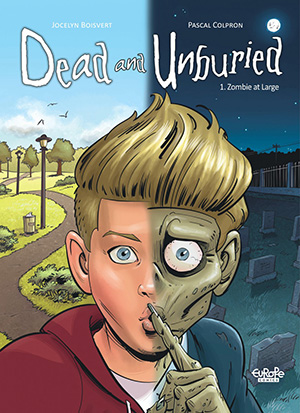 Dead and Unburied
Yan is on top of the world. School's almost out for summer, he's about to have a new baby sister, and he's going to be spending his vacation making a zombie movie with his best friend Nico. But on his way home from school, he finds himself in the wrong place at the wrong time, and before he knows it, his life is slipping away… Things are no longer smelling rosy now that Yan's pushing up daisies. But for some reason, Yan's soul isn't going anywhere: his body may be rotting, but his mind is clear, and once out of his grave, Yan is determined to be reunited with his family. He may be falling apart, but he isn't about to let that happen to them!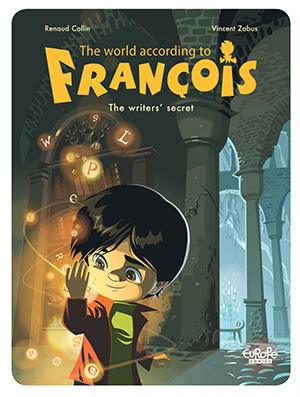 The World According to François
François has no interest in choosing between dream and reality: he wants both! Like all ten-year-olds, François has a lot of questions–but he puts his imagination to use to try to find the answers.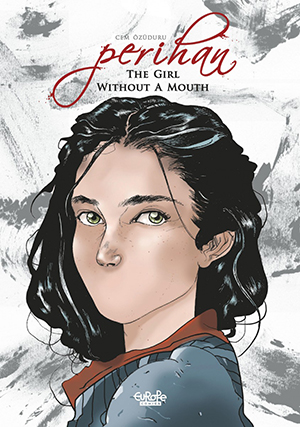 Perihan: The Girl Without a Mouth
Perihan was an eagerly awaited baby. She was her family's greatest excitement for the future. But when the moment of her birth finally arrived, the marvelous cry that would make their dreams into reality and sweep worries aside never came. From that day on, Perihan was destined for extraordinary growing pains. Finding her voice and expressing herself in her life song would be a truly exceptional journey for her. And lies and rage would guide her life like no other teenager in the world… as well as truth and hope.
Are you ready for revolution? Revolution of the mind. Revolution of the body. At Camille's invitation, Sarah and Aniss arrive in the Tuscan countryside to take part in a unique experience. Camille hopes to achieve a complete fusion of three souls and three bodies into a single organism. An act of spiritual and organic alchemy. Revolution!
Nineteen-year-old Orsay lives an uneventful life in the French countryside, until the day he gains extraordinary powers in his hands after an encounter with a mysterious creature known as a whol. On a trip to Paris in search of a cure, he meets and falls for Basma, a passionate activist for whols' rights. But Orsay isn't convinced that whols should be considered equal to humans. Especially once Melek, another human with the same powers, embarks on a murderous rampage to avenge those she sees as her kin.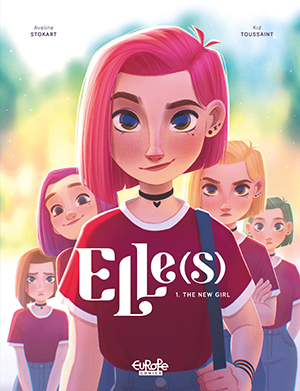 Elle(s)
Elle is just another teenage girl… most of the time. Bubbly and good-natured, she wastes no time making friends on her first day at her new school. But Elle has a secret: she hasn't come alone. She's brought with her a colorful mix of personalities, which come out when she least expects it… Who is Elle, really? And will her new friends stand by her when they find out the truth?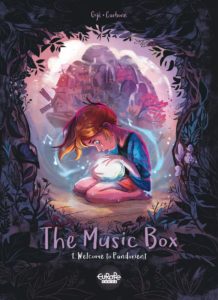 The Music Box
For her eighth birthday, Nola receives a marvelous present: her late mother Annah's music box. It has the most enchanting melody, and inside the globe… is that a little girl waving? And calling for help?! Before she knows it, Nola has shrunk down in size, slipped through the keyhole, and entered the world of Pandorient, where even the most ordinary-looking citizens can have extraordinary powers—and where danger could lurk down every hallway. Nola must help her new friends save their mother from a mysterious malady—all the while making surprising discoveries about Annah's past, and—maybe—her own future…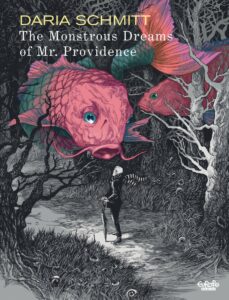 The Monstruous Dreams of Mr. Providence
Mr. Providence is the caretaker at what seems by day to be an ordinary city park. But the park is home to mysterious entities that awaken when night falls, and Providence has sworn to protect its visitors despite the doubts of his corporate-minded new manager. A delicate balance is tipped into chaos with the discovery of a mysterious blank book—and the dark energies it threatens to unleash. All Providence wants is to escape: to somewhere quiet, isolated, and peaceful, like the strange high house he keeps seeing reflected in the park's pond…
Header image: Alas © Rudy Spiessert / Dupuis