Need to add a little hygge touch to your housebound lifestyle? It's the perfect season! Make yourself a cup of tea, put on your favorite pajamas and curl up with some of the snuggliest titles from the Europe Comics catalog.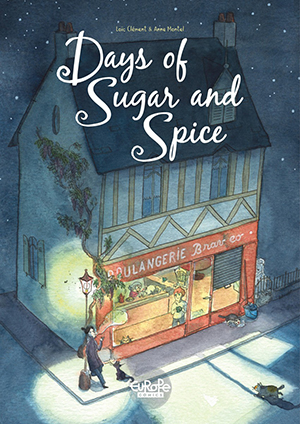 Days of Sugar and Spice
Rose is not a happy young woman; she is closed off and angry and she hates her job. But her life changes drastically when she inherits her father's bakery in a small town in Brittany. Returning to a place that brought her both joy and grief forces her to confront painful memories of her past and find the courage to open her heart to a new, happier life that awaits her if she will just let it. A story about new beginnings, filled with small town charm, delicious pastries and the warmth of home and friends.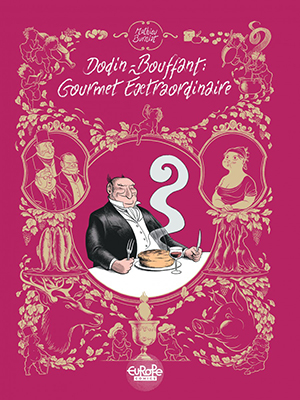 Dodin-Bouffant: Gourmet Extraordinaire
Dodin-Bouffant is a total food enthusiast. He lives for excellence and spends his time surrounded by a small circle of hand-picked gastronomes. When his beloved cook, Eugénie, dies, it turns Bouffant's world upside down. After a long, hard search he finally finds what he is looking for in Adèle. Not without some complications, Adèle and Dodin-Bouffant form a strong bond and share many a delicious meal. This novel by Marcel Rouff (1887-1936) is a tribute to the famous French gastronome Brillat-Savarin, on whom the character Dodin-Bouffant is loosely based.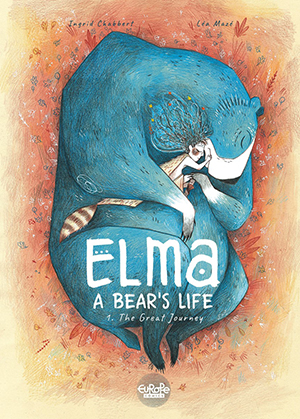 Elma: A Bear's Life
Elma is a joyful, free-spirited child who is being raised by a bear she thinks of as her father. But Papa Bear is hiding a secret, and the close-knit duo must make a long and perilous journey to begin a mysterious new life beyond the forest. Adventure and danger are in store as they discover the linked secrets of Elma's past and future.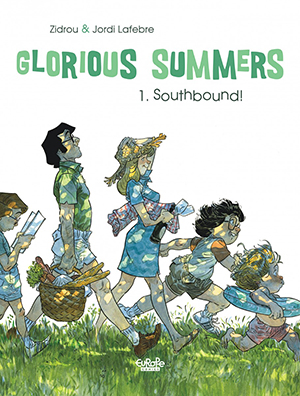 Glorious Summers
In this nostalgic account, the Faldérault family sets out for a final summer vacation together before an impending marital separation disrupts the family dynamics for good. Along the way, heading south to France from Brussels, Pierre, Maddie, and their children revel in impromptu skinny-dips, family sing-alongs, and camping in the wild, ultimately finding a renewed zest for life—and vacation!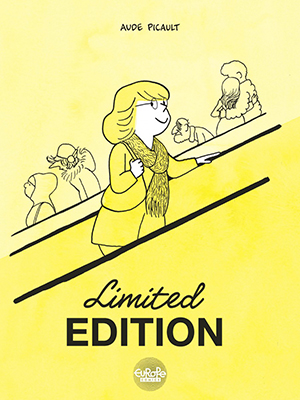 Limited Edition
Claire is a thirtysomething neonatal nurse who is becoming increasingly discouraged about her prospects of getting into a long-term relationship and starting a family. She thinks she may have finally met her man in Franck—if not a Prince Charming then at least a friendly and compatible person—but societal pressures and gender norms seem to rear their heads at every turn and Claire begins to wonder if it will ever be possible for her to be happy with another person on her own terms. Aude Picault's chronicle of everyday romance is full of wit and sympathy but it is also backed up by a bibliography of feminist essays and studies of gender relations, offering a valuable and complicated case study of the challenges facing modern women.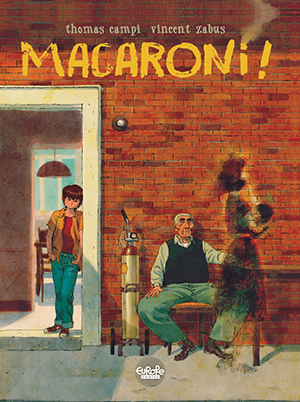 Macaroni
The touching story of a child getting to know his grandfather, an Italian immigrant living in Belgium. 11-year-old Romeo thinks of his grandfather as nothing but an "old pain-in-the-butt." So when he finds out that he's going to have to spend a few days with him at his crumbling old house, without even a TV to keep him entertained… well, it's his idea of hell. But there are some surprises in store for Romeo during his visit. He changes his mind about a few things, perhaps thanks to his grandfather's neighbor, Lucy, who tells him about her own "nonno," and shows him how a spoil tip can be a thing of beauty. Or perhaps it's thanks to Romeo's dad, who speaks for the first time about his childhood relationship with his father. But it's mostly thanks to Ottavio who, beneath his old, grouchy exterior, conceals the hard life he has led, full of suffering and sacrifice. It is a life the 11-year-old Romeo finds hard to comprehend, but which gives him a deeper understanding of someone from another century. It started off as just a short holiday to a grey Belgian town. But this holiday turns into an opportunity for three generations of men to lift the silence that surrounds them. A touching story about Italian immigration, coal mining, communication between the generations and the difficultly of opening up when you've spent your whole life in silence.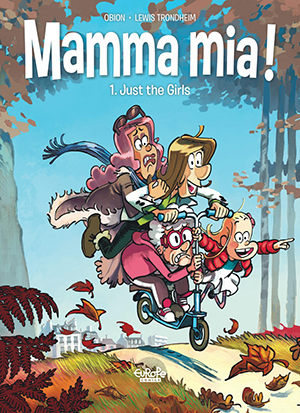 Mamma Mia!
Single mom Aurélie's moving back in with her grandmother, her young daughter Emma in tow. And to everyone's surprise, so is Sophie—Aurélie's perennially absent mother, back from yet another adventure abroad. With four generations of women living under the same roof, life is never simple—and bound to get messy!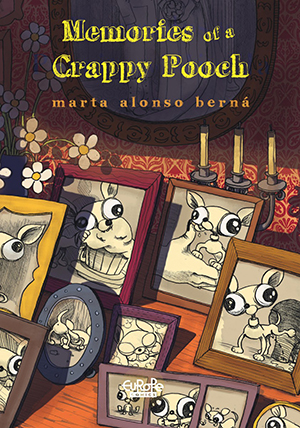 Memories of a Crappy Pooch
Maria Fuencisla, a long-term resident in a central Madrid neighborhood, is hit hard when her pet dies in a tragic accident. Her three best friends, Anastasia, Dori and Ricarda, come up with various schemes to try to comfort her, but it's almost impossible, because the deceased dog was the focus of the old lady's entire universe. These pages are full of tragicomic memories showing us how Maria Fuencisla and her small dog formed such a solid — if somewhat unorthodox — team. Together, they overcome the difficulties of being a senior citizen and a puppy in this hyper-modern age. The puppy was her dearest one, the son that she never had, and as she thinks back on their adventures together, she tries to move past this latest tragedy and move on with her life… but the fates have more in store for her.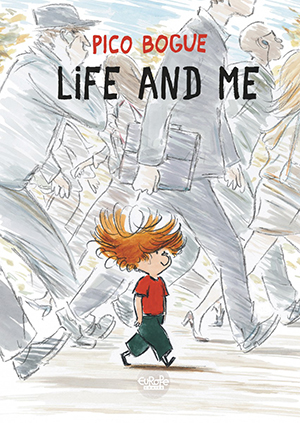 Pico Bogue
Pico Bogue is the eldest child of a normal family, and when we say 'normal', we mean unique, quirky and occasionally just stark raving mad! Along with his little sister Anna, Pico goes through life with as many certainties as he has questions, making the kind of pertinent observations that only children are capable of. Sometimes challenging, always loveable, there's no end to Pico's mischief, much to the amusement, exasperation and surprise of his long-suffering parents!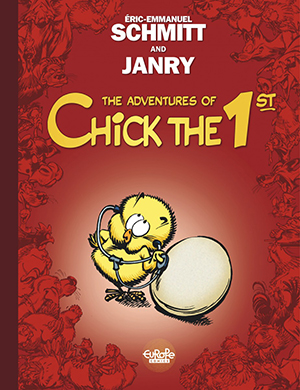 The Adventure of Chick the First
He's a chick unlike any other! Right from day one, Chick the 1st is beleaguered by the doubts and questions that come with the capacity to reason. When the farmyard dog asks him "What are you?", little does he suspect the turmoil of endless enigmas he provokes in our little chick's mind. While seeking answers to his endless questions, Chick the 1st shakes up all the social conventions of the chicken coop, causing scandal left, right and center. With the help of his Aunt Gallina and the mouse that devours books, Chick the 1st grapples with reality, both in the abstract and literal sense!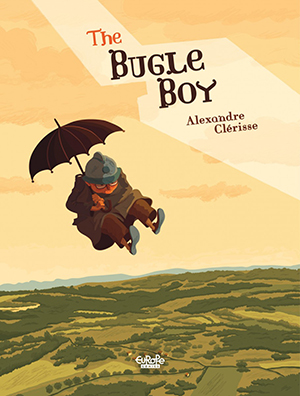 The Bugle Boy
Eighty-five-year-old Marcel lives alone with his memories of World War II — his short-lived days as a soldier before his capture and imprisonment by the Germans. He's got one thing left to do before he dies: find the bugle he buried by the Maginot Line. When his granddaughter Andrea stops by with her burgeoning rural taxi business, he hops a ride to the site of his regiment's defeat… only to find things have changed. This is Alexandre Clérisse's fierce, tender, and timely rumination on the horrors of war and the lies we tell ourselves.
In 1930s England, the best mystery writers of the era come together to form the Detection Club. G. K. Chesterton, Agatha Christie, John Dickson Carr and others gather to eat, drink, and challenge one another. They are in for a bigger test, however, when eccentric billionaire Roderick Ghyll invites them all to his mansion on a private island off the coast of Cornwall, promising to enchant them with his latest creation: a robot that can predict the culprit in their novels. But when someone ends up murdered, who will lead the investigation? Jean Harambat is back, following the success of "Operation Copperhead," with a hilarious, satirical take on the classic crime novel.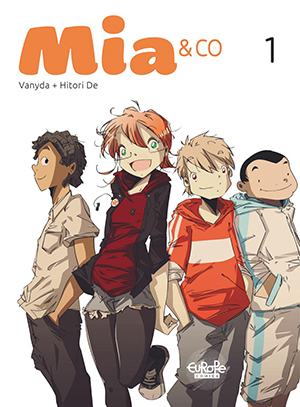 Mia and Co.
Mia, Gauthier, Louka and Zouzou are inseparable. Like most teenagers, they'd much rather be playing video games or making music than doing their homework. Mia, the only girl in the group, doesn't really seem to click with the other girls in her class. But as they grow up, her tight-knit friendship group will become more and more complicated as girl-boy relationships start to get interesting…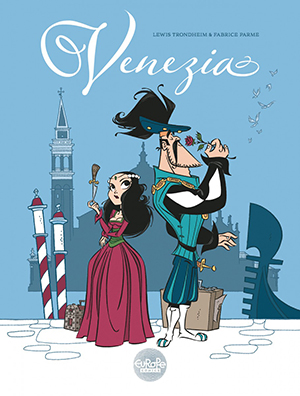 Venezia
After their first explosive encounter, Giuseppe and Sophia hate one another with a passion. As fate would have it, both have a secret identity permitting them to conduct investigations incognito. Once his false mustache and wig are removed, Giuseppe becomes "the Eagle." And when her tights and black hood are donned, Sophia transforms into "the Black Scorpion." The Eagle and the Scorpion feel an irresistible attraction for one another… but will they share their first kiss and track down the mysterious "Codex Bellum" before Giuseppe and Sophia tear each other into beautiful little pieces?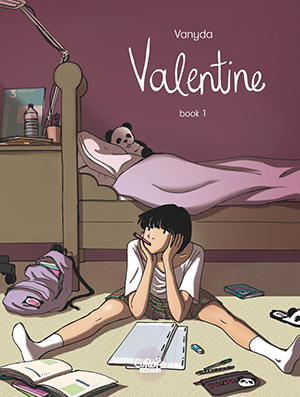 Valentine
Valentine is a secondary-school student like many others. Her daily life is filled with all the upheavals and self-questioning of adolescence. Self-conscious, she tries to assert herself within a group in which she is "the shy one". She spends most of her time with her girlfriends, at school or at parties on the weekend. She also tries desperately to get the attention of Felix, the boy she's in love with – and who has no idea she exists. To make things worse, he's in the "rival" class to her own… Little by little, this young woman learns to express herself and find her place in the cruel and treacherous world of adolescence, from MP3 players and Japanese mangas, to her first parties and her first whiskey and Coke.
Header image: Blast © Manu Larcenet / Dargaud