Welcome to September folks! We hope your summer-to-fall transition is going smoothly. We highly recommend picking some comics and graphic novels from our "Back to School" reading list! 
First off – ancient history class. In this meticulously researched series we find ourselves in Ancient Rome. In the intense heat of the centre of one of the most far-reaching empires the world has ever known, gladiators struggle for survival in the arena, cunning merchants strive to outwit each other, sordid love affairs turn sour, and along side it all, the eternal game of power plays out in the shadows…
Next – XIXth century Europe. It's May 1809. Napolean's great army is getting ready to cross the Danube on the immense floating bridge that they constructed overnight on the orders of the France's most famous military genius. On the other side of the river, Archduke Charles and his Austrian army are waiting for them, determined to get their revenge for the humiliating defeat they suffered at Austerlitz. And so the horror begins…
To take a little break from history – let's turn to an art class. This is the story of the life and death of one of the greatest painters of the 20th century. Fed up with his life in France, Paul Gauguin sets out for Tahiti, where he subsequently decides to settle. As he immerses himself in the culture of a tropical country that couldn't be more different from his own, the painter not only gains a new lease on life, but begins producing some of his most inspired work.
XXth century Europe. This is an autobiographical story of a childhood burdened by the silence of traumatized parents who spoke in Yiddish when they didn't want their children to understand. A house where the ghosts of grandparents and aunts roamed, ghosts the father of the family carried with him everywhere, although trying to look good in a society that wanted to turn the page and build the future. And then one fine day, mourning the death of his son, he began to speak. This a story of life that became survival.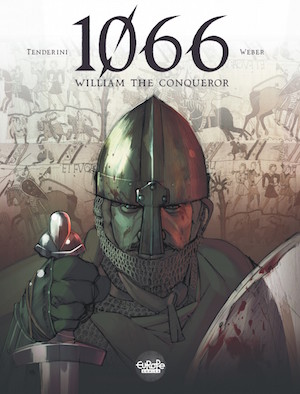 1066
King Edward of England is dead. Edward's son Harold, one of the potential successors, renounces his oath to yield the throne to William of Normandy. From that day forth, William will have no peace until his rightful claim to the throne is acknowledged. As the famous Halley comet soars across the heavens, giving rise to much speculation among the scholars of the time, William, Duke of Normandy, launches into the arrangements for the conquest that will change the face of England — one of the most formidable military expeditions History has ever seen.
Berezina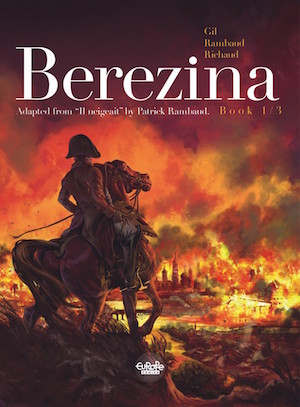 In 1812, in order to keep his stranglehold on Europe, Napoleon had no choice but to declare war on the Russian emperor, Alexander. After three months of marching, his men, starved and exhausted, finally made it to Moscow… only to discover that the city had been deserted. Thus Napoleon and his army took up residence in the Russian capital without even the slightest resistance. But by nightfall, Moscow was on fire. Houses, churches and even the Kremlin were ablaze, and the entire French army risked being reduced to ashes. Caught in the trap, Napoleon was forced to leave the city and get back on the road to face his enemy.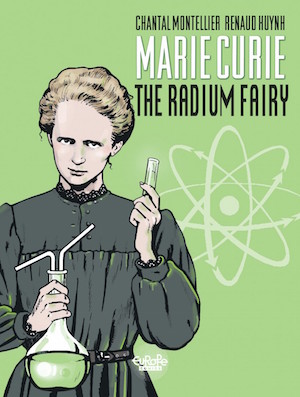 Marie Curie
Marie Curie is the only woman ever to have received two Nobel prizes: the Nobel Prize for Physics in 1903, shared with her husband, Pierre Curie, and the Nobel Prize for Chemistry for her work with polonium and radium in 1911. She was also the first woman ever to teach at the Sorbonne. This inspired comic is set at the time she received her second Nobel Prize, when a vicious press campaign was launched against her, denouncing her affair with the physician Paul Langevin. Through her flash-backs, we're invited to witness the key moments of this exceptional woman's life and work.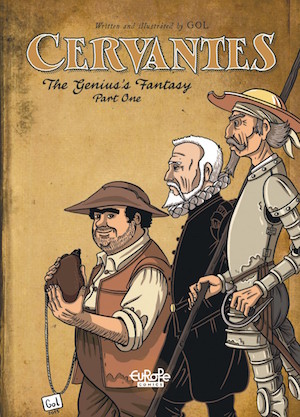 This is the story of the distinguished Don Miguel de Cervantes Saavedra, and the misfortunes and blessings to be visited upon him over the course of his most remarkable life.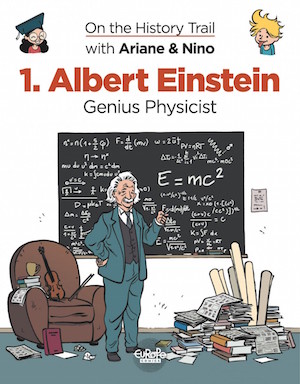 On the History Trail With Ariane and Nino
Nino would rather be outside playing than stuck inside doing homework—especially science homework. Then he discovers that one of the greatest scientists ever started out feeling the same way: Albert Einstein—the guy who invented that famous formula: E=mc2. And, as Ariane explains, there was a lot more to Einstein than just formulas. Thanks to him, we have GPS devices and electric gates, nuclear energy and … well, yes, also nuclear bombs. Einstein did everything he could to make the world a better place—but after all, he was only human!
Red Poster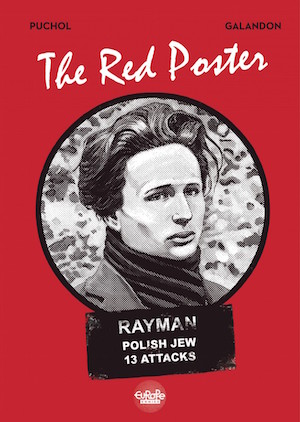 This is the story of Marcel Rayman, a young Polish Jew whose face is featured on the infamous 'Affiche Rouge', propaganda circulated in occupied France in an attempt to discredit the Parisian resistance. The Nazi abomination drove Rayman to set aside his pacifist principles and take up arms in the ranks of Missak Manoukian's resistance movement. For two long years, during which he saw his entire family deported, Marcel Rayman led a clandestine life, shrouded in death, fear and treachery.
A graphic novel about Charles-François Daubigny, an important precursor of Impressionism. Born in Paris, into a family of painters and was taught the art by his father Edmond François Daubigny and his uncle, miniaturist Pierre Daubigny. Initially Daubigny painted in a traditional style, but this changed after 1843 when he settled in Barbizon to work outside in nature.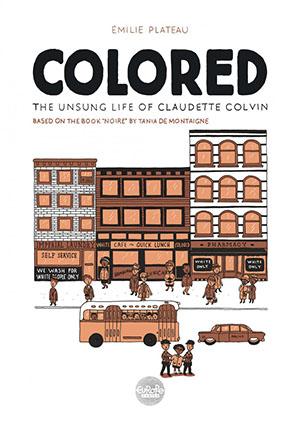 Colored: The Unsung Life of Claudette Colvin
A few months before Rosa Parks refused to give up her seat on a segregated bus in Montgomery, Alabama, kicking off the U.S. civil rights movement, making headlines around he world and becoming an enduring symbol of the fight for dignity and equality, another young black woman refused to give up her seat on a segregated bus in Montgomery, Alabama. She was the wrong person at the right time, and so History did not choose her. Her name was Claudette Colvin and this is her story.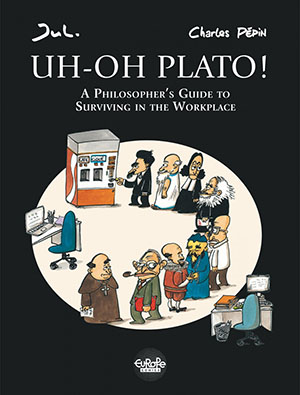 Uh-Oh Plato!
France—the early 21st century. A young student must complete a corporate job shadowing internship. Thanks to a cousin on his father's side, also of Greek descent, he gets a foot in the door at a famous consulting firm. He will soon discover the true face of office life. The intern's name: Kevin Plato. From Nietzsche the director of human resources, to Foucault the video-surveillance monitor, to Teresa of Ávila the executive secretary, and many, many more, Plato dives headfirst into the world of work… philosopher style.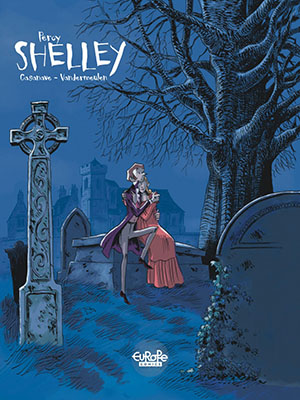 Shelley
Born into an aristocratic family, Percy Bysshe Shelley has no intentions of following in his father's political footsteps. The rebellious young poet finds himself drawn to more scandalous pursuits: supporting anti-royalist and anti-clerical causes, championing vegetarianism, and extolling the virtues of atheism, an act that ultimately leads to his expulsion from Oxford University. Book 1 of "Shelley" lets us dive into Percy's tumultuous childhood, giving us an insight into his friendships with some of the finest progressive thinkers of the times, not to mention his blossoming relationship with his future wife and author of "Frankenstein," Mary.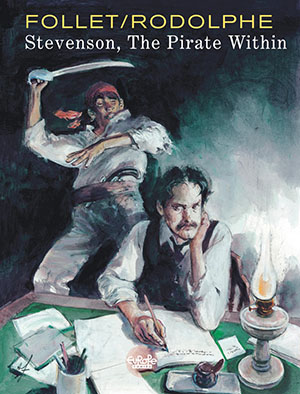 Stevenson: The Pirate Within
This is the fascinating life story of Robert Louis Stevenson, the beloved author of classics such as "Treasure Island" and "Strange Case of Dr. Jekyll and Mr. Hyde," from his early days as an aspiring writer to his first published works, his love affair and then marriage to Fanny Osbourne, his success as an author, his many travels across Europe and the U.S., and finally his voyage to the islands of the South Pacific, where he eventually built the house of his dreams. Stevenson never let his weak lungs (which he referred to as pirates waging a battle inside him) and delicate constitution stand in the way of his insatiable thirst for adventure, living life on his own terms until the very end.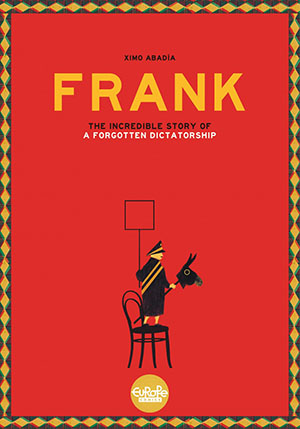 Frank: A Story of a Forgotten Dictatorship
"In order to see the future, one must remember the past." "Frank" is a biographical retelling of Spanish dictator Francisco Franco's rise to power, brought to life across the book's beautifully designed pages. Here, author Ximo Abadía approaches a subject that is still taboo in Spain: the weight of a dictatorship that left its mark on the country for over 30 years.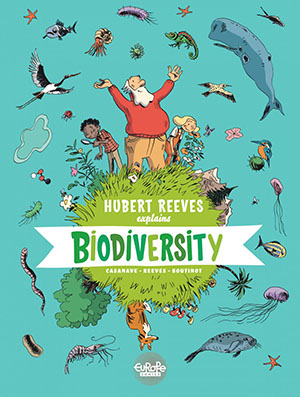 Hubert Reeves Explains Biodiversity
After spending many years gazing up at the stars, Hubert Reeves has turned his attention to the future of our planet. The world's friendliest and most enthusiastic astrophysicist takes us on a surprising journey, which will make us all realize how important it is to protect our environment.
Cover image © Pico Bogue by Alexis Dormal and Dominique Roques, Dargaud