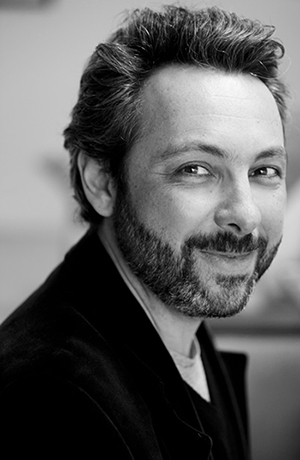 Xavier Dorison was born in 1972. After three years of business school, during which he launched a college comic book festival, he started writing Troisième testament (Glénat), a series illustrated by Alex Alice. In a very short time, Xavier Dorison carved out his status in the world of Franco-Belgian comics, which was confirmed by W.E.S.T. (Dargaud; Spooks, Cinebook), co-written with Fabien Nury for one of the biggest names in realism, artist Christian Rossi. In 2007, he teamed up once more with Mathieu Lauffray for Long John Silver (Dargaud, Cinebook in English), which also met with huge success. In 2008, publisher Dargaud called on Dorison to write the script of the first volume of XIII Mystery (published in English by Cinebook), a spin-off of the famous series XIII. The artwork was done by Ralph Meyer, and this would be the beginning of another prolific collaboration, including the Viking epic Asgard (Dargaud, Europe Comics in English). And in 2014, with Thomas Allart, Dorison produced H.S.E. (Dargaud; Europe Comics in English), a tale of suspense about the downward spiral of an ultraliberal society. As an author with a high output, Dorison tends to work on several comic book series at the same time. Switching with ease between the aforementioned series, and his latest and greatest success Undertaker (Dargaud 2015, Europe Comics 2016), he's proved his ability to work with genres varying from adventure to westerns to historical drama, without ever losing the energy of the plot line and the structural solidity that characterize his work. It thus comes as no great surprise to know that he was entrusted with a recent volume of one of the all-time biggest adventure series of Franco-Belgian comics, the legendary Thorgal (Le Lombard, Europe Comics/Cinebook in English). He has also made a splash with his latest work, the historical fantasy series Aristophania (Dargaud, Europe Comics), created alongside Joël Parnotte.
Undertaker Jonas Crow is charged with transporting the coffin of an ex-miner become millionaire back to the mining vein that made his fortune. The funeral should have been a calm affair, but there's an unexpected turn of events: on the eve of his death, Joe Cusco swallowed all his gold, so as to carry it with him for all eternity. Unfortunately, the secret was leaked, provoking the fury of all the miners of Anoki City. They can't just leave such a fortune to be buried while they're sweating their souls away in the mining shafts! As Jonas says, "death never comes alone…"
It's 1537. Deep in the lost mountains of Jura, a group of fanatical Catholic mountain people track a young Protestant and his guide. Big mistake. The latter is no other than the ex master-at-arms of Francois I, Hans Stalhoffer. After being defeated in an unfair fight, Hans had decided to exile himself from the court. Some years later, the surgeon that saved his life and his young apprentice ask for his help. They wish to travel undercover to Switzerland to publish the Bible in French. The only possible route is to take the infamous Jura Pass. Hans, who is buried in debt and has become a hardened alcoholic, is willing to sacrifice a few days to guide the two men through the hostile mountains. But when the authorities get wind of the scheme, they launch a wide-scale manhunt. Tracked, injured and cold, Hans will have to surpass himself to win the most difficult fight of his life.
A monstrous sea serpent is terrorizing the Fjördland, destroying one fishing boat after another, eating all on board, and keeping the Vikings from going on their pillaging expeditions. All hope seems lost until a stranger with a dark past and a score to settle with the gods shows up and offers to hunt down and slay the Krökken for a thousand silver talents. Soon a ragtag group of would-be monster hunters boards a drak and, against a divine, ominous Nordic background of lakes and mist and mountains, sets sail on a perilous mission not all will survive.
This opening episode of H.$.E presents us a world in the midst of an unprecedented financial crisis. Still, although the economy of industrialized countries is in tatters, unemployment has rocketed and millions of small business have gone bankrupt, there does seem to be one thing maintaining its financial value: the human being. Members of the social elite can have themselves listed on the stock market. So the stock market is no longer exclusively the privilege of corporate bodies, but of individual human bodies too! They can collect capital by wearing a "rate watch" indicating their popularity ratings. Felix Fox needs money. He wants one thing and one thing only: to get listed. After much persuasion, he finally gets there. With the backing of the creator of the Human Stock Exchange, he sits back and watches as his ratings soar. But of course, there is always a price to pay…
It is the early 1900s and the three Francœur children are struggling to survive in the slums of Paris. But their lives change forever with the arrival of a mysterious stranger from their father's past. Countess Aristophania Bolt from the Kingdom of Azur claims she has come to help the trio, but between disturbing phenomena—tricks or sorcery?—and invisible threats, it is hard to know whom to trust…
Header image: Undertaker © Xavier Dorison / Ralph Meyer / Dargaud