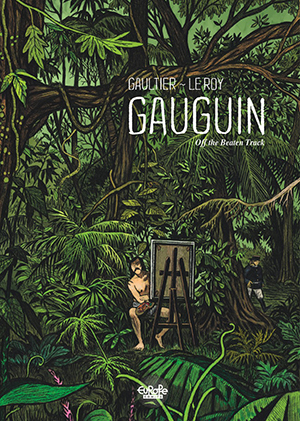 Gauguin – Off the Beaten Track
Fed up with his life in France, Paul Gauguin sets out for Tahiti, where he subsequently decides to settle. As he immerses himself in the culture of a tropical country that couldn't be more different from his own, the painter not only gains a new lease on life, but begins producing some of his most inspired work.
From his Barcelona studio in 1939, an aging Catalan painter shares with his model the mystery of his best friend Vidal Balaguer, "the forgotten genius" of Catalan Modernism, who vanished on the eve of 1900. His story his linked to the disappearance a few months earlier of his muse and lover, Mar, the subject of his most famous painting, "Young Lady in a Mantón." But there are other disappearances, too, of people, a corpse, some oranges, and a stubbornly silent canary named Stradivarius. A police detective is convinced that Balaguer murdered his model but by the end of the story we may come to believe that, as the painter himself reflects, "the murder weapon is not always what you might think!"
Three willful women: one old wicked, one young and selfish, and the third in the prime of her life. A man murdered three ways: stabbed, bludgeoned, and drowned in a stream. The mystery brings brash young Inspector Laurenç to the postcard-perfect Norman village of Giverny, home to Impressionist Claude Monet's gardens and studio. Like any small town, Giverny has its secrets. But have they to do with greed? Lust? Missing paintings? Jealous husbands? Laurenç soon finds himself head over heels for a pretty schoolteacher—and in over his head. Dider Cassegrain brings Michel Bussi's bestselling novel to life in lush, delicate watercolors worthy of the famous canvases that lend the book its name: Monet's immortal Water Lilies…
What is cinema? What is its effect on us? Why do we love it so much? These are all questions to which Blutch seeks the answers in his considered and humble way, drawing on his prodigious cultural knowledge and his gift for the comic book form. He references Burt Lancaster, Jean Gabin, Michel Piccoli, Luchino Visconti, Claudia Cardinale, Tarzan, Psychose, and many more. As much comic book as graphic essay, this reverie on the narrative art of image marks the advent of one of today's masters of the 9th art.
This is the tale of Luisa Casati Amman, otherwise known as 'The Marchesa', an Italian heiress whose life ambition was to transform herself into a living, breathing work of art. She was obsessed with beauty and extravagance, and devoted her entire family fortune to purchasing the means to astonish her contemporaries with her daredevil style. But her originality extended to more than just the adornment of her own person; she embellished her whole life with a succession of fantastical parties, large houses, ostentatious pets and outrageous public appearances. But, as ever, such exorbitance can hardly last forever… This intriguing biography traces the rise and fall of one of the 20th century's most fascinating personalities.
In the aftermath of the murderous attack on the Charlie Hebdo offices on January 7, 2015, cartoonist Catherine Meurisse struggles with the trauma of losing her friends and looks for a way to move forward with her life and her art. She soon enters a dissociative state where she loses her memories, especially those associated with esthetic experiences. This leads her on a quest to seek beauty and lightness in the world around her with the help of guiding lights including Proust, Stendhal, Baudelaire, and two provocative graffiti artists. Throughout the book, Meurisse uses her limber cartooning and dynamic writing to weave a tapestry of raw emotion and philosophical reflection laced with a strain of wry humor.
"Girls, living in the country will be your chance," her parents tell her. And so Catherine Meurisse spends her childhood outdoors. Construction all around her: an old farmhouse renovated into a home, trees planted, a garden created, dreams cultivated. They dig, they graft, they plant a rosebush "adopted" from Montaigne, a fig tree from Rabelais. They observe the tumult of the outside world: new developments in industrial agriculture, the citification of rural France… With her characteristic humor, Catherine Meurisse has composed a witty poem dedicated to the countryside where her vocation as an artist first took form. The Great Outdoors, like Lightness, her previous album, is a testament to her conviction that nature and art —everything that grows, everything that lives against all opposition— always offer us a chance.
A graphic novel about Charles-François Daubigny, an important precursor of Impressionism.
In 1864, a year after the death of Eugène Delacroix, Alexandre Dumas recounted the memories that marked his friendship with the great painter. From one anecdote to the next, Dumas' text reveals the personality of both painter and writer. All the while, a colorful portrait of the period takes shape; a period in which works of art are subject to fiery debates, intense admiration, and irrevocable rejection. With humor and passion, Catherine Meurisse invites herself into this very personal adaptation of Dumas' tribute to his friend.
Tom Thomson, whose grandiose landscapes of Ontario's wilderness marked the entry of Canadian art into the modern era, died at a young age under troubling circumstances. His career as a painter was as brief as it was fundamental, in that it inspired the next great generation of Canadian painters, the iconic Group of Seven. Returning to the circumstances of the painter's sudden disappearance just as he was beginning to attain recognition, Sandrine Revel retraces his journey, sketching a subtle portrait of the artist while questioning nostalgia in art as it attaches itself to artists. This is a book about memory and the past: troubling, beautiful, and melancholic, like the passage of time.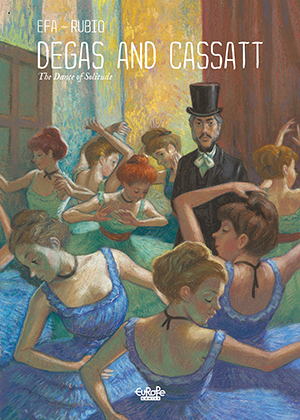 Degas and Cassatt: The Dance of  Solitute

Founder of the Impressionist movement of which he was one of the most merciless critics, too bohemian for the bourgeois and too bourgeois for the artists, Edgar Degas was a man of many paradoxes. A loner, he loved only one woman without ever courting her. Looking into this unique relationship at the twilight of Degas' life, Efa and Rubio open the pages of the artist's notebooks hoping to unravel the mystery of this genius full of contradictions.
In 1912, Matisse is feeling a little fed up. In Paris, Picasso is hogging the limelight, so Matisse decides it's time for some fresh air, a little space, and a different kind of light. That's it, he'll cross the Mediterranean and start painting a new kind of nature. He's going to Tangier. Problem is, when he finally gets there, it starts raining. In Villa de France, his palatial hotel looking down over Tangier, he has to make do with painting what he can: his bedroom. And so it begins: Room 35 is consigned to canvas, in a series that goes on to become legendary in art history.
Header: The Great Outdoors © Catherine Meurisse /Dargaud