In this nostalgic account, the Faldérault family sets out for a final summer vacation together before an impending marital separation disrupts the family dynamics for good. Along the way, heading south to France from Brussels, Pierre, Maddie, and their children revel in impromptu skinny-dips, family sing-alongs, and camping in the wild, ultimately finding a renewed zest for life—and vacation!
Single mom Aurélie's moving back in with her grandmother, her young daughter Emma in tow. And to everyone's surprise, so is Sophie—Aurélie's perennially absent mother, back from yet another adventure abroad. With four generations of women living under the same roof, life is never simple—and bound to get messy!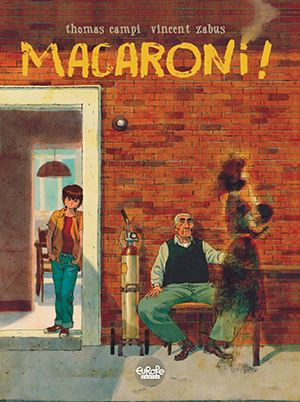 The touching story of a child getting to know his grandfather, an Italian immigrant living in Belgium. 11-year-old Romeo thinks of his grandfather as nothing but an "old pain-in-the-butt." So when he finds out that he's going to have to spend a few days with him at his crumbling old house, without even a TV to keep him entertained… well, it's his idea of hell. But there are some surprises in store for Romeo during his visit. He changes his mind about a few things, perhaps thanks to his grandfather's neighbor, Lucy, who tells him about her own "nonno," and shows him how a spoil tip can be a thing of beauty. Or perhaps it's thanks to Romeo's dad, who speaks for the first time about his childhood relationship with his father. But it's mostly thanks to Ottavio who, beneath his old, grouchy exterior, conceals the hard life he has led, full of suffering and sacrifice. It is a life the 11-year-old Romeo finds hard to comprehend, but which gives him a deeper understanding of someone from another century. It started off as just a short holiday to a grey Belgian town. But this holiday turns into an opportunity for three generations of men to lift the silence that surrounds them. A touching story about Italian immigration, coal mining, communication between the generations and the difficultly of opening up when you've spent your whole life in silence.
"Girls, living in the country will be your chance," her parents tell her. And so Catherine Meurisse spends her childhood outdoors. Construction all around her: an old farmhouse renovated into a home, trees planted, a garden created, dreams cultivated. They dig, they graft, they plant a rosebush "adopted" from Montaigne, a fig tree from Rabelais. They observe the tumult of the outside world: new developments in industrial agriculture, the citification of rural France… With her characteristic humor, Catherine Meurisse has composed a witty poem dedicated to the countryside where her vocation as an artist first took form. The Great Outdoors, like Lightness, her previous album, is a testament to her conviction that nature and art —everything that grows, everything that lives against all opposition— always offer us a chance.
Being a single dad is a full-time job, as Dad knows only too well! Especially with four headstrong daughters to whom obedience doesn't exactly come naturally… With bookish Pandora, emotional Ondine, mischievous Roxanne and, the latest addition, baby Bella, this unemployed actor has landed himself the role of a lifetime: looking after his family!
The Marrowbone has been immobilized and Victor MacLimpet is feeling glum: a pirate without a ship is a pirate without a job. Just as he hits rock bottom, Victor gets a very bad idea… He'll wreck a galleon and steal its cargo. Perfect! Except that the "loot" in question will sow discord within the "Pirate Family" and all over Turtle Island…
Pico Bogue is the eldest child of a normal family, and when we say 'normal', we mean unique, quirky and occasionally just stark raving mad! Along with his little sister Anna, Pico goes through life with as many certainties as he has questions, making the kind of pertinent observations that only children are capable of. Sometimes challenging, always loveable, there's no end to Pico's mischief, much to the amusement, exasperation and surprise of his long-suffering parents!
After his wife's brutal murder, Campbell, a pirate legend, gave up his life on the open seas to raise his two young daughters in peace. But, inevitably, his past eventually catches up with him in the form of Carapepino, a pretentious but clumsy pirate, desperately trying to win favour with the infamous Inferno. For his own sinister reasons, Inferno wants more than anything to get rid of Campbell and his offspring, once and for all. But Campbell and Inferno are bound to each other in ways that those around them would never have guessed…