Blacksad is probably one of the most mythic talking animal european comic, achieving the feat of creating a deeply realistic plotline incarnated by animalised figures. Nonetheless many others european comics use these same process, resulting in either fascinating stories or funny situations.
The Last Jungle Book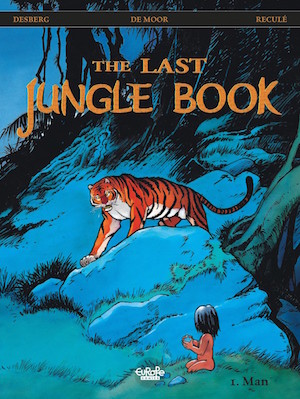 Just outside Delhi, the capital of India, a man called Mowgli rents a house on the outskirts of the jungle, where he plans to live out the rest of his days. The forest is not nearly as vast as it once was, but the air, the trees and the hills still retain a thousand memories: the cries of birds long departed, the calls of brother wolves that have since died off, the rage of a jealous tiger… For Mowgli, the jungle is the stomping ground of his childhood and his path to adolescence, including the undeniable need to grow up and leave it. For Mowgli, it is time to rediscover the jungle so as to prevent the world of men from stealing away his innocence and his illusions. For this man growing ever older, these memories take him back to a time when all he had to do was learn, and not yet pay the price of his mistakes…
Blacksad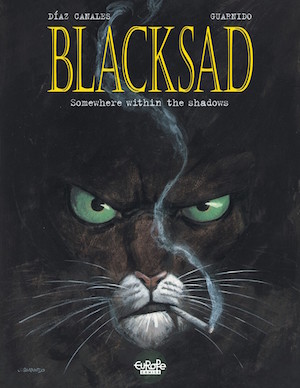 Get ready for a true masterpiece! This is the story of a private detective seeking revenge for the death of his assassinated ex-girlfriend. A stunning thriller, enhanced by a wonderfully detailed drawing style, with characters in the form of the animals that best reflect the nuances of their personalities. Dark, daring, engaging, this is undoubtedly one of Europe's most successful comic book series.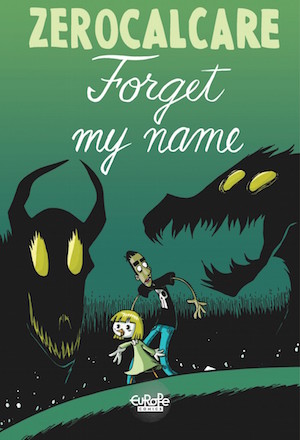 Forget My Name
When the last vestiges of his childhood are taken from him, Zerocalcare discovers unsuspected secrets about his family. Torn between the soothing numbness of the innocence of youth and the impossibility to elude society's ever expanding control over people's lives, he'll have to understand where he really comes from, before he understands where he is going.
Tiny Fox and Great Boar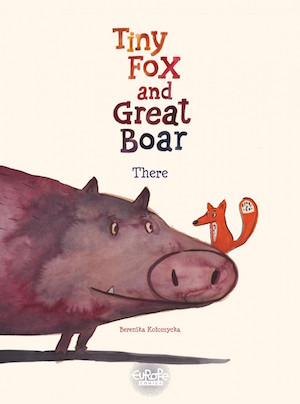 Tiny Fox lives alone beneath his apple tree in the distant hills. He is a happy little animal, busy looking after himself and his foxy things. Then one day, a Great Boar appears and moves in under the apple tree, bringing with him a time of change and adventure. Is Tiny Fox ready?
Vizilsan is a world hemmed by dreams. Full of contrast, reminiscent of a world from a time long forgotten, yet blessed with certain technological accomplishments from a distant future.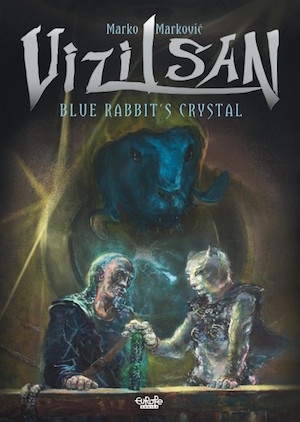 The lines between magic and science are blurred. The vast diversity of races poses the question of their origin – either from another planet or a different time. It is a wonderful world of dense forests, endless rivers, vast oceans, insurmountable mountain tops, arid deserts. A world full of life. Alas, the energy that once maintained this natural balance has begun wandering aimlessly due to crazed exploitation of natural resources, threatening to destroy that world. Few are aware. Few are trying to do something about it. A human duchess and a battle-hardened kaitian warrior, with the help of a few loyal friends, will try to restore the balance to the world and secure its survival. An epic adventure across the five continents of the world of Vizilsan now begins…
Brina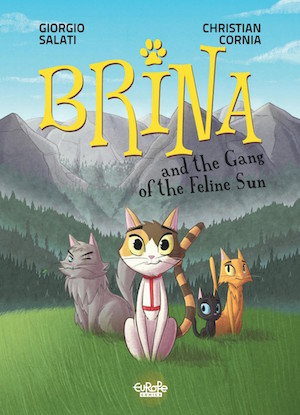 When the cat Brina goes on vacation with her owners, things don't quite turn out as planned. Should our loved ones be held on to and protected, or should we let them go, to live out their own adventures? A charming and spirited graphic novel from scriptwriter Giorgio Salati (Disney, RAI) and artist Christian Cornia.
Natty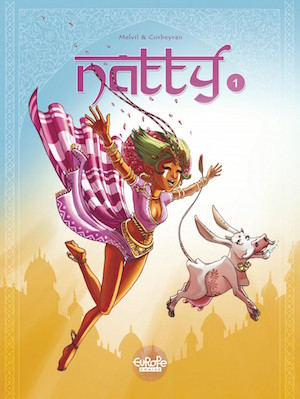 Rebellious Princess Natty of Orchidhali is a member of the floral caste and lives in a luxurious, sunshine-filled palace. But once she refuses her arranged marriage, she is forced to flee the palace. She ends up in the dark realm of the Untouchables, the very lowest caste of society, where a strange form of leprosy reigns as a result of the lack of sunlight. Natty meets an Untouchable named Sami, who is just as rebellious as she is, and together they make a plan to leave the shadows of the underworld and return to the light. But just as they are about to make their escape, a battalion of soldiers arrives, and Sami ends up in prison.
Jack Wolfgang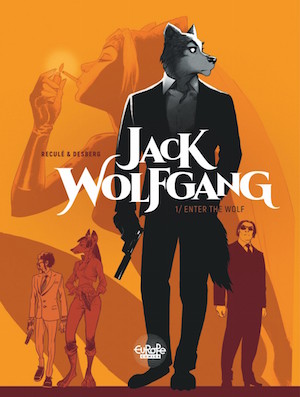 With the invention of Super Mega Tofu, civilization has seen the advent of a fragile peace—between animals and humans, between carnivores and herbivores. This miracle food has the peculiar quality of being universally loved. Jack Wolfgang, the world-renowned restaurant critic, travels the world sampling Super Mega Tofu in all of its varieties. It's the perfect cover for his second identity: Jack Wolfgang, CIA special agent. When his friend and mentor is killed, Jack picks up the scent of a conspiracy and tracks it half way around the globe. Can society survive this collision of fine dining and espionage?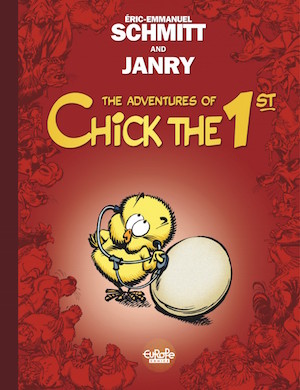 Adventures of Chick the 1st
He's a chick unlike any other! Right from day one, Chick the 1st is beleaguered by the doubts and questions that come with the capacity to reason. When the farmyard dog asks him "What are you?", little does he suspect the turmoil of endless enigmas he provokes in our little chick's mind. While seeking answers to his endless questions, Chick the 1st shakes up all the social conventions of the chicken coop, causing scandal left, right and center. With the help of his Aunt Gallina and the mouse that devours books, Chick the 1st grapples with reality, both in the abstract and literal sense!
Abbott and Barley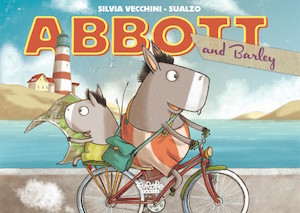 Abbott wishes to take his son Barley to a special place, a place just for the two of them, a place where he can be a hero to Barley. Wherever they decide to go, Barley's friends had been there before. Only Abbott's huge heart will be able to find the perfect place: he's brave, he can handle it!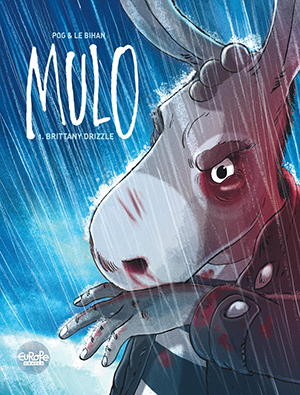 Mulo
Where did he come from? All Mulo knows is that he grew up in an orphanage on the French mainland. Then he receives an enigmatic letter directing him to an island off the coast of Brittany and promising him a glimpse into his past. A ferry delivers Mulo to the island where, in a seemingly abandoned cannery, he discovers a clue to his past—and learns that for some, he's considered unfinished business. Drug busts, failed executions, and lousy weather—this is hardly an island holiday for a young mule on a quest. It doesn't get any better when the truth you seek is on an old VHS tape that should have been destroyed a long time ago.
Nelson is a cheeky little imp who is the bane of Julie's life. But watch out, nobody is safe from the orange curse! Nelson is capable of making life difficult for pretty much anyone he comes across…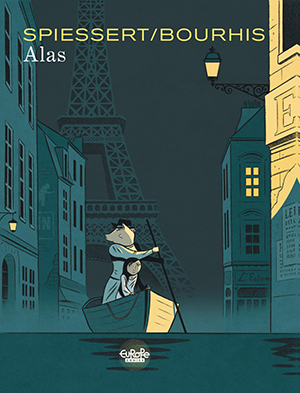 Alas
When a young girl is captured in the forest and brought to the city, only to escape shortly afterwards, all manner of individuals and organizations try to get their hands on her, no matter the cost. In a chilling and clever tour de force, the authors use the backdrop of the 1910 Great Flood of Paris to depict a world where animals rule and humans are viewed as curiosities, scientific guinea pigs, hunting trophies, and the occasional snack. A political satire that forces us to question our treatment of different species, the nature of intelligence, and more.
Jack is a typical grade school kid… except that he never speaks a word, is followed everywhere he goes by a flying bug, and can turn into any animal he wants, usually to come to the rescue of his family and classmates. Not everybody appreciates his strange behavior, however. When the town's children start disappearing into the forest, though, Jack's special ability is their only hope. Will Jack ever be understood and accepted by those around him? And will the townsfolk come to see the forest as anything besides a danger and a nuisance?
Elma is a joyful, free-spirited child who is being raised by a bear she thinks of as her father. But Papa Bear is hiding a secret, and the close-knit duo must make a long and perilous journey to begin a mysterious new life beyond the forest. Adventure and danger are in store as they discover the linked secrets of Elma's past and future.
A baby girl born with purple hair is promptly handed over to a convent by her horrified father, who fears she bears the sign of the witch. And indeed, little Evelyn seems to have strange powers and to attract supernatural manifestations as she grows up among the nuns, who patiently put up with it as best they can. But after one scary "trick" too many, she is entrusted to the care of a hat-maker, who whisks her off to London, where she will learn about much more than making hats! For as Evelyn and her talking cat Benedict will soon find out, Master Neil has a few tricks up his sleeve, too, and his hat shop might not be exactly what it seems…
Once every thousand years, the incredible Sea Dragon reappears! It is said that the first person it lays eyes upon will become its master and be able to control its extraordinary powers. The time has come: the Sea Dragon is about to return at any moment! Master Fox wishes to use the Sea Dragon's powers to reign over the Squirming Archipelago. But he will need the help of his servant, the cowardly and naive cat Menji. But others are also searching for the legendary Sea Dragon… and they will stop at nothing to get there first!
The Monstrous Dreams of Mr. Providence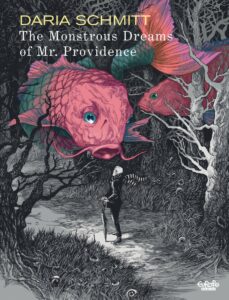 Mr. Providence is the caretaker at what seems by day to be an ordinary city park. But the park is home to mysterious entities that awaken when night falls, and Providence has sworn to protect its visitors despite the doubts of his corporate-minded new manager. A delicate balance is tipped into chaos with the discovery of a mysterious blank book—and the dark energies it threatens to unleash. All Providence wants is to escape: to somewhere quiet, isolated, and peaceful, like the strange high house he keeps seeing reflected in the park's pond…
Header image: Blacksad © Juanjo Guarnido & Juan Diaz Canales / Dargaud