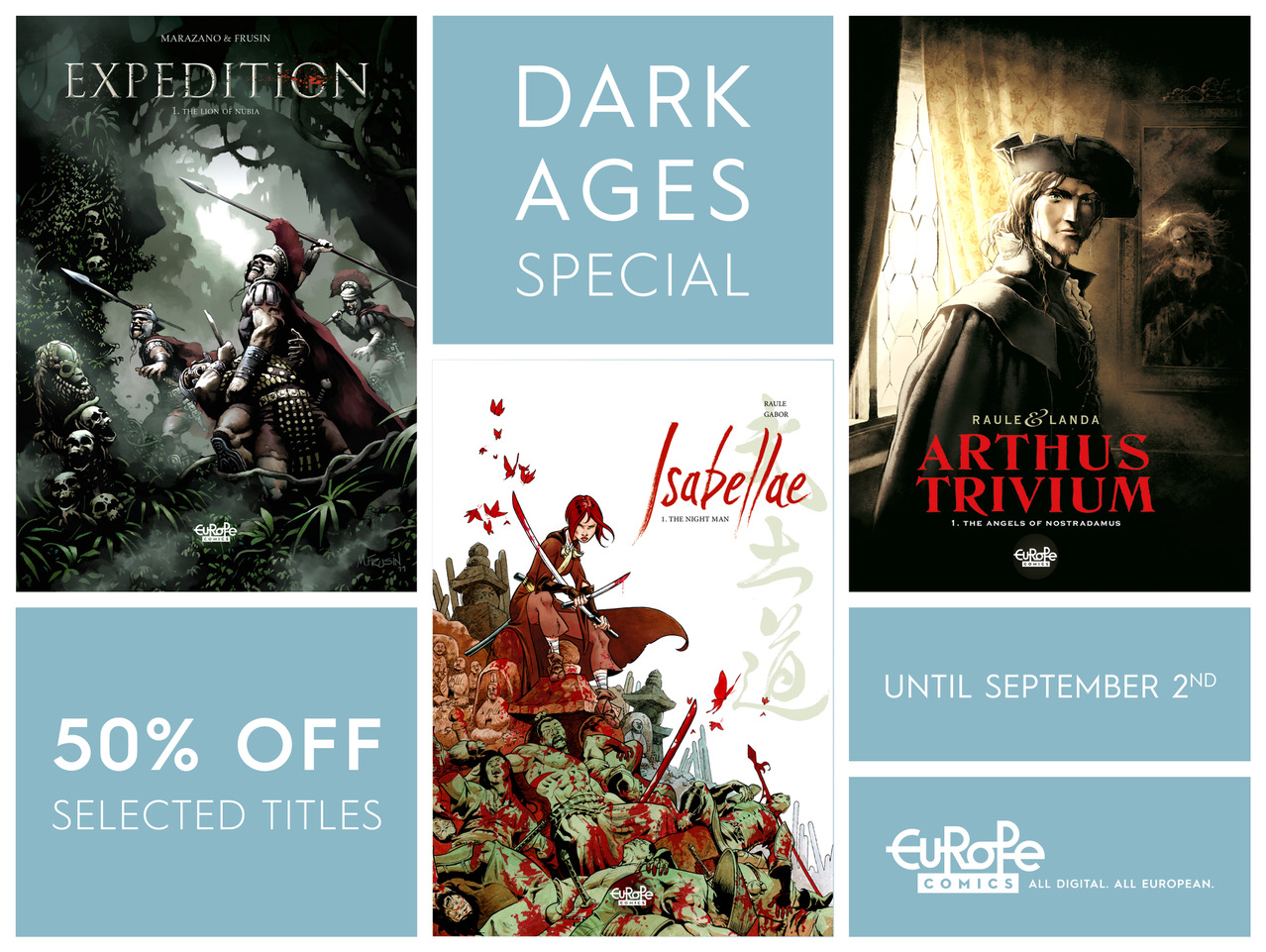 It's Japan 1192, seven years since the battle of Dan-no-ura that marked the beginning of the feudal era. It's also been seven years since Isabellae Ashiwara started roaming the country, accompanied by her father's ghost, earning a living by the point of her sword. And seven years that she's been looking for her long lost sister, Siuko. The time has at last come for this bounty hunter to face up to her past and take charge of her destiny.
It's 1537. Deep in the lost mountains of Jura, a group of fanatical Catholic mountain people track a young Protestant and his guide. Big mistake. The latter is no other than the ex master-at-arms of Francois I, Hans Stalhoffer. After being defeated in an unfair fight, Hans had decided to exile himself from the court. Some years later, the surgeon that saved his life and his young apprentice ask for his help. They wish to travel undercover to Switzerland to publish the Bible in French. The only possible route is to take the infamous Jura Pass. Hans, who is buried in debt and has become a hardened alcoholic, is willing to sacrifice a few days to guide the two men through the hostile mountains. But when the authorities get wind of the scheme, they launch a wide-scale manhunt. Tracked, injured and cold, Hans will have to surpass himself to win the most difficult fight of his life.
France, 1076. Hermance Languedolce, a child with miraculous healing powers, falls in with religious rebels and is branded a heretic. Hideously tortured, he summons a miracle and saves himself, only to be taken in by kind gypsies. When fearsome warrior Karlis Oresund is converted to Christ, he too receives a miraculous ability to sense evil. Entering the service of Bohemond of Taranto, he sets forth on a crusade to the Holy Land, conscripting Hermance by force along the way. Hermance can't or won't remember his powers, but can Karlis bring them out of the scarred young man?
France, 1565. Charles IX reigns with an aging Nostradamus as his advisor, but unrest is afoot in the land. The Black Plague, believed to be under control, rears its head anew. Superstition vies with newly born science in the people's hearts and minds. Through a countryside riven by religious and political rivalries travel Nostradamus' three young disciples, Arthus Trivium, Angelica Obscura, and Angulus Dante, solving mysteries with wits, weapons, and the erudition their master has imparted. But soon they are drawn into the web of a well-laid plot against Nostradamus' family, which may threaten the life of the king himself.
A real dive into the heart of 17th-century Paris, this story takes us into the daily life of Vincent de Paul, a devoted churchman, in search of the truth. Accompanied by young Antoine, Father Vincent travels the neighborhoods of the city, pleading his case with the richest of the rich and helping the poor. He takes in Manon, a 15-year-old orphan who is a victim of prostitution. Manon's story is connected to the disappearance of Jérôme, another person protected by the priest. Father Vincent takes it upon himself to shed some light on a cruel assassination and to reveal the truth behind a series of mysteries.
When former Roman soldier Marcus Livius is arrested in Egypt, starving and half mad, he is swiftly accused of desertion and murder. He denies the charges and embarks on an incredible tale… His story begins with the discovery of a body surrounded by documents written in an unknown language, as well as spectacular jewels and other items all suggesting the existence of a rich and powerful civilization previously unknown to Rome. Under the orders of Centurion Caius Bracca, Marcus decides to desert, and along with nine other men begins a secret expedition to find this unknown land. What will they discover… and how many will survive?
Header image: Expedition © Richard Marazano / Marcelo Frusin / Dargaud