Before he started writing, Sylvain Runberg worked for publishing house Humanoides Associés, as the editor for Moebius & Enki Bilal, among others. His first book was launched in 2004 and since then Sylvain Runberg has had more than 50 books published by the largest French publishers (Glénat, Le Lombard, Dupuis, Dargaud, Casterman, Soleil, Futuropolis) and is now translated into 15 languages, having sold in total over 1 million copies worldwide. Here are some of the highlights from Sylvain's long bibliography list that made it to the Europe Comics collection.
Many years ago, the plains of Mesopotamia were dominated by three powerful nomadic tribes: the Scythians, the Cimmerians and the Sarmatians.  Weary of their endless battles, the monarchs of the three tribes forged a sacred alliance.  Together, they constructed the most fearsome army in the known world, otherwise known as "The Horde." Little did they know that at that very moment, the Hittites were regrouping on the edge of their territory and preparing to invade. Neither did they know that the Hittites had infiltrated their ranks with master spies — starting with the radiant Thusia, a mysterious scribe whose beauty has drawn the attention of Kymris, the Cimmerians' warrior-king.  It is the dawn of the Horde's greatest challenge: a war that will set all Mesopotamia aflame.
Motorcity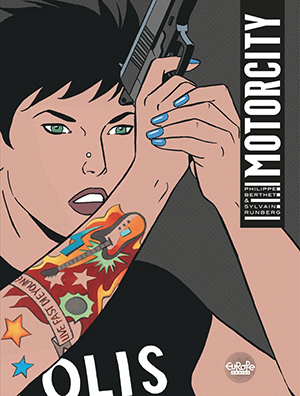 Lisa Forsberg is a rookie cop who has just taken her first assignment in the small Swedish city where she was born. In her youth she was a troublemaker, part of a hard-living subculture called "raggare" who worship American rock'n'roll and vintage cars from the 1950s. Now Lisa finds herself thrown back into this world when she is sent to investigate a missing person report involving people she went to school with. She and her partner, Erik Lund, will uncover secrets that put them in harm's way and bring them face-to-face with the unspeakable.
Two women–each other's nemeses. Louise Fernbach and Yun Shao. One a European soldier, the other a Catholic terrorist from China. Ever since she discovered Yun Shao was behind the deaths of some of her fallen comrades, Louise has been out for her blood. Whatever it takes. Louise shows no mercy. Louise is a drone pilot. For her, wars are just video games she plays from Copenhagen HQ. For Yun Shao, they are a fight to the death with disposable machinery. Welcome to modern warfare…
Interpol: Stockholm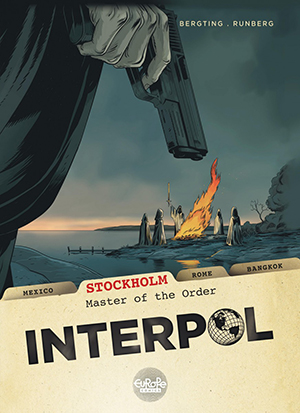 When Stéphane Mezzona got involved with a group called the Divine Order of the Temple, it was time for his wife to leave him. Trouble is, he got shared custody of their two children… and now they've disappeared. After Mezzona is spotted in Sweden, Interpol agent Eric Valandier is flown in to find the kids. There isn't much to go on and, if the Order is planning what Eric thinks they are, there may not be much time either. But Sweden is an unusual place, and it has an unusual law neither Eric nor the Order knows about…
Jakob Kayne and his brother Samuel are the last of the Hippocrats. Sworn to treat those in need (and those who are deemed worthy), the two Healer-Alchemists have been tracked across the Archipelagos by manifold enemies, including the Inquisition. On his latest mission, Jakob, a formidable Memory-Eater whose face none can recall, is confronted by an obstacle as unexpected as it is persistent: feelings for his latest patient, Victoria Marcheda, amid the fiery destruction of the city of La Isabela.
In 8th-century Europe, a clash of cultures and religions inevitably leads to a clash of swords. This harsh, changing world suits Björn the Beautiful, who has a single passion: violence. His bloodlust led to his exile from his native land, and it's his bloodlust that brings him back. For Harald, it's the season of Jul and he's about to marry the gorgeous Lina. The festivities are interrupted by the arrival of Björn and his troops. With his people either slaughtered or enslaved, Harald begins a forced march with the other survivors. He wants revenge, but he must be patient like the serpent: know when to sleep, and know when to strike.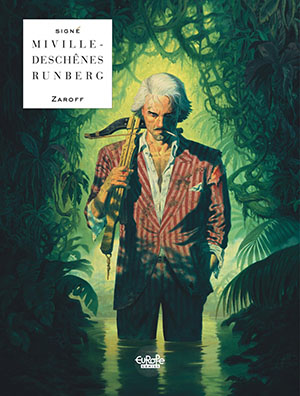 Zaroff
1937: An island somewhere in the middle of the ocean, which Count Zaroff has chosen as his new hunting ground. He's tired of hunting the usual game — animals are far too easy to kill. He has set himself the supreme challenge: a prey that is both dangerous and unpredictable, in fact the only prey worth hunting — people. But when the Count brings down a Mafia boss, the "family" lands on the island looking for revenge. Suddenly, the roles are reversed and the Count finds himself being hunted. To make matters worse, the Mafiosi have kidnapped the Count's sister and her children and brought them to the island. If Zaroff doesn't find them soon, they'll all be killed. And he'll be next.
Header image: Conquests © Sylvain Runberg / François Miville-Deschênes / Le Lombard