Science fiction will always have a special place within the world of comics, as perhaps no other literary form allows the storyteller's imagination to run so wild and free. Ranging from the quirky Cosmonauts of the Future all the way to a true space opera like Valerian, here is a list of comics filled with fantastical narratives and visually stunning ideas of what the future might look like.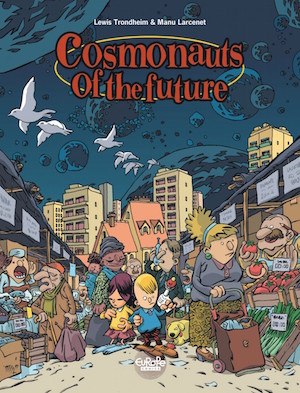 Cosmonauts of the Future
It all starts in a school playground, and then it moves to a classroom, where Larcenet's superb graphic camera zooms in on two ten-year-old kids: Gildas and Martina. The pair of them are ever so slightly obsessed with Sci-fi. To the extent they think they're surrounded by robots and aliens. As far as they're concerned, their entire world is made up of false appearances, and they're soon to be the victims of a huge intergalactic plot! You read, you smile, you snigger. But then suddenly, it's all turned on its head…
Distant Worlds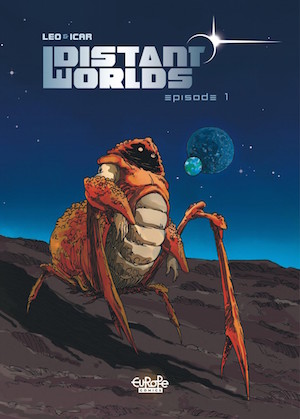 18 year old Paul, his mother and his sister land on Altair-4, a recently established human colony. They expect to be reunited with Paul's father there and start a new life, but he doesn't show up to welcome them at the spaceport… Later, they are rescued from a gang of thugs by a Stepanerk, a member of a sentient alien species. An encounter that will prove invaluable to Paul when he decides to go and look for his father…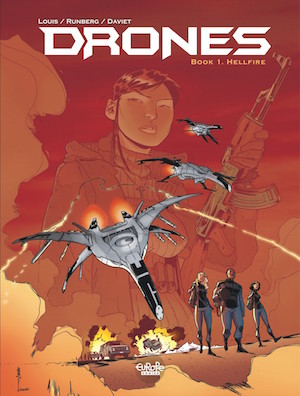 Drones
Two women–each other's nemeses. Louise Fernbach and Yun Shao. One a European soldier, the other a Catholic terrorist from China. Ever since she discovered Yun Shao was behind the deaths of some of her fallen comrades, Louise has been out for her blood. Whatever it takes. Louise shows no mercy. Louise is a drone pilot. For her, wars are just video games she plays from Copenhagen HQ. For Yun Shao, they are a fight to the death with disposable machinery. Welcome to modern warfare…
One day, Harmony wakes up in an unfamiliar basement having completely lost her memory. All she now knows of the world is the name of her "host," the mysterious voices in her head and a newly discovered talent for telekinesis. She's going to have to get her memory back pretty quickly in order to face the dangers that await her.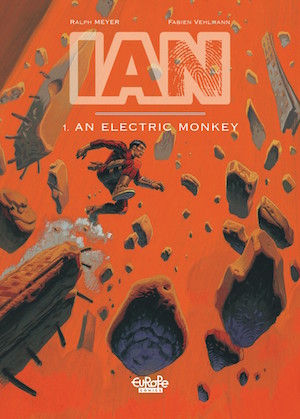 IAN
Intelligent Artificial Neuromechanoid… Ian. It's the name of the newest recruit in Team 21 of the SRS – the 'Special Rescue Section.' Ian is an android, impossible to tell apart from a human being with the naked eye, and his creators claim that he's controlled by a true artificial intelligence – capable of learning, adapting, and even of experiencing emotions. Not every member of the team is happy about their new partner, but their higher-ups aren't giving them a choice – and the mission comes first…
Ismaël seems like a regular nice-guy fallen on hard times. He's living with his adoring sister and her son following his return from his posting in Iraq. But he has a dark past with the gangs of L.A. and an even darker one with his combat experiences in the US army. These experiences haunt him, giving rise within him to a monstrous second self that he's trying desperately to control… but just when things seems like they're on the up, tragic events send Ismaël plunging into the abyss.
Karma City is a town of virtue governed by the universal laws of karma and where public interest primes. Emma List, a paleontology researcher, presents herself at the gates of the "white zone" of the capital city. She is authorized entry despite her negative karma level. A few minutes later she has a stroke and dies in a car crash. What initially appears to be a routine case for agents Cooper, Napoli, and Asuka soon transforms into a wide-ranging investigation. For Emma List had moved into the grey zone to pursue proof that pre-karmic societies once existed.
Keepers of Lost Time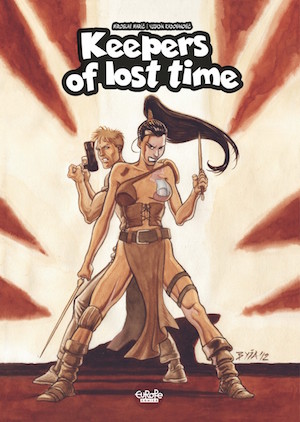 Keepers of Lost Time is a Serbian science-fiction comics trilogy wrriten by Miroslav Marić and drawn by Vujadin Radovanović.
It is rightfully considered to be a significant work in the history of Serbian fantasy and comics. The first episode was published in 1990, the second in 2000, but it wasn't until 2012 that the trilogy finally saw its highly anticipated conclusion, published by Darkwood. This future-fantasy comic depicts two cultures – one of high technology, the other – tribal, in moments of their internal crises. They exist synchronously and interdependently, yet are in conflict due to their vastly different perceptions of the world and spiritual values.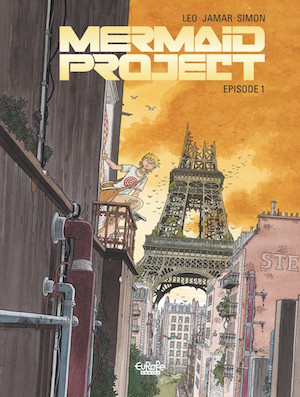 Mermaid Project
Paris, end of the 21st century. Inspector Romane Pennac is the only white woman in her station. The world has suffered devastating wars and ecological disasters, and the old powers of Europe and America are now the third world. Amidst it all, it is to this young woman, now a member of a discriminated-against minority, that a couple of devastated parents turn. A mysterious letter has just announced that the body of their daughter, recently deceased in New York, is missing from her coffin…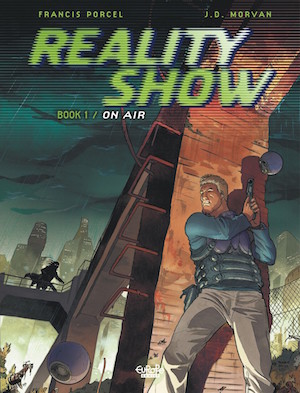 Reality Show
In a future age where robots take care of most of the more tedious tasks, humans have a lot of time on their hands. So what to do with it? Well, obviously, they're going to watch the Norman K. Barron show! Norman is a handsome and heroic policeman, whose dealings have already cost the life of his partner, who has now been replaced by Oshi Feal, a young recruit fresh out of police school. But nothing could have prepared Oshi for this kind of mission, where unexpected developments are a must… After all, you gotta keep the viewers happy!
Sh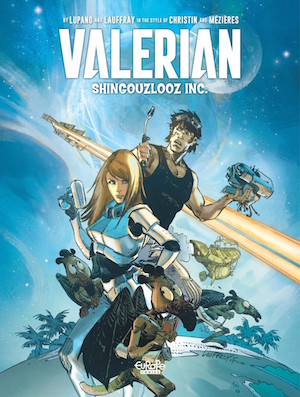 ingouzlooz Inc.
An apparently simple mission – apprehending a speculator-droid – turns into a race against time when the Shingouz drop in uninvited mid-arrest, begging Valerian and Laureline for protection against someone who means to kill them. To the agents' surprise, it's an old friend who soon pops up in hot pursuit, guns blazing. The ensuing shoot-out does little to simplify an already complicated situation: our heroes' favourite information brokers have managed to … lose Earth in a card game!
Human Stock Exchange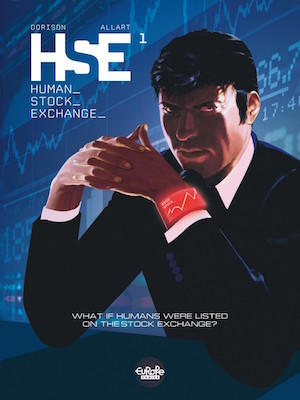 This opening episode of H.$.E presents us a world in the midst of an unprecedented financial crisis. Still, although the economy of
industrialized countries is in tatters, unemployment has rocketed and millions of small business have gone bankrupt, there does seem to be one thing maintaining its financial value: the human being. Members of the social elite can have themselves listed on the stock market. So the stock market is no longer exclusively the privilege of corporate bodies, but of individual human bodies too! They can collect capital by wearing a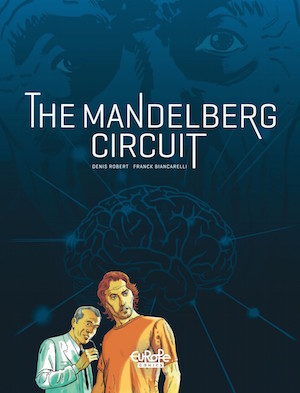 "rate watch" indicating their popularity ratings. Felix Fox needs money. He wants one thing and one thing only: to get listed. After much persuasion, he finally gets there. With the backing of the creator of the Human Stock Exchange, he sits back and watches as his ratings soar. But of course, there is always a price to pay…
A suspense thriller from Denis Robert and Franck Biancarelli that'll keep you on the edge of your seat. How can an old, ill, rich man become immortal? By transplanting his brain into the body of a young athlete being pursued by the Mafia…
Alter Ego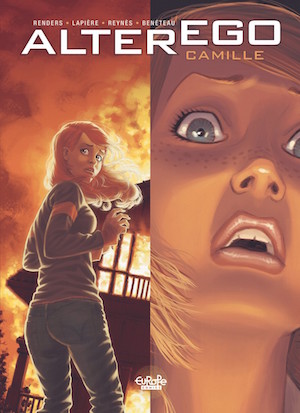 Camille, a French girl living in Singapore, is going through a tough time in her relationship with her mother, Suzanne Rochant, a high-flying psychology and neuroscience researcher. Out of the blue, Suzanne is brutally killed in tragic circumstances. Almost immediately afterwards, Camille sets off for an Angolan village in search of the man who could be her father… the father that she's never met. She carries a letter left to this man in her mother's will, but the truth awaiting her isn't exactly what she'd had in mind… Camille soon finds herself wrapped up in the shady goings-on of her mother's business, as she desperately tries to get to the bottom of all the unanswered questions her Suzanne left with.
Technological revolutions are a time of incredible inventions, brilliant minds, and fantastic discoveries. As well as bad inventions, failed experiments, and bizarre ideas. "Revolutions" brings to life a series of alternate histories, and offers inventions so fantastic they could never be brought into existence in our world. Instead, these inventions disappear into oblivion, or transform into something completely other than what their makers intended. A truly "revolutionary" series of graphic novels.
Lenny June is your average happy-go-lucky expat, out for a good time and a quick buck. And on Tyr Mayam, a technologically backward planet riven by religious rivalries, he has it easy. It helps that he's quick-witted, handsome, and an exclusive member of the Galactic Confederation's Terran delegation to a world that's been declared an ethnologically protected zone for the next 500 years. But Lenny's life is about to change. For one, his fiancée is due from Earth any day now. And Tyr Mayam, with its doomsday cults and competing sects, has surprises in store, buried deep in ancient history…
On a dying Earth in a not-so-distant future, Josiane and René are the first to enter a new virtual world where just about anything is possible… Part dystopian love story, part psychedelic meditation on human nature, "Alt-Life" takes the reader down a mind-bending rabbit hole of desire, loneliness, and self-discovery.
In a post-apocalyptic future, Medina has become the last bastion of a humanity fighting the nightmarish and infectious creatures known as the Drax. The shield that protects the city won't hold out much longer, and humankind appears to be condemned. The only ray of hope is a "package" ripped from the Drax by the soldier, Karloff. This package is in fact 14-year-old Hadron, said to carry within her the Great Redemption. But will the humans manage to control this young girl's force?
The era of privacy is over. With the proliferation of cameras, social networks, and automated surveillance systems, everyone is being watched at all times and people have begun to give in to the surveillance state. Well, almost everyone… Laurette is a young, rebellious teenager in London plotting an attack on a major government data center with a group of activists. But when the plan goes wrong, Laurette disappears, kidnapped by unknown agents. Dissatisfied with the police's lack of progress, Adil, Laurette's brother, decides to investigate on his own. A science-fiction story that explores a future not too far from our own, tackling the issue of surveillance from both sides of the law.
The world turned upside down in 1929, starting in the United States. As the Great Depression shook the nation, so-called "gods" began to appear along Route 66, and quickly grew in number. With humankind slowly dying out, history then took a different course… This is the story "of gods and men," set in the year 2047.
Hercules and his friend Marlon have just enrolled at the School of Intergalactic Agents, but they're both having problems. Hercules is a little young—and a little short—to make the grade, while Marlon just can't help being a coward. For their first Surveillance Operation, they're sent to Earth to gather information on a girl who's behaving strangely. But while they're away, the dreaded Blackbird plans to attack the School…
Captain Lexi Neel thought she'd sacrificed years of life with her daughter when she left Earth on a decades-long journey through the depths of space. But when a distress signal takes her out of hypersleep years ahead of schedule, she finds herself on the mysterious moon Aion, home to exotic wildlife and a research station dedicated to study of the moon's "particularities." It might mean a chance to start over as if she never left… As Lexi is about to learn, time is an experience.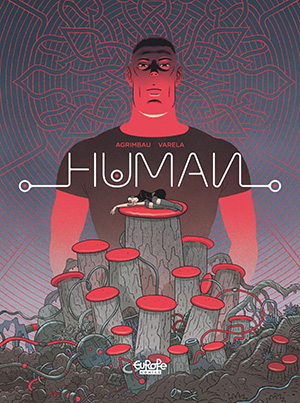 Human
Planet Earth: 500,000 years in the future. Humans have been extinct for millennia. Two scientists, Robert and June, have been orbiting the Earth, waiting for the planet to become habitable once more. With the help of a team of robots, they plan to start over from scratch: a new Adam and Eve who won't make the same mistakes as their ancestors. But first Robert has to find June, who seems to have landed somewhere else in this vast jungle—their Eden—full of grotesque creatures and strange primates…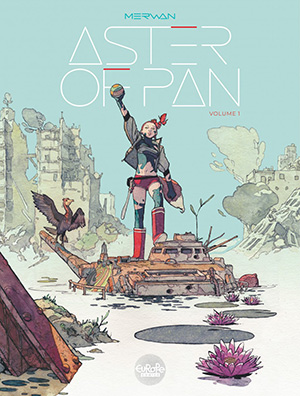 Aster of Pan
The year is 2068. The place, Fontainebleau forest, ancient home of some of France's mightiest monarchs on the outskirts of what was once Paris. The post-apocalyptic society of Pan survives by growing rice and scavenging among the ruins of a destroyed civilization. Their precarious existence comes under threat when the powerful, technologically advanced Federation of Fortuna forces them into a dangerous choice—submit to Fortuna's rule, or try to best them in a barbaric, ritualized game known as Celestial Mechanics. Pan's only hope? A hot-headed outcast they'd rejected for being "un-Pan": a girl named Aster.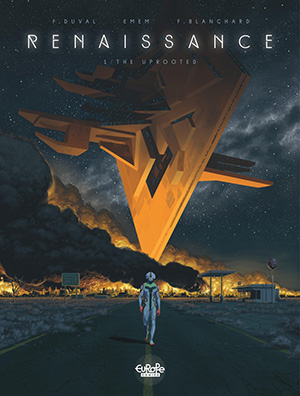 Renaissance
Swänn and Sätie were born on Näkän, a major planet in the Complex, a federation of extraterrestrial civilizations. The young couple hoped to live a peaceful life in an environment where nature and technology coexist in balance. But they are forced to mobilize when the leaders of the Complex decide to launch a vast expedition to save a planet that has exhausted its resources: Earth.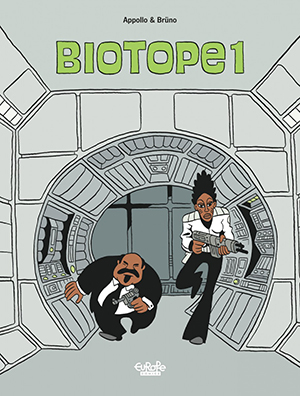 Biotope
A police captain and his two detectives arrive on Biotope, a distant planet on which a scientific base has been erected, to investigate a murder-suicide. They soon realize that all is not right on this self-sustaining base and that the scientists, some of whom are downright hostile towards them, aren't telling them everything. A sci-fi thriller dripping with mood and atmosphere, in which the mounting tension is palpable and the jungle that lies beyond the glass walls of their claustrophobic interior is dense, oppressive and full of deadly secrets…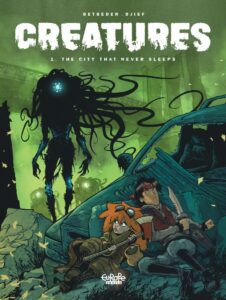 Creatures
In a post-apocalyptic New York City obliterated by a Big Night that wiped out most of civilization, bands of children struggle to stay alive in the wreckage, hunting for food under billowing clouds of toxic fog and running from hungry zombies. One child is endowed with the power to keep them at bay, but will it be enough to protect the survivors from the terrifying creature that has just risen out of the Hudson River? Meanwhile, a raving old man with a house full of books says the worst is yet to come…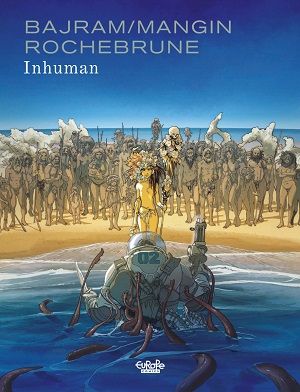 Inhuman
A small exploratory vessel crashes onto an unknown ocean planet after its crew is seized by a sudden madness. After escaping their sinking ship, the five survivors are helped to the surface by giant squid-like creatures who guide them to what appears to be the planet's only island. To their surprise, they are greeted on the shore by primitive humans, who prove to be welcoming despite their cannibalistic rituals. But their fixed smiles and total docility suggest that something more sinister is going on. Are the castaways doomed to join them in submitting to the will of the mysterious Great One?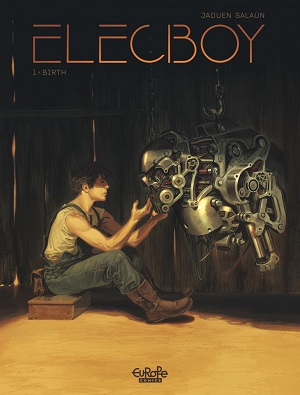 Elecboy
In a devastated cityscape, a lone man fights off creatures of fearsome power: white, winged, serenely impassive, and capable of terrifying transformations… Decades later, in a desolate American southwest, a meager colony of human survivors ekes out a precarious existence between dwindling water supplies and magnetic shields that screen them from roving bands of aerial attackers. An ancestral upper class presides, while in the lower city, laborers do the hazardous work of keeping everyone alive. But all that may be about to change when the mysterious Joshua comes of age…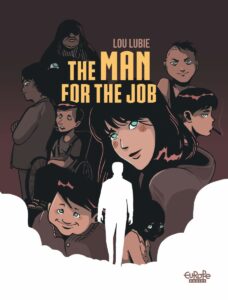 The Man for the Job
Manu always embraced his role as a strong, protective man, until one day his world is turned upside down. In quick succession, his girlfriend walks out on him, and he's passed over for a position at work in the name of gender parity. In an effort to regain his bearings, he clings to a family of seven troubled children, determined to rescue them from their social misfortunes. Thus begins a long descent into the heart of his fears…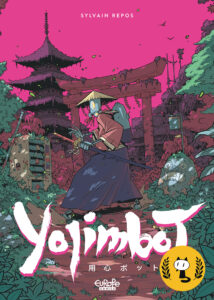 In a dystopian not-too-distant future in Japan, Hiro lives with his father on an island populated by androids, where they eke out a meager existence while trying to keep out of sight. But when they run afoul of a troop of high-tech military thugs, Hiro's dad sacrifices himself to save his son, turning Hiro's already-bleak world upside-down. He is then rescued by a samurai robot called a "yojimbot," and together they seek to avenge his father's death and make contact with a mysterious associate known only as the "rights holder," before the soldiers and their drones close in…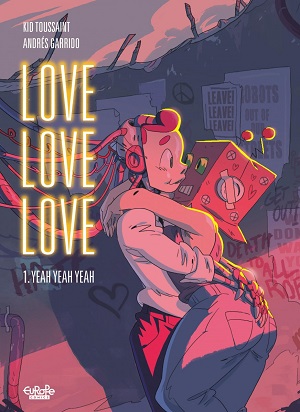 Love Love Love
In a futuristic Paris, robots have evolved into sentient beings whose rights are being revoked due to the perceived threat they pose to human society. But not everyone has turned their backs on these so-called mechas. When the cherish bot Karel and down-on-her-luck Elle meet in the subway, they soon become friends, and something more… But a robot resistance is forming, and the two of them are dragged unwittingly into the chaos. Not only that, but Karel's programmed life expectancy is mysteriously decreasing… Will they be able to stop the countdown, and steer clear of both the robot rebels and human police?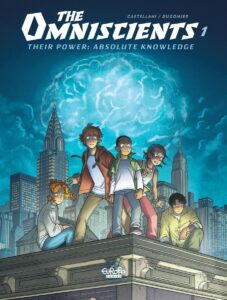 The Omniscients
When five teenagers wake up one morning imbued with absolute knowledge, the news travels fast, and before long the young geniuses are taken into hiding by the FBI. What would you do if you were 15 and never had to set foot in school again? Our heroes won't have long to think about it, as a secret organization is hell-bent on capturing them. And they also have a puzzle to solve: where did this gift come from, and who are these mysterious beings seemingly playing with their destiny?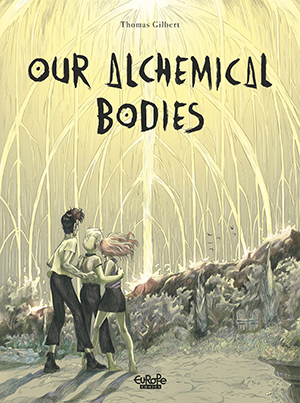 Our Alchemical Bodies
Are you ready for revolution? Revolution of the mind. Revolution of the body. At Camille's invitation, Sarah and Aniss arrive in the Tuscan countryside to take part in a unique experience. Camille hopes to achieve a complete fusion of three souls and three bodies into a single organism. An act of spiritual and organic alchemy. Revolution!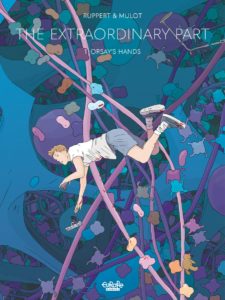 The Extraordinary Part
Nineteen-year-old Orsay lives an uneventful life in the French countryside, until the day he gains extraordinary powers in his hands after an encounter with a mysterious creature known as a whol. On a trip to Paris in search of a cure, he meets and falls for Basma, a passionate activist for whols' rights. But Orsay isn't convinced that whols should be considered equal to humans. Especially once Melek, another human with the same powers, embarks on a murderous rampage to avenge those she sees as her kin.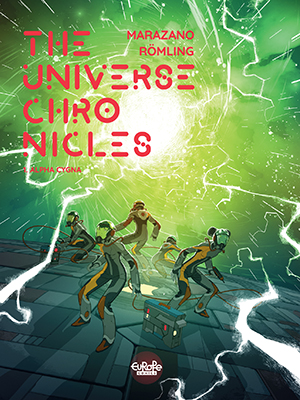 The Universe Chronicles
Who hasn't dreamed of traveling through space, on the hunt for knowledge? In the distant future, that's the mission statement of the Academy of Universal Historical Sciences. Onboard the Thucydides, a group of students and their dean are on a mission to explore the edges of Alpha Cygna when their ship is mysteriously absorbed by a galactic phenomenon into the unknown. Shipwrecked, but curious and determined, Oot-Jah, Mark, Qsi, Polly, and Adya explore a mysterious planet in order to understand the phenomenon they fell victim to. As they explore the temple of an ancient civilization, they make a discovery of the highest importance that risks changing their understanding of the entire universe…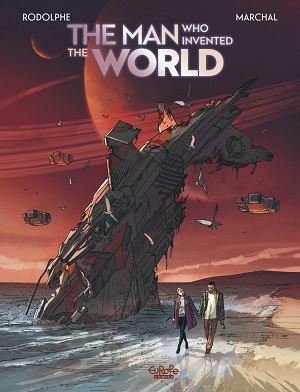 The Man Who Invented the World
What do we really know about the nature of the universe, and about what is hidden in the dark depths of space? Navigator Captain John Bowman is the sole survivor of an exploratory mission to the far reaches of the cosmos. Upon his return, he is plagued by terrible nightmares… but also endowed with an extraordinary power. A power capable of destroying our world… or perhaps reshaping it?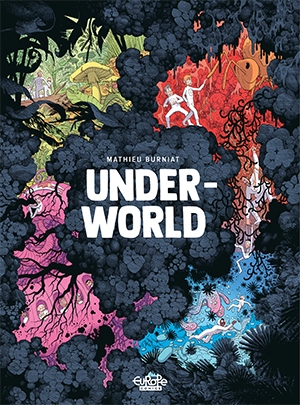 Underworld
Hades, God of the Underworld, is seeking a successor. The prize? His fabled horn of plenty, source of boundless wealth. But to winnow down the applicant pool, Hades has devised a series of challenges as deadly to hopefuls as they are enlightening to readers, taking us all on a tour of the soil: its uses and abuses, riches and resources. Beneath our feet lies a world teeming with life, whose fate is intimately tied with our own. In this fantasy adventure Mathieu Burniat deftly blends pop science and mythology to educate and enthrall on a topic vital to our troubled times.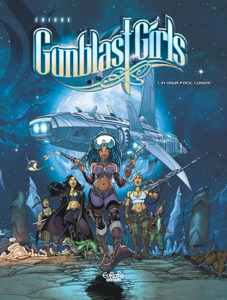 Gunblast Girls
Heroines who fear neither God nor man, these big-hearted bad girls will take you to every corner of the known universe. Assuming, obviously, that a universe has four corners: there might just be a multitude! You'll follow them through multiple layers of the space-time continuum. Fasten your seatbelts, because adventure for these ladies is a game who's purpose is to live at the speed of light. That said: light-speed is for oldsters!
A group of students is on a field trip to an ancient castle when a storm erupts. As they are about to leave, four friends are cornered by the class bully, who tries to pull one of his usual pranks. Instead, they all get the scare of their lives when they fall down a tunnel that takes them into the future: a future where mankind has nearly disappeared from the face of the earth, and where nature has taken control. The friends will have to face up to this hostile new world—as well as their nemesis—if they're to have any chance of making it back home
Header image: Valerian ©Mathieu Lauffray/ Dargaud