Whether you're into historical fables that take you back to yesteryear, paranormal stories where love and desire are reimagined, good old rom-coms, or seriously erotic novels that are just way too steamy, we've got comics to make you feel all the feels. Unwrap a chocolate or two and get ready to turn up the heat with our long list of romance graphic novels and comics this Valentine's Day!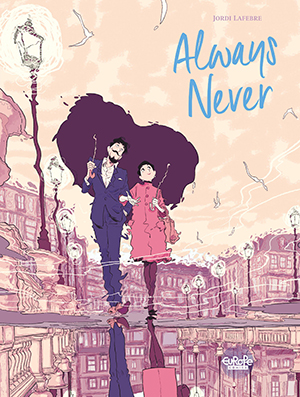 A Love for the Ages
Jean and Germaine are the most affable couple the little village of Colle sur Loup has ever seen. A duke married to a commoner, they have no children, no jobs, and are disastrous cooks! They like to indulge in life's small pleasures; their books, their garden, and their after-lunch naps. They live for each other, and for their love. Their simple happiness intrigues, fascinates, infuriates and is the envy of all those around them.
Daniel Pennac knew Jean and Germaine well. He spent his time at their house reading, watching, learning, and, of course, trying Germaine's catastrophic efforts in the kitchen! He's now taken it upon himself to tell the story of those happy days, and of a love that has always captivated him.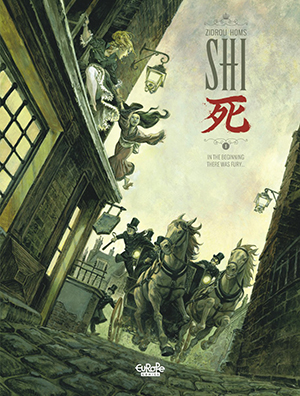 SHI
During the 1851 Great Exhibition in London, two women's lives become irrevocably intertwined when they both fall victim to a nefarious underground fraternity of ex-soldiers from England's upper crust who have sworn their lives to defending the British Empire—as well as their own decadent lifestyles. In this first volume, young rebel Jennifer Winterfield and the mysterious Kitamakura from Japan forge an unlikely alliance along with Jennifer's doctor uncle and a street urchin named Pickles. Together they lay the groundwork for a criminal organization that will go on to sow terror in the hearts of the colonialists and industrialists who tried to put them down.
Oxana, a young dancer from the turn of the 19th century, is the victim of a terrible curse that plunges her into a deep sleep. She awakens a hundred years later with no memory of the past in a time that is not her own. Why has she lost her memory? What power does her strange medallion hold? What are the intentions of the mysterious man in white who comes to her assistance?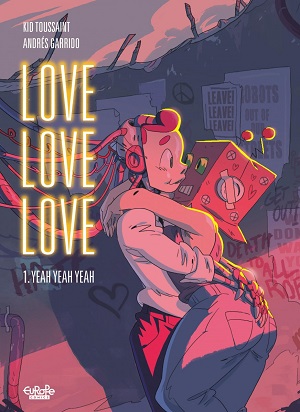 Love Love Love
In a futuristic Paris, robots have evolved into sentient beings whose rights are being revoked due to the perceived threat they pose to human society. But not everyone has turned their backs on these so-called mechas. When the cherish bot Karel and down-on-her-luck Elle meet in the subway, they soon become friends, and something more… But a robot resistance is forming, and the two of them are dragged unwittingly into the chaos. Not only that, but Karel's programmed life expectancy is mysteriously decreasing… Will they be able to stop the countdown, and steer clear of both the robot rebels and human police?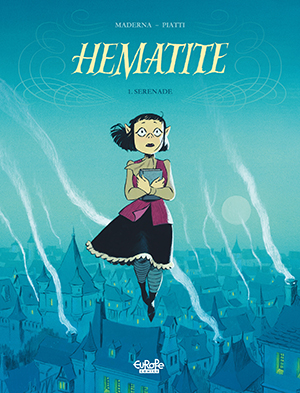 Hematite
Hematite is a young vampire who is trying to find her way. As a member of the illustrious Blackwood family, she faces pressure to conform to high society standards, but such grandstanding isn't for her. And neither is drinking blood—she'd rather have vegetable soup! So it is that she opts for the more diverse Wolven School, rather than joining the ranks of her fellow vampires at the Diaemus Academy. Being different can be hard, though, and doesn't always help to make friends. Luckily for Hematite, she has her poetry, as well as Drunela—a draugr who won't let their differences keep them apart—and Emile, a human boy fascinated by the occult who would just love to take a peek at the Blackwoods' private library. Unfortunately, bridging societal divides isn't always easy, and can lead to terrible consequences…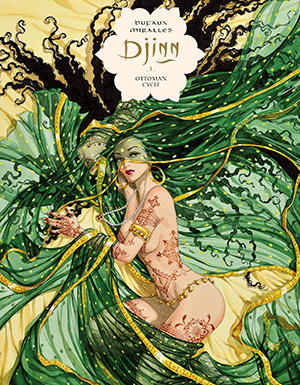 Djinn
The series follows the paths of two different women, in two different eras. One is the exquisite Kim Nelson, a young English woman on a quest for a treasure she believes is rightfully hers. The other is her legendary ancestor Jade, a djinn of the utmost expertise in the art of love, who, through the power of her body, holds the whole world in the palm of her hand. Her quest? To make her mark on the memory of the world by passing into legend. But both women must withstand many trials in order to attain their goals. This is a series constantly in movement, migrating from Turkey and the harems of the Ottoman Empire, to Africa and the magic of ritual, and then on to India and the glittering Pavilion of Pleasures. A captivating tribute to the power of desire, sensuality, and the instinct to love.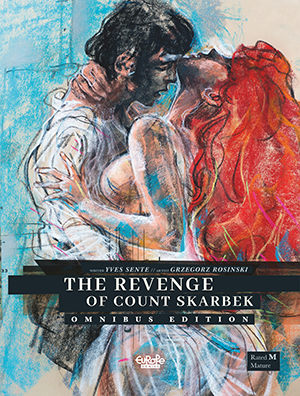 The Revenge of Count Skarbek
1843, Paris. A sensational trial stuns the art world and has the streets of the capital buzzing. Is the famous art dealer Daniel Northbrook nothing but a swindler? Count Skarbek, a rich Polish businessman, will do everything he can to prove it, revealing a sensational tale of love, hatred, passion, and revenge. A gripping thriller in the vein of the great popular fiction by Hugo and Dumas. Includes a new preface from scriptwriter Yves Sente and exclusive extra content from artist Grzegorz Rosinski (for mature readers only).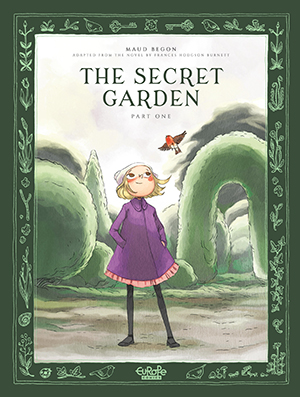 The Secret Garden
When Mary's parents die, she moves to England, where she is sent to a strange mansion in the middle of the Yorkshire moors, belonging to her uncle. It is here that she discovers the comfort of friendship… and a wonderful secret that she soon shares with her new companions: a garden forgotten by everyone, whose key, as if by magic, also opens the doors to broken hearts. This is a two-part graphic adaptation of Frances Hodgson Burnett's 1912 classic of children's literature.
Vesper, the Amazon of the Knights of Nyx, is a formidable warrior versed in the practice of Etheric magic. She uses her talents in the service of Prince Crimson Nyx, with whom she shares the dream of a kingdom where people of all races can live together. But in the midst of celebrating an important victory for their kingdom, the two heroes are ambushed by the Ekklesia, a religious order that sees in them the manifestation of dark forces that must be stamped out… A fast-paced first entry of a thrilling fantasy series not to be missed.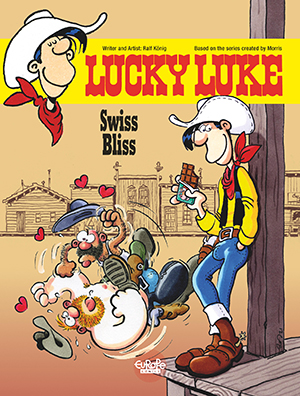 Lucky Luke: Swiss Bliss
Even a hero from the Far West needs a vacation from time to time, and looking after a few Swiss cows seems like the perfect opportunity for Lucky Luke. These milk cows happen to produce the precious substance necessary for the production of authentic Swiss chocolate! The West has just discovered cocoa, and chocolate should soon be a commodity in all mouths. And yet… between vicious autograph hounds, the chief of the Chicoree tribe, and two cowboys whose frustrated love leads to even more frustrating brawling, will Lucky Luke end up yearning for a reunion with the Daltons?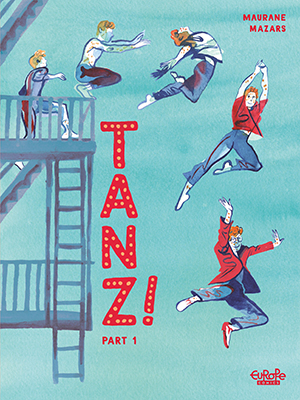 Tanz!
Germany, April 1957. Uli has a dream: to become a famous Broadway dancer. But as a modern dance student at the prestigious Folkwang school, Uli's energetic and outgoing personality stands out in sharp contrast to the melancholy of post-war Europe. During a trip to Berlin, he meets Anthony, a young American dancer. The attraction is immediate. Anthony convinces Uli to come to New York and try his luck on Broadway. The young men part ways, but Uli will pack his bags and embark on an adventure that will take him to a new life overflowing with life, color, and movement — but also disappointment, harsh reality, and a good dose of heartbreak.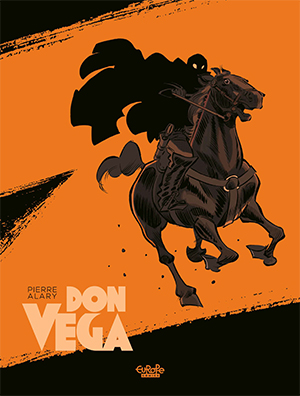 Don Vega
The year is 1849, and the future state of California is under the control of former soldiers from the Mexican-American War. Their leader, General Gomez, is busy buying up the locals' land for pennies on the dollar, so that he and his cronies can maximize their profits from the coming gold rush. But he and his men are dogged by a series of masked, would-be avengers all calling themselves Zorro. They are an almost laughable annoyance, simple peasants living out the fantasy of a local legend. Until one man shows up and starts picking off Gomez's men one by one, as stealthy as a fox. He brandishes a sword which he uses to carve the letter Z into his victims' cheeks… Could this be the true Zorro?
Madrid, winter of 1956. Franco's fascist dictatorship controls the press and maintains the fiction of an idyllic nation. Faced with the Regime's attempts to cover up the country's most sordid crimes, two journalists from the crime beat, the jaded veteran Emilio Sanz and the young and intrepid Léon Lenoir, seek to reveal the truth. Confronted by a wave of unexplained murders, the duo sets out to uncover the dark secret connecting them, buried in a cruel past. Brilliantly written and illustrated by Teresa Valero, Sanz and Lenoir's investigation plunges us headfirst into an era and society as dark and as violent as it is full of hope. A bracing journalistic thriller revealing the lengths the Francoist regime was willing to go to in its attempts to stifle any form of dissent.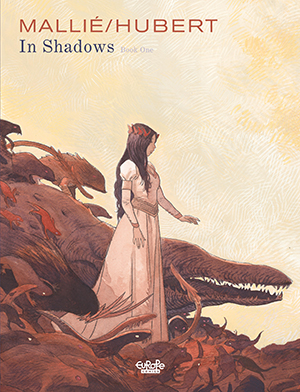 In Shadows
Arzhur, a disgraced knight, has taken on a new mission to restore his honor: save Princess Islen from the Black Castle. The only problem is, the mysterious Islen doesn't want to be saved…The reluctant pair must nonetheless cross the kingdom—pursued by a trio of sinister witches—in hopes of finding refuge with Islen's father, the king. But will their secrets catch up with them first?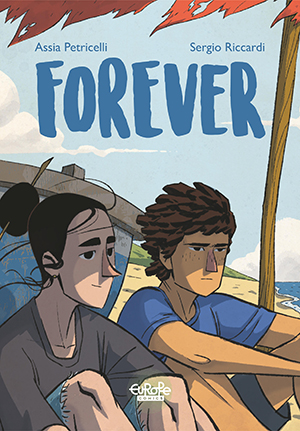 Forever
What is this "love" everyone talks about? Viola doesn't yet know. But it is a question she is asking herself more and more, because at her age there are some kinds of problems you feel even in the air that you breathe: your self-image and the way you think others see you, the relationship between you and your body and the other gender, couple issues, the freedom to follow your aspirations, and the need to fit in socially accepted categories. On vacation with her parents, during the idle hours of the afternoon while everyone is sleeping, Viola's encounters and experiences will help her grow as a person and get answers to the hard questions that everyone has to face sooner or later, and she will reshape her identity, in a summer she'll never forget.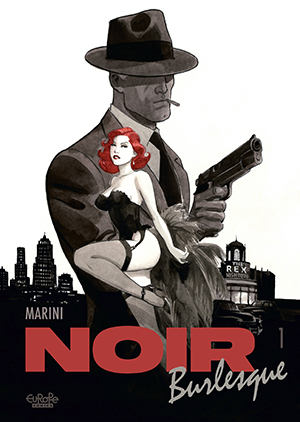 Noir Burlesque
After a hold-up gone wrong, Slick finds himself deep in the red with local mafia boss Rex. But that's not the only thing setting them at odds: they also have their sights set on the same woman, the beguiling Caprice. She's engaged to Rex and headlines his club, where she thrills the nightly crowds. She's off-limits, but Slick has never been one for limits. And he has unfinished business with Caprice, who was once his own sweetheart before the war pulled them apart. After all these years, there's no love lost between them, but that doesn't mean the old spark isn't alive… And now, they're playing with fire. Taking inspiration from the Hollywood noir films of the 1950s, Enrico Marini delivers a gritty graphic novel combining crime, love, jealousy, and betrayal.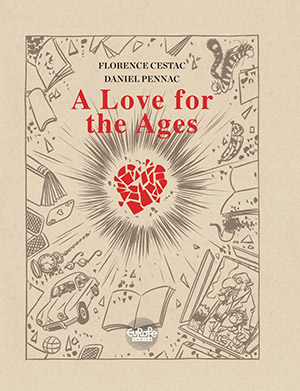 A Love for the Ages
Jean and Germaine are the most affable couple the little village of Colle sur Loup has ever seen. A duke married to a commoner, they have no children, no jobs, and are disastrous cooks! They like to indulge in life's small pleasures; their books, their garden, and their after-lunch naps. They live for each other, and for their love. Their simple happiness intrigues, fascinates, infuriates and is the envy of all those around them.
Daniel Pennac knew Jean and Germaine well. He spent his time at their house reading, watching, learning, and, of course, trying Germaine's catastrophic efforts in the kitchen! He's now taken it upon himself to tell the story of those happy days, and of a love that has always captivated him.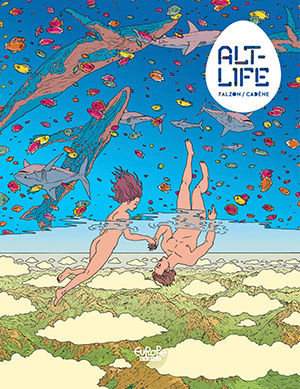 Alt-Life
On a dying Earth in a not-so-distant future, Josiane and René are the first to enter a new virtual world where just about anything is possible… Part dystopian love story, part psychedelic meditation on human nature, "Alt-Life" takes the reader down a mind-bending rabbit hole of desire, loneliness, and self-discovery.
Three young women lacking direction struggle with the challenges of life and relationships: Violet has dumped her boyfriend and is finding it hard to move on; Leila has betrayed her best friend and finds herself now ostracized by her social circle; and Helen struggles to find a balance between her personal life and the doctoral thesis taking up all her time and energy. A realistic slice-of-life portrayal of the growing pains of young adulthood.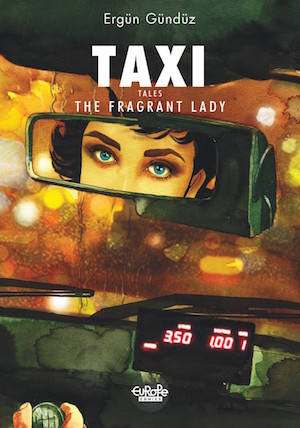 Taxi
"The Fragrant Lady" is a tale that brings to life the recollections of an old gentleman in the back seat of Yalcin's cab. The man tells of the time he spent with an enviable French woman named Floré during the silver age of Istanbul. His too-good-to-be-true story unravels with rich illustrations by Ergün Gündüz, which are throwbacks to the days of urban glamor in Beyoglu, in stark contrast with the current state of the district.
Jean is a medical student who's about to start her final residency rotation in gynecology. But she'd much rather practice surgery than listen to simpering women moan about their problems all day. Plus, this department is headed by the notorious Dr. Karma, renowned throughout the hospital for his stubborn mindset and unorthodox practices. However, in her first week, Jean begins to realize that Dr. Karma's reputation isn't fully accurate, and, perhaps, the complexities of women's stories are worth listening to and respecting. A modern classic of a revolution in women's medical care, adapted from the bestselling novel by Martin Winckler.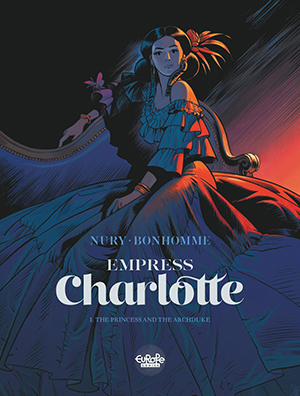 Empress Charlotte
At sixteen, Princess Charlotte falls in love with an Austrian archduke, Maximilian of the House of Habsburg. Soon enough, she finds herself enmeshed in the cruel and unpredictable world of international diplomacy as her marriage founders. Increasingly shrewd, naïveté and idealism replaced by practicality and skepticism, Charlotte will help ensure that she and Maximilian are sent to Mexico to reign as emperor and empress…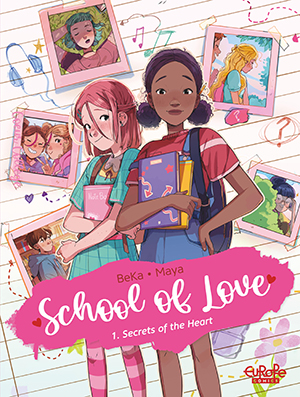 School of Love
Linon and Garance are best friends with very different ideas about love. To get to the bottom of what all this romance stuff is really about, they decide to conduct an investigation into some of the older students at their middle school. Why are certain kids more popular than others? Why do some already have a "bad reputation" by the 8th grade? Why is everyone so obsessed with appearances? Along the way, the pair discover that, for best friends who are supposed to share everything, they've both been keeping some pretty big secrets of their own.
Jean-Paul is a shy, slightly gawky young man leading a rather unremarkable life in which his oppressive mother is all too present. As the anniversary of his father's death approaches, he feels increasingly dissatisfied with his life, and increasingly aware of his loneliness. It's time for things to change. So, without telling anyone, he embarks on a singles cruise and takes his first steps in a brave new world.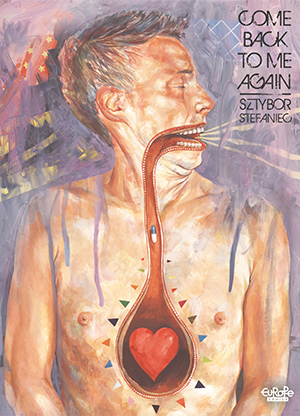 This is a dramatic graphic novel because it is about life. This is romance, because there is love. This is crime, because it's about mysterious death. It's also a graphic novel about dreams, because there is a lot of sleep in it. Come Back to Me Again is an emotional journey into yourself. This diary of feelings jagged by addiction. Alcohol addiction. Drug addiction. Love addiction. And life addiction. This story is about the continuous falling asleep and waking up. About daydreaming and life without sleep.
The lives of a handful of Parisian characters trying to connect with themselves, their bodies, and each other intertwine in this insightful snapshot of modern society: mothers and daughters, sons and parents, lovers, friends, and neighbors interact and experience each other in ways both simple and profound.
Founder of the Impressionist movement of which he was one of the most merciless critics, too bohemian for the bourgeois and too bourgeois for the artists, Edgar Degas was a man of many paradoxes. A loner, he loved only one woman without ever courting her. Looking into this unique relationship at the twilight of Degas' life, Efa and Rubio open the pages of the artist's notebooks hoping to unravel the mystery of this genius full of contradictions.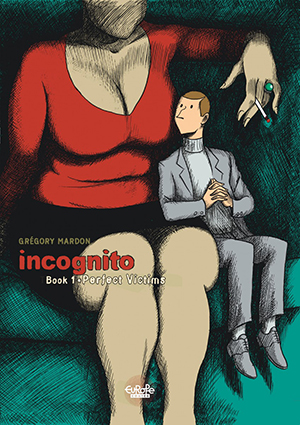 Incognito
This is the story of an invisible man. He's a man that no one ever notices. He is transparent, whatever he does. This is rather a difficult cross to bear! One night, the man who so wants to be seen loses it. He's had enough. He wants to feel things too! His outburst costs him an ankle injury, which in turn leads him to Berenice, the lovely young physiotherapist. She soon sets him straight: we are all victims in one way or another! Gregory Mardon develops a narrative based on the infernal spiral of human relationships, in which love is manipulation, kindness is selfishness and cruelty is an art.
Any resemblance to persons living or dead or actual events would be strangely coincidental… In a town in the east of France, Sylvestre Ruppert-Levansky, a president of the circuit court, begins his last trial, in the same place his career began. Everything here reminds him of Rachel, his first love, and most of all, Mathilde, a manipulative, diabolic serial killer. The old magistrate has a spotless reputation. He is considered tolerant and fair. But then a police officer from his past asks to see him. Perhaps the legend of Sylvestre, the eminent judge, isn't so cut and dry… In a gripping tale full of surprises, Denis Robert and Franck Biancarelli reinvent the thriller.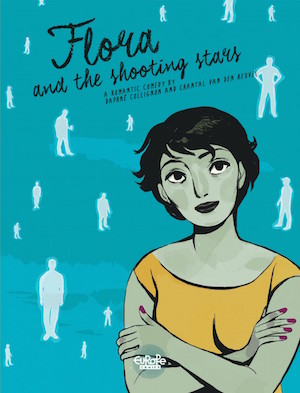 Flora and the Shooting Stars
40-year-old Flora has just gone through a bitter divorce after 20 years of marriage. Thankfully, she can count on the support of her friends: Roxane, the cool hippie who loves to garden, Lea, the tireless career woman, and her old neighbor, Venerable. Like her friends, Flora would love to find her soul mate, but it's just not that simple. She has several promising dates, but once the first flush of passion is over, her lovers seem to disappear into the night. Why does this keep happening? Is she not attractive enough? Is she so difficult to be around? Or is she being sabotaged by someone close to her? A story for the divorced (and perpetually single) 40-somethings who just want to take a moment to catch their breath, and maybe even enjoy their singledom, told through the eyes of Flora and her hilarious entourage.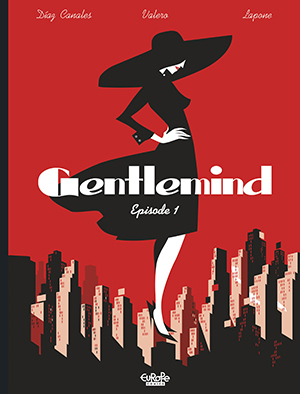 Gentlemind
New York, 1940. Navit, a young, penniless singer, inherits ownership of an old-fashioned girlie magazine: "Gentlemind." Combative, intelligent, and audacious, she sets herself up as the publication's new director and takes on the immense challenge of turning it into a modern magazine. Haunted by the memory of her lover who left for the front lines of Europe, she must confront the realities of an American society that is in its golden years, but remains highly patriarchal. A deeply touching story spanning three decades, relating the American dream from a woman's perspective!
Beatrice is stuck in a depressing office job: her hard work is overlooked, her paycheck's so small she's about to lose her apartment, and her boss won't give her a promotion unless she sleeps with him. But Beatrice just took a vacation to Africa, where she learned a very particular set of skills, both in and out of the bedroom. She's about to transform her boss's life in a way that he never saw coming. She'll get a maid to clean her dirty apartment. And maybe, in the process, Beatrice will finally find love…
Manuel and Mia live together in Bologna, in a house that is so crowded they have a roommate they've never seen. Mia is almost thirty, hates her job, and has a deep desire to dig into life before it's too late—before becoming hopelessly adult. Manuel is publishing a serial novel online about courtly love, which he hopes might one day find a publisher. Mia and Manuel have dreams, but are unhappy. They don't know how to face the void created between them. They're losing themselves, even though they love each other. If they're to straighten things out, they must find the right measure.
Ludwig has never been a soldier. A childhood injury left him lame in one leg, which has allowed him to largely sit out the war on the sidelines, as a translator. Fleeing his passionless marriage, he accepts an assignment in Japan, allowing him to return to the land of his youth. But the year is 1945. It is not a good time to be Japanese, or German… much less stationed in Hiroshima. Ludwig is tempted by love and, in furtively tampering with his translations of classified documents, by the chance to do something heroic. But none of that will save him…
Claire is a thirtysomething neonatal nurse who is becoming increasingly discouraged about her prospects of getting into a long-term relationship and starting a family. She thinks she may have finally met her man in Franck—if not a Prince Charming then at least a friendly and compatible person—but societal pressures and gender norms seem to rear their heads at every turn and Claire begins to wonder if it will ever be possible for her to be happy with another person on her own terms.
Aude Picault's chronicle of everyday romance is full of wit and sympathy but it is also backed up by a bibliography of feminist essays and studies of gender relations, offering a valuable and complicated case study of the challenges facing modern women.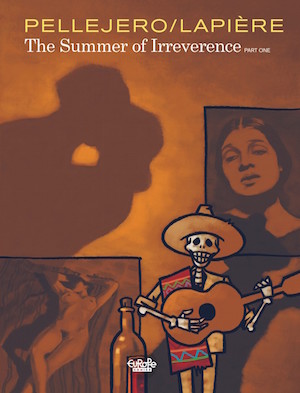 The Summer of Irreverence
Lenny June is your average happy-go-lucky expat, out for a good time and a quick buck. And on Tyr Mayam, a technologically backward planet riven by religious rivalries, he has it easy. It helps that he's quick-witted, handsome, and an exclusive member of the Galactic Confederation's Terran delegation to a world that's been declared an ethnologically protected zone for the next 500 years. But Lenny's life is about to change. For one, his fiancée is due from Earth any day now. And Tyr Mayam, with its doomsday cults and competing sects, has surprises in store, buried deep in ancient history…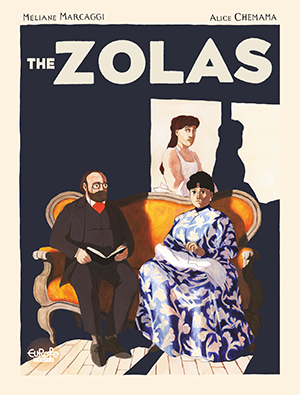 Mexico, August 1923. Edward Weston has just abandoned his wife and children and joined his mistress Tina Modotti. Daughter of Italian emigrants, Tina started out on a career as a Hollywood actress before discovering a passion for photography, in Edward's wake. In Mexico, the lovers soon discover that revolution goes hand in hand with artistic expression. The walls of public institutions are colored with the vibrant paintings of Diego Rivera, Xavier Guerrero and all those who would go down in art history as ' the muralists.' In this pivotal period between the old world, still struggling in the aftermath of the First World War, and the new world, yet to be constructed, Tina and Edward become deeply involved in the artistic political movement of the epoch. For Tina, sex, freedom, art and politics become the pillars of her lifestyle, leading her to sometimes make choices that are difficult for Edward to deal with. But passion burns the senses, and suffering kindles the fires of creation…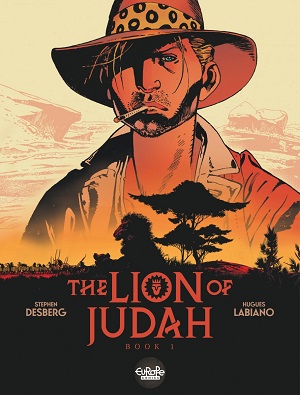 The Lion of Judah
1920s Nairobi. When two Africans are found gruesomely murdered, all signs point to John Wallace, a promising young plantation owner with a bright future ahead of him and a beautiful bride-to-be. What drove him to kill these men? His silence and a corrupt system lead to internment, without a trial, in a vicious Kenyan prison camp. But sadistic guards, conspiring cellmates, and harsh desert labor are no match for the suffering that Wallace feels inside over the life he lost, and how best to get it back. He's willing to do anything for revenge—even loose the mysterious beast lurking within…
Baudelaire: poète maudit, enfant terrible, lyric genius, crippling perfectionist. Bereft of a father at age five, he spent his days squandering the former's fortune on prostitutes and paintings, opium and alcohol, finery and laundry bills for his impeccably white dandy's collars. He loved a woman and gave her syphilis. This is her story. Muse, mulatto, mistress, mystery… little was known of Jeanne in her day, and even less remembered since. Yslaire pays tribute to a brimstone-and-hellfire affair from the annals of literature, two misunderstood souls who in their mutual misunderstanding afforded each other what little solace they found in life.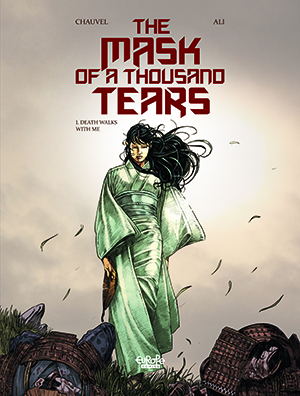 The Mask of a Thousand Tears
After a horrific battle in a mythical Asian land, a peasant soldier with a mysterious past encounters a young woman who has come to find the body of her dead fiancé. She is determined to travel to Takedo Castle and get her hands on the Mask of a Thousand Tears, a golden mask which will allow her to travel to the underworld and bring her fiancé back to the land of the living. The peasant, Masamura, accompanies Sadakyo on her quest. She discourages him but soon learns that she has no chance of surviving without his help. They are both determined, for different reasons, to see this mission through to the end, no matter what the cost. A story in two volumes.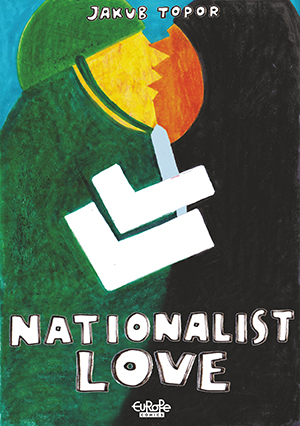 Nationalist Love
When Zapsky and Byro meet during a right-wing nationalist march, their joint escape from the police results in an unexpected and violent outburst of passion. Their initial euphoria quickly turns into doubt and fear—after all, if their buddies found out about them, the consequences would be terrible… But now that they've come together, will they be able to simply forget and move on with their lives? Or is it something more lasting, despite the risk it represents for both? "Nationalists in Love" is the third graphic novel by Jakub Topor, nominated for the graphic novel of the year award at the Lodz Comics Festival.
Are you ready for revolution? Revolution of the mind. Revolution of the body. At Camille's invitation, Sarah and Aniss arrive in the Tuscan countryside to take part in a unique experience. Camille hopes to achieve a complete fusion of three souls and three bodies into a single organism. An act of spiritual and organic alchemy. Revolution!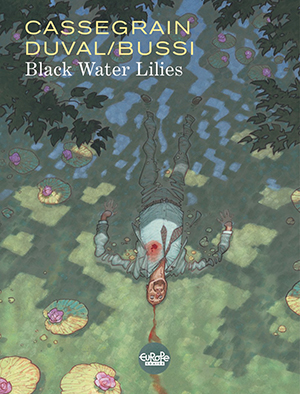 Three willful women: one old wicked, one young and selfish, and the third in the prime of her life. A man murdered three ways: stabbed, bludgeoned, and drowned in a stream. The mystery brings brash young Inspector Laurenç to the postcard-perfect Norman village of Giverny, home to Impressionist Claude Monet's gardens and studio. Like any small town, Giverny has its secrets. But have they to do with greed? Lust? Missing paintings? Jealous husbands? Laurenç soon finds himself head over heels for a pretty schoolteacher—and in over his head. Dider Cassegrain brings Michel Bussi's bestselling novel to life in lush, delicate watercolors worthy of the famous canvases that lend the book its name: Monet's immortal Water Lilies…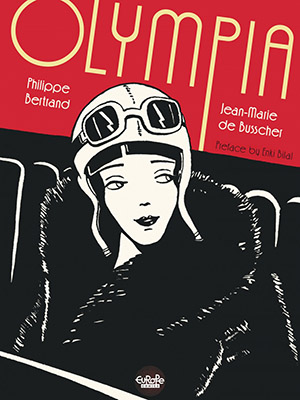 Allow us to introduce Olympia, an exquisite young woman living in post-First-World-War Berlin, a time when the town was continually shaken up by internal revolutions and cultural turbulence. Olympia is beautiful. Louise Brooks-style beautiful. She is the archetype of that generation of war-women, the likes of which we'll never see again. Her father, Count Van Den Golzt, sends his daughter to Berlin following the Bolsheviks' establishment in Courlande, a move that he knew was a threat to the safety of his family. She soon becomes a fascinating character, with lovers from all walks of life, from bespectacled Communist intellectuals, to pimps. Alongside her decadent lifestyle, she fights passionately for the Socialist cause. Nihilistic, but driven, she ends up in the arms of the most unlikely suitor.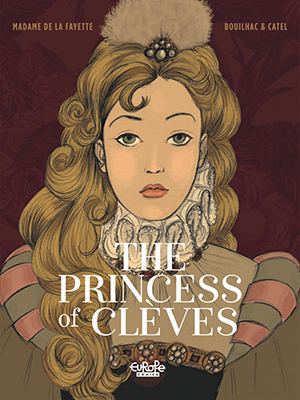 Entering life at the French royal court, a world in which "what is shown is rarely the truth," the young Princess of Clèves learns of passion's torments, of heartbreak, and of the agony of love. Claire Bouilhac and Catel Muller's graphic-novel adaption of this classic tale—often referred to as the forerunner of the modern psychological novel—remains faithful to the original 17th-century text, while also providing surprising and original insight into both the mystery of the creative act, and the link between the author, Madame de La Fayette, and her heroine, the Princess of Clèves.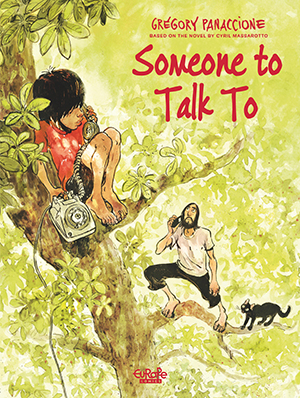 Someone to Talk To
Samuel is feeling blue, and for good reason! He's single, lives in a tiny Paris apartment, and is languishing in a job he hates. Alone on his birthday, he decides to amuse himself by calling the only phone number he knows by heart: the one for his childhood home. To his surprise, someone picks up… His past self! All 10-year-old Sam wants to do is play soccer, travel the world, and write books to impress girls. How will Samuel ever be able to tell him the truth without crushing his dreams? It's time he got his life back on track.
Raowl is not a hero for the faint of heart: he slices, dices, and decapitates anyone standing between him and a kiss from a princess. Unfortunately for Raowl, the first princess he encounters doesn't find him to her liking. So when Raowl rescues a second princess, he doesn't take no for an answer—and as it turns out, the two have a lot in common! Raowl's rage is all the greater when the princess is kidnapped and taken to a castle full of cannibals, and he doesn't waste any time leaping into the mouth of the beast! A rollicking rewrite of classic fairy tales, filled with guts, quips, and colorful characters.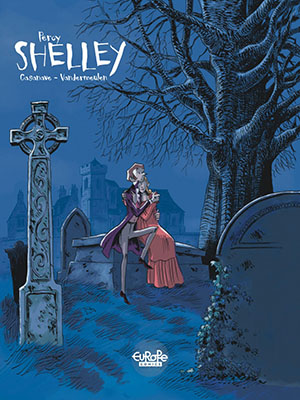 Shelley
Born into an aristocratic family, Percy Bysshe Shelley has no intentions of following in his father's political footsteps. The rebellious young poet finds himself drawn to more scandalous pursuits: supporting anti-royalist and anti-clerical causes, championing vegetarianism, and extolling the virtues of atheism, an act that ultimately leads to his expulsion from Oxford University.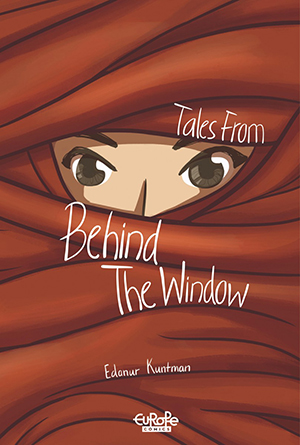 Tales from Behind the Window
"Tales from behind the Window" is based on memories of an Anatolian grandmother and women she knew who suffered from male dominance over their lives. Writer and illustrator Edanur Kuntman seeks a unique way to express and give voice to women in her grandmother's memories and in our reality who were not able to reconcile their inner emotional depth with their rural worlds in Northern Turkey. One long and two short stories included in this book revolve around terrifying emotional burdens such as forced marriages, being betrayed by patriarchs, and lost love, which have haunted and still haunt many in rural Anatolia.
Modern-day Paris. One night, as she's leaving rehearsal, Lola, a young dancer, is approached by Renée. She introduces herself as a writer, and asks Lola if she could share her life for a while in order to gather material to write a book about her. Despite not feeling entirely comfortable with the idea, Lola accepts. The very next day, Lola and Renée experience the strangest day of their lives, involving an absent father who reappears at random points throughout the book, a bashful but psychopathic admirer, Omar Shariff, and a huge spider… All this is set against a backdrop of a general power cut, a highly demanding dance class and a very rainy day. In the world of today, where everything goes too quickly, twenty-four hours is sometimes enough to change your life.
Header image: Always Never © Jordi Lafebre / Dargaud