Undeniably, some of the most adored European comics characters were born in France and Belgium. And the best proof of this is the continuous "resurrection" of Franco-Belgian characters born in earlier decades. With such quintessential favorites as Bob Morane and Ric Hochet, here is a reading list you're bound to love, dedicated to fresh new stories based on beloved classic characters.
Bob Morane is back! This thrilling reboot from Lombard reintroduces the heroic soldier and all his classic associates in a new, present-day world. The whip-smart, physically skilled, and drop-dead gorgeous Morane has volunteered for a peacekeeping mission to Nigeria, where his conscience runs him afoul of his commanding officers and puts some very important people in his debt. Eventually, he finds himself organizing the largest humanitarian operation that has ever been undertaken in Africa. But there are many forces at play, some more shadowy than others—and some are extremely nefarious…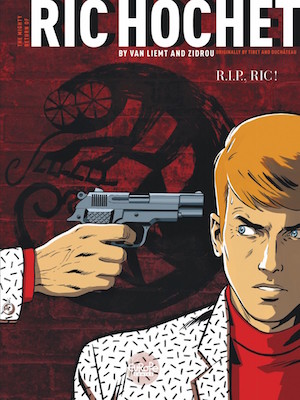 Ric Hochet, the famous Parisian newshound, is not himself. He's wearing a mysterious bandage, he isn't driving his usual car, and a strange smell is emanating from his apartment… When he's invited to his old friend Police Commissioner Bourdon's wedding in the South of France, his infallible memory starts failing and his legendary luck begins to desert him. Then an attempt is made on Bourdon's life. What's eating Ric and why would anyone want to murder Bourdon? Clearly, things are not all what they seem—least of all Ric himself.
The unique and truly French super hero is back, like a phoenix from the ashes, to save France once again and to restore it to greatness in a world going to the dogs. Superdupont's reboot gets a kick-start with the birth of his son who, astonishingly, has inherited the supernatural powers of his father. Perhaps together they can finally bring down the enemies of their wonderful homeland!
Does Lucky Luke know what he's getting himself into when he arrives at Froggy Town on a stormy night? As in many cities of the Wild West, a handful of men pursue the madcap dream of finding gold. Luke is just looking for a place where he can make a quick stop to replenish his tobacco supplies. But he can't refuse the request for help made by a committee of citizens to find the gold that was stolen the previous week from the poor miners. With the help of Doc Wednesday, Lucky Luke leads a dangerous investigation while facing up to the ruthless siblings – the Bones brothers.
It's been a long, cold winter, and the Vikings are suffering major food shortages. Many of the men have left on a long voyage. In their absence, Björn, son of the village chief, Gandalf-the-mad, has been left in charge. Which is not good news for Thorgal, a young skald of mysterious origins, marginalized by the Viking tribe. Lucky for him, he has the beautiful Aaricia to look out for him. When Thorgal's singing attracts three whales into the bay, the villagers hope they might finally be able to feed themselves. But something tells Thorgal that these are no ordinary whales…
Header image: The Mighty Return of Ric Hochet V2 © Zidrou & Simon Van Liemt / Le Lombard