As the Fall/Winter Fashion Week season nears its end and models are parading on runaways from New York to Paris, we have selected some ultra stylish comics and graphic novels for you right off the Europe Comics catwalk! Explore with us trends and haute-couture from all eras : ball gowns, costumes, stage dresses, trendy outfits from all over the world… You are guaranteed to find a good fit!
New York, 1940. Navit, a young, penniless singer, inherits ownership of an old-fashioned girlie magazine: "Gentlemind." Combative, intelligent, and audacious, she sets herself up as the publication's new director and takes on the immense challenge of turning it into a modern magazine. Haunted by the memory of her lover who left for the front lines of Europe, she must confront the realities of an American society that is in its golden years, but remains highly patriarchal. A deeply touching story spanning three decades, relating the American dream from a woman's perspective!
During the 1851 Great Exhibition in London, two women's lives become irrevocably intertwined when they both fall victim to a nefarious underground fraternity of ex-soldiers from England's upper crust who have sworn their lives to defending the British Empire—as well as their own decadent lifestyles. In this first volume, young rebel Jennifer Winterfield and the mysterious Kitamakura from Japan forge an unlikely alliance along with Jennifer's doctor uncle and a street urchin named Pickles. Together they lay the groundwork for a criminal organization that will go on to sow terror in the hearts of the colonialists and industrialists who tried to put them down.
Edith Hardy runs a small detective agency off an unassuming alley in the 13th arrondissement. It's the 1950s, and foreign forces are busy vying for power in a Paris still recovering from World War II. Edith has a good heart and a missing husband, and her attempts to do right by her small world get her caught up in far larger, darker affairs. A classic Pierre Christin script—a strong sense of place and history, humane leftist sympathies—combines with Annie Goetzinger's indelible artwork to deliver a stylish mystery for fans of classy whodunits.
The White Sultana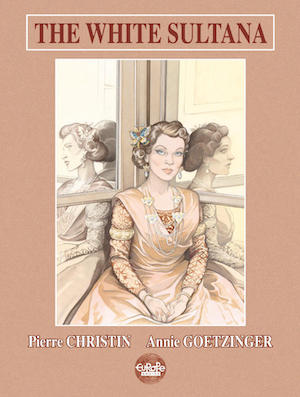 This is the story of two women. One of those women is Lady Sheringham, interviewed in her manor house, the other is Emma Piggott, who has just passed away in her London apartment, alone.
To the former, life has been kind. She's gone from Shanghai to Hong Kong to Kuala Lumpar, from governess to sultana. She lives in the lap of luxury, engaged in an endless cycle of drinks parties, outings on horseback and the delicious little scandals of the British colonial community. This is a woman destined never to know hardship, other than the loss of loved ones.
Emma Piggott, a teacher at St. John's, has lived a gray and stagnant life, experiencing Asia only through newspaper articles that she carefully cuts out collects, but never leaving the Whitechapel neighborhood where her parents kept a grocery store.
And yet, something unites these two women–a little detail, nothing at all really, mere chance, or perhaps just a nightmare that troubles Lady Sheringham's sleep from time to time…
1926. A mother and her young daughter come to Los Angeles. The mother is chasing her dream: she wants to conquer Hollywood, no matter the cost. Her little girl, Anastasia, is the perfect candidate to be cinema's next big star. But can she stand the pressure? The clash of dreams and the dirty reality of show business is a heavy burden to bear, as Anastasia comes face to face with the crime, abuse, and murky secrets of an all-powerful industry. A story that calls into question the so-called golden era of Hollywood, when the "dream factory" resembled a Byzantine empire, above the law and fed by vanity and greed.
After a hold-up gone wrong, Slick finds himself deep in the red with local mafia boss Rex. But that's not the only thing setting them at odds: they also have their sights set on the same woman, the beguiling Caprice. She's engaged to Rex and headlines his club, where she thrills the nightly crowds. She's off-limits, but Slick has never been one for limits. And he has unfinished business with Caprice, who was once his own sweetheart before the war pulled them apart. After all these years, there's no love lost between them, but that doesn't mean the old spark isn't alive… And now, they're playing with fire. Taking inspiration from the Hollywood noir films of the 1950s, Enrico Marini delivers a gritty graphic novel combining crime, love, jealousy, and betrayal.
Entering life at the French royal court, a world in which "what is shown is rarely the truth," the young Princess of Clèves learns of passion's torments, of heartbreak, and of the agony of love. Claire Bouilhac and Catel Muller's graphic-novel adaption of this classic tale—often referred to as the forerunner of the modern psychological novel—remains faithful to the original 17th-century text, while also providing surprising and original insight into both the mystery of the creative act, and the link between the author, Madame de La Fayette, and her heroine, the Princess of Clèves.
At sixteen, Princess Charlotte falls in love with an Austrian archduke, Maximilian of the House of Habsburg. Soon enough, she finds herself enmeshed in the cruel and unpredictable world of international diplomacy as her marriage founders. Increasingly shrewd, naïveté and idealism replaced by practicality and skepticism, Charlotte will help ensure that she and Maximilian are sent to Mexico to reign as emperor and empress…
Header image: Noir Burlesque © Enrico Marini / Dargaud