Ligne claire, or clear line, is a drawing style started by Hergé in the 1930s in Belgium. It is said that the creator of Tintin was inspired by the American comics of the 1920s and 1930s (including Winsor McCay's Little Nemo) but also by glass drawing techniques, which didn't allow for colors to mix. Characterized by a black outline, strong colors, no hash marks, and a straightforward plot, the clear line became the main style of the so-called Brussels School of comics, gathered around the famous Tintin Magazine. The Brussels School included iconic creators Edgar P. Jacobs (Blake and Mortimer), Roger Leloup (Yoko Tsuno), and Jacques Martin (Alix). In the following years, the style continued to influence more and more Franco-Belgian creators, such as Floc'h, Jef Nys, and Jacques Tardi. The ligne claire traveled further across borders and decades, and was adopted by contemporary comics creators such as the Dutch Joost Swarte (who coined the term in 1977) and Peter van Dongen, the Spaniard Paco Roca, the Norwegian Jason, and American creators Chris Ware and Jason Lutes. Europe Comics is proud to be publishing some of the most illustrious names of this particularly European comics style.
I say! If you're a fan of ghastly weather and mysteries wrapped in tweed, then you'll be delighted at this complete collection from the classic series "Albany & Sturgess," enhanced with bonus material and extra British flair. Discover bloody murders and plots that will frazzle your nerves, already frayed by the seemingly never-ending British rain. Rivière and Floc'h present an extraordinary combination of smoke and mirrors, of shadows and ghosts, which provokes in the reader an almost voyeuristic pleasure as it reveals the process of literary creation and its mysterious cocktail of reality and imagination. Spiffing!
The Adventures of Theodore Poussin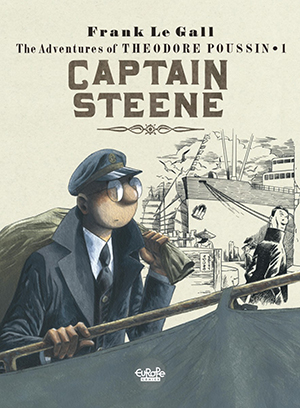 The dreams of a pencil pusher longing for adventure and distant shores come true when the maritime transport company where he works sends him on a trip to 1928 French Indochina. But Theodore Poussin is about to get more than he bargained for as he sets sail on the Cap Padaran: a mysterious, poetry-reciting man with ominous predictions about his future follows him everywhere; stories surrounding his late uncle Captain Steene, whose grave he promised his family he would find, are vague and contradictory; and he somehow ends up in the crossfire of a guerilla war near the Chinese border, forced to run for his life and toward even more unexpected events.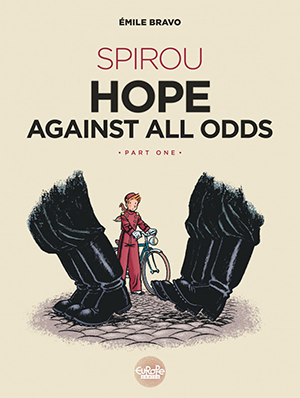 It seemed inevitable that Europe would once again be in the dark clutches of war, and now that conflict has broken out, Spirou must face its horrible reality while staying true to himself. He does his best to maintain his friendship with Fantasio, even as the latter enlists in the Belgian army. And when Spirou meets Felix, a German‐Jewish painter, his eyes are opened to the plight of the Jewish people and the dangerous situation in Europe and beyond. On top of all that, Spirou's girlfriend Kassandra has been lost in the confusion of the war. In the first of four volumes, the orphan bellhop's adventures will take him all across war-torn Belgium, discovering the world as it falls apart around him.
Spirou: The Diary of a Naive Young Man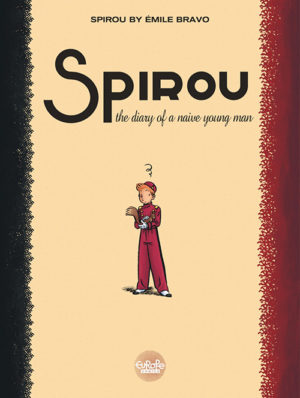 Summer 1939, Brussels. The orphaned teenager Spirou is working as a bellboy at a fancy hotel, living in a small apartment with his pet squirrel, Spip, and taking his first steps into the land of romance with a girl whose name he doesn't even know. Meanwhile, the world is rushing headlong towards war. Conflict is not inevitable, however, as Polish diplomats have agreed to meet the Nazis at Spirou's hotel in a last-ditch effort to prevent war. Communist spies, Nazi ambitions, and ridiculous reporters can't stop Spirou's naïve mind from outsmarting them all—and possibly saving the world! If only he can get a little help.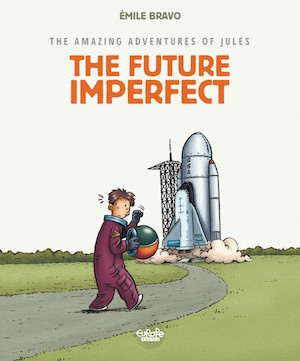 The Amazing Adventures of Jules
Jules, a nice boy living a quiet life without any particular problems (except his little brother set on murdering his guinea pig), is selected by the Global Space Agency to take part in the first expedition to planet Alpha aboard an interstellar spaceship. The journey will last 8 weeks for the passengers, and 8 months in Earth-time (because of relativity)… Thus Jules embarks upon the voyage of a lifetime, stowaway guinea pig in tow, accompanied by the other members of this glorious team of space explorers: a couple of eccentrics who collect Nobel prizes; a rather tetchy roommate; a drunken pilot who seems to mess up the landings every time and endangers interplanetary peace; and a pretty exobiologist who will study any extraterrestrial life they come across. Get ready for takeoff!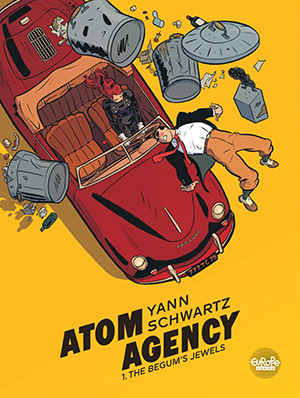 Atom Agency
Atom Vercorian is trying to make it as a private detective in post-war Paris, and he just needs that one big case to make a name for himself. His father, a police detective, isn't making any headway in the case of a jewelry theft in the south of France. Atom, however, gets a lead that takes him and his partners, Mimi and Jojo, south to Marseille, where they meet ex-resistance fighters, gangsters, and henchmen. With audacity and enthusiasm, Atom and his cohorts dance their way through the worlds of organized crime, pro wrestling, and the ultra-rich in the pursuit of Miss France 1930's stolen jewels. This could be Atom's big break—if he survives the experience!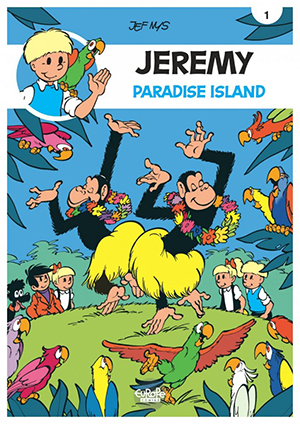 Jeremy
Frankie wins the first prize in a contest: a round-the-world trip with four friends aboard the Silver Wave. Little do they know that James, their arch enemy, is watching them, patiently waiting to teach Jeremy and his friends a little lesson… But not everything goes as planned.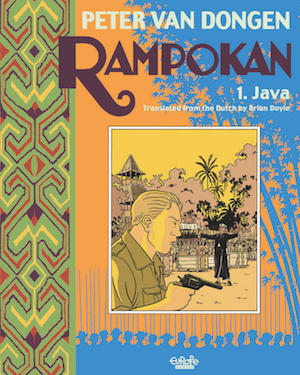 Rampokan
1946: The Dutch have been driven out of Indonesia by the Japanese invasion, but they refuse to recognize the country's declaration of independence. In an attempt to regain their former colony, the government mobilizes the Royal Dutch Indian Army. When they fail to take control, an unofficial force is sent to subdue the "terrorists." Among the volunteers: Johan Knevel, who has personal reasons for joining: he wants to find out what happened to his Indonesian nurse. But far from rediscovering the lost idyll of his youth, he is confronted by the complex realities of a country in turmoil.
Even a hero from the Far West needs a vacation from time to time, and looking after a few Swiss cows seems like the perfect opportunity for Lucky Luke. These milk cows happen to produce the precious substance necessary for the production of authentic Swiss chocolate! The West has just discovered cocoa, and chocolate should soon be a commodity in all mouths. And yet… between vicious autograph hounds, the chief of the Chicoree tribe, and two cowboys whose frustrated love leads to even more frustrating brawling, will Lucky Luke end up yearning for a reunion with the Daltons?
Cover banner from Theodore Poussin  © Frank Le Gall/ Dupuis