Aimée de Jongh is a Rotterdam-based comics artist, animator, and illustrator, whose style is a mix of manga and the Franco-Belgian school. She has become one of the most accomplished figures in Dutch comics, building an impressive résumé in the span of only a few years. She has led seminars in manga, anime, and comics, and has served as the spokeswoman of the manga collective Mangafique. Her graphic novels published in English include, the striking Obsolescence programmée de nos sentiments (Blossoms in Autumn, Europe Comics/SelfMadeHero), alongside accomplished scriptwriter Zidrou. Her most recent works include the Great Depression-era drama Jours de sable (Dargaud; Days of Sand, Europe Comics), Taxi: Stories from the Back Seat (Conundrum Press) and The Return of the Honey Buzzard (SelfMadeHero).
How did you become a comics creator? And had you not chosen this career, what other profession would you have pursued? 

I've been drawing ever since I was little. When I was about eight years old, I wrote a complete illustrated novel about the little rabbit that we had at home, about all the adventures that she'd get into once she escaped our house. I made tiny illustrations on every page. It seems I really wanted to create books and to illustrate stories. If I had not been a comic creator, I probably would've ended up in the movie industry, as a script writer or something. Or I'd do something completely different. I can somehow really imagine myself becoming a truck or bus driver one day…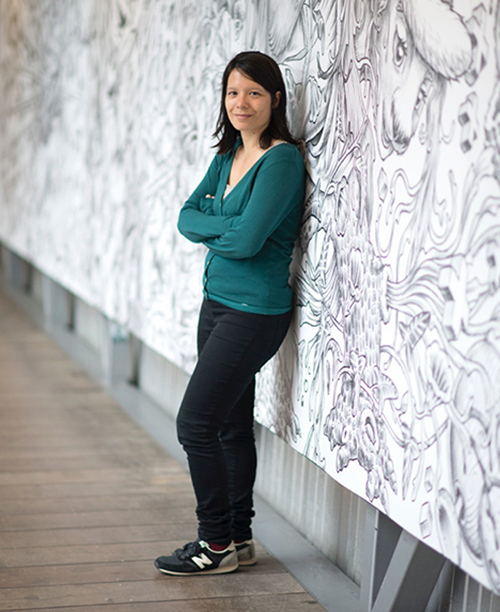 What or who is your biggest inspiration?  

For comics, my biggest inspiration are my favorite Japanese manga artists: Katsuhiro Otomo, Yoshihiro Tatsumi and Osamu Tezuka. The way they immerse the viewer in their stories is unprecedented. 
Tell us about Days of Sand? What's the story behind the book? How did it come about? What pulled you to create a comic book set in the times of the Great Depression and the Dust Bowl? 

It started with a photograph from the 1930s that I saw years back. It was a black and white photograph of a house being completely absorbed by a huge black dust cloud. It looked like a scene from a movie. I did some research, and found more of these stunning photos. They were fascinating to me. Moreover, I really wanted to draw those clouds! So I knew I had to do a book about this subject. I didn't know anything about the Dust Bowl then. I spent the following years doing thorough research by reading books, watching documentaries and even making a trip to the Dust Bowl region in 2019. It was all really insightful and fun to do. 
How is it relevant to our times? 

To me, this book is more relevant than ever. We are dealing with the consequences of human interference in nature every day. The deforestation, overfishing and population growth are taking their toll. Droughts are more common than ever because of global warming. I think the Dust Bowl will speak to many people today, because we are aware that it could be our future. The environment we live in can turn against us, it could make us climate refugees, as it did back then. It's sad to say it, but we are getting closer to a new Dust Bowl every day. 
Is the character of John Clark based on any of the real photographers hired by the Farm Security Administration? If yes, who?  

Yes. His character is really a mix between the most well-known photographers of the FSA: Walker Evans, Dorothea Lange, and Arthur Rothstein. Rothstein was hired when he was only 22 years old. When I read that, I thought: Wow, that must've been incredibly difficult for such a young boy. I immediately figured that John had to be the same age. The naivety and curiosity would still be inside him, but he was also an adult. This would give me a chance to show his rapid personal growth.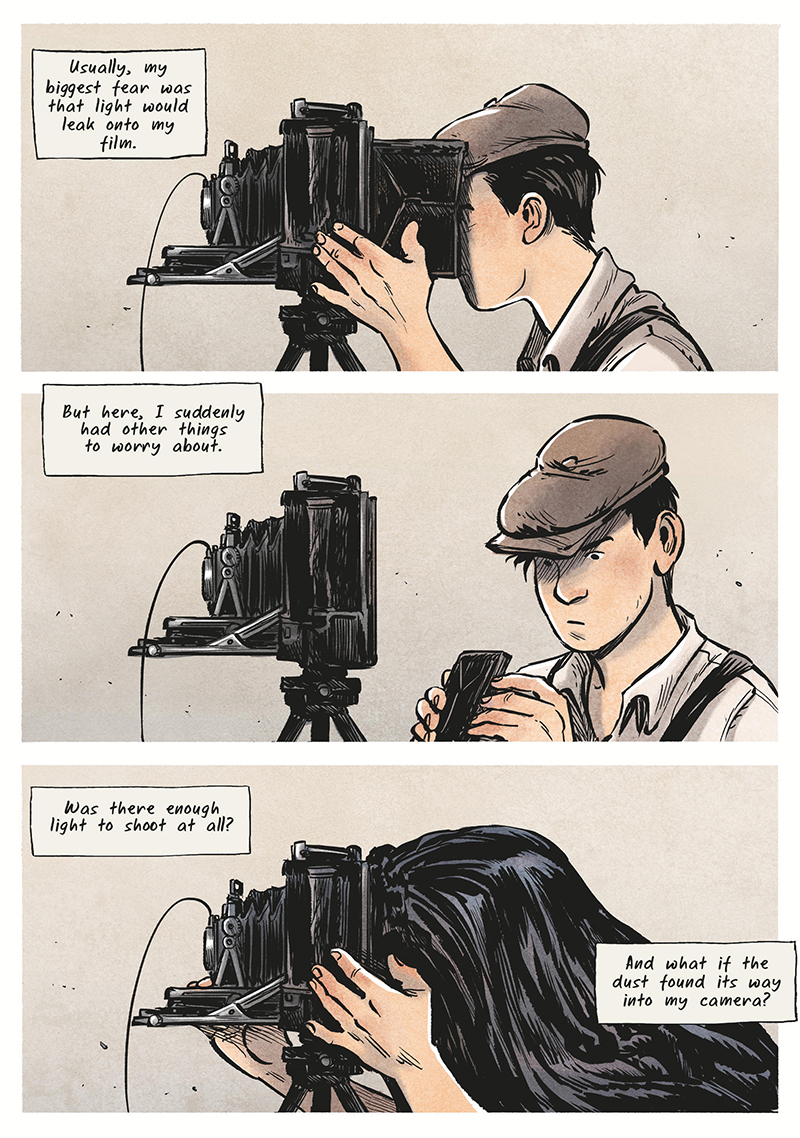 The most famous photograph which has come to represent the great depression is the portrait of a 32-year-old mother, Florence Thompson from the series called Migrant Mother by Dorothea Lang, one of the only two female photographers hired by the FSA to document the Dust Bowl, to captured the struggle of rural America at the time. Why not go with a female character to tell the story?   

Making a female character was actually something that I considered for a long time. As I was writing the story, I had not really chosen the gender of the main character. In some versions, a male character was better, in other versions it was the female. I wrote and wrote, till the final storyline became clear. I realized that another character, the pregnant girl Betty, was going to play a big role in the story as well. To have a good balance, there had to be a male character in the story. That's how I created John, in the end. 
You have created the atmosphere and the feeling of the period and the place beautifully. What was your creative process like? Did it take a lot of research?  

I realized very quickly that, if I wanted to do a book about the United States, I had to go there. There's simply not enough information online or in books to make a detailed comic book like that. It's such a rich visual medium… I needed to see the colors, the views, the details. So, I booked a trip and spent 10 days researching the area. I even followed the Dust Bowl refugees route, towards California. Along the way I interviewed many Dust Bowl experts, photographers, and the staff in archives and museums. I was also lucky to be able to travel to Washington D.C., to see the actual photos that were made by the FSA photographers. I think I spent six hours in the archives. It was amazing. I came back with the many notes and photographs I took, ideas, and inspiration. That's when I was ready to start drawing.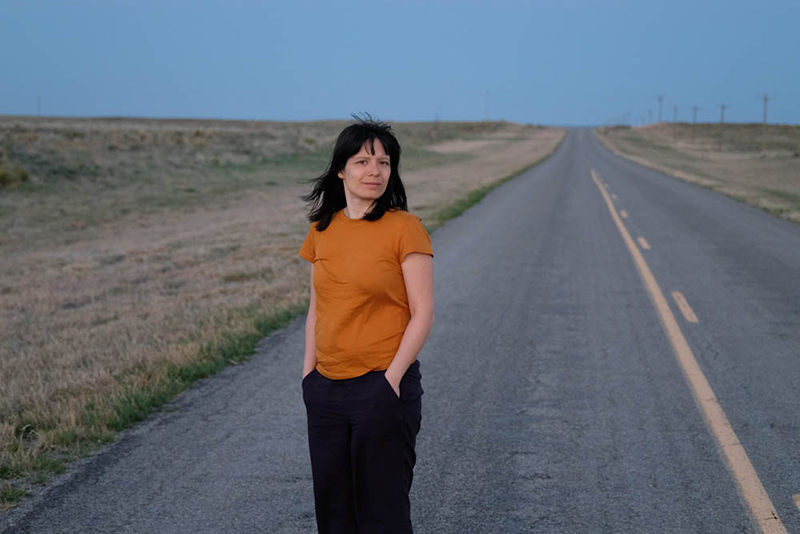 And have you talked to farmers and/or locals who live there today? How do they feel about this bit of their history? Did you tell them you were making a graphic novel about the Dust Bowl? 

It was really hard to find anyone to interview, to be honest. Most people who lived through the Dust Bowl moved to California, are of old age, or not alive anymore. I only interviewed a woman in California, whose parents came from the Dust Bowl. They had lived a difficult life, and had no other option than to leave. In California, the family then ended up in a seasonal migrant worker camp. This is where the woman was born. Till this day, she is taking care of this so-called Sunset Migrant Camp. There is a small museum now. The camp was also featured in The Grapes of Wrath so it's important for her that it is saved and maintained. Talking with her about her family's story was very insightful, it made the history more personal for me. She was really excited about the book too! I can really recommend that museum to anyone passing through California, if they want to get closer to the Dust Bowl history. I hope that the book will bring me back to the Dust Bowl region someday, so I can talk to more people and farmers who have experienced the Dust Bowl themselves.
Tell us a bit about the art techniques you used to create this book.  

The book was drawn digitally, in Photoshop, on a Wacom tablet. All of the process is done digitally in fact, from sketch to final page. Somehow, digitally, there is more freedom for me. I can easily change things, cut things out, or erase them. That freedom is what triggers most creativity for me.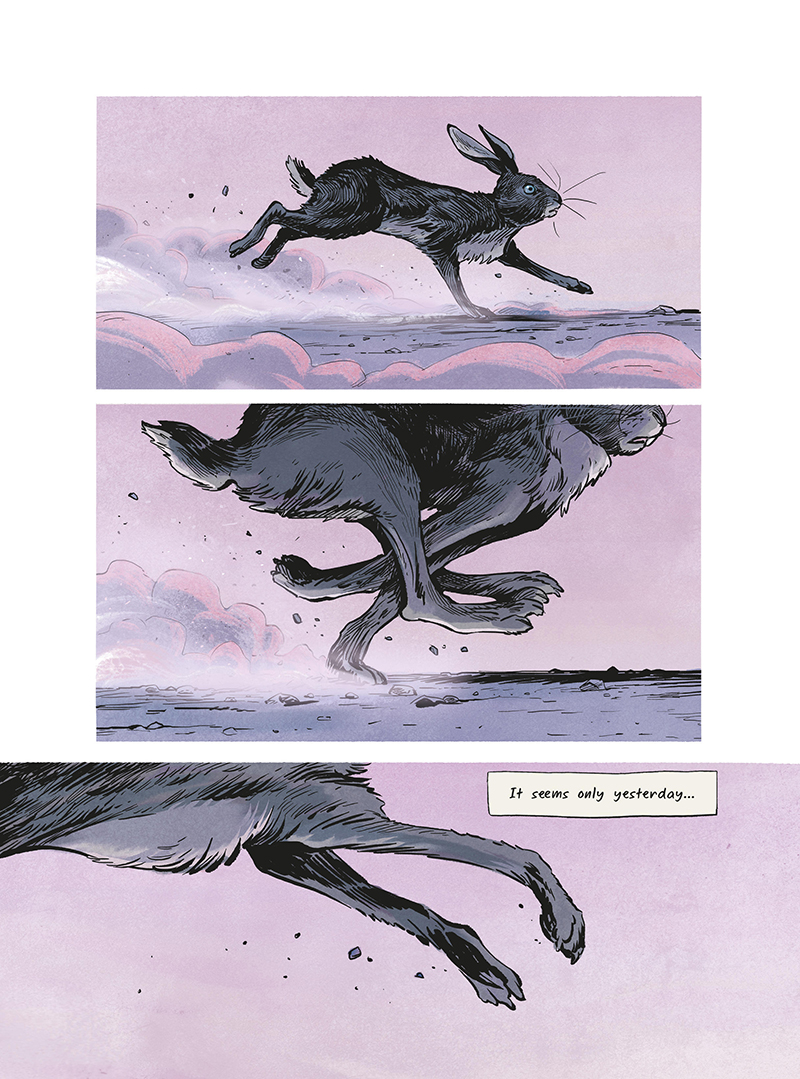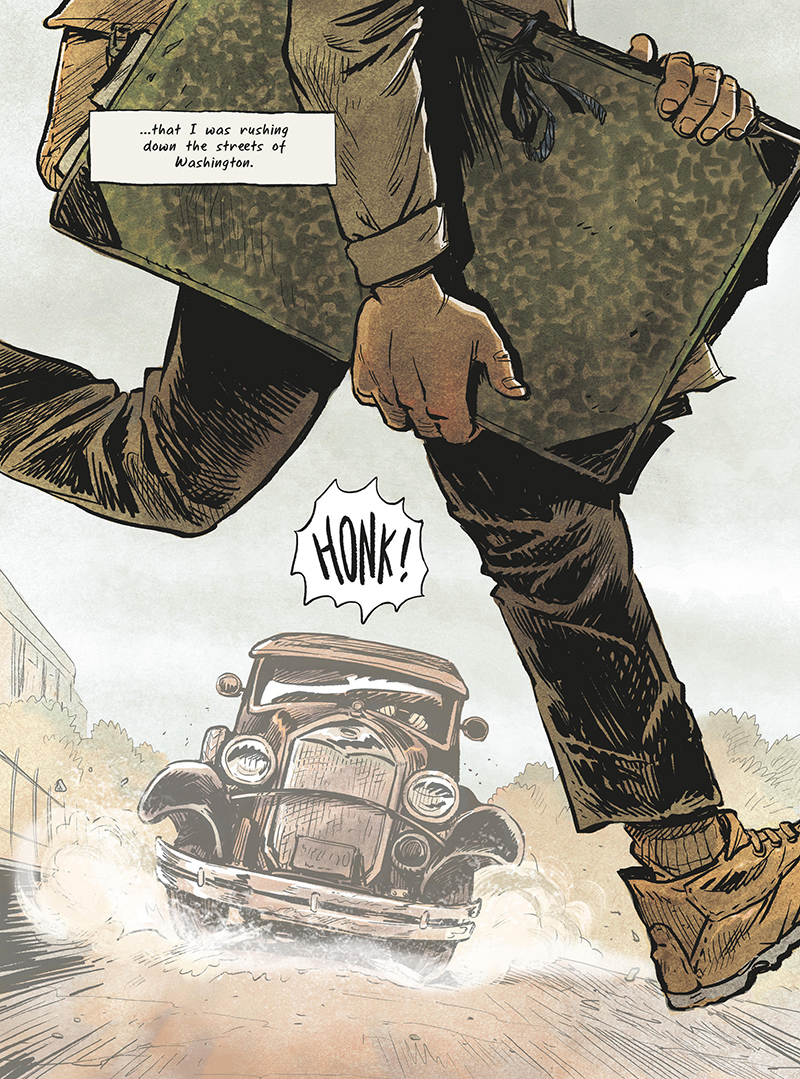 You've made a playlist for readers to listen to while reading the book. What would you wish for the reader to experience while reading this book?  

These are the songs that inspired me during the creation of this book. The Dust Bowl Ballads by Woody Guthrie, for example, paint a very detailed picture of what life was like for somebody living in the Dust Bowl, like Guthrie himself. His descriptions were very important for some of the scenes. Then there's Billie Holiday's song Strange Fruit, which is based on a poem that is mentioned in the book. Other songs just fit the story and atmosphere that I was looking for perfectly, so I selected them too. If the reader listens to the music, I hope it transports them into that time and place. 
(Listen to the playlist here.)