Teresa Valero was born in Madrid in 1969. Passionate about animation and drawing from an early age, she struggled to pursue her studies in these areas in Spain. She finally received administrative training, before joining the Lapiz Azul studio in 1990, doing pre-production work for TV series including Tintin and Rupert. It was there that she met Juanjo Guarnido and Juan Díaz Canales, with whom she soon became friends. Thanks to them, she also discovered the world of comics. Following her time at Lapiz Azul, she went to work for the Milimetros studio as a pre-production coordinator for series such as The Pink Panther, Babar, and Madeline, as well as feature-length films (Asterix in America). In 1996, alongside Juan Díaz Canales, she co-founded Tridente Animation, where she continued her work in television and film. In parallel, she began to offer classes on storyboarding, animation, and narration at the University of Madrid. Her own work in comics would soon follow, with Sorcelleries (Dargaud) and Curiosity Shop (Glénat). Her most recent work includes the Eisner-nominated Gentlemind, alongside Juan Díaz Canales and artist Antonio Lapone (Dargaud; Europe Comics in English), as well as the ambitious historical fiction series Contrapaso (Dupuis; Europe Comics in English), set in Madrid twenty years after the Spanish Civil War.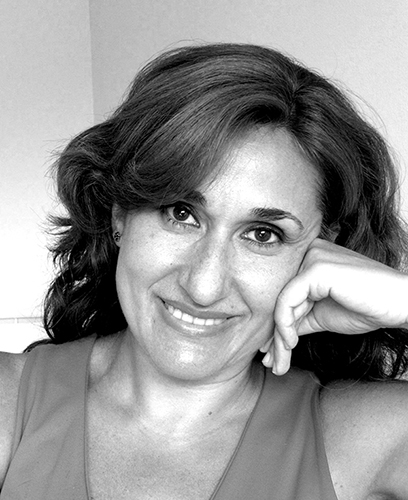 You have done the writing, artwork, and colors for Contrapaso. Was it a conscious decision to make this a fully personal project?
Yes, it was a fully conscious decision. I have spent 25 years of my life working as a storyboard and concept artist on different projects for movies and animated series, and I really wanted to use all the knowledge that that work experience has given me during all those years (storytelling, staging, dramatism, etc.) in the service of an idea of my own that really moved me and motivated me to work hard (making comics is one of the hardest and most demanding jobs I know) for a long time. I also had long dreamed of telling a complete story for myself, and I really wanted to manage both writing the script and drawing the entire graphic novel. Furthermore, I was looking for an idea that was quite ambitious in terms of atmosphere and dramatic ambiences that allowed me to face a real challenge as colorist as well.  So, the idea of using a thriller to talk about press censorship in Spain during the Franco dictatorship seemed to me incredibly fascinating and full of possibilities and totally appropriate for me to handle it alone, without losing inspiration during the long and hard time required for producing a graphic novel from beginning to end.
During the process of creation, who did you imagine reading Contrapaso? Were you targeting any particular audience?
I think at the beginning of it all, I just wanted to write the kind of story that I would like to read: A hard-boiled crime novel with a strong social element, to analyze the implications and consequences for citizens when there are no basic freedoms for them, such as freedom of expression, freedom of assembly, or free press, and tell about what would happen when opinions and customs are subject to constant censorship by the state. Then I started thinking that it would be nice to make the story attractive and interesting enough so that younger people, who hadn't lived through that time, could imagine what life would be like if at some point democracy collapses and a totalitarian regime is imposed. I also started to think about all those people who like noir novels and who could thus discover a dark moment in the history of Spain just by reading one. That's why I tried to focus a lot on building a bunch of strong, suggestive characters and situations that would engage readers' attention, inciting them to turn the page to know what's going to happen next in a fast-moving story in which things keep happening, but I also really wanted something where, at the end of the book, people would have a lot to reflect on.
Although a work of fiction, Contrapaso is firmly set in 1950s Madrid, against an all-too-real backdrop of Francoism. Where is the boundary between fact and fiction?
All the great events and conflicts that are narrated in Contrapaso have been taken from reality and carefully documented, such as the situation of women imprisoned in Francoist prisons, the conversion therapies for homosexuals experimented during the '30s by some doctors, the theft of babies from poor and single young mothers, the studies of the psychiatrist Vallejo-Nájera which aimed to prove that people with socialist ideas were less intelligent, or the student protests against the dictatorship in 1956. The thriller elements—the police intrigue, the murders, the investigation, as well as the main characters and the newsrooms in which they work—are all fictional.
From the richly-detailed settings to the songs used throughout the story, you have clearly gone to great lengths to ensure that the book is on solid historical footing. Did you feel it was necessary to nail every detail in order to make the story credible? Or do you feel it lends you greater authority as the storyteller? Or does it serve another purpose?
The documentation process (very intense) has for me a dual function. On the one hand it helps me to discover and understand the period of history in which I am building my story, how people were back then, how they feel, what they care about, and what the differences are between how people lived at the time and how we live today. On the other hand, it helps me to find some ideas that otherwise would never occur to me—I can set events in fabulous places that are now long gone or make the whole setting richer in details that will increase the credibility. I really believe that I must feel comfortable, and feel that I know enough about the period and the atmosphere before I start giving any information in my story, so I have to learn as much as possible. I have no doubt that as a result the reader will perceive the story and the characters as more realistic and will get deeper into the story.
One of the two journalists in the story has just come over to Madrid from France. He has Spanish family but has been living abroad, and he struggles to adapt to this new setting, with all of its rules and prohibitions—which often gets him into trouble! What brought you to introduce this foreign perspective?
The whole book revolves around the concept of "others" and the idea of how it takes very little to consider someone "an alien," someone different from us. Léon Lenoir is the son of French and Spanish parents, has grown up in both countries and is always considered a stranger, someone different, both in Spain and France. In addition, his father's past links him to the losers of the Spanish war, who throughout the dictatorship were considered as "others," as second-class citizens.

The story has already covered so much ground, yet many questions remain unanswered, and we eagerly await the next chapter. After devoting yourself heart and soul to volume one, are you ready to jump right in to the next part? Does the process get any easier, now that the foundation of the story is in place?
Yes, after part one I was looking forward to starting with the next episode and continuing the adventures of these characters that I enjoy so much. I believe that all the intense work I've done for the first volume has helped me a lot to analyze and improve my production process, both for the scriptwriting and the creation of the pages themselves. I've constantly found shortcuts and easier ways of doing things that now will allow me to be more efficient and do more with less. In the end, practice is always the best way to advance professionally.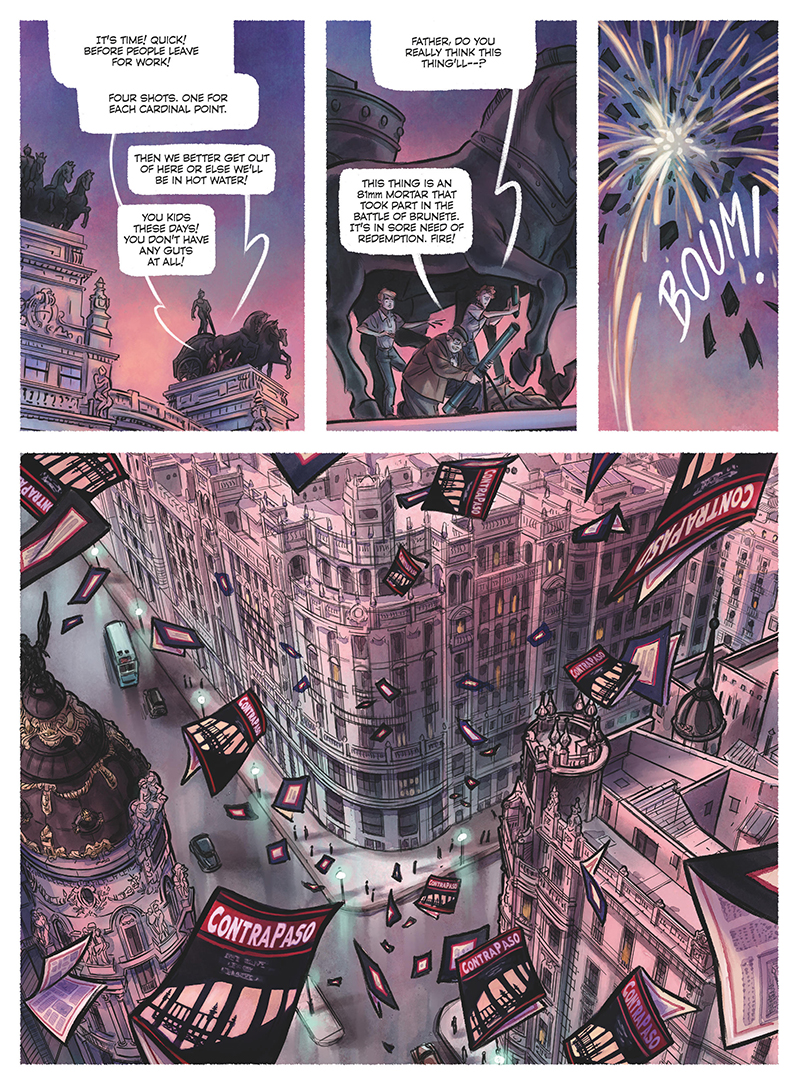 You have also recently published the graphic novel Gentlemind, nominated for Best Digital Comic at this year's Eisner Awards. You are the co-writer for that series, alongside Juan Díaz Canales. Gentlemind is set at almost the same time as Contrapaso, but halfway around the world, in New York City. Is there something that draws you to that particular time period? Was there any conscious desire to juxtapose the two settings?
Gentlemind was a project proposed by Dargaud to Juan and me. They wanted us to write a script for the incredibly talented graphic artist Antonio Lapone. They wanted us to place it in the world of the press or advertising around the '50s or '60s, and to give it a New York touch. It was indeed a coincidence that Contrapaso and Gentlemind, both with similar settings, came along at the same time. But I took it as an inspiring challenge and I greatly enjoyed the contrast, as Contrapaso is a very dark, hard, and oppressive story, but Gentlemind is basically a comedy, which was very refreshing. On the other hand, it also provided the opportunity for Juan and me to write a script together and that was also such a nice experience from which I learned a lot.  I'm so proud of Gentlemind, it is such a charming story full of charming characters. And Antonio Lapone's art is simply outstanding. He has created an incredible number of covers, designs, and graphic materials to recreate the magazine for the comic, to the point that one would believe Gentlemind really once existed!