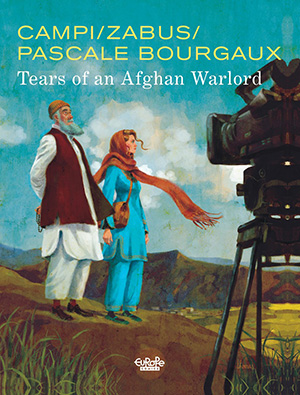 Tears of an Afghan Warlord
In this documentary comics we meet Belgian journalist Pascale Bourgaux as she travels with a cameraman back to a small village in the north of Afghanistan that she has been visiting regularly for ten years. The village is controlled by the warlord and resistance fighter Mamour Hasan, who fought to expel the Taliban from his land just like the Russians before them. To her great surprise, she finds the people there weary of the Europeans and corrupt Afghan officials and even the warlord's own sons seem ready to welcome the return of the Taliban. This book uses the pacing and observational skills of artists Vincent Zabus and Thomas Campi to give a palpable sense of daily life in this troubled, faraway land as well as a behind-the-scenes glimpse of two seasoned journalists at work.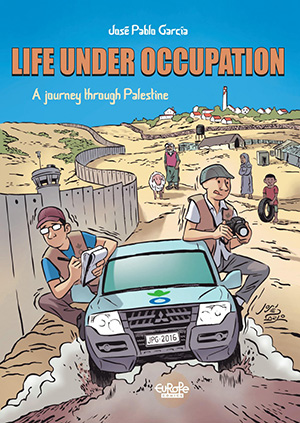 Life Under Occupation
"Life under Occupation" is the adaptation of author José Pablo García's trip to the occupied Palestinian territories, in collaboration with Action Against Hunger and the Spanish Agency for International Development Cooperation (AECID). From high-security airports to tension on the ground, García's ten-day trip from Nablus to Gaza makes for a non-fiction graphic novel full of emotion and eye-opening discoveries.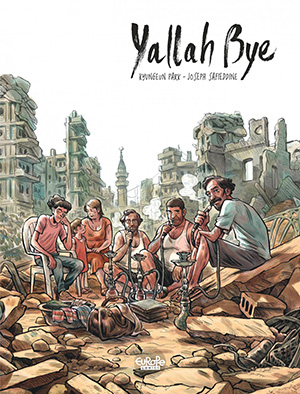 Yallah Bye
July 2006. Gabriel El Chawadi says goodbye to his family at the Paris airport as they leave for their summer vacation in southern Lebanon. But a conflict at the Israel-Lebanon border escalates into a full-blown aerial attack, and for the next few harrowing weeks, the family hides for cover with friends and relatives, watches helplessly as people and buildings are destroyed all around them, and hope against all hope that France will evacuate them to safety. Back in Paris, Gabriel watches the events unfold on television with growing horror and sends out desperate calls for help to anyone who will listen.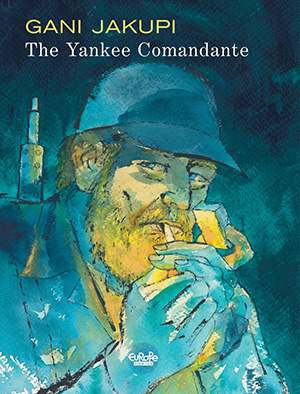 The Yankee Comandante 
This is the true story of William Alexander Morgan, the Yankee Comandante, an idealistic young American who found fame fighting in the Cuban Revolution. The blond American didn't speak a word of Spanish, but he felt his rightful place was among the guerilleros of the Escambray Mountains, fighting to bring down dictator Fulgencio Batista. Morgan was among Havana's liberators in 1959, an act that led FBI director Edgar Hoover to strip him of his American citizenship. There was a time when Morgan was international front-page news, on a level with Che Guevara. Yet "el comandante yanqui" has largely disappeared from the history of the Cuban Revolution. Author Gani Jakupi recounts a forgotten tale from one of the greatest military and political events of the 20th century.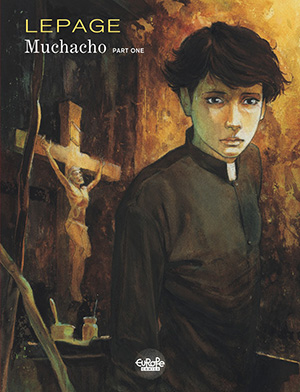 Muchacho
In 1976 Nicaragua "Tacit" Somoza rules the small Central American country with the support of the ruthless Guardia. The son of a powerful family from the capital, Managua, Gabriel is a young priest with an incredible talent for sacred art. He is sent to enhance his painting skills with Ruben, a priest in San Juan–a little village located at the base of a mountain. Despite his difficulty integrating with the villagers due to his father's reputation, Gabriel slowly gets to know them and, eventually, to love them. Encouraged by Ruben, he paints the villagers. He paints them as they are–men and women of flesh and blood. But Gabriel is soon witness to acts of military repression of the locals. It doesn't take long for him and the villagers to get swept away in these times of growing rebellion and smoldering revolution. Artistic passion, romantic passion, revolutionary passion. Passion courses though the pages of Muchacho, a two-part series.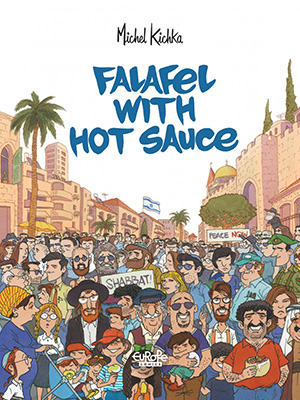 Falafel With Hot Sauce
Acclaimed political cartoonist and comic book author Michel Kichka (Second Generation) brings us the fascinating, informative, and uplifting autobiographical tale of his love affair with Israel, a land he was inspired to move to at the age of twenty. From culture shock and Israeli customs to the mandatory military service, from art school to political conflict and human tragedies, he delivers a richly detailed account of his life as an artist, family man, peace advocate and Belgian Jew turned Israeli, living in the beautiful and troubled city of Jerusalem.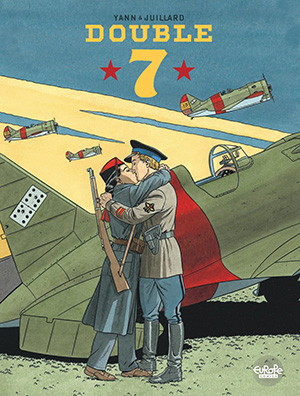 Double 7
The Spanish Civil War attracted involvement from a wide variety of governments, individuals and political factions, with Italians, Germans, and North Africans helping Franco and his supporters, and the Soviet Union, Mexico, and international brigades aiding the Republicans. Dusting off a little‐known and often forgotten chapter of history, the authors take us back to this remarkable and terrible period of war as only they can, with a tale full of scheming intrigues. The world they uncover is one of no‐holds‐barred plotting to obtain victory at whatever the cost. And in the midst of the backstabbings and despair, one young Russian pilot falls in love with a feisty Spanish freedomfighter. In the hope it will outlast the bitter conflict engulfing them all.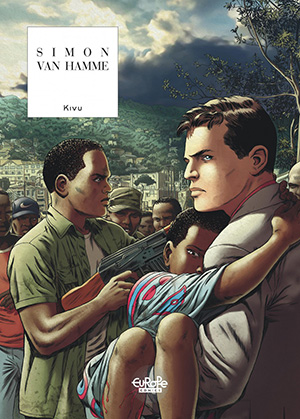 Kivu
Stéphane, fresh out of college, has gone to work for a powerful industrial consortium. He is soon put in charge of negotiating an important contract in the Congo, and sets off for Africa. But once there, he discovers a cynical and corrupt world beyond anything he could have imagined. His destiny is altered forever when he crosses the path of Violette, a Congolese child hunted by a powerful rebel chief. On his journey, he will also meet Dr. Denis Mukwege, real-life Congolese gynecologist whose activism and medical work won him the 2018 Nobel Peace Prize.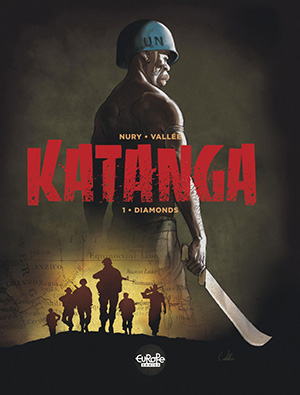 Katanga
1960: Katanga breaks away from the Republic of Congo-Léopoldville to become its own republic, backed by the UMHK, a Belgian mining company. When the UN sends in its peacekeeping forces, the UMHK responds by hiring its own mercenaries. Amidst this chaos, $30 million in diamonds goes missing, only to turn up with a man named Charlie at a refugee camp nicknamed "Camp Cannibal." Soon enough, everyone's after the diamonds: hard-bitten French mercenaries, hateful former Nazis, adulterous mining executives, greedy Katangan officials… and Charlie's sister. It's everyone for themselves in a mad scramble of double-crosses, a scathing cross-section of human venality.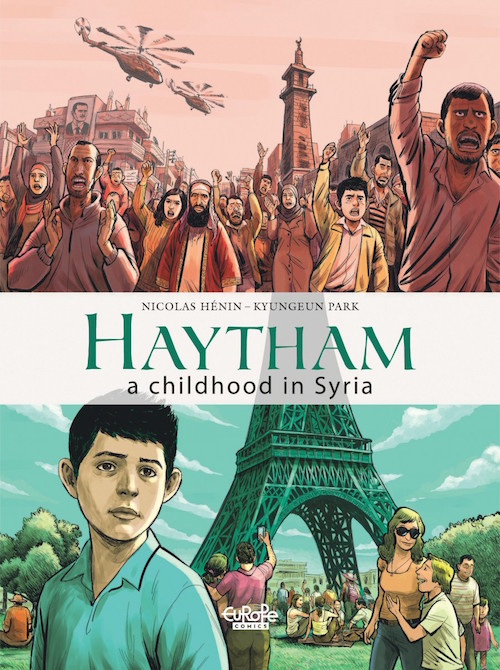 Haytham: A Childhood in Syria
Haytham al-Aswad is a young boy like any other, growing up in the Syrian town of Deera: he plays soccer, hangs out with his friends, and is studying for an upcoming test. But when the revolution breaks out and people take to the streets to protest the brutal regime of Bashar al-Assad, Haytham suddenly goes from kicking the ball to dodging bullets. His activist father is forced into exile, and the rest of the family eventually join him in France, where Haytham's new life as a refugee brings its own set of challenges. An engrossing, first-hand account of one of the most devastating political and humanitarian crises in recent history.
Silesia, 1930. Three children play with toy airplanes. Three friends – Max the Polish Jew, Werner and Hanna the Germans. All dream of becoming pilots, but they won't all have the same opportunities, and the world is heading down a dark road… 1944. Max is now an ace in the US Navy, while Hanna is one of Germany's top test pilots. Will anything remain of their old friendship, as the sides they each chose are locked in a struggle to the death?
Three friends, united by their love of flying, torn apart by different origins. Amidst the madness of WW2, what will prove strongest: friendship, or loyalty?
Header image: Kivu © Jean Van Hamme / Christophe Simon / Le Lombard