Javi has left Spain for Berlin. He doesn't speak German and hardly knows anyone there. He wants to be a comic book artist, but all his friends advise him to find a real job. He desperately needs to believe in himself, and to be believed. Burning with the desire to leave his mark, yet patient like any professional observer, Javi tells the story of his world, which becomes his first comic.
Meet Jack Irons. He's a cold son-of-a-bitch, but he's got a gift. He can look at a disaster—a fallen bridge, a collapsed skyscraper—and see everything: the physics, the material stresses, the behind-the-scenes insight into how it all went wrong, claiming lives and property. Makes sense: he's a structural engineer. And when he applies his brilliant, analytical mind to crimefighting, then the truth will out. Because that's what he cares about. Not people. Not feelings. The truth. And the truth is about to turn a little Canadian fishing village upside down…
Norman was a talented sax player in his heyday, until he lost his musical gift seemingly overnight and fled to France. Over thirty years later, with the millennium approaching, he finds himself confronting unresolved questions, a former lover, and diehard fans who have taken obsession to a new level…
Private detective Jerome K. Jerome Bloche is hired by his friend Father Arthur, a former boxer turned Catholic priest, to look into a series of blackmail letters extorting money from his parishioners that share one odd detail: the money is to be donated to the church to repair its famous organ! Meanwhile Jerome's girlfriend Babette gets a shocking surprise when her father, whom she believed to have died when she was a child, shows up on her doorstep. Jerome tries to solve the crime while juggling prickly questions about charity, justice, and mercy.
Claire is a thirtysomething neonatal nurse who is becoming increasingly discouraged about her prospects of getting into a long-term relationship and starting a family. She thinks she may have finally met her man in Franck—if not a Prince Charming then at least a friendly and compatible person—but societal pressures and gender norms seem to rear their heads at every turn and Claire begins to wonder if it will ever be possible for her to be happy with another person on her own terms.
Lisa Forsberg is a rookie cop who has just taken her first assignment in the small Swedish city where she was born. In her youth she was a troublemaker, part of a hard-living subculture called "raggare" who worship American rock'n'roll and vintage cars from the 1950s. Now Lisa finds herself thrown back into this world when she is sent to investigate a missing person report involving people she went to school with. She and her partner, Erik Lund, will uncover secrets that put them in harm's way and bring them face-to-face with the unspeakable.
Vince's latest mission takes him to Malta. His job is to ensure the safety of the archeologists and art buyers for the Vatican. His daring and efficiency have won him many a great success, and some renown in his sector. And now he's being offered a promotion. From now on, he'll be part one of the Janitores, otherwise known as "The Keepers". The Keepers are an elite group created by the secret services of the pontifical state, who's life work is to protect the Vatican from those members who might give in to temptation. And so a new life begins.
Alex Carret is a talented young Brussels chocolatier whose life takes a drastic turn when he quits his job and agrees to partner with a friend of a friend named Ben. He's a little wary of him at first, but when Ben comes up with a business plan, a space, a brilliant branding idea, and a 100,000-euro loan, Alex can't resist the temptation of seeing his lifelong dream come true. Soon he and his team are selecting the finest chocolate from countries around the world and throwing a launch party, which is a smash success. But will that put them in the crosshairs of other local power brokers?
Meet Leo Sully-Darmon, a hot-shot photogenic criminal defense attorney who takes on cases nobody else will touch. Leo loves a good cause just as much as he loves a good photo-op, and he happens to excel at both. But when he agrees to represent a woman accused of crimes against humanity during her former life as an officer in an Iraqi detention camp, he may have bitten off more than he can chew, as antagonistic forces conspire to cast doubt on his client's innocence and start digging up dirt on his own life… complete with dark secrets from both the past and the present.
Frank Carvale is arrogant, ambitious, and willing to do anything it takes to get ahead. He's clever, too, but maybe not as clever as he thinks. A chance meeting with a magnate in Hong Kong could either be the big break he needs—or the biggest mistake of his life. A financial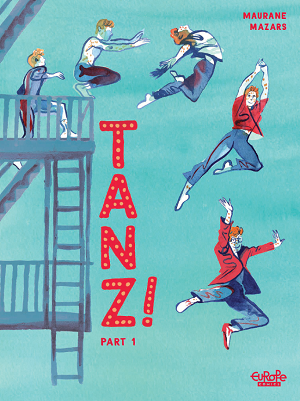 thriller set at the heart of the international economic crisis.
Germany, April 1957. Uli has a dream: to become a famous Broadway dancer. But as a modern dance student at the prestigious Folkwang school, Uli's energetic and outgoing personality stands out in sharp contrast to the melancholy of post-war Europe. During a trip to Berlin, he meets Anthony, a young American dancer. The attraction is immediate. Anthony convinces Uli to come to New York and try his luck on Broadway. The young men part ways, but Uli will pack his bags and embark on an adventure that will take him to a new life overflowing with life, color, and movement — but also disappointment, harsh reality, and a good dose of heartbreak.
Header image: The Defender © Laurent Galandon / Frank Giroud / Frédéric Volante / Le Lombard