Whether you're a Jane Austen fan or have devoured the last season of Bridgerton, we've got you covered! We love a good period drama too, so we have scoured our catalog for the best love stories, historical dramas and other heart-pounding tales from the past few centuries. Enjoy your reading!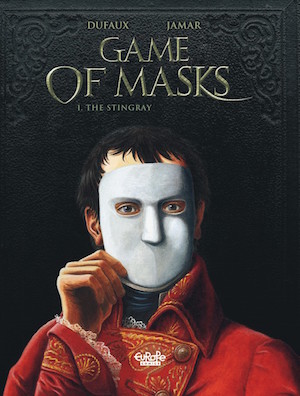 Game of Masks
Paris, 1802. Bonaparte has just been proclaimed First Consul, provoking Fouché's departure from the Police headquarters. The two men are now both set on finding a certain object, stolen by a beautiful prostitute, which could change their destiny. Bonaparte calls on the services of François, a petty thief otherwise known as "The Torpedo," to recover the mysterious object.
In this final volume, Kita and Jay plot their ultimate revenge against the "Glorious Eries," the secret cabal of Royalists that's seeking to take back the newly independent American colonies with the covert help of Queen Victoria herself. Meanwhile, the ruthless police commissioner Kurb is on their trail and finds unexpected and unwitting help from the street urchin Pickles. Jay's family continues to come apart but her estranged mother makes one last attempt to reach out to her. Everything is set in motion now: can anyone change the course of events, or is it too late?
Oxana, a young dancer from the turn of the 19th century, is the victim of a terrible curse that plunges her into a deep sleep. She awakens a hundred years later with no memory of the past in a time that is not her own. Why has she lost her memory? What power does her strange medallion hold? What are the intentions of the mysterious man in white who comes to her assistance?
At sixteen, Princess Charlotte falls in love with an Austrian archduke, Maximilian of the House of Habsburg. Soon enough, she finds herself enmeshed in the cruel and unpredictable world of international diplomacy as her marriage founders. Increasingly shrewd, naïveté and idealism replaced by practicality and skepticism, Charlotte will help ensure that she and Maximilian are sent to Mexico to reign as emperor and empress…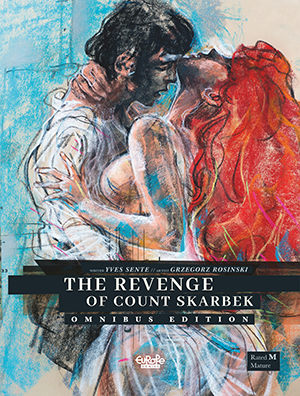 The Revenge of Count Skarbek
1843, Paris. A sensational trial stuns the art world and has the streets of the capital buzzing. Is the famous art dealer Daniel Northbrook nothing but a swindler? Count Skarbek, a rich Polish businessman, will do everything he can to prove it, revealing a sensational tale of love, hatred, passion, and revenge. A gripping thriller in the vein of the great popular fiction by Hugo and Dumas. Includes a new preface from scriptwriter Yves Sente and exclusive extra content from artist Grzegorz Rosinski (for mature readers only).
The year is 1849, and the future state of California is under the control of former soldiers from the Mexican-American War. Their leader, General Gomez, is busy buying up the locals' land for pennies on the dollar, so that he and his cronies can maximize their profits from the coming gold rush. But he and his men are dogged by a series of masked, would-be avengers all calling themselves Zorro. They are an almost laughable annoyance, simple peasants living out the fantasy of a local legend. Until one man shows up and starts picking off Gomez's men one by one, as stealthy as a fox. He brandishes a sword which he uses to carve the letter Z into his victims' cheeks… Could this be the true Zorro?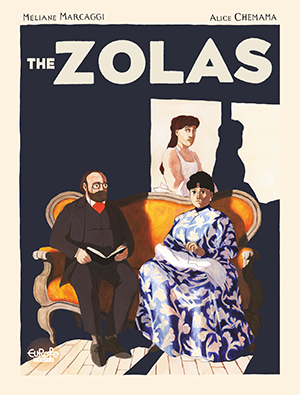 Mexico, August 1923. Edward Weston has just abandoned his wife and children and joined his mistress Tina Modotti. Daughter of Italian emigrants, Tina started out on a career as a Hollywood actress before discovering a passion for photography, in Edward's wake. In Mexico, the lovers soon discover that revolution goes hand in hand with artistic expression. The walls of public institutions are colored with the vibrant paintings of Diego Rivera, Xavier Guerrero and all those who would go down in art history as ' the muralists.' In this pivotal period between the old world, still struggling in the aftermath of the First World War, and the new world, yet to be constructed, Tina and Edward become deeply involved in the artistic political movement of the epoch.
England, last century. A castle: Blacktales. Every seven years its proprietor, the frightening Monsieur Noir, comes over to sign the new lease with his tenant. In Blacktales, two unrelenting opposing clans fight a ferocious and cunning struggle over the possession of a pen: the lease contract can be signed only with this pen, the signature giving absolute power. Into this troubled atmosphere arrives the recently orphaned Fanny: the pen, missing for two years has been located. It is in the hands of the two creatures whose ruthless sadism terrorises all the inhabitants of the place…
Entering life at the French royal court, a world in which "what is shown is rarely the truth," the young Princess of Clèves learns of passion's torments, of heartbreak, and of the agony of love. Claire Bouilhac and Catel Muller's graphic-novel adaption of this classic tale—often referred to as the forerunner of the modern psychological novel—remains faithful to the original 17th-century text, while also providing surprising and original insight into both the mystery of the creative act, and the link between the author, Madame de La Fayette, and her heroine, the Princess of Clèves.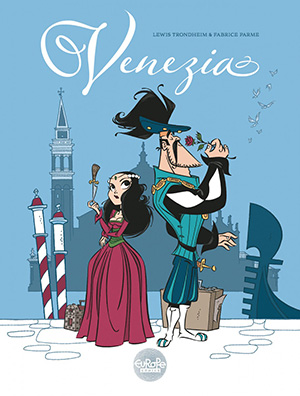 After their first explosive encounter, Giuseppe and Sophia hate one another with a passion. As fate would have it, both have a secret identity permitting them to conduct investigations incognito. Once his false mustache and wig are removed, Giuseppe becomes "the Eagle." And when her tights and black hood are donned, Sophia transforms into "the Black Scorpion." The Eagle and the Scorpion feel an irresistible attraction for one another… but will they share their first kiss and track down the mysterious "Codex Bellum" before Giuseppe and Sophia tear each other into beautiful little pieces?
Fanny, like so many other girls of her time, has been driven to selling her body to survive. She has since become the most sought-after prostitute of her brothel. She knows people, she knows things, and she is determined to one day move on to a better life. One day, the handsome and enigmatic James Orwood seeks her out, and makes her a proposition that might just be the making of her. He wants to use her reputed powers of seduction to get information from the rich and powerful. They form an alliance, along with Lario and Lucrecia, all four of them bringing a unique skill to the table. This could be the beginning of something great…
In the forests of Dartmoor, creatures of legend hide in the treetops, swim in the rivers, and roam the hills… but they're invisible to those who don't know how to look properly. Scrubby, a child of the fairies swapped at birth with a human infant, has inherited this wonderful gift. With a little help from the Wise Man of Wistman's Wood, he opened his eyes to the secrets of the moors. And even when he is forced to leave his forest for Victorian London, his forest never leaves him…
Baudelaire: poète maudit, enfant terrible, lyric genius, crippling perfectionist. Bereft of a father at age five, he spent his days squandering the former's fortune on prostitutes and paintings, opium and alcohol, finery and laundry bills for his impeccably white dandy's collars. He loved a woman and gave her syphilis. This is her story. Muse, mulatto, mistress, mystery… few known about Jeanne in her day, and even less remember her today. Yslaire pays tribute to a brimstone-and-hellfire affair from the annals of literature, two misunderstood souls who in their mutual misunderstanding afforded each other what little solace they found in life.
After many years abroad, Prudence Endicott is back in England for her mother's funeral. Hired as a nanny by a wealthy London family, the young woman begins to spend her nights in the more common neighborhoods… For Miss Endicott is the new Conciliator, entrusted with helping the poor and the humble to solve their problems when society ignores them. A difficult task—especially as something sinister appears to be brewing underneath London…
Cover banner from The Princess of Clèves © Catel, Claire Bouilhac / Dargaud