1926. A mother and her young daughter come to Los Angeles. The mother is chasing her dream: she wants to conquer Hollywood, no matter the cost. Her little girl, Anastasia, is the perfect candidate to be cinema's next big star. But can she stand the pressure? The clash of dreams and the dirty reality of show business is a heavy burden to bear, as Anastasia comes face to face with the crime, abuse, and murky secrets of an all-powerful industry. A story that calls into question the so-called golden era of Hollywood, when the "dream factory" resembled a Byzantine empire, above the law and fed by vanity and greed.
When unassuming candy store owner Ike Hopper dies of a heart attack, he leaves behind a bombshell that rocks his small Australian town. His confession of guilt to a 27-year old murder—the savage stabbing of local girl Lee Duncan—brings his brother Greg, accused of the crime, out of the bush where he's been hiding. But Greg, returning to his hometown of Dubbo to tie up loose ends, finds not all ghosts go quietly to the grave. For instance, he seems to see his ex-wife Lee taunting him wherever he wanders… A hard-hitting, guilt-ridden, sun-drenched slice of outback noir.
"Bearskin" takes us on a trip to modern day Italy and then all the way to the United States of the late 1930s. Every day, Amadeo bikes up the hill from his small hometown on a beautiful island off the coast of Italy to read the daily horoscope to Don Palermo. Little does he know that this blind and powerless old man with a cane in his hand used to be a bear tamer, not to mention his later shenanigans as the right-hand man of a powerful mafia boss. A highly moving story of love, vengeance and cowardice.
New York. November 1933. Seven years of Prohibition is about to come to an end—seven years of mafia control of the illegal alcohol trade, of high-level corruption … and of the speakeasy, whose clientele enjoy not only liquor, but the Golden Age of Jazz. A world Irish boxer Jack Doyle is reluctantly drawn back to, to settle old scores. But what he thinks will be a simple fight turns into a web of exploitation and double-dealing … and a tangle with the elusive Miss Lena. To get free he will have to use all his native cunning…
In the late 1920s, Melvin Z. Woodworth is an author with writer's block and a mystery to solve. He takes a vacation to the Swiss Alps to try and kill two birds with one stone—and do some excellent hiking and skiing while he's at it. But the little village, so long slumbering on the wrong side of the Industrial Revolution, is threatened by a force of nature—and, of course, contains secrets of its own. Cosey's masterful graphic novel is presented here in full-color English translation for the first time: an ode to nature, culture, mythology, and a simpler—yet riskier—time.
A young woman, who doesn't speak a word of English, shows up in Father Arthur's church seeking refuge. Father Arthur takes her under his wing, but things soon take a turn for the worse when her pursuers show up on his doorstep. It's not long before the padre, concerned for his kidnapped protegée's well-being, calls on his friend Jerome Bloche. Together, they seek out the mysterious Aina and her captors, but they soon realize that not only are they up against a rather intimidating security guard, but some difficult moral questions.
Asami is a sociology student studying otaku for her thesis. Her relationship with Kotaro is on the rocks: she's busy with her research, and he's an aspiring filmmaker working on a J-horror flick. The real horror is out there on the streets: a serial killer who amputates body parts from his prostitute victims. What's his sick game? As Inspector Arakawa and his young protégé Ryohei wade deeper into depravity, Asami, with the help of cosplayer Maiko, sets out in search of an otaku so elusive he's almost an urban legend in the youth culture capital of Akihabara: the mysterious Buntaro.
Renée Stone is a successful English mystery novelist and an independent free spirit. In this first book of the series, she finds herself in Ethiopia for the coronation of Haile Selassie I in 1930. There she meets John Malowan, a bumbling archaeologist whose grandfather unearthed the Epic of Gilgamesh. Unbeknownst to Stone and Malowan, a host of parties are conspiring to take advantage of the grandson in order to get their hands on a hidden treasure that dates back to Mesopotamian times. Renée Stone finds herself in the midst of a murder mystery full of colorful characters who could have come straight out of her novels.
Ever since she was a little girl, Rose has had a special and troubling power: the ability to "double" herself and travel outside her body. She always saw it as something wrong with her… until now. When her father is murdered, Rose's strange ability gives her a chance to find her father's killer, solve a series of mysterious cold cases, and untangle a centuries-old curse. But maybe some secrets should stay buried…
When your old man's a police captain, it can make for some lonely evenings at home! Tom would know. But when the investigation his father is working on implicates Fabian, one of the hall monitors at his middle school, Tom decides to find out for himself what's going on. With his best friend Lilia by his side, he sets out to catch the bad guys. They suddenly find themselves trailing suspects, following clues, going undercover, and even getting into high-speed chases! The only thing is they have to do it all in absolute secrecy, so that Tom's father doesn't suspect their involvement. To do so, they'll have to become real-life anonymous informers. But just where will all of this lead?
Vince's latest mission takes him to Malta. His job is to ensure the safety of the archeologists and art buyers for the Vatican. His daring and efficiency have won him many a great success, and some renown in his sector. And now he's being offered a promotion. From now on, he'll be part one of the Janitores, otherwise known as "The Keepers". The Keepers are an elite group created by the secret services of the pontifical state, who's life work is to protect the Vatican from those members who might give in to temptation. And so a new life begins…
1843, Paris. A sensational trial stuns the art world and has the streets of the capital buzzing. Is the famous art dealer Daniel Northbrook nothing but a swindler? Count Skarbek, a rich Polish businessman, will do everything he can to prove it. A gripping romantic thriller and a poignant story of love, hatred, passion, and revenge in the vein of the great popular fiction by Hugo and Dumas.
Egg-balancing, hotdog-eating, baton-twirling—these are a few of the records people try to break in order to find themselves included in the World Book of Records. For those who make into the book, Paul Baron, a judge at the publication, is a hero. For others, whose dreams he denies, he's a villain. After one man's plan to achieve renown is destroyed, Paul learns that the man may have lost everything else, but he hasn't lost hope—the hope of joining other record-breakers in the book. But the record the man hopes to break is terrible, and Paul unfortunately has a role in his project.
March 1953. Alexander is walking through the streets of London with a bomb in his hand. It is destined for Marshal Tito, during his controversial visit to Great Britain. Alexander's story began several months earlier, when his mother was struck by a car and instantly killed. Trying to understand why and how his mother, who was in an institution for senile elderly people, wound up so far from her home, Alexander finds himself caught up in a spiral of terror involving the British secret service, strange Serbian nationalists, and the island of Majorca… all of which culminate, several months later, with Alexander finding himself on the bank of the Thames, holding a bag with a bomb in it…
Rome, 145 CE: Cassio, a prominent lawyer who once saved the Emperor's life, wakes in the night to noises. Four assassins have entered his villa and overpowered his formidable slave, the warrior Alva. He seems to know them, and knows why they have come… Ephesus, present day: archeologist Ornella Grazzi finds a ruin with a fresco of Cassio's face. The papyrus scrolls inside tell the beginning of a story she has long suspected and been searching for clues to all her life: how Cassio survived his own assassination and came back from the dead for vengeance…
The day before her seventeenth birthday, Lya's life changed forever. Hit by a speeding car and left for dead, she lost the use of her legs as well as some of her faith in the world… Lya learned to live again with the support of her parents. But having discovered that someone bought their silence, Lya is determined to unmask the perpetrator and obtain justice. Her search for the truth takes her to a famous law firm… and down a dangerous path. With the help of her friend Antoine, she'll stop at nothing to get to the bottom of it all…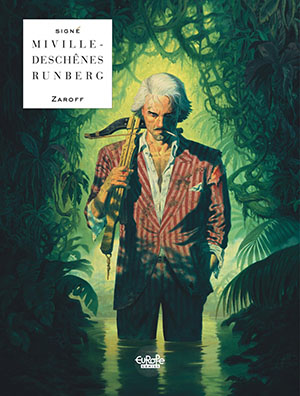 Zaroff
1937: An island somewhere in the middle of the ocean, which Count Zaroff has chosen as his new hunting ground. He's tired of hunting the usual game — animals are far too easy to kill. He has set himself the supreme challenge: a prey that is both dangerous and unpredictable, in fact the only prey worth hunting — people. But when the Count brings down a Mafia boss, the "family" lands on the island looking for revenge. Suddenly, the roles are reversed and the Count finds himself being hunted. To make matters worse, the Mafiosi have kidnapped the Count's sister and her children and brought them to the island. If Zaroff doesn't find them soon, they'll all be killed. And he'll be next.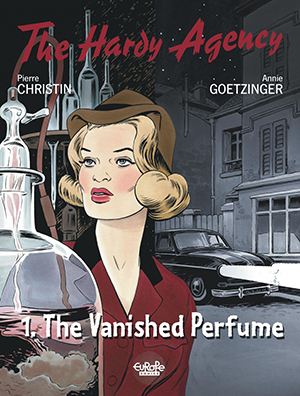 Hardy Agency
Edith Hardy runs a small detective agency off an unassuming alley in the 13th arrondissement. It's the 1950s, and foreign forces are busy vying for power in a Paris still recovering from World War II. Edith has a good heart and a missing husband, and her attempts to do right by her small world get her caught up in far larger, darker affairs. A classic Pierre Christin script—a strong sense of place and history, humane leftist sympathies—combines with Annie Goetzinger's indelible artwork to deliver a stylish mystery for fans of classy whodunits.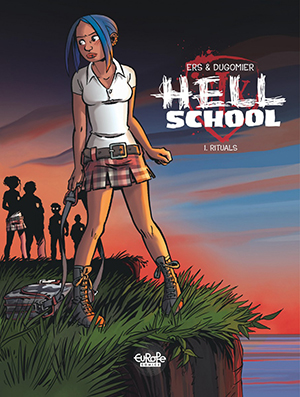 Hell School
Starting a new school is daunting at the best of times, but for Bastien, Hina, and Boris, their first year at the Institute of Excellence is going to be downright terrifying. New students at the ultra-elite private school are subjected to the "ritual"—weeks of hazing by the seniors—and if they refuse to take part, they are branded "bastards" for life and can say goodbye to any kind of social life. But something even more sinister is going on behind the scenes… Who is the mysterious benefactor paying Bastien's tuition, what is the principal hiding, and what are the real circumstances behind the deaths of former "bastard" alumni?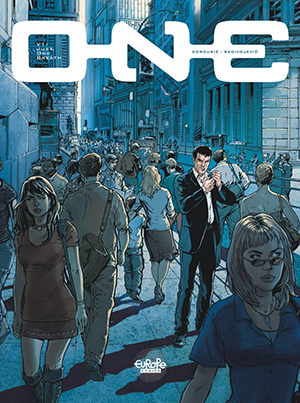 One
Julian Lethercore can read minds. Well, actually, what he reads are molecules, borne on saliva and other bodily fluids, with which he can access a person's memories, the secrets of their very lives and identities. He's also the result of a top secret military experiment gone wrong. He and the four other "bloodcogs" serve their master, Senator Pershing, a former warhawk now disgraced under a new administration headed by President Harmond. But Harmond may be gunning for more than the Senator's reputation. He may be out for all the bloodcogs—and it's up to Julian to find out.
Three willful women: one old wicked, one young and selfish, and the third in the prime of her life. A man murdered three ways: stabbed, bludgeoned, and drowned in a stream. The mystery brings brash young Inspector Laurenç to the postcard-perfect Norman village of Giverny, home to Impressionist Claude Monet's gardens and studio. Like any small town, Giverny has its secrets. But have they to do with greed? Lust? Missing paintings? Jealous husbands? Laurenç soon finds himself head over heels for a pretty schoolteacher—and in over his head. Dider Cassegrain brings Michel Bussi's bestselling novel to life in lush, delicate watercolors worthy of the famous canvases that lend the book its name: Monet's immortal Water Lilies…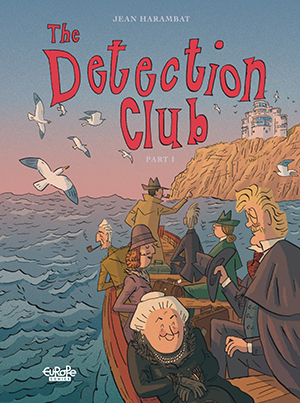 The Detection Club
In 1930s England, the best mystery writers of the era come together to form the Detection Club. G. K. Chesterton, Agatha Christie, John Dickson Carr and others gather to eat, drink, and challenge one another. They are in for a bigger test, however, when eccentric billionaire Roderick Ghyll invites them all to his mansion on a private island off the coast of Cornwall, promising to enchant them with his latest creation: a robot that can predict the culprit in their novels. But when someone ends up murdered, who will lead the investigation? Jean Harambat is back, following the success of "Operation Copperhead," with a hilarious, satirical take on the classic crime novel.
Any resemblance to persons living or dead or actual events would be strangely coincidental… In a town in the east of France, Sylvestre Ruppert-Levansky, a president of the circuit court, begins his last trial, in the same place his career began. Everything here reminds him of Rachel, his first love, and most of all, Mathilde, a manipulative, diabolic serial killer. The old magistrate has a spotless reputation. He is considered tolerant and fair. But then a police officer from his past asks to see him. Perhaps the legend of Sylvestre, the eminent judge, isn't so cut and dry… In a gripping tale full of surprises, Denis Robert and Franck Biancarelli reinvent the thriller.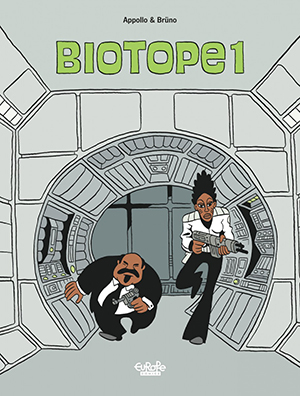 Biotope
A police captain and his two detectives arrive on Biotope, a distant planet on which a scientific base has been erected, to investigate a murder-suicide. They soon realize that all is not right on this self-sustaining base and that the scientists, some of whom are downright hostile towards them, aren't telling them everything. A sci-fi thriller dripping with mood and atmosphere, in which the mounting tension is palpable and the jungle that lies beyond the glass walls of their claustrophobic interior is dense, oppressive and full of deadly secrets…
A feisty cop, a cunning mercenary, and a super sweet kid must band together to survive in a hostile, lawless world!
In the megalopolis of Cielazur, the truth is sometimes concealed to keep up appearances. Asa, a young police officer with a thirst for justice, sees her life change course dramatically when she discovers a strange symbol engraved upon her late father's service weapon. As she begins to investigate, Asa realizes that in order to uncover the truth about her father's mysterious death, she will have to enter the Citadel: a mysterious ghetto where crime reigns supreme, and the laws of nature don't apply!
Header image: Rose © Denis Lapière, Émilie Alibert & Valérie Vernay / Dupuis