It's April Fool's day! It's all about pranks, practical jokes, and testing our friends' gullibility, but also a good reminder to celebrate the lighter side of life. So, indulge in a light-hearted chuckle with these hilarious comics and graphic novels!
Hell and damnation! The Bruja is missing! When the most powerful witch alive disappears without a trace, Norah, her 17-year-old niece, decides to investigate. But upon entering her aunt's manor, she interrupts a summoning ritual and finds herself face to face with the devil… Or half of him, anyway, as he has been cut in two and is now stuck in a pentagram. Unable to return to Hell without Norah's help, Lucifer agrees to assist her in finding the Bruja—a devilish task when you're the most feared and hated being on the planet!
Maiden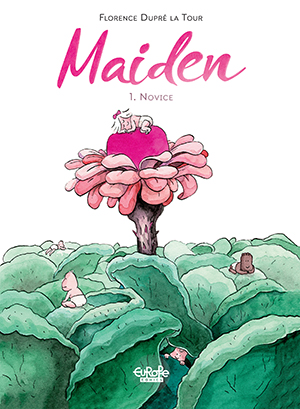 In Florence's childhood, there is a Thing you're not supposed to talk about. It seems like everyone knows about it… except for her. And she can't ask any questions—it's forbidden to speak the word. What happens to children who grow up in prudish isolation, once they hit puberty? Can they ever overcome the shame instilled by a sexless education? In this autobiographical story, Florence Dupré la Tour unveils her childhood in heart-wrenching inks and watercolors: a story of the heavy weight of tradition that forces women to be submissive, and how to resist and escape that fate.
Three friends, their schoolgrounds, a secret. And fifteen years later, the discovery that they all thought there was only one secret, but each had their own. And there was one more, bigger than the others, that none were aware of. This is Zerocalcare's second graphic novel, the one that made him stand out as an intelligent, delicate, merciless narrator when it comes to describing his own weaknesses, which may be everyone's. A complete story in three parts at different times in the coming of age of young Calcare; three moments that have in common the all-too-familiar feeling of having tentacles at the throat.
France—the early 21st century. A young student must complete a corporate job shadowing internship. Thanks to a cousin on his father's side, also of Greek descent, he gets a foot in the door at a famous consulting firm. He will soon discover the true face of office life. The intern's name: Kevin Plato. From Nietzsche the director of human resources, to Foucault the video-surveillance monitor, to Teresa of Ávila the executive secretary, and many, many more, Plato dives headfirst into the world of work… philosopher style.
Saturday and Sunday are a pair of lizards living the good life, lazing around on a tropical atoll and fishing off the beach. But when Saturday comes down with a case of acute questionitis, the big mysteries—why are we here? how did we get here?—won't leave him alone. Only travel can cure his ills, and he sets off with Sunday in tow. What's a best friend to do but tag along? Together, the indefatigable duo have encounters both fanciful and philosophical in this charming and freewheeling paean to simple joys, curiosity, and friendship, fit for all ages.
After being fished out from the cold currents of the Bosporus, an enigmatic young man barely hangs onto both life and reality. Having lost all memory of who he is, he comes to be identified by his outfit: Striped Pajamas. As he embarks on an insightful quest to discover himself, his consciousness gets entangled in a love story that sways between fantasy and reality—a story that steadily approaches the truth.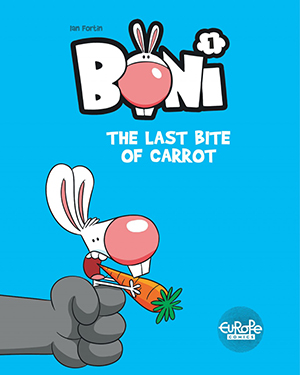 Boni is a nice little rabbit who has to learn the harsh realities of life. He always manages to maintain his sunny disposition and enthusiasm, even in a cruel world where catastrophes — and school bullies — smack him in the face at every turn. His parents are well-meaning but sometimes exasperated, while his many younger siblings cause all kinds of trouble, and his grandpa just wants to be left the heck alone.
Dad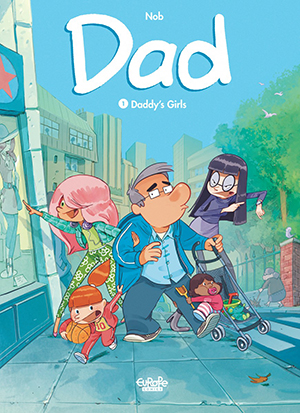 Being a single dad is a full-time job, as Dad knows only too well! Especially with four headstrong daughters to whom obedience doesn't exactly come naturally… With bookish Pandora, emotional Ondine, mischievous Roxanne and, the latest addition, baby Bella, this unemployed actor has landed himself the role of a lifetime: looking after his family!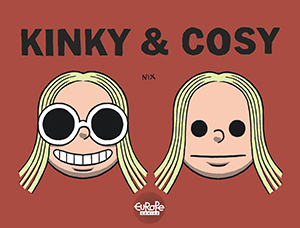 Kinky & Cosy
Shocking! Disgusting! Meet the most dangerous twin girls in the universe! Their record of wrong doings, on purpose or not, will raise your hair on end. A darkly subversive collection of cynical comics gags that is sweeping Europe. Nothing is sacred for these two lil' monsters! South Park meets Monty Python.
The Adventures of Chick the 1st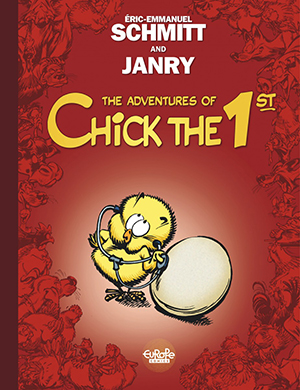 He's a chick unlike any other! Right from day one, Chick the 1st is beleaguered by the doubts and questions that come with the capacity to reason. When the farmyard dog asks him "What are you?", little does he suspect the turmoil of endless enigmas he provokes in our little chick's mind. While seeking answers to his endless questions, Chick the 1st shakes up all the social conventions of the chicken coop, causing scandal left, right and center. With the help of his Aunt Gallina and the mouse that devours books, Chick the 1st grapples with reality, both in the abstract and literal sense!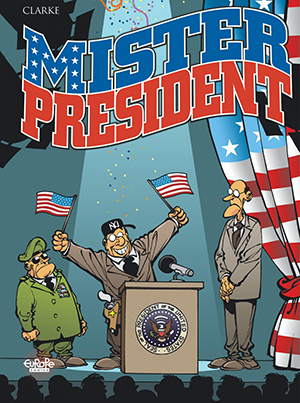 Mister President
Across the ocean, there is a wonderful, magical land. A paradise of free markets and genetically-altered chicken! This land, still young and full of hope (except for the downtrodden) truly does exist. It is called the United States of America, and its ruler is Mister President.
The Kingdom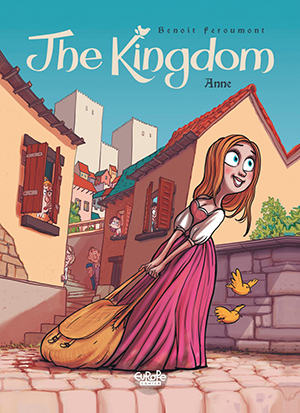 Once upon a time there was a peaceful kingdom where life was good. It was a little country forgotten by its powerful neighbors and their incessant wars. A lovely little piece of land where lived a great many people, and every day they enjoyed the bounties bestowed upon them by the earth and sky. Of course, there was a king, Alain and Adrien (his ugly sons who were nonetheless kind, helpful boys), a grumpy queen, Cécile (the bathroom-hogging princess), and Anne. Pretty little Anne. Anne, who sings to the rising sun; Anne, who lights up the king's nights; Anne, who speaks to the birds… Anne who opens a tavern where all these characters gather.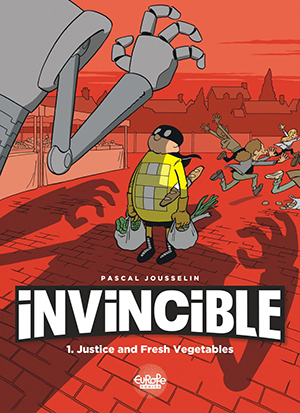 Invincible
Invincible to the rescue! The one and only true comic book hero is here, there and everywhere! But this is no normal caped crusader. He has the power to traverse time, space… and page, a power he uses to foil the devious plans of evildoers the world over! And as if fighting crime wasn't enough, there are cats to be saved and corrupt politicians to take on! How will Invincible manage?! Especially with more heinous villains lurking on the horizon… It's going to be a wild ride, that's for sure, but if anyone can save humanity, it's the people's hero, it's Invincible!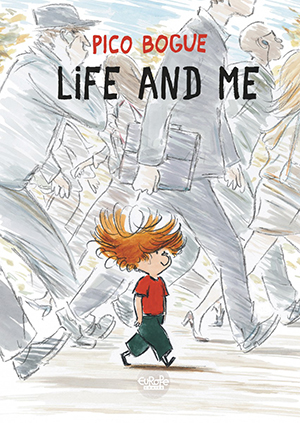 Pico Bogue is the eldest child of a normal family, and when we say 'normal', we mean unique, quirky and occasionally just stark raving mad! Along with his little sister Anna, Pico goes through life with as many certainties as he has questions, making the kind of pertinent observations that only children are capable of. Sometimes challenging, always loveable, there's no end to Pico's mischief, much to the amusement, exasperation and surprise of his long-suffering parents!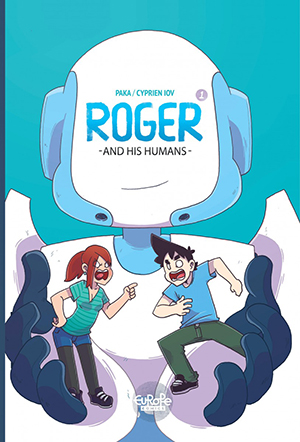 Roger and His Humans
Things look like they might be starting to turn around for thirty-odd year old no-hoper Hugo, when he finds a robot in his house on his birthday. But, as he soon discovers, this is no birthday present (no one seems to have remembered to get him anything!), but the handiwork of his cousin, an engineer in the French army, who realized that the robot he had been building was designed to destroy humanity. Forced to hide out with Hugo, Roger – as he decides to call himself – must learn to live with humans… No mean feat!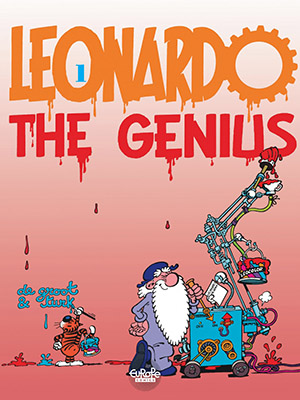 Leonardo
Leonardo is a genius. Full of boundless energy, he spends his days tinkering with his inventions and trying to solve life's scientific mysteries… often to the detriment of his poor 'disciple', who is willing to go to the most extreme lengths in the service of science. Welcome to a world of discovery, fun and pure madness!
Nelson is a cheeky little imp who is the bane of Julie's life. But watch out, nobody is safe from the orange curse! Nelson is capable of making life difficult for pretty much anyone he comes across…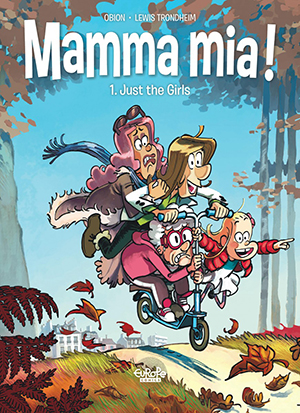 Single mom Aurélie's moving back in with her grandmother, her young daughter Emma in tow. And to everyone's surprise, so is Sophie—Aurélie's perennially absent mother, back from yet another adventure abroad. With four generations of women living under the same roof, life is never simple—and bound to get messy!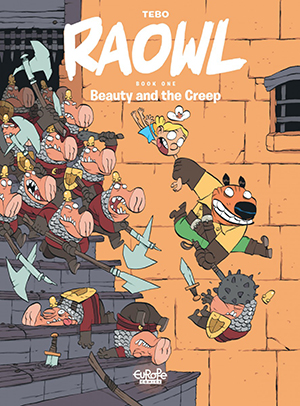 Raowl is not a hero for the faint of heart: he slices, dices, and decapitates anyone standing between him and a kiss from a princess. Unfortunately for Raowl, the first princess he encounters doesn't find him to her liking. So when Raowl rescues a second princess, he doesn't take no for an answer—and as it turns out, the two have a lot in common! Raowl's rage is all the greater when the princess is kidnapped and taken to a castle full of cannibals, and he doesn't waste any time leaping into the mouth of the beast! A rollicking rewrite of classic fairy tales, filled with guts, quips, and colorful characters.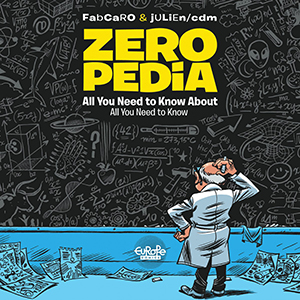 What was the Roswell incident? Why did people in the Stone Age paint pictures on cave walls? What is the Larsen effect? What was the "Wow!" signal? How do carnivorous plants catch their prey? What is absolute zero? Author Fabcaro, smitten by science, tackles countless scientific subjects alongside artist Julien/CDM in this illustrated "encyclopedia." Through humor and irony, they manage to make even the trickiest topics accessible to all—in just one page!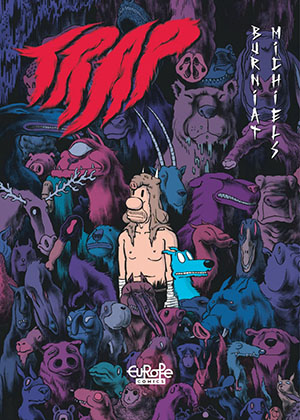 Trap
A man lives in the wild with a dog as his only companion… and great powers at his disposal. All he needs is an animal's hide to take on its abilities. Together, he and his dog will go off to seek a terrible monster, in a silent story brought to vivid life by Burniat and Michiels. Fierce, funny, strange, endearing!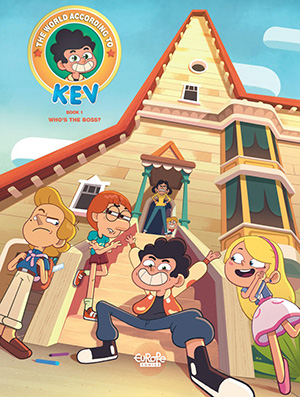 The World According to Kev
If the world worked the way Kev thinks it should, he'd be the star of the school, his teacher would admire his less than stellar grades, and Camille would fall in love with him. But Kev's life is anything but perfect: he has to compete for attention with his best friend Leo's snail collection, survive his mother's wrath, and suffer humiliation at the hands of the back-stabbing Stan, all while trying to grab some decent shut-eye before recess.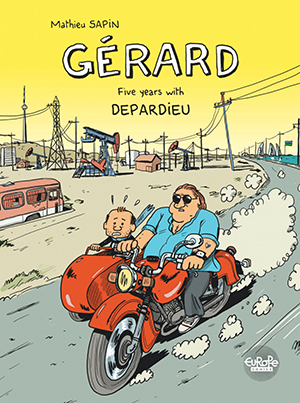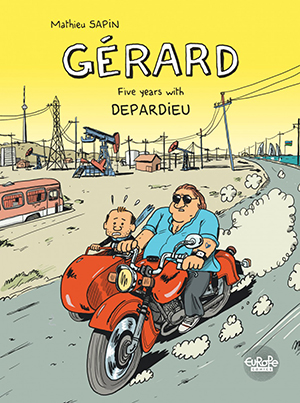 Gérard
Mathieu Sapin has made a career as a nonfiction cartoon chronicler. In a blend of witty, insightful diary and documentary vérité, he has tackled topics from moviemaking to the making of a presidential campaign, and provided behind-the-scenes looks at the presidential Palais d'Élysée. But the French government is no match for his latest subject: larger-than-life film star Gérard Depardieu, the most famous Frenchman in the world! From Azerbaijan to Bavaria, passing through Moscow and Portugal, Sapin tags along on a wild ride, creating a faithful portrait of a man full of contradictions.
What if… France created the PC first? What if France came up with cell phones? What if France invented the internet? What if it all came crashing down to the ground and was forgotten? Nestling its fictional story in a well-researched historical context, "The Lab" tells the story of these long-neglected French pioneers of the future that never really were. This riotous hodgepodge of social commentary, alternate history, retro-nostalgia, and workplace comedy, with its pop colors and eye for period detail, is a must for fans of such prestige cable dramas as "Mad Men" and "Halt and Catch Fire."
A group of students is on a field trip to an ancient castle when a storm erupts. As they are about to leave, four friends are cornered by the class bully, who tries to pull one of his usual pranks. Instead, they all get the scare of their lives when they fall down a tunnel that takes them into the future: a future where mankind has nearly disappeared from the face of the earth, and where nature has taken control. The friends will have to face up to this hostile new world—as well as their nemesis—if they're to have any chance of making it back home…
A golf course in LA, in the early hours of the morning. Two TV celebrities, the American Chuck Atkins and the British Simon Kennedy, meet up for a "friendly" round on the links. But as they make their way through 18 holes, things quickly unravel, leaving chaos in their wake… Because those overgroomed, perfect exteriors hide a lot of blemishes. This boisterous graphic novel written by American author Micah Stahl and illustrated by Belgian artist Bram Algoed takes up many central issues in today's culture, from fame and narcissism to loneliness and accountability. At times tragic, often rowdy, and always funny, this is the perfect book for readers who love a wayward story drawn in an original style.
Hervé's awkward, irritating, and maybe a bit OCD, but in the end, he's a normal guy. He has a job, his buddies, a girlfriend, and a mother who keeps close tabs on him. One particular day starts out just like any other, but on his way to work, he quickly realizes that things are anything but normal. Every person he crosses paths with not only seems to know him, but sees what he sees, and hears what he hears. And he soon discovers that everyone else on Earth is connected with him too. So begins a day unlike any other, with Hervé cast out of anonymity and into a nightmare of confusion and danger.
Welcome to the wonderful world of Looniland, filled with loonicorns, cyclopes, dodos, and other fantastical creatures! Life is good in Looniville… if you're a Pretty. Meanwhile, the Uglies do all the work and get teased and ridiculed. Until, one day, a huge storm blows through, bringing with it a mysterious illness that only seems to affect the Pretties. And in the nearby forest, a strange new creature has landed. Her name is Penelope, and no one has seen anything like her before. Where did she come from? Could she be the cause of this nefarious disease?
Wild adventures are on the horizon for little girl Ayak and her one-eyed dog Por. In the first story of this two-part tale, Ayak, Por, and the wacky professor seek shelter in an abandoned house, after their biosphere in Kamchatka explodes. But the discovery of an old teapot will soon whisk them away to a far-off land. In the second story, Ayak meets a lonely crown prince who is kept away from his people. Everyone thinks he is foolish, but what if he is just misunderstood?
Abel is a cosplayer. His parents don't get it. His brother's a big, dumb jock. Still, the geek heaven of Comic-Kon is just around the corner, and this year, Abel plans to win the cosplay contest as his hero, Batman. But the convention has other surprises in store. When an intelligence team invades the floor in hot pursuit of a rogue agent, Abel and his friends have a chance to be the heroes they only dress up as. A series of chases and double-crosses ensues that will teach these eager kids what being a true hero really means.
Header image: Boni © Ian Fortin / Dupuis