February is Black History Month. Here is a reading list with a rich selection of comics and graphic novels that show that there is no defeat in the hearts of those who fight for justice.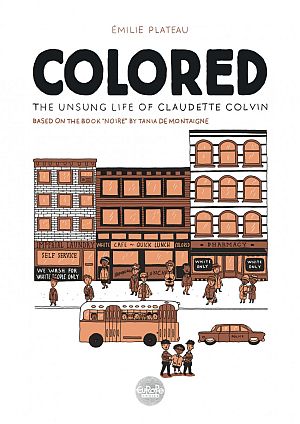 Colored – The Unsung Life of Claudette Colvin

A few months before Rosa Parks refused to give up her seat on a segregated bus in Montgomery, Alabama, kicking off the U.S. civil rights movement, making headlines around he world and becoming an enduring symbol of the fight for dignity and equality, another young black woman refused to give up her seat on a segregated bus in Montgomery, Alabama. She was the wrong person at the right time, and so History did not choose her. Her name was Claudette Colvin and this is her story.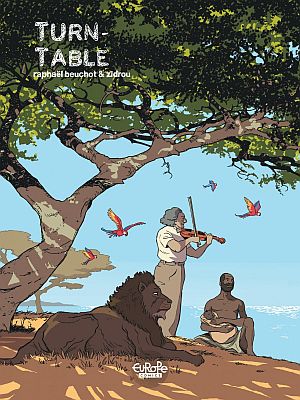 Virtuoso Belgian violinist Eugène Ysaÿe is invited out to the Congo by the governor to give a concert. How could he refuse such an invitation? Eugène waves goodbye to the infamous gray Belgian skies and hops on a plane taking him to the dazzling colors of Africa. He is invited to stay a few weeks at his nephew's house, by the stunning Lake Maï Ndombé. And that's where he meets Turntable. Through their mutual appreciation of music, the servant and the celebrity gradually form an unlikely friendship, breaking the boundaries of convention.
When an Aryan baby is born to a Muslim woman living in Copenhagen, her husband's family shuns her. But DNA tests prove Sorraya's fidelity. And she is just the first in what soon becomes a rash of similar cases across Europe, threatening widespread social change even as they ignite passions in immigrant communities and incite familiar racial hatreds. What mysterious conspiracy connects a retrovirus, a young slacker biogeneticist, a former punkette, a dogged reporter, and pharmaceutical giant Keoxis? Clarke delivers a contemplative slice of near-future science fiction paced like a thriller but full of probing questions about our prejudices.
Louisiana, 1961. The elderly Louise shoos away questions from granddaughters eager to know more about the family's distant past. But what is she hiding? As she unburdens herself to Hazel, the maid, memories and legends come pouring out from the years following the birth of the American nation: a sugarcane plantation, an abusive patriarch, a fearful wife, a headstrong daughter, and a mysterious voodoo priestess. What other dark secrets lurk, long-repressed, in the recesses of history? Léa Chrétien and Gontran Toussaint deliver a vivid, atmospheric story of generations of strong women and the secret things they do to survive, from the Civil War to the civil rights era.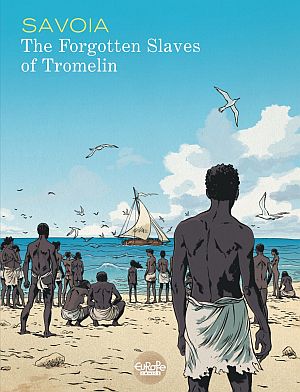 The Forgotten Slaves of Tromelin

This story takes place on a tiny, far-flung island in the middle of the Indian Ocean, whose nearest neighbor is Madagascar, 500 kilometers away… In 1760, the Utile, a ship carrying black slaves from Africa, was shipwrecked here and abandoned by her crew. The surviving slaves had to struggle to stay alive in this desolate land for fifteen years… When this tale got back to France, it became the cornerstone of the battle of Enlightenment to outlaw slavery. More than two hundred years later, the artist Sylvain Savoia accompanied the first archeological mission in search of understanding how these men and women, who had come from the high mountains of Madagascar, had survived alone in the middle of the ocean. This is the story of that mission, through which we're exposed to the extraordinary story of the slaves themselves.
Philadelphia, 1776: George Washington asks Betsy Ross to design the first flag of the future United States of America. Her housemaid, Angela Brown, adds to it a secret tribute to the black community: a black cotton star that she slips under one of the white stars. Dover, 1944: A soldier named Lincoln receives a letter that reveals Angela Brown's memoirs. Does the star that she mentions truly exist? In light of this revelation, three African-American soldiers set out on a dangerous mission, ranging from liberated Paris to the snow-covered Ardennes, seeking answers, and the ultimate prize…
Africa, 1830. Atar Gull, a strapping young slave, finds himself on a certain Captain Benoît's ship, on his way to the West Indies to be sold. This is no ordinary slave. He is the son of one of the great tribal kings, an athlete, a warrior. He will come at a high price, and not just in terms of money. After a long, unimaginably tough trip, Atar Gull winds up in Jamaica in the service of a plantation owner. It is with this plantation owner that his tragic destiny is entwined. This is a staggering adventure narrated through a superb 88-page volume that will be sure to haunt you long after you've turned the last page.
It is the early 1920s. The Volstead Act has recently prohibited the sale and consumption of alcohol, which means that an active black market has sprung up—a market controlled by legendary gangsters such as Al Capone. Supplies must be secretly shipped from France to its outpost in Saint-Pierre, Newfoundland. This dangerous and illegal trade involves aviators flying primitive sea planes—aviators such as Bessie the "Black Angel," whose mixed heritage also makes her the target of the flourishing Ku Klux Klan. Based on the historical figure of Bessie Coleman, she flies in the face of injustice, prejudice, and discrimination.
Canterbury, Connecticut, 1832: a charming female boarding school has found success among the locals, with two dozen girls enrolled. Some in town question the purpose of educating young girls—but surely there's no harm in trying? At least not until the Prudence Crandall School announces its plans to start accepting black students. Thirty years before the abolition of slavery in the United States, in the so-called "free" North, these students will be met by a wave of hostility that puts the future of the school in question, and their very lives in peril. Even in the land of the free, not all of America's children are welcome.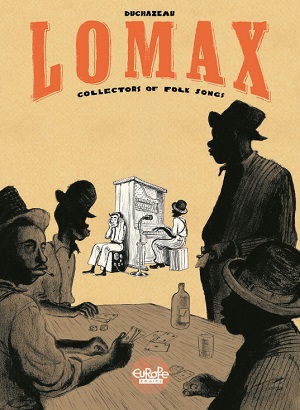 Lomax: Collectors of Folk Songs

In 1933, folklorist John Lomax and his eighteen-year-old son, Alan, embarked on a tour of the American South with a modest budget and a lofty aim: to preserve America's folk heritage. Together, they visited churches, plantations and penitentiaries under the auspices of the Library of Congress, seeking out and recording the very best folk songs, gospel, and blues. Among their discoveries were the Delta bluesman Son House and the jailed singer Huddie Ledbetter, better known as Lead Belly. On this, their most ambitious musicological expedition, John and Alan Lomax saved for posterity thousands of songs that might otherwise have vanished without a trace. More than that, they amassed an archive of recordings that would shape the blues-driven rock 'n' roll of the 1960s and beyond. As George Harrison once remarked, "No Lead Belly, no Beatles."
Header image: Colored – The Unsung Life of Claudette Colvin © Emilie Plateau / Dargaud