It is with great sadness that we have learned of the death of Jean-Claude Mézières, who passed away during the night of January 23, 2022, at the age of 83. His name is first associated with the characters of Valerian and Laureline, which he co-created and illustrated for more than 50 years alongside his lifelong friend and scriptwriter, Pierre Christin. But more than that, he was a leading author and figure in the world of comics, particularly through his influence and his role as a mentor to many artists. The book L'Art de Mézières, published in October 2021, in which he was particularly invested, highlighted the depth of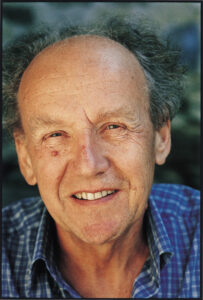 his work.
Jean-Claude was also an avid traveler. Fascinated by the landscapes of the American West, like his friend Jean Giraud, he lived in the United States during the 1960s, where he even became a cowboy in Utah. An environmentalist without going to extremes, he liked to withdraw to his house in Aveyron, in the middle of nature…
His hard-working nature, his energy, his strong personality, his benevolence, his simplicity, his joy of living, and his curiosity all made him a precious and deeply endearing person.
The entire Dargaud publishing team extends their deepest sympathy to his wife Linda, his daughter Emily, his grandson Gaspard, his sister Evelyne, his friend Pierre Christin, and all those close to him.
Biography
Jean-Claude Mézières was born in 1938 in Paris. He grew up in Saint-Mandé, a suburban town located on the eastern side of the capital.
In 1944, while taking refuge with his parents in a basement in order to escape the German bombings, he met a child of his age named Pierre Christin. A lifelong friendship was born. For the two boys, playing in the woods of Vincennes wasn't enough. They soon discovered a common passion for science fiction and comics. Jean-Claude devoured the weekly O.K., the adventures of Arys Buck drawn by Albert Uderzo, and The Blue Lotus, the Tintin book that his godmother give him for his tenth birthday.
From Tintin to Spirou
A regular reader of the weekly Tintin magazine, he eventually abandoned it in favor of Spirou, in which there was a sense of freedom in contrast with the serious tone of its competitor. He was fascinated by Les Chapeaux noirs, a Spirou and Fantasio adventure in the form of a western fantasy created by André Franquin. The stories of cowboys and the plains of America had fed the dreams of the young Jean-Claude since seeing The Lone Ranger and the Lost City of Gold in a provincial cinema. It's not surprising that at the age of 15, he wrote and illustrated a 16-panel western entitled La Grande Poursuite, an enthusiastic yet juvenile tribute to the graphic design of Franquin and Les Chapeaux noirs. He even sent a copy to Hergé, who declined to publish it, to the great regret of the young Jean-Claude who had to content himself with a letter signed by the creator of Tintin…
First steps in comics
More motivated by drawing than by a traditional school education, in 1954, Jean-Claude Mézières joined the School of Applied Arts. He enrolled in the "Fabrics and Wallpapers" section. He became friends with the only two students who were interested in what was not yet called the "9th art": Patrick "Pat" Mallet and Jean Giraud, with whom he skipped the often-boring classes to take refuge in the cinemas of the great Parisian boulevards. In October 1955, he published his first comic strip. A western, of course… The story, entitled Bill the Sheriff, appeared in the weekly Coeurs vaillants published by the Fleurus group. In 1957, he traveled to Brussels with Pat Mallet to meet his idol, André Franquin. In March 1958, based on Franquin's advice, the two apprentices, accompanied by Jean Giraud, visited Joseph Gillain, alias Jijé. He is the author of the adventures of the cowboy Jerry Spring, of which Jean-Claude was a passionate reader.
Jean-Claude Mézières, cowboy and comics artist
Even though he still dreamt of America—to the point of considering, with his friend Giraud, a boat trip to New York—the young Mézières had to wait to cross the Atlantic Ocean. In October 1958, he left for military service, first in France and then in Algeria. He returned with strong anti-militarist convictions. In January 1961, he went back to civilian life and answered a classified ad in the daily newspaper Le Figaro. He was hired by Hachette to work as a layout artist and then as an illustrator on the "History of Civilizations" collection. In 1963, he became an assistant photographer in the advertising studio of Benoît Gillain, one of Jijé's sons. Although he pushed his comics aspirations aside, he did not give up on his destiny as a cowboy. In June 1965, he finally flew to the United States. He traveled from Seattle to Montana and San Francisco, then he was hosted by his friend Pierre Christin, who taught surrealism and the "New Wave" at Salt Lake City University. One of Christin's students, named Linda,
became Mézières' wife and the mother of their daughter, Emily. Mézières published a few drawings in The Children's Friend, a kind of Mormon Coeurs vaillants. Until the day Christin suggested that he should return to comics and wrote a script for him. Together they created two short stories, "Le Rhum du Punch" and "Comment réussir en affaires en se donnant un mal fou !" published in the weekly magazine Pilote in March and July 1966 through the mediation of Jean Giraud. This didn't prevent him from rubbing shoulders with the hard—but exhilarating—reality of cowboy life at the Dugout ranch in Utah.
Birth of Valerian… and Laureline!
In September 1966, Jean-Claude Mézières returned to France.  After meeting René Goscinny and Jean-Michel Charlier, the two editors-in-chief of Pilote, he illustrated a third story written by Christin, Le chemin de l'enfer est pavé de bonnes intentions, and a scenario by Fred, the creator of Philémon. Then he suggested to Pierre Christin that they start a deeper collaboration with a longer series of which they would be the authors. On November 9, 1967, in Pilote, Valerian and Laureline, spatio-temporal
agents from Galaxity, entered the scene with a 30-page adventure, Valérian contre les mauvais rêves (Bad Dreams). Christin signed "Linus," a nod to Charles Schulz' Peanuts, while Mézières signed "Jc. Mézi." Mézières might have been expected to work on westerns, his lifelong passion, but the sector was already crowded with Lucky Luke, Jerry Spring, and Blueberry, whereas science fiction was almost virgin territory, rich with possibilities. In the mid-1960s, Mézières and Christin would have stared in disbelief if someone had predicted that their heroes would travel through space and time across 25 volumes and that their adventures would be translated into 20 languages. The American director George Lucas paid tribute to them in his own way with the Star Wars saga, some scenes of which seem to have been inspired by Valerian…
Mézières, beyond Valerian
With only one series to his name, like Morris and his Lucky Luke, Jean-Claude Mézières published other comic strips and stories in several specialized magazines, from Métal Hurlant to Fluide Glacial and (À Suivre), as well as illustrations for the general press, posters for festivals, and silkscreen prints. In 1985, he embarked on a tour of the ports of Europe with Pierre Christin, on the trail of a mysterious woman who became the heroine of an illustrated story, Lady Polaris, published in 1987 by Autrement. Mézières also worked in the film industry, designing sets and costumes for Un dieu rebelle, a film by Peter Fleischmann, and for The Fifth Element by Luc Besson, to whom he gave the idea for the flying cabs. A selection of these works gave rise to two artbooks, Les Extras de Mézières, published by Dargaud in 1995 and 1998. It is the same Luc Besson, admirer of Valerian and in love with Laureline since he was ten years old, who brought the series by Mézières and Christin (with colors by Évelyne Tranlé, Jean-Claude's sister) to the screen in 2017 with Valerian and the City of a Thousand Planets, inspired by the book Ambassador of the Shadows. In 2004, to celebrate Lille's status as "European Capital of Culture," Mézières imagined a
"Path to the Stars" on the Rue Faidherbe, in the form of fourteen spectacular towers symbolizing a runway to space.
Awarded the Grand Prix of the city of Angoulême in 1984, as well as an Inkpot Award at the ComicCon in San Diego in 2006, and the Max & Moritz prize at the Erlangen fair in 2018, Jean-Claude Mézières never ceased to make his readers dream and to inspire his fellow artists through his work, which mixes science fiction and imagination, fantasy and modesty, without forgetting an always benevolent curiosity for the "other," be it human or extraterrestrial. The director Avril Tembouret dedicated a documentary film to him, L'Histoire de la page 52, which retraces the design of a page from a Valerian and Laureline adventure. In September 2021, the publisher Dargaud paid tribute to him with L'Art de Mézières, an illustrated book that reviews his career as a comics artist, from his unpublished childhood drawings to his most recent works. A graphic assessment that Jean-Claude, in the file sent to the press, summarized with a sadly premonitory remark: "That's a wrap! This will clearly be my last book. At 83, it is better to close the door and withdraw without making too much noise…"