It all starts in a school playground, and then it moves to a classroom, where Larcenet's superb graphic camera zooms in on two ten-year-old kids: Gildas and Martina. The pair of them are ever so slightly obsessed with Sci-fi. To the extent they think they're surrounded by robots and aliens. As far as they're concerned, their entire world is made up of false appearances, and they're soon to be the victims of a huge intergalactic plot! You read, you smile, you snigger. But then suddenly, it's all turned on its head…
Esteban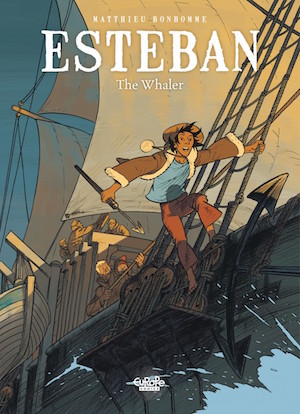 When Esteban, a young Native American boy of just 12-years-old, presents himself to the captain of the Leviathan for the post of 'harpooner', he's the laughing stock of the whole crew. But when the captain finds out that Esteban is the son of Suzanna of the Tehuelches tribe, he decides to take him on… as ship's boy. Despite his lowly post, this is Esteban's chance to discover the sailor's life, with all its hardship and its happiness, and maybe even a chance to prove what he's made of!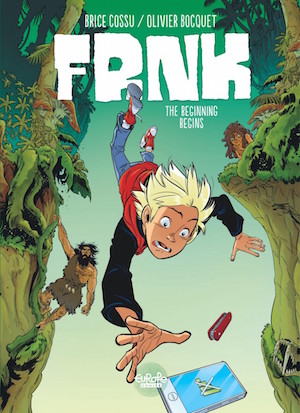 FRNK
When a 13-year-old orphan sets out to find his parents and ends up in prehistoric times, he realises he's got a lot of work to do: so many things haven't been invented yet, like fire, soap… and vowels! Not to mention all the terrifying creatures and knuckledragging cavemen he has to deal with!
Golam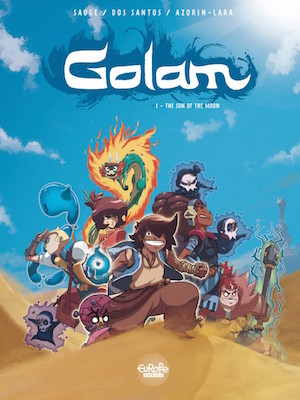 When a 13-year-old orphan sets out to find his parents and ends up in prehistoric times, he realises he's got a lot of work to do: so many things haven't been invented yet, like fire, soap… and vowels! Not to mention all the terrifying creatures and knuckledragging cavemen he has to deal with!
Spirou and Fantasio are caught up in another amazing adventure, set in a real historical context. It's summer 1989, a few months before the fall of the Berlin Wall, and the evil Zantafio is trying to take over East Germany. When he kidnaps the Count of Champignac, our two heroes find out and try to rescue him. But to do that, they have to cross Europe's most heavily guarded border. East Germany's notorious Secret Police, the Stasi, are soon hot on their trail, and Fantasio is arrested. So Spirou now has to free his friend as well as foil Zantafio's diabolical scheme.
The planet Oceania is covered with an ocean of vegetation. Humans navigate the green seas with futuristic ships.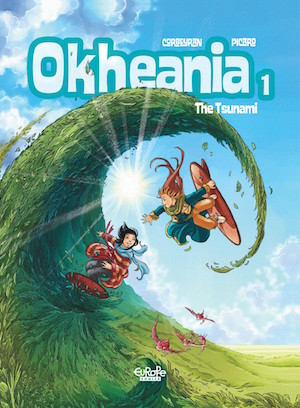 Teenagers Jon and Jasper spend most of their days surfing the vast waves of foliage, until one day, without warning, they're hit by a tsunami. Jon disappears beneath the leafy ocean surface and Jasper is picked up by a ship called the Poseidon. It is said that none return from the depths of this treacherous ocean. But the captain of the Poseidon tells a different story. Will Jon and Jasper ever find each other?
Rebellious Princess Natty of Orchidhali is a member of the floral caste and lives in a luxurious, sunshine-filled palace. But once she refuses her arranged marriage, she is forced to flee the palace.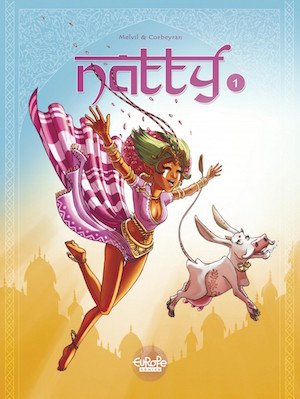 She ends up in the dark realm of the Untouchables, the very lowest caste of society, where a strange form of leprosy reigns as a result of the lack of sunlight. Natty meets an Untouchable named Sami, who is just as rebellious as she is, and together they make a plan to leave the shadows of the underworld and return to the light. But just as they are about to make their escape, a battalion of soldiers arrives, and Sami ends up in prison.
The Amazing Adventures of Jules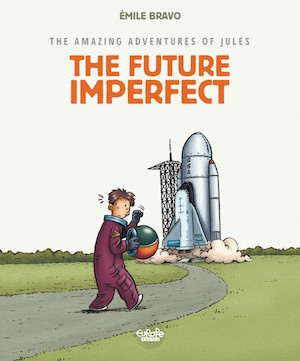 Jules, a nice boy living a quiet life without any particular problems (except his little brother set on murdering his guinea pig), is selected by the Global Space Agency to take part in the first expedition to planet Alpha aboard an interstellar spaceship. The journey will last 8 weeks for the passengers, and 8 months in Earth-time (because of relativity)… Thus Jules embarks upon the voyage of a lifetime, stowaway guinea pig in tow, accompanied by the other members of this glorious team of space explorers: a couple of eccentrics who collect Nobel prizes; a rather tetchy roommate; a drunken pilot who seems to mess up the landings every time and endangers interplanetary peace; and a pretty exobiologist who will study any extraterrestrial life they come across. Get ready for takeoff!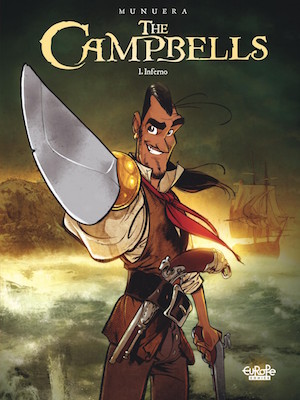 Campbells
After his wife's brutal murder, Campbell, a pirate legend, gave up his life on the open seas to raise his two young daughters in peace. But, inevitably, his past eventually catches up with him in the form of Carapepino, a pretentious but clumsy pirate, desperately trying to win favour with the infamous Inferno. For his own sinister reasons, Inferno wants more than anything to get rid of Campbell and his offspring, once and for all. But Campbell and Inferno are bound to each other in ways that those around them would never have guessed…
Tiny Fox and Great Boar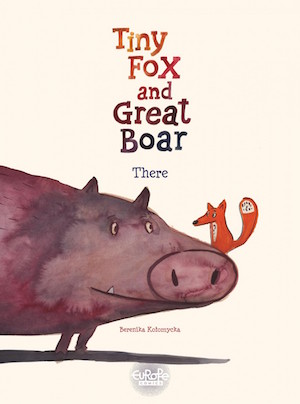 Tiny Fox lives alone beneath his apple tree in the distant hills. He is a happy little animal, busy looking after himself and his foxy things. Then one day, a Great Boar appears and moves in under the apple tree, bringing with him a time of change and adventure. Is Tiny Fox ready?
For her eighth birthday, Nola receives a marvelous present: her late mother Annah's music box. It has the most enchanting melody, and inside the globe… is that a little girl waving?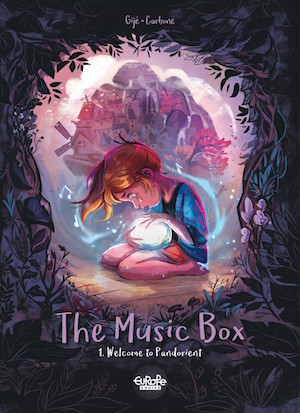 And calling for help?! Before she knows it, Nola has shrunk down size, slipped through the keyhole, and entered the world of Pandorient, where even the most ordinary-looking citizens can have extraordinary powers—and where danger could lurk down every hallway. Nola must help her new friends save their mother from a mysterious malady—all the while making surprising discoveries about Annah's past, and—maybe—her own future…
Brina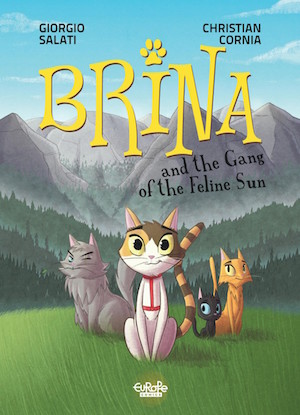 When the cat Brina goes on vacation with her owners, things don't quite turn out as planned. Should our loved ones be held on to and protected, or should we let them go, to live out their own adventures? A charming and spirited graphic novel from scriptwriter Giorgio Salati (Disney, RAI) and artist Christian Cornia.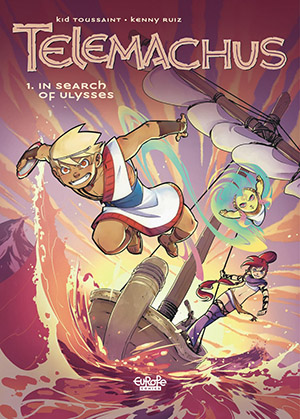 Ulysses, mythical hero and king of Ithaca, left years ago to fight in the Trojan War. He never came home. His son, Telemachus, an impatient and immature prince who is as clumsy as he is ambitious, decides to go looking for him. On the way, he meets the hot-headed princess Polycaste, who helps him in his perilous adventure full of vengeful gods and terrifying monsters. Will the winds be favorable to them?
Timo's been preparing to be an adventurer his whole (short) life—devouring books of valiant feats and incredible journeys, learning about navigation, botany, and other survival skills. But now that he's taken the plunge, venturing alone into a new land, the fairy tale has become all too real. Will he fulfill his wish and become a true hero, noble steed and legendary weapon included? More importantly, will he be able to distinguish friend from foe?
Renée Stone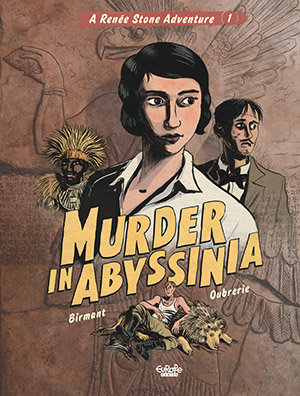 Renée Stone is a successful English mystery novelist and an independent free spirit. In this first book of the series, she finds herself in Ethiopia for the coronation of Haile Selassie I in 1930. There she meets John Malowan, a bumbling archaeologist whose grandfather unearthed the Epic of Gilgamesh. Unbeknownst to Stone and Malowan, a host of parties are conspiring to take advantage of the grandson in order to get their hands on a hidden treasure that dates back to Mesopotamian times. Renée Stone finds herself in the midst of a murder mystery full of colorful characters who could have come straight out of her novels.
A group of students is on a field trip to an ancient castle when a storm erupts. As they are about to leave, four friends are cornered by the class bully, who tries to pull one of his usual pranks. Instead, they all get the scare of their lives when they fall down a tunnel that takes them into the future: a future where mankind has nearly disappeared from the face of the earth, and where nature has taken control. The friends will have to face up to this hostile new world—as well as their nemesis—if they're to have any chance of making it back home
On April 5th, 1514, a mysterious noblewoman leaves a newborn bearing only an unusual golden necklace at the gates of the Château du Clos Lucé in Amboise, France. Named "Cinq Avril" by the cooks who care for him, and taken under the wing of another resident of the castle, a certain Leonardo da Vinci, the child grows in energy and knowledge as he's instructed in a multitude of secrets. When his mentor dies, the young man discovers a posthumous letter explaining that he has the power to change the course of history if he can unravel the enigma of his birth.
Header image: Golam ©  Josselin Azorin-Lara / Sylvain Dos Santos / Nicolas Sauge / Le Lombard