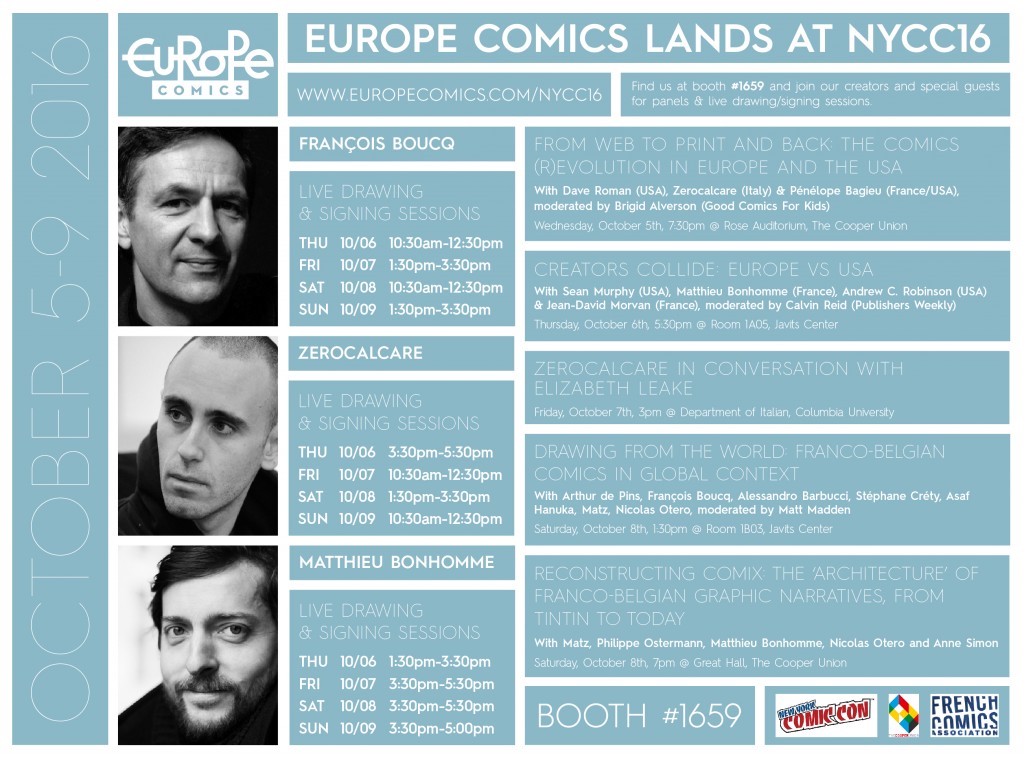 We are extremely excited to announce that Europe Comics will be making its second official trip to New York Comic Con this October. And we are coming with some great company! Joining us will be legendary French artist François Boucq (Superdupont; The Keeper), Italian comics sensation Zerocalcare (Forget My Name) and the award-winning creator of Esteban and The Man Who Shot Lucky Luke – Matthieu Bonhomme. All three creators will be at the Europe Comics booth #1659 daily, signing books and live sketching.  UPDATE: Unfortunately, Zerocalcare will not be attending the scheduled events and signings. He will, however, appear via Skype during the panel at The Cooper Union.
FROM WEB TO PRINT AND BACK: THE COMICS (R)EVOLUTION IN EUROPE AND THE USA
With Dave Roman (USA), Zerocalcare (Italy) & Pénélope Bagieu (France/USA), moderated by Brigid Alverson (Good Comics for Kids)
Wednesday, October 5th, 7:30pm @ Rose Auditorium, The Cooper Union
CREATORS COLLIDE: EUROPE vs USA
European and American comics & graphic novel stars meet to discuss and compare their work and experiences from the two sides of the Atlantic.
With Sean Gordon Murphy, Matthieu Bonhomme, Andrew C. Robinson and Jean-David Morvan, moderated by Calvin Reid
Thursday, October 6th, 5:30pm @ Room 1A05, Jacob K. Javits Convention Center
ZEROCALCARE IN CONVERSATION WITH ELIZABETH LEAK
Friday, October 7th, 3pm @ Department of Italian, Columbia University
Events in association with French Comics Framed Festival:
DRAWING FROM THE WORLD: FRANCO-BELGIAN COMICS IN GLOBAL CONTEXT
With Arthur de Pins, François Boucq, Alessandro Barbucci, Stéphane Créty, Asaf Hanuka, Matz and Nicolas Otero, moderated by Matt Madden
Saturday, October 8th, 1:30PM @ Room 1B03, Jacob K. Javits Convention Center
RECONSTRUCTING COMIX: THE 'ARCHITECTURE' OF FRANCO-BELGIAN GRAPHIC NARRATIVES, FROM TINTIN TO TODAY
With Matz, Philippe Ostermann, Matthieu Bonhomme, Nicolas Otero and Anne Simon
Saturday, October 8th, 7pm @ Great Hall, The Cooper Union
Stay tuned for more details, events and specials!
Cover image Valerian & Laureline © Jean-Claude Mézières / Pierre Christin / Dargaud