Flavia Antunes grew up in a favela. Her father was a casualty of gang warfare; her mother, a cleaning lady, is all she has left. That is, until she meets Mr. Lima, a wealthy old man who introduces her to her future: the piano. Music will take her far from home, all the way to a prestigious Paris conservatory. Being a foreign student is hard: low-paying jobs, prejudiced landlords, competitive peers. But Paris also has its perks, like love, friendship, and undreamt-of opportunities… Can Flavia find a way to balance the demands of the heart and her demanding art?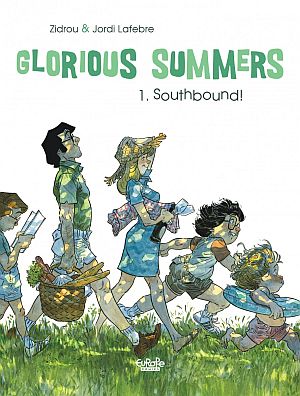 In this nostalgic account, the Faldérault family sets out for a final summer vacation together before an impending marital separation disrupts the family dynamics for good. Along the way, heading south to France from Brussels, Pierre, Maddie, and their children revel in impromptu skinny-dips, family sing-alongs, and camping in the wild, ultimately finding a renewed zest for life—and vacation!
Jean and Germaine are the most affable couple the little village of Colle sur Loup has ever seen. A duke married to a commoner, they have no children, no jobs, and are disastrous cooks! They like to indulge in life's small pleasures; their books, their garden, and their after-lunch naps. They live for each other, and for their love. Their simple happiness intrigues, fascinates, infuriates and is the envy of all those around them. Daniel Pennac knew Jean and Germaine well. He spent his time at their house reading, watching, learning, and, of course, trying Germaine's catastrophic efforts in the kitchen! He's now taken it upon himself to tell the story of those happy days, and of a love that has always captivated him.
"Girls, living in the country will be your chance," her parents tell her. And so Catherine Meurisse spends her childhood outdoors. Construction all around her: an old farmhouse renovated into a home, trees planted, a garden created, dreams cultivated. They dig, they graft, they plant a rosebush "adopted" from Montaigne, a fig tree from Rabelais. They observe the tumult of the outside world: new developments in industrial agriculture, the citification of rural France… With her characteristic humor, Catherine Meurisse has composed a witty poem dedicated to the countryside where her vocation as an artist first took form. The Great Outdoors, like Lightness, her previous album, is a testament to her conviction that nature and art —everything that grows, everything that lives against all opposition— always offer us a chance.
Rose is not a happy young woman; she is closed off and angry and she hates her job. But her life changes drastically when she inherits her father's bakery in a small town in Brittany. Returning to a place that brought her both joy and grief forces her to confront painful memories of her past and find the courage to open her heart to a new, happier life that awaits her if she will just let it. A story about new beginnings, filled with small town charm, delicious pastries and the warmth of home and friends.
The touching story of a child getting to know his grandfather, an Italian immigrant living in Belgium. 11-year-old Romeo thinks of his grandfather as nothing but an "old pain-in-the-butt." So when he finds out that he's going to have to spend a few days with him at his crumbling old house, without even a TV to keep him entertained… well, it's his idea of hell. But there are some surprises in store for Romeo during his visit. He changes his mind about a few things, perhaps thanks to his grandfather's neighbor, Lucy, who tells him about her own "nonno," and shows him how a spoil tip can be a thing of beauty. Or perhaps it's thanks to Romeo's dad, who speaks for the first time about his childhood relationship with his father. But it's mostly thanks to Ottavio who, beneath his old, grouchy exterior, conceals the hard life he has led, full of suffering and sacrifice. It is a life the 11-year-old Romeo finds hard to comprehend, but which gives him a deeper understanding of someone from another century. It started off as just a short holiday to a grey Belgian town. But this holiday turns into an opportunity for three generations of men to lift the silence that surrounds them. A touching story about Italian immigration, coal mining, communication between the generations and the difficultly of opening up when you've spent your whole life in silence.
Single mom Aurélie's moving back in with her grandmother, her young daughter Emma in tow. And to everyone's surprise, so is Sophie—Aurélie's perennially absent mother, back from yet another adventure abroad. With four generations of women living under the same roof, life is never simple—and bound to get messy!
The best part of Christmas is getting to hear one of Uncle Paul's stories. This year, Uncle Paul treats the kids—and us—to the story of the real-life boy who inspired the beloved Spirou. It's 1929. Ptirou is a circus acrobat who, while the world's economy is crashing, sees his own world fall apart. Orphaned, and possessing only his skill, a bottle of perfume, and an inherited dream, Ptirou sets out for New York and new adventures. With saboteurs on one side, the lovely Juliette on the other, and his own knack for mischief, Ptirou finds adventure aboard an ocean liner before it's even left port.
Maria Fuencisla, a long-term resident in a central Madrid neighborhood, is hit hard when her pet dies in a tragic accident. Her three best friends, Anastasia, Dori and Ricarda, come up with various schemes to try to comfort her, but it's almost impossible, because the deceased dog was the focus of the old lady's entire universe. These pages are full of tragicomic memories showing us how Maria Fuencisla and her small dog formed such a solid — if somewhat unorthodox — team. Together, they overcome the difficulties of being a senior citizen and a puppy in this hyper-modern age. The puppy was her dearest one, the son that she never had, and as she thinks back on their adventures together, she tries to move past this latest tragedy and move on with her life… but the fates have more in store for her.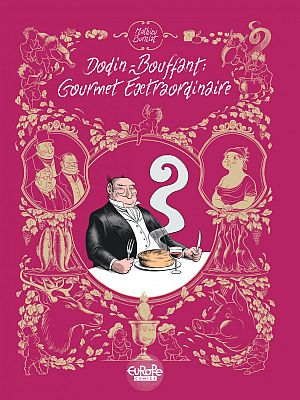 Dodin-Bouffant: Gourmet Extraordinaire

Dodin-Bouffant is a total food enthusiast. He lives for excellence and spends his time surrounded by a small circle of hand-picked gastronomes. When his beloved cook, Eugénie, dies, it turns Bouffant's world upside down. After a long, hard search he finally finds what he is looking for in Adèle. Not without some complications, Adèle and Dodin-Bouffant form a strong bond and share many a delicious meal. This novel by Marcel Rouff (1887-1936) is a tribute to the famous French gastronome Brillat-Savarin, on whom the character Dodin-Bouffant is loosely based.
Pico Bogue is the eldest child of a normal family, and when we say 'normal', we mean unique, quirky and occasionally just stark raving mad! Along with his little sister Anna, Pico goes through life with as many certainties as he has questions, making the kind of pertinent observations that only children are capable of. Sometimes challenging, always loveable, there's no end to Pico's mischief, much to the amusement, exasperation and surprise of his long-suffering parents!
Header: Dodin-Bouffant: Gourmet Extraordinaire – © Mathieu Burniat / Dargaud