What's Halloween without spooky comic BOOks and graphic novels for all ages? Whether it's a spine-tingling murder mystery full of serial killers, ghosts and zombies or magical adventures with cute little witches or vampires, you'll find them all here!
Yan is on top of the world. School's almost out for summer, he's about to have a new baby sister, and he's going to be spending his vacation making a zombie movie with his best friend Nico. But on his way home from school, he finds himself in the wrong place at the wrong time, and before he knows it, his life is slipping away… Things are no longer smelling rosy now that Yan's pushing up daisies. But for some reason, Yan's soul isn't going anywhere: his body may be rotting, but his mind is clear, and once out of his grave, Yan is determined to be reunited with his family. He may be falling apart, but he isn't about to let that happen to them!
Mr. Ash Tuesday – 4. The Vaccine of Resur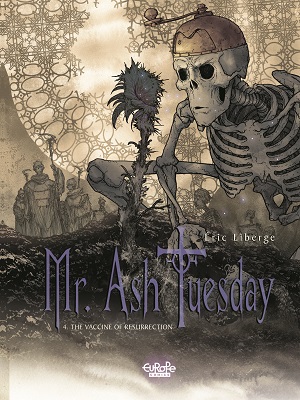 rection
Mr. Ash Tuesday finally comes to the end of his wanderings. Right at the heart of Pluto and the first circles of Purgatory, Ash Tuesday comes face to face with the painful incarnations of his past. Thus the postman and his companion at last discover the true nature of Purgatory. It's all a bit too much for Ash Tuesday, who ends up fleeing the scene and returning to Saint-Cecile. Back in Saint-Cecile, chaos rules following an overdose of Lethe (the river of forgetfulness) and a deluge of coffee rain. This is when a certain skeleton discovers the resurrection formula: the combination of forbidden coffee and sincere repentance. Finally Pluto will be purged of its population of tormented souls! But will they once again be tempted to return to the pleasures of the flesh? Of course they will!
Rose, a young woman not quite like any other, is looking for answers after losing her father and facing potential threats to her own safety. With the help of her unique ability to leave her physical body, she is determined to uncover the secrets behind her father's murder—and the murder he himself apparently committed so many years ago. But as Rose plunges further into a mystical world of ghosts, witches, and curses, she remains unaware of the true nature of the threat looming over her.
The Zombillenium theme park is hiring… for all of eternity. Led by vampire Francis von Bloodt, Zombillenium and its sinister personnel welcome all comers for the time of their lives. The park isn't free from the financial crisis that's rocked all sectors of the economy, but its savior just might be on the way, the likes of which no one has ever seen… An impeccable black comedy from author Arthur de Pins.
Magic 7 – 2. Again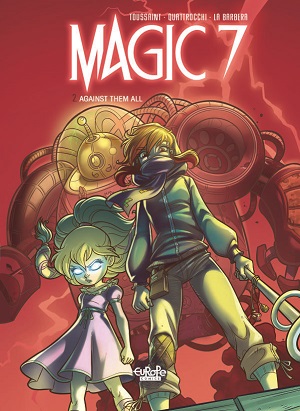 st Them All
Leo, Farah, Lupe, and Hamelin will need all of their supernatural gifts, and all the help they can get, to fight a mysterious power that has all the authority figures in their town—teachers, parents, and police—acting strangely and dangerously. And along the way, they will learn more about the bond that links them, and just what a daunting future the Magic 7 must prepare for.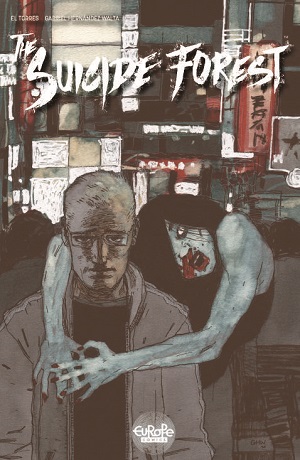 Alan is interrogated by the police due to his best friend's death two nights earlier. Ryoko receives a verbal warning for his behavior and his Japanese traditional beliefs that reveal us Ryoko's deep secret.
The Veil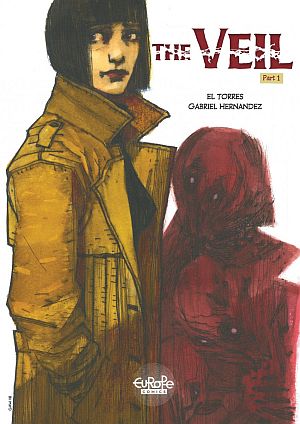 Chris Luna is completely broke because seeing and speaking to the dead is not enough to pay the bills. After her aunt's death, she returns to her hometown, Crooksville, Maine, in order to sell the house she has inherited.
The Heart of Shadows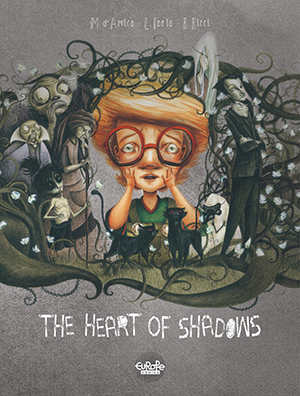 Luc is a frail child who's afraid of anything and everything, no thanks to his Italian grandmother and her dark bedtime stories. So when he disappears from his bedroom one night, everyone fears the worst. Has he been kidnapped? Did he run away like his sister once did? Little do they know, Luc has traveled to a mysterious land filled with monsters and strange creatures named Shadows and is about to embark on a terrifying journey around the world where he must learn to conquer his fears if he ever hopes to return home. Accompanying him on his journey is the mysterious Uomo Nero, the bogeyman from the nursery rhymes his nana used to sing to him…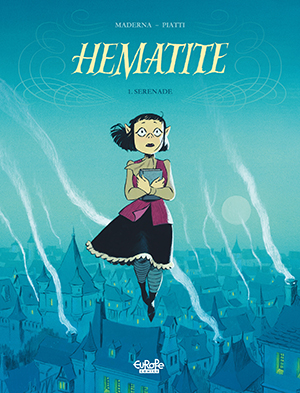 Hematite
Hematite is a young vampire who is trying to find her way. As a member of the illustrious Blackwood family, she faces pressure to conform to high society standards, but such grandstanding isn't for her. And neither is drinking blood—she'd rather have vegetable soup! So it is that she opts for the more diverse Wolven School, rather than joining the ranks of her fellow vampires at the Diaemus Academy. Being different can be hard, though, and doesn't always help to make friends. Luckily for Hematite, she has her poetry, as well as Drunela—a draugr who won't let their differences keep them apart—and Emile, a human boy fascinated by the occult who would just love to take a peek at the Blackwoods' private library. Unfortunately, bridging societal divides isn't always easy, and can lead to terrible consequences…
Canterbury, Connecticut, 1832: a charming female boarding school has found success among the locals, with two dozen girls enrolled. Some in town question the purpose of educating young girls—but surely there's no harm in trying? At least not until the Prudence Crandall School announces its plans to start accepting black students. Thirty years before the abolition of slavery in the United States, in the so-called "free" North, these students will be met by a wave of hostility that puts the future of the school in question, and their very lives in peril. Even in the land of the free, not all of America's children are welcome.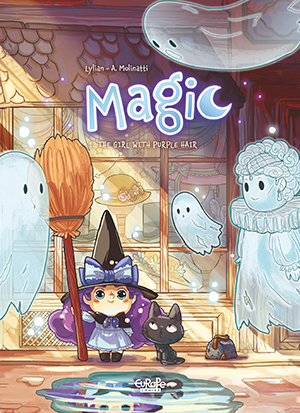 Magic
A baby girl born with purple hair is promptly handed over to a convent by her horrified father, who fears she bears the sign of the witch. And indeed, little Evelyn seems to have strange powers and to attract supernatural manifestations as she grows up among the nuns, who patiently put up with it as best they can. But after one scary "trick" too many, she is entrusted to the care of a hat-maker, who whisks her off to London, where she will learn about much more than making hats! For as Evelyn and her talking cat Benedict will soon find out, Master Neil has a few tricks up his sleeve, too, and his hat shop might not be exactly what it seems…
Adolescence is a terrible time for most people. For Louca, it's especially bad! Generally mediocre, a poor student, awkward with girls… he's a walking disaster. But Louca has decided: starting tomorrow, he's going to change! Still, that's easier said than done… especially when your own mind keeps changing! Luckily, Louca will get a helping hand from a certain fellow named Nathan. Good-looking, amazing at football, funny, smart… this Nathan certainly seems like the perfect guy, and the best coach Louca could possibly hope for. With one little exception: Nathan is a ghost… How did Nathan die? Why can only Louca see him? Will Nathan manage to turn Louca into the kind of guy people want to be with? Will Louca manage both to pass his exams, and to win over Julie, the girl of his dreams?
In an obscure world gripped by terror, nightmares have come to life. Driven by the sole desire to eliminate their hosts, these monsters have become a plague to be eradicated. The Ordo-Sancti, a powerful religious group, has put the Weaver corps in charge of slaying the beasts. Arane Heos is a renowned member of the Weavers. As she battles the nightmares, she will have to deal with the growing turmoil within the Church and her caste, which now threatens the secret that involves her child.
When it comes to rituals, Teresa, who runs a bookstore specializing in magic and the occult, knows her fair share. But when she manages to summon Laura, an anime-loving demon, the ritual goes awry: Laura is there to grant her any wish, but Teresa doesn't know what to ask for. And so the two are stuck with each other… Thus begins a strange cohabitation, while Laura decides to investigate a series of unexplained disappearances in town. Through the author's captivating artwork and spirited dialogue, discover an offbeat and magical world close to our own, alternating between warmth and sweet melancholy.
Header image: Zombillenium © Arthur De Pins / Dupuis