Do you ever wish to to travel through time and space? Well, some of our bravest young heroes did it! Discover our best science-fiction comics and graphic novels that break the wall of time, and take you on a journey through the vast space of the universe.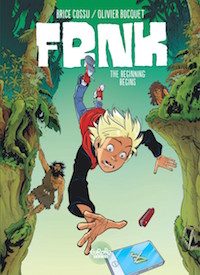 FRNK
When a 13-year-old orphan sets out to find his parents and ends up in prehistoric times, he realises he's got a lot of work to do: so many things haven't been invented yet, like fire, soap… and vowels! Not to mention all the terrifying creatures and knuckledragging cavemen he has to deal with!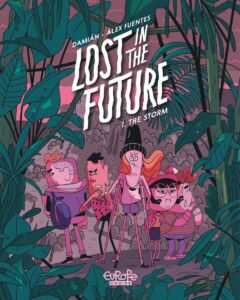 A group of students is on a field trip to an ancient castle when a storm erupts. As they are about to leave, four friends are cornered by the class bully, who tries to pull one of his usual pranks. Instead, they all get the scare of their lives when they fall down a tunnel that takes them into the future: a future where mankind has nearly disappeared from the face of the earth, and where nature has taken control. The friends will have to face up to this hostile new world—as well as their nemesis—if they're to have any chance of making it back home…
"My name's Jules. From the window of my Paris apartment, I'm looking in horror at the piles of bodies in the street below. My parents are on the other side of the world. They're almost certainly dead. My older brother, Pierre, can only drown his sorrow in drugs, but I must look after Alicia, a little girl who somehow escaped the virus and is all alone. But what can I do for her? My only hope is to join the other Warriors of Time masters… This meeting is where I'll find out who Khronos really is…"
You choose which volume to read first. The first four are parallel stories, so it doesn't matter which one you start with. But you must finish with Khronos, where the four threads are finally brought together.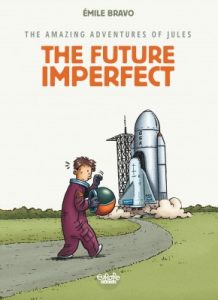 The Amazing Adventures of Jules
Jules, a nice boy living a quiet life without any particular problems (except his little brother set on murdering his guinea pig), is selected by the Global Space Agency to take part in the first expedition to planet Alpha aboard an interstellar spaceship. The journey will last 8 weeks for the passengers, and 8 months in Earth-time (because of relativity)… Thus Jules embarks upon the voyage of a lifetime, stowaway guinea pig in tow, accompanied by the other members of this glorious team of space explorers: a couple of eccentrics who collect Nobel prizes; a rather tetchy roommate; a drunken pilot who seems to mess up the landings every time and endangers interplanetary peace; and a pretty exobiologist who will study any extraterrestrial life they come across. Get ready for takeoff!
Captain Lexi Neel thought she'd sacrificed years of life with her daughter when she left Earth on a decades-long journey through the depths of space. But when a distress signal takes her out of hypersleep years ahead of schedule, she finds herself on the mysterious moon Aion, home to exotic wildlife and a research station dedicated to study of the moon's "particularities." It might mean a chance to start over as if she never left… As Lexi is about to learn, time is an experience.
The World according to François 3 – The Time Master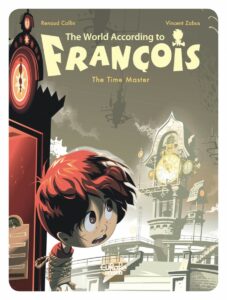 François's father falls victim to the Time Master, who tyrannizes him into compulsively burying himself in work at the expense of everything else—even the basic needs and happiness of his son. But the Time Master wasn't counting on François's courage, or his resolve to stop at nothing to defeat the enemy nestled inside his father's soul.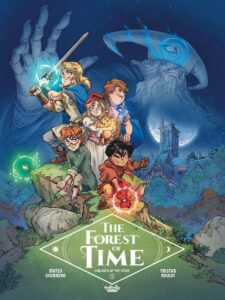 Deep in the heart of an enchanted forest, a small village of children lives unaffected by the passage of time thanks to a powerful stone that protects them from it. But when the stone is shattered and a thief runs off with one of the shards, four of the children must set out at once in search of the missing shard before their village is swallowed up by time and everybody in it dies. Armed with four crystals with special powers, the children bravely make their way through the dangerous forest to hunt down the thief, making friends and enemies along the way and encountering one strange creature after another.
Valérian 23 – The Future is waiting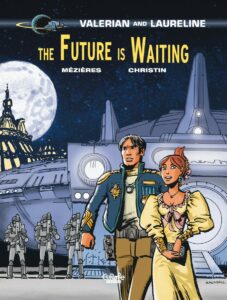 After the events of "The Time Opener," Valerian and Laureline reverted to childhood, and are now living with Mr. Albert on 21st-century Earth. But in a universe where time travel is a reality, words like "after" and "now" can be somewhat hazy… Elsewhere, in other times, the pair of agents continues to work tirelessly to maintain a galactic peace threatened as always by greed and the thirst for power.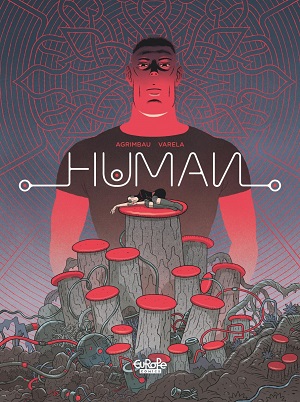 Planet Earth: 500,000 years in the future. Humans have been extinct for millennia. Two scientists, Robert and June, have been orbiting the Earth, waiting for the planet to become habitable once more. With the help of a team of robots, they plan to start over from scratch: a new Adam and Eve who won't make the same mistakes as their ancestors. But first Robert has to find June, who seems to have landed somewhere else in this vast jungle—their Eden—full of grotesque creatures and strange primates…
The Universe Chronicles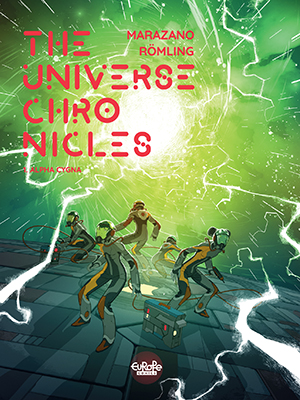 Who hasn't dreamed of traveling through space, on the hunt for knowledge? In the distant future, that's the mission statement of the Academy of Universal Historical Sciences. Onboard the Thucydides, a group of students and their dean are on a mission to explore the edges of Alpha Cygna when their ship is mysteriously absorbed by a galactic phenomenon into the unknown. Shipwrecked, but curious and determined, Oot-Jah, Mark, Qsi, Polly, and Adya explore a mysterious planet in order to understand the phenomenon they fell victim to. As they explore the temple of an ancient civilization, they make a discovery of the highest importance that risks changing their understanding of the entire universe…
18 year old Paul, his mother and his sister land on Altair-4, a recently established human colony. They expect to be reunited with Paul's father there and start a new life, but he doesn't show up to welcome them at the spaceport… Later, they are rescued from a gang of thugs by a Stepanerk, a member of a sentient alien species. An encounter that will prove invaluable to Paul when he decides to go and look for his father…
Heroines who fear neither God nor man, these big-hearted bad girls will take you to every corner of the known universe. Assuming, obviously, that a universe has four corners: there might just be a multitude! You'll follow them through multiple layers of the space-time continuum. Fasten your seatbelts, because adventure for these ladies is a game who's purpose is to live at the speed of light. That said: light-speed is for oldsters!
Cover banner from FRNK  © Brice Cossu, Olivier Bocquet / Dupuis