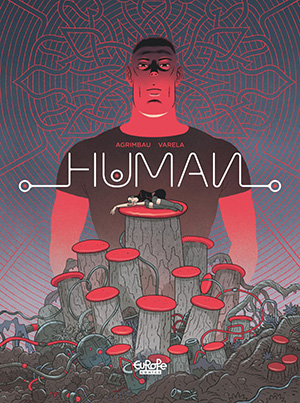 Human
Planet Earth: 500,000 years in the future. Humans have been extinct for millennia. Two scientists, Robert and June, have been orbiting the Earth, waiting for the planet to become habitable once more. With the help of a team of robots, they plan to start over from scratch: a new Adam and Eve who won't make the same mistakes as their ancestors. But first Robert has to find June, who seems to have landed somewhere else in this vast jungle—their Eden—full of grotesque creatures and strange primates…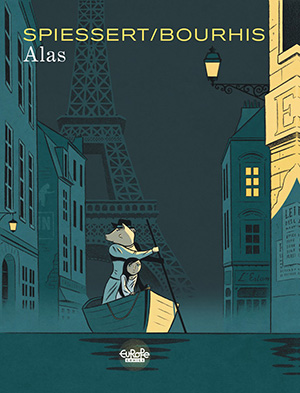 Alas
When a young girl is captured in the forest and brought to the city, only to escape shortly afterwards, all manner of individuals and organizations try to get their hands on her, no matter the cost. In a chilling and clever tour de force, the authors use the backdrop of the 1910 Great Flood of Paris to depict a world where animals rule and humans are viewed as curiosities, scientific guinea pigs, hunting trophies, and the occasional snack. A political satire that forces us to question our treatment of different species, the nature of intelligence, and more.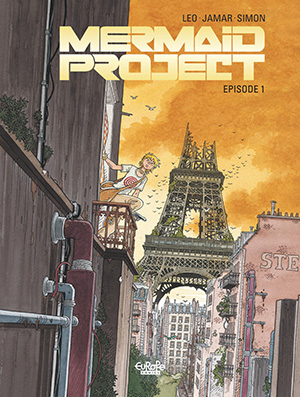 Mermaid Project
Paris, end of the 21st century. Inspector Romane Pennac is the only white woman in her station. The world has suffered devastating wars and ecological disasters, and the old powers of Europe and America are now the third world. Amidst it all, it is to this young woman, now a member of a discriminated-against minority, that a couple of devastated parents turn. A mysterious letter has just announced that the body of their daughter, recently deceased in New York, is missing from her coffin…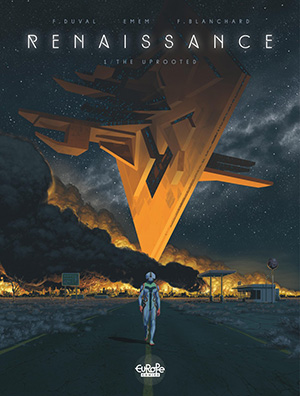 Renaissance
Swänn and Sätie were born on Näkän, a major planet in the Complex, a federation of extraterrestrial civilizations. The young couple hoped to live a peaceful life in an environment where nature and technology coexist in balance. But they are forced to mobilize when the leaders of the Complex decide to launch a vast expedition to save a planet that has exhausted its resources: Earth.
The year is 2068. The place, Fontainebleau forest, ancient home of some of France's mightiest monarchs on the outskirts of what was once Paris. The post-apocalyptic society of Pan survives by growing rice and scavenging among the ruins of a destroyed civilization. Their precarious existence comes under threat when the powerful, technologically advanced Federation of Fortuna forces them into a dangerous choice—submit to Fortuna's rule, or try to best them in a barbaric, ritualized game known as Celestial Mechanics. Pan's only hope? A hot-headed outcast they'd rejected for being "un-Pan": a girl named Aster.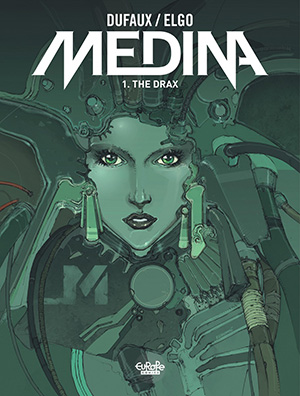 Medina
In a post-apocalyptic future, Medina has become the last bastion of a humanity fighting the nightmarish and infectious creatures known as the Drax. The shield that protects the city won't hold out much longer, and humankind appears to be condemned. The only ray of hope is a "package" ripped from the Drax by the soldier, Karloff. This package is in fact 14-year-old Hadron, said to carry within her the Great Redemption. But will the humans manage to control this young girl's force?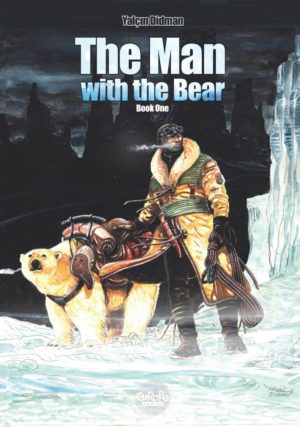 Man with a Bear
In the year 2071, Earth is a frozen wasteland. The world's fertile soil has been completely covered by frost and the most valuable and scarce resource now is natural food. When a group of geological researchers rediscovers a long-lost space shuttle carrying seed pods, there is hope for a new beginning. But the group meets its demise, except for one. The quest to recover the ship's cargo turns into a free-for-all in the coldest and most barren region of the Earth, and in the middle of it all is "The Man with the Bear," a post-apocalyptic mercenary with a polar bear companion.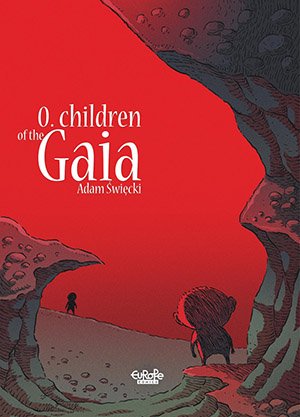 Gaia
Children of the Gaia is a brief introduction to the post-apocalyptic world of the Gaia series. A family of monsters has to fight for food and survival every single day…
Two years have passed since the events of Mermaid Project. The world continues to suffer from the effects of climate change and economic upheaval, and Romane and Brahim have paid the price for their courage and integrity. Ignored, even censored, by their superiors, they're now reduced to taking lousy private-eye jobs to earn a living. Meanwhile, the same cetaceans whose advanced intelligence the UN had dismissed are now attacking fishing trawlers… with rockets! Before long, the authorities are forced to give our two investigators their old jobs back…
In a dystopian not-too-distant future in Japan, Hiro lives with his father on an island populated by androids, where they eke out a meager existence while trying to keep out of sight. But when they run afoul of a troop of high-tech military thugs, Hiro's dad sacrifices himself to save his son, turning Hiro's already-bleak world upside-down. He is then rescued by a samurai robot called a "yojimbot," and together they seek to avenge his father's death and make contact with a mysterious associate known only as the "rights holder," before the soldiers and their drones close in…
Lost in the Future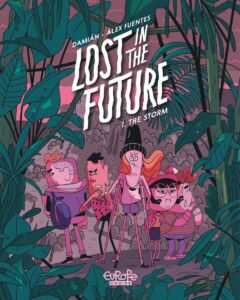 A group of students is on a field trip to an ancient castle when a storm erupts. As they are about to leave, four friends are cornered by the class bully, who tries to pull one of his usual pranks. Instead, they all get the scare of their lives when they fall down a tunnel that takes them into the future: a future where mankind has nearly disappeared from the face of the earth, and where nature has taken control. The friends will have to face up to this hostile new world—as well as their nemesis—if they're to have any chance of making it back home…
"My name's Jules. From the window of my Paris apartment, I'm looking in horror at the piles of bodies in the street below. My parents are on the other side of the world. They're almost certainly dead. My older brother, Pierre, can only drown his sorrow in drugs, but I must look after Alicia, a little girl who somehow escaped the virus and is all alone. But what can I do for her? My only hope is to join the other Warriors of Time masters… This meeting is where I'll find out who Khronos really is…"
You choose which volume to read first. The first four are parallel stories, so it doesn't matter which one you start with. But you must finish with Khronos, where the four threads are finally brought together.
The Transporter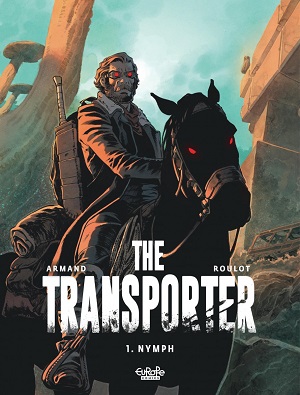 Human life has been devasted by an unstoppable virus … Not a disease, but a chemical reaction that attacks iron, destroying everything that contains them and setting civilization back hundreds of years. It even affects the iron that is present in blood—enough to cause bizarre mutations and affect human fertility. Amid the resulting chaos, one man has set himself an unusual mission: to transport anything anywhere for anyone—for a price. But what he asks in return is no less mystifying than his self-appointed role… as the Transporter.
Header image: Human © Diego Agrimbau and Lucas Varela / Dargaud