Flavia Antunes grew up in a favela. Her father was a casualty of gang warfare; her mother, a cleaning lady, is all she has left. That is, until she meets Mr. Lima, a wealthy old man who introduces her to her future: the piano. Music will take her far from home, all the way to a prestigious Paris conservatory. Being a foreign student is hard: low-paying jobs, prejudiced landlords, competitive peers. But Paris also has its perks, like love, friendship, and undreamt-of opportunities… Can Flavia find a way to balance the demands of the heart and her demanding art?
Violeta Parra was a musician, a poetess, an all-round artist, and the soul of the popular tradition of Chile. The year 2017 marked the 100th anniversary of her birth. Violeta's life was painful and intense, devoted to art and love: for decades, she crossed America and Europe making people all around the world fall in love with the authentic folklore of her homeland. Virginia Tonfoni (writer) and Alessio Spataro (artist) tell her incredible story for the first time here in graphic novel format.
Norman was a talented sax player in his heyday, until he lost his musical gift seemingly overnight and fled to France. Over thirty years later, with the millennium approaching, he finds himself confronting unresolved questions, a former lover, and diehard fans who have taken obsession to a new level…
Eighty-five-year-old Marcel lives alone with his memories of World War II — his short-lived days as a soldier before his capture and imprisonment by the Germans. He's got one thing left to do before he dies: find the bugle he buried by the Maginot Line. When his granddaughter Andrea stops by with her burgeoning rural taxi business, he hops a ride to the site of his regiment's defeat… only to find things have changed. This is Alexandre Clérisse's fierce, tender, and timely rumination on the horrors of war and the lies we tell ourselves.
Jazz Maynard and his friend Teo are back at El Raval where they gather with friends and family. Everything looks like Jazz retired and is finally devoting himself to his passion: the trumpet. He is about to release his fist album and is getting ready to perform it on stage. Caught up by the past, Jazz needs to make a decision on which route to follow, running the risk of paying the high price.
Lomax: Collectors Of Folk Songs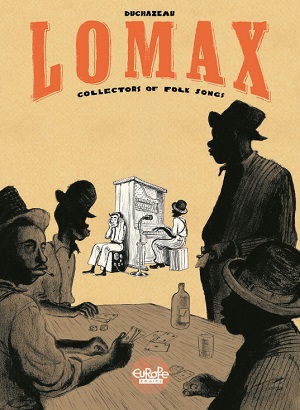 In 1933, folklorist John Lomax and his eighteen-year-old son, Alan, embarked on a tour of the American South with a modest budget and a lofty aim: to preserve America's folk heritage. Together, they visited churches, plantations and penitentiaries under the auspices of the Library of Congress, seeking out and recording the very best folk songs, gospel, and blues. Among their discoveries were the Delta bluesman Son House and the jailed singer Huddie Ledbetter, better known as Lead Belly. On this, their most ambitious musicological expedition, John and Alan Lomax saved for posterity thousands of songs that might otherwise have vanished without a trace. More than that, they amassed an archive of recordings that would shape the blues-driven rock 'n' roll of the 1960s and beyond. As George Harrison once remarked, "No Lead Belly, no Beatles."
"Django: Hand on Fire" tells the story of the youth of Django Reinhardt, a Roma raised outside Paris who would go on to be one of the most influential guitarists of all time. We follow his early years as an aimless and rebellious kid who is heading for a life of trouble until his devoted younger brother Nin-Nin convinces their mother Négros to buy him a banjo. Captivated by its possibilities and spurred by his natural talent, Django becomes obsessed with the instrument and quickly surpasses his older peers, mastering the popular bal-musette and intrigued by the new jazz coming over from the States. Soon he is playing in clubs and winning awards. He is on the verge of international success at the age of 18 when a tragedy strikes that will mark the rest of his life and career: he is badly burned in a caravan fire and spends the next years relearning how to play the guitar with only two fully-functioning fingers. This is an amazing story of perseverance and of fierce family love that is little known even to many jazz aficionados.
Virtuoso Belgian violinist Eugène Ysaÿe is invited out to the Congo by the governor to give a concert. How could he refuse such an invitation? Eugène waves goodbye to the infamous gray Belgian skies and hops on a plane taking him to the dazzling colors of Africa. He is invited to stay a few weeks at his nephew's house, by the stunning Lake Maï Ndombé. And that's where he meets Turntable. Through their mutual appreciation of music, the servant and the celebrity gradually form an unlikely friendship, breaking the boundaries of convention.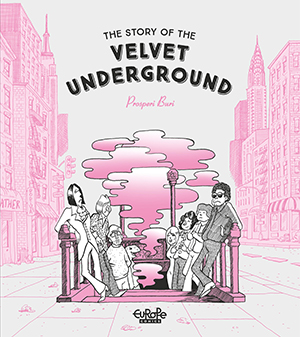 The Story of the Velvet Underground
The Beach Boys and the Beatles are filling up the airwaves, but halfway between California and Liverpool, another band is putting together a sound that will change rock 'n' roll forever. Andy Warhol discovers the Velvet Underground in a little tourist bar in New York, and he soon becomes the producer for this group whose songs aren't so much about girls and hot rods but shooting up, alternative lifestyles, and the melancholy after the party. It's the late sixties, but not quite everything is flower power. The radio wants nothing to do with the Velvets, but the cool kids know who they are, and the enormous influence of this short-lived band has yet to abate.
New York. November 1933. Seven years of Prohibition is about to come to an end—seven years of mafia control of the illegal alcohol trade, of high-level corruption … and of the speakeasy, whose clientele enjoy not only liquor, but the Golden Age of Jazz. A world Irish boxer Jack Doyle is reluctantly drawn back to, to settle old scores. But what he thinks will be a simple fight turns into a web of exploitation and double-dealing … and a tangle with the elusive Miss Lena. To get free he will have to use all his native cunning…
This is the story of a girl growing up in the 1990s – a middle-schooler who finds herself lost in the gulf between childhood and adolescence, developing paralyzing fears of failure, school, other people, and her own changing body. Along the way, she becomes obsessed with the Beatles… which might be just what she needs to find her way back to being okay. Yeah yeah yeah!
The Famous Quartet of Piraeus was formed in 1934 as a café band. It was the first group featuring the bouzouki and the baglama, and consisted of frontman Markos Vamvakaris, Giorgos Batis, Anestos Delias, and Stratos Pagioumtzis. Markos' fiery love for Zingoala, his first wife, is the main and painful source of inspiration for the founder of rebetiko music. Starting as a skinner at a slaughterhouse, Markos becomes a pioneer who paves new paths for traditional Greek music and entertainment, running constantly afoul of the musical mores of the era—as well as the police, his wife, and the dictatorship of Metaxas. And all the while, war is approaching in the background like an inevitable chorus…
Header image: Jazz Club © Alexandre Clérisse / Dargaud