What are the hardships that migrants face on their journeys? Here is a collection of comics and graphic novels which shine a light on their courage and resilience.
Haytham al-Aswad is a young boy like any other, growing up in the Syrian town of Deera: he plays soccer, hangs out with his friends, and is studying for an upcoming test. But when the revolution breaks out and people take to the streets to protest the brutal regime of Bashar al-Assad, Haytham suddenly goes from kicking the ball to dodging bullets. His activist father is forced into exile, and the rest of the family eventually join him in France, where Haytham's new life as a refugee brings its own set of challenges. An engrossing, first-hand account of one of the most devastating political and humanitarian crises in recent history.
At the end of an arduous journey, refugee 214 finally gets his chance to enter the Other World. But to see his wish granted, the boy must first tell the story of how he and his sister were forced to flee their homeland. Frightened and helpless, they crossed forests, deserts, and seas, encountering creatures each more mysterious and frightening than the last: the capitalist ogre, the smuggler-snake, and the ever-present shadows from the great beyond… The boy's story must be told in every detail—but will the truth save him, or condemn him? This is the odyssey of a brother and sister who are forced to fight for their freedom and survival at every turn, all while trying not to forget about where they've come from, and what they've left behind. A subtle and captivating tale about exile and refugees today.
London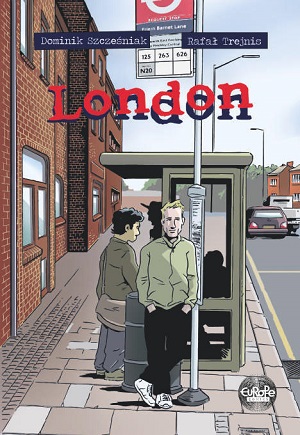 "If you're looking for words of wisdom, you won't find them here, 'cause they're drenched in scotch and beer… But there's something there underneath it all, some ordinary life." Economic emigration has never seemed so hopeless, and yet so promising. An engrossing portrayal of a hard-won life led by so many today, from Polish creators Dominik Szcześniak and Rafał Trejnis.
"Django: Hand on Fire" tells the story of the youth of Django Reinhardt, a Roma raised outside Paris who would go on to be one of the most influential guitarists of all time. We follow his early years as an aimless and rebellious kid who is heading for a life of trouble until his devoted younger brother Nin-Nin convinces their mother Négros to buy him a banjo. Captivated by its possibilities and spurred by his natural talent, Django becomes obsessed with the instrument and quickly surpasses his older peers, mastering the popular bal-musette and intrigued by the new jazz coming over from the States. Soon he is playing in clubs and winning awards. He is on the verge of international success at the age of 18 when a tragedy strikes that will mark the rest of his life and career: he is badly burned in a caravan fire and spends the next years relearning how to play the guitar with only two fully-functioning fingers. This is an amazing story of perseverance and of fierce family love that is little known even to many jazz aficionados.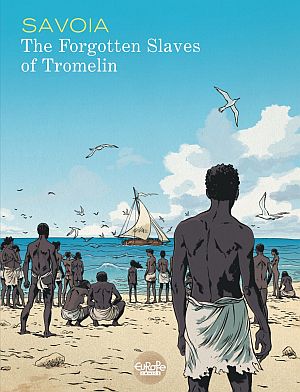 The Forgotten Slaves of Tromelin
This story takes place on a tiny, far-flung island in the middle of the Indian Ocean, whose nearest neighbor is Madagascar, 500 kilometers away… In 1760, the Utile, a ship carrying black slaves from Africa, was shipwrecked here and abandoned by her crew. The surviving slaves had to struggle to stay alive in this desolate land for fifteen years… When this tale got back to France, it became the cornerstone of the battle of Enlightenment to outlaw slavery. More than two hundred years later, the artist Sylvain Savoia accompanied the first archeological mission in search of understanding how these men and women, who had come from the high mountains of Madagascar, had survived alone in the middle of the ocean. This is the story of that mission, through which we're exposed to the extraordinary story of the slaves themselves.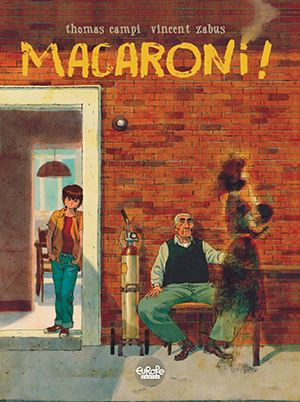 Macaroni!
The touching story of a child getting to know his grandfather, an Italian immigrant living in Belgium. 11-year-old Romeo thinks of his grandfather as nothing but an "old pain-in-the-butt." So when he finds out that he's going to have to spend a few days with him at his crumbling old house, without even a TV to keep him entertained… well, it's his idea of hell. But there are some surprises in store for Romeo during his visit. He changes his mind about a few things, perhaps thanks to his grandfather's neighbor, Lucy, who tells him about her own "nonno," and shows him how a spoil tip can be a thing of beauty. Or perhaps it's thanks to Romeo's dad, who speaks for the first time about his childhood relationship with his father. But it's mostly thanks to Ottavio who, beneath his old, grouchy exterior, conceals the hard life he has led, full of suffering and sacrifice. It is a life the 11-year-old Romeo finds hard to comprehend, but which gives him a deeper understanding of someone from another century. It started off as just a short holiday to a grey Belgian town. But this holiday turns into an opportunity for three generations of men to lift the silence that surrounds them. A touching story about Italian immigration, coal mining, communication between the generations and the difficultly of opening up when you've spent your whole life in silence.
Header image: The Forgotten Slaves of Tromelin © Savoia / Dupuis