A reading list with comics titles covering modern and ancient Japan with a fascination for its unique and beautiful culture.
Yoshi, a troubled teenager, is sent by his grandfather to Seijun, a highly renowned tattoo artist. Against all expectations, the boy masters the art of tattooing, including the complicated Tebori technique. Ten years later, Seijun reveals a great secret to his apprentice: his clients are from the yakuza, the formidable Japanese mafia. Each tattoo they bear has a specific meaning, often to do with the murders they've committed. When Yoshi discover that his friend is tattooed with the same strange design as one of the yakuza bosses, his whole world turns upside down…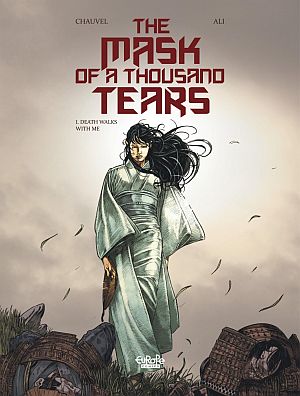 After a horrific battle in a mythical Asian land, a peasant soldier with a mysterious past encounters a young woman who has come to find the body of her dead fiancé. She is determined to travel to Takedo Castle and get her hands on the Mask of a Thousand Tears, a golden mask which will allow her to travel to the underworld and bring her fiancé back to the land of the living. The peasant, Masamura, accompanies Sadakyo on her quest. She discourages him but soon learns that she has no chance of surviving without his help. They are both determined, for different reasons, to see this mission through to the end, no matter what the cost. A story in two volumes.
Saburo is an ambitious young yakuza who provokes a war between rival factions in an attempt to overthrow the Oyabun Kodama, Tokyo's gang boss. But the sly old devil won't give up without a fight! Hoping to have Saburo killed, he orders Shi's release from prison, something the old blind warrior has been waiting thirty years for. Thirty years cut off from the rest of the world, unaware of the betrayal that sealed his fate. Sometimes, all that separates family and business is the width of a blade…
Alan ends his rather unhealthy relationship with Masami who doesn't take it very well. In Aokigahara, Ryoko recovers another suicide victim's body along with his skeptical work partner who does not believe the legends of this forest.
Ludwig has never been a soldier. A childhood injury left him lame in one leg, which has allowed him to largely sit out the war on the sidelines, as a translator. Fleeing his passionless marriage, he accepts an assignment in Japan, allowing him to return to the land of his youth. But the year is 1945. It is not a good time to be Japanese, or German… much less stationed in Hiroshima. Ludwig is tempted by love and, in furtively tampering with his translations of classified documents, by the chance to do something heroic. But none of that will save him…
Asami is a sociology student studying otaku for her thesis. Her relationship with Kotaro is on the rocks: she's busy with her research, and he's an aspiring filmmaker working on a J-horror flick. The real horror is out there on the streets: a serial killer who amputates body parts from his prostitute victims. What's his sick game? As Inspector Arakawa and his young protégé Ryohei wade deeper into depravity, Asami, with the help of cosplayer Maiko, sets out in search of an otaku so elusive he's almost an urban legend in the youth culture capital of Akihabara: the mysterious Buntaro.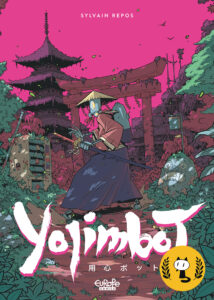 In a dystopian not-too-distant future in Japan, Hiro lives with his father on an island populated by androids, where they eke out a meager existence while trying to keep out of sight. But when they run afoul of a troop of high-tech military thugs, Hiro's dad sacrifices himself to save his son, turning Hiro's already-bleak world upside-down. He is then rescued by a samurai robot called a "yojimbot," and together they seek to avenge his father's death and make contact with a mysterious associate known only as the "rights holder," before the soldiers and their drones close in…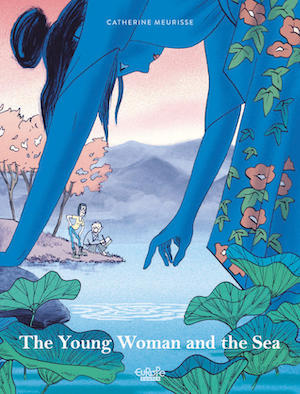 The Young Woman at the Sea
Catherine Meurisse once again draws upon her memories. Her stay in a far-off, strange-yet-familiar land, at the Japanese villa Kujoyama in 2018, provides the artist with another opportunity to pursue her creative quest, this time where the West and Far East meet. In the manner of Lewis Carroll, the young artist lets characters out of legend lead her through pictorial landscapes. Imagination and dialogue are key to penetrating the secrets of this strange territory and discovering why the young explorer finds it so fascinating. This Alice daydreams and wonders, returning every now and then to reality and nature, that dynamic dictator of events and situations. After The Great Outdoors, Catherine Meurisse continues her pursuit of beauty in an unknown land, between mountain and sea, illustrating landscapes that reflect the seasons and the artist's progress. Truly splendid!
Header: Hibakusha © Thilde Barboni & Olivier Cinna / Dupuis