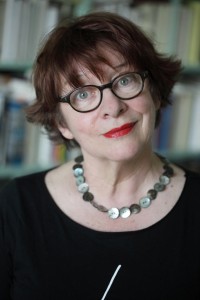 How did you decide to become a comics creator? And if you hadn't done that, what other career do you think you would have chosen?
I've been drawing forever, it's an addiction, a need, a way of life. My mother always told me that I would even draw with my fork in my mashed potatoes when I was little. I studied at the School of Fine Arts in Rouen (Normandy) and afterwards at the School of Decorative Arts in Paris. Comic art was not taught there, in fact, it was frowned upon. In 1972 I opened the first comic book store with two friends of mine. It was named Futuropolis and was later transformed into a publishing house. That's where I learned everything about the art of comics. One day in 1976 I was asked to create a page for Ah!Nana magazine, and that's when I realized how much I love telling stories. Initially I was leaning towards interior design, a nice occupation for a woman at the time when comics were not considered 'a real job'.
What has influenced your work the most? Who would you name as your role model in comics?
What influenced me the most in terms of graphics were my childhood reads: Popeye, Pepito, Gaston Lagaffe and Mickey, of course. As for scripts, having the background of the 1968 feminist movement, I like to expose and discuss issues that affect women, often turning things into ridicule. So the people who influenced me are E C Segar, Franquin, Luciano Bottaro, Jacovitti and Claire Bretécher. 
Have you faced any challenges as a female artist in a male dominated industry?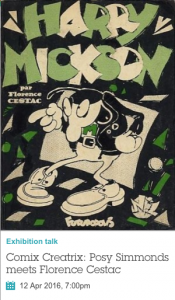 Of course, you have to find your place in this very masculine, but not necessarily misogynist world. It's mostly a question of bad habits and you often need to set things straight. I've heard it all: that my style isn't feminine enough, and that my themes wouldn't interest your average comics reader. The world of comics has changed in the last 10 years: there are more and more female authors and readers. I've also managed to shield myself with a serious sense of humor.
What are your thoughts on digital comics?
I'm not all that interested in digital comics as I'm too old to change my habits. I love the physical contact with paper, ink, eraser, pencil. I like having my fingers covered in paint. If you do everything on a computer, there'll be no more original artwork. That'll mean the end of selling originals, which can bring in a fair bit of profit for an author.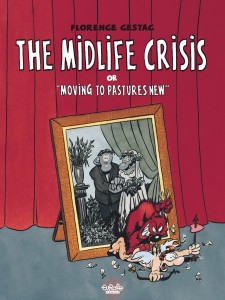 Tell us a bit about The Midlife Crisis. What's the story behind the book? How did you come up with the idea and what was the process of creating it like?
Working on The Midlife Crisis was a therapeutic experience for me. Having gone through it myself allowed me to put it on paper. I made several versions of it before finding the right one. I didn't want it to be a spiteful work, but I found a way to arouse certain emotions, that is laughter and tears. I didn't realize it at the time, but in our society that was a major subject lots of women connected with. I've created a whole new readership for my work amongst women who normally didn't read comics. And they've stayed with me. I received many letters and testimonies that really touched me. The theatrical adaptation by Michèle Bernier was also a great success. It was on stage for four years straight, translated into German, Italian and Spanish. The subject is timeless and universal.
Florence Cestac will be with Europe Comics in London April 12-14. More details here.