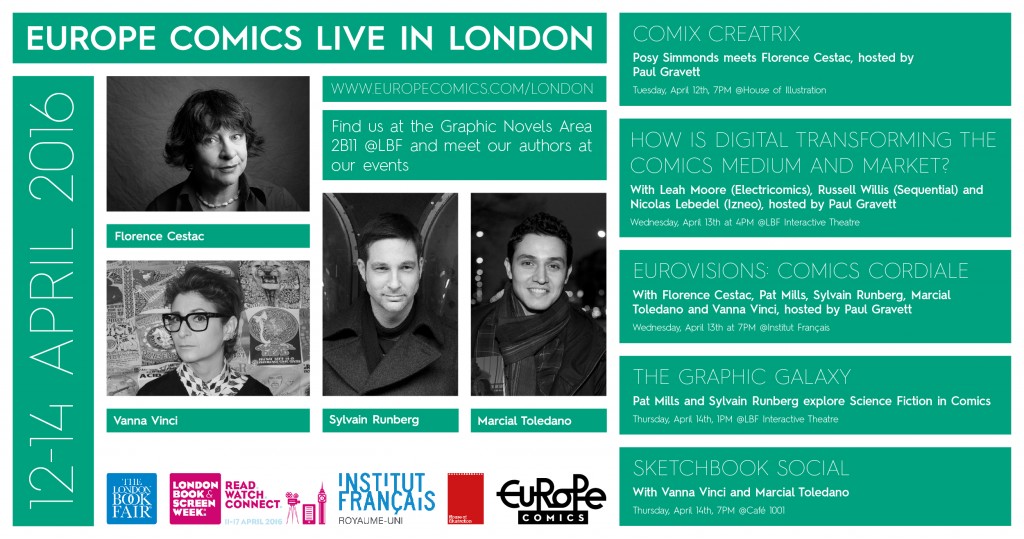 We are extremely happy to announce that this April Europe Comics will be travelling to London with various events scheduled all across the British capital. We will be participating in London Book Fair (Graphic Novel Bar, 2B15) as well as London Book & Screen Week, and we have some very exciting events running in association with Institut Français and House of Illustration. Here's a quick look.
Comix Creatrix: Posy Simmonds meets Florence Cestac
Tuesday, April 12th, 7PM @ House of Illustration
Two leading lights of graphic novels from Britain and France reflect on their contrasting careers in comics from the 70s to today. An award-winning cartoonist and pioneering publisher of bandes dessinées, Florence Cestac is the only woman to win the Angoulême Festival's Grand Prix in over forty years. A past Grand Prix nominee herself, Posy Simmonds is much loved for her Guardian strips, notably Gemma Bovery and Tamara Drewe, both adapted into films. Tickets include entry to Comix Creatrix: 100 Women Making Comics exhibition, and are available here.
EuroVisions: Comics Cordiale panel hosted by Paul Gravett
Wednesday, April 13th at 7PM @ Insitut Français
Panel speakers: Florence Cestac, Pat Mills, Sylvain Runberg, Marcial Toledano and Vanna Vinci
Comics, strips, bandes dessinées, tebeos and fumetti – they are all part of the truly international, transnational medium of graphic narratives. But what makes these European traditions, markets and creative scenes so diverse and distinctive? Five leading contemporary writers and artists from Belgium, Britain, France, Italy and Spain air their differences in a lively discussion about today's comics cultures of Europe.
How is Digital Transforming the Comics Medium and Market? A panel hosted by Paul Gravett.
Wednesday, April 13th at 4PM @ LBF Interactive Theatre
Accelerating technology is radically changing how comics are read, sold and made. What is happening now that the medium is no longer confined by the printed page and is unleashed on the 'infinite canvas' of the Internet? A talk with Leah Moore (Electricomics), Russell Willis (Sequential) and Nicolas Lebedel (Izneo).
The Graphic Galaxy: Pat Mills and Sylvain Runberg explore Science Fiction in Comics
Thursday, April 14th, 1PM @ LBF Interactive Theatre
Years before Star Wars or Blade Runner, comics were visualising much of the iconic imagery of modern science fiction. Two of the genre's most innovative writers – Pat Mills, founder of Britain's weekly 2000 AD, and Sylvain Runberg, Franco-Belgian author of Orbital and Darwin's Diaries – share their ideas and insights about building worlds and imagining futures. Hosted by historian and curator Paul Gravett.
Thursday, April 14th, 7PM @ Café 1001, London Book & Screen Week
A fun, fast-paced interactive evening of drawing and doodling. Hosted by Waterstones Children's Laureate and Observer political cartoonist Chris Riddell, aka The Masked Doodler. Joining him are illustrators Vanna Vinci from Italy, award-winning illustrator and founder of the Pictures Mean Business campaign Sarah McIntyre, Mike Medaglia who draws comics about zen and modern life for The Huffington Post, and Martial Toledano from Spain – as well as a few surprise guests on the night! Tickets available here.
More to come soon, so stay tuned for further info!