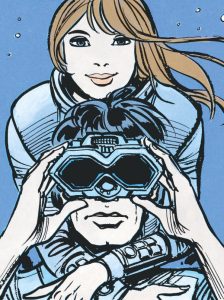 Valerian or Laureline? Laureline or Valerian?
Going simply by order of appearance, the striking heroine of Valerian makes her entrance only ten pages after her partner. Chronologically speaking, however, Laureline comes from the Middle Ages. In other words, she was born more than 1500 years before the dashing hero from the future! For us readers, though, thanks to their space-time exploits, they both seem eternally young and seductive. Here we put the spotlight on the one who surely has the most charm: the unparalleled Laureline.
Laureline: Unpredictable and wise
Next to Valerian, Laureline is called upon to take on the feminine role — being, rather than acting. To that end, series creators Pierre Christin and Jean-Claude Mézières have given her a personality that is particularly endearing to readers. At the same time, Laureline is brave, strong-willed, impulsive, independent, and resilient, qualities that often lead her to treat her superiors with irreverence. In the world of comics, where female characters are often so pale, Laureline represents a notable exception. Hers is a model of non-conformity, the rare example of a heroine with both charm and a sharp mind.
From the very beginning, readers of the series knew that they had in their hands something special. On a visual level, they were quick to respond with enthusiasm upon seeing this buxom heroine. Mézières affirms that the heap of letters that came in following her first appearances in the pages of the magazine Pilote contributed greatly to the continuation of the series. A bit mischievous, Laureline doesn't hesitate in fact to slip on all kinds of alluring outfits when the situation calls for it (and, as the series progresses, the situation seems to call for just that more and more). Nearly every album features its scene of charm and seduction, its moment of grace highlighting the heroine. Long-time readers will surely remember Laureline's striptease in Birds of the Master as she tries on clothes, or her seductive ensemble in Brooklyn Line, Terminus Cosmos, or her shower scene in Hostages of Ultralum. We could go on, but why bother, when we now know that Laureline even accepted to pose nude for Playboy!
Still, this incredible comics star doesn't settle for just being beautiful. Her presence can even be seen as an indictment against the all-too-often sexist attitudes found in comics. In the words of Jean-Pierre Andrevon, one of the first critics of the series, "Laureline is the one who reflects, who finds the most radical and the most just course of action, leaving Valerian entangled in his role of the hero, a prisoner of his origins, his culture, his class, and his duties as an interstellar civil servant."
The secret charms of Laureline
So, for those who consider Laureline to be the real heroine of the series, for those who only read Valerian because of her impish grace, her apparent fragility and the erotic tension that she seems to generate on every page — for all those, in sum, who adore Laureline, we offer here a small collection of some of her most striking appearances.