Scriptwriter Yann (full name Yann Le Pennetier) has established himself as one of today's most prominent writers. He has authored the striking historical fiction series Pin-Up (Dargaud 1994, Europe Comics 2017), alongside artist Philippe Berthet, and later partnered with the legendary André Juillard for Mezek (Le Lombard 2011, Europe Comics 2016), a fast-moving drama about mercenary fighters at the dawn of the Israeli state. Starting in 2011, Yann also contributed his writing talents to the legendary series Thorgal, giving rise to the sub-series Louve and, a few years later, Thorgal – The Early Years (Le Lombard; Europe Comics in English), in tandem with artist Roman Surzhenko. In 2018, Yann teamed up with Juillard again for Double 7 (Dargaud), set during the Spanish Civil War.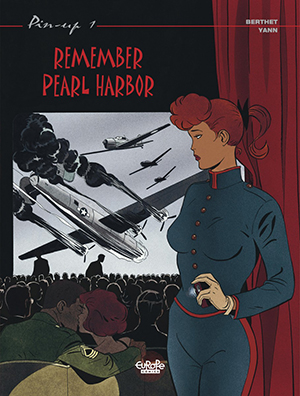 It's 1943 and all-American Joe is heading off to fight the Japanese. His distraught fiancé Dottie Partington is fired from her job as a movie usher, and a friend helps her find employment at the Yoyo Club, a cabaret favored by soon-to-be-deployed US Air Force personnel. In the meantime, Joe is marooned on an atoll in the South Pacific, where he experiences firsthand the terror of war, and encounters a motley crew of fictional and real-life characters. Back in the States, famed cartoonist Milton approaches Dottie and uses her as the model for his new comic strip, "Poison Ivy," which centers on the adventures of a patriotic vamp capable of making soldiers "forget their girlfriends back home." The strip is a runaway success and kindles the fantasies of GIs across the globe, eventually reaching even Joe.
Atom Vercorian is trying to make it as a private detective in post-war Paris, and he just needs that one big case to make a name for himself. His father, a police detective, isn't making any headway in the case of a jewelry theft in the south of France. Atom, however, gets a lead that takes him and his partners, Mimi and Jojo, south to Marseille, where they meet ex-resistance fighters, gangsters, and henchmen. With audacity and enthusiasm, Atom and his cohorts dance their way through the worlds of organized crime, pro wrestling, and the ultra-rich in the pursuit of Miss France 1930's stolen jewels. This could be Atom's big break—if he survives the experience!
The Spanish Civil War attracted involvement from a wide variety of governments, individuals and political factions, with Italians, Germans, and North Africans helping Franco and his supporters, and the Soviet Union, Mexico, and international brigades aiding the Republicans. Dusting off a little‐known and often forgotten chapter of history, the authors take us back to this remarkable and terrible period of war as only they can, with a tale full of scheming intrigues. The world they uncover is one of no‐holds‐barred plotting to obtain victory at whatever the cost. And in the midst of the backstabbings and despair, one young Russian pilot falls in love with a feisty Spanish freedomfighter. In the hope it will outlast the bitter conflict engulfing them all.
The World of Thorgal: The Early Years
It's been a long, cold winter, and the Vikings are suffering major food shortages. Many of the men have left on a long voyage. In their absence, Björn, son of the village chief, Gandalf-the-mad, has been left in charge. Which is not good news for Thorgal, a young skald of mysterious origins, marginalized by the Viking tribe. Lucky for him, he has the beautiful Aaricia to look out for him. When Thorgal's singing attracts three whales into the bay, the villagers hope they might finally be able to feed themselves. But something tells Thorgal that these are no ordinary whales…
1948. The creation of the Hebrew state is proving to be not exactly a peaceful affair, starting with the Egyptian bombs that are regularly falling on Tel-Aviv. All that Israel has to fight the lethal enemy 'Spitfires' are some old 'Mezek', flown by Jewish volunteers from all over the world, but also mercenaries from rather more sinister backgrounds. Bjorn is one of those mercenaries. He's come to risk his life for several million dollars, a fact that galls his brothers-in-arms, who are fighting not for cash but for their ideals!
Former shipping company clerk turned adventurer Theodore Poussin arrives on the oyster farming island of Long Andju in Malaysia looking for a mysterious woman who has gone missing. She disappeared during a bloody coup d'etat in which her father lost control of the land. A contaminated oyster reef has rendered the last pearl harvest worthless, and tensions are rising on the small island, as pirates, sailors, assassins, rajahs, foreign businessmen, diplomats, and amorous youths all scheme to get what they want, be it power, gold, pearls, or the affection of their heart's desire. The mysterious Mr. November is once again along for the ride, in a tale dripping with the mood and humidity of its tropical colonial setting.