Mystic legends and epic conquests from the Nordic lands come to life through the talent of European comics creators!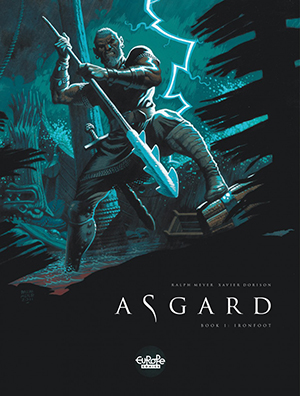 Asgard
A monstrous sea serpent is terrorizing the Fjördland, destroying one fishing boat after another, eating all on board, and keeping the Vikings from going on their pillaging expeditions. All hope seems lost until a stranger with a dark past and a score to settle with the gods shows up and offers to hunt down and slay the Krökken for a thousand silver talents. Soon a ragtag group of would-be monster hunters boards a drak and, against a divine, ominous Nordic background of lakes and mist and mountains, sets sail on a perilous mission not all will survive.
In 17th-century Europe, Jacques, a young orphan from France, stows away aboard a fishing boat heading to the northern waters. Willing to brave the dangers and the rough life of a sailor, he is intent on one goal: to go to Iceland. There he hopes to find answers to the mysterious visions that have plagued him since childhood, his unexplained ability to speak and read Icelandic, and also to the strange phenomena that often occur around him.
In times of yore did a forbidden love arise between Valgar of Valta, son of Halgerr the Golden-Haired, and Astridr, daughter of Thorgerr, and to them a son was born, Gunnar. But Thorgerr was a mighty lord, and with his hundred warriors hunted the couple down, ensorcelling his daughter and banishing her husband. Now, to rescue his true love, Valgar must embark upon a long and perilous quest that will take him into the forest depths to meet the monster called Ogerth the Serpentine, and the far south to fight the beastly devourers alongside Skarperdinn. But Skarperdinn's wife has other plans…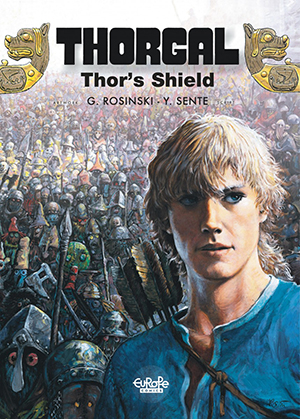 Thorgal
Jolan and his new companions have arrived safely in Manthor's home. However, harmony it isn't, and the instructions from their new master don't help. Their next task can only be accomplished if all five of them work together to open a magical gate, but once they're past that obstacle, there will be only one Chosen One—whoever succeeds in stealing Thor's shield! Are any of them up to the task?
It's been a long, cold winter, and the Vikings are suffering major food shortages. Many of the men have left on a long voyage. In their absence, Björn, son of the village chief, Gandalf-the-mad, has been left in charge. Which is not good news for Thorgal, a young skald of mysterious origins, marginalized by the Viking tribe. Lucky for him, he has the beautiful Aaricia to look out for him. When Thorgal's singing attracts three whales into the bay, the villagers hope they might finally be able to feed themselves. But something tells Thorgal that these are no ordinary whales…
In 8th-century Europe, a clash of cultures and religions inevitably leads to a clash of swords. This harsh, changing world suits Björn the Beautiful, who has a single passion: violence. His bloodlust led to his exile from his native land, and it's his bloodlust that brings him back. For Harald, it's the season of Jul and he's about to marry the gorgeous Lina. The festivities are interrupted by the arrival of Björn and his troops. With his people either slaughtered or enslaved, Harald begins a forced march with the other survivors. He wants revenge, but he must be patient like the serpent: know when to sleep, and know when to strike.
Header image: Asgard © Xavier Dorison / Ralph Meyer / Dargaud