Comics are known for their versatility when it comes to adapting various other media including film, animation and video games. With this month's reading list we invite you to explore graphic adaptation of classic works of prose that made their way to the Europe Comics catalog.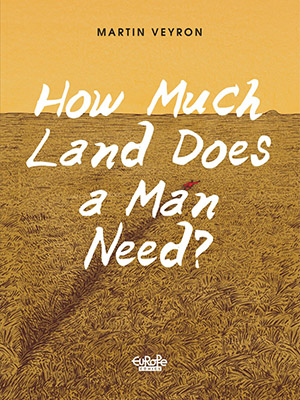 How Much Land Does a Man Need?
A humorous adaptation of Leo Tolstoy's short story about a farmer in a small village who develops a lust for acquiring ever more land and who, against the advice of his much more reasonable wife, will stop at nothing to become the biggest landowner around, traveling to a distant part of the country where the soil is said to be fertile and virgin and abundant and where grass grows chest high.
Parlay is the French king of a dying island tribe and the father of the sublime Armande. He's selling his pearls, a fortune collected from his island's lagoon. The wealthiest traders in the Solomon Islands have been invited to the auction, except for David Grief, the Englishman the natives call the Son of the Sun. Come hell or high water—probably both—Grief will be there. And he isn't coming for the pearls. This is a thrilling adaptation of two Jack London novellas, "A Son of the Sun" and "The Pearls of Parlay."
This is Ivan Gil and Frederic Richaud's wonderful adaptation of Patrick Rambaud's work on Napolean's greatest feats. After the battle of Essling, they take us through the disastrous Russian campaign, the infamous Berezina.
In 1812, in order to keep his stranglehold on Europe, Napoleon had no choice but to declare war on the Russian emperor, Alexander. After three months of marching, his men, starved and exhausted, finally made it to Moscow… only to discover that the city had been deserted. Thus Napoleon and his army took up residence in the Russian capital without even the slightest resistance. But by nightfall, Moscow was on fire. Houses, churches and even the Kremlin were ablaze, and the entire French army risked being reduced to ashes. Caught in the trap, Napoleon was forced to leave the city and get back on the road to face his enemy.
Dodin-Bouffant: Gourmet Extraordinaire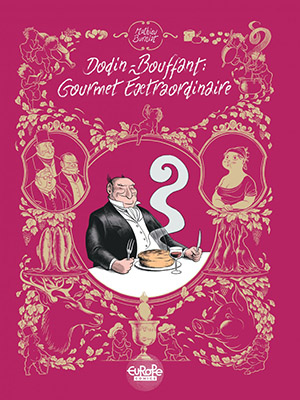 Dodin-Bouffant is a total food enthusiast. He lives for excellence and spends his time surrounded by a small circle of hand-picked gastronomes. When his beloved cook, Eugénie, dies, it turns Bouffant's world upside down. After a long, hard search he finally finds what he is looking for in Adèle. Not without some complications, Adèle and Dodin-Bouffant form a strong bond and share many a delicious meal. This novel by Marcel Rouff (1887-1936) is a tribute to the famous French gastronome Brillat-Savarin, on whom the character Dodin-Bouffant is loosely based.
"Of all the great battles of the Napoleonic Wars, the Battle of Essling is not the most famous. It was, however, one of the most bloody. Forty thousand died on the banks of the Danube over the course of two days in May 1809. Balzac decided to turn it into a novel for Scenes of Military Life" (The Human Comedy, Vol. 8). In 1833, he described his plan thus to Madame Hanska: "Not a woman in sight, cannons, horses, two armies, uniforms; on the first page, the cannon roars, and on the last, falls silent."Balzac, busy with a thousand other projects, never had time to execute his plan.  But Patrick Rambaud has realized it with scrupulous attention to detail. The Battle does not tell a story; it unfolds like a mural that surveys all the troops' strategic movements, notes the details of the terrain that made such a difference to the battle's outcome, and sketches the portraits of the great figure of the Napoleonic era, Lannes, Bessières, Masséna. But this comprehensive view doesn't come at the expense of detail.  Not a single cartridge belt, not a single garter button is missing from this immense army. The combination of precise detail and epic sweep that brings these pages to life makes this novel a unique achievement. It won the Prix Goncourt in 1997." – Gérard Meudal
Ludwig has never been a soldier. A childhood injury left him lame in one leg, which has allowed him to largely sit out the war on the sidelines, as a translator. Fleeing his passionless marriage, he accepts an assignment in Japan, allowing him to return to the land of his youth. But the year is 1945. It is not a good time to be Japanese, or German… much less stationed in Hiroshima. Ludwig is tempted by love and, in furtively tampering with his translations of classified documents, by the chance to do something heroic. But none of that will save him…
The life of Jeremy Corbin, an unhappy, alcoholic Wall Street trader, takes a drastic turn when he learns shocking news about his long-lost father. He soon finds himself headed to Switzerland to pick up a mysterious safe deposit box whose contents hold the key to a terrible secret: horrific experiments carried out by the Nazis during WWII in their quest to create the Superman. With modern-day Nazis on his tail, a pretty, wise-cracking CIA agent assigned to protect him, and a deadly spy from Israeli intelligence blasting onto the scene at the most critical moments, his early-morning cocktail is suddenly the last thing on Jeremy's mind.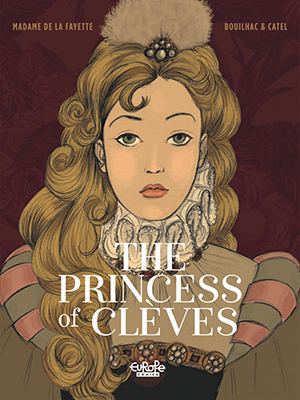 The Princess of Clèves
Entering life at the French royal court, a world in which "what is shown is rarely the truth," the young Princess of Clèves learns of passion's torments, of heartbreak, and of the agony of love. Claire Bouilhac and Catel Muller's graphic-novel adaption of this classic tale—often referred to as the forerunner of the modern psychological novel—remains faithful to the original 17th-century text, while also providing surprising and original insight into both the mystery of the creative act, and the link between the author, Madame de La Fayette, and her heroine, the Princess of Clèves.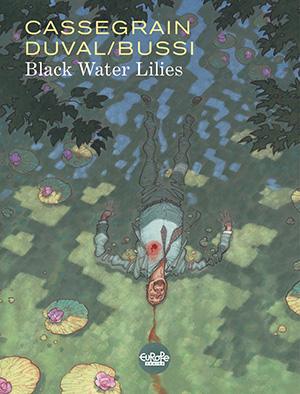 Black Water Lilies
Three willful women: one old wicked, one young and selfish, and the third in the prime of her life. A man murdered three ways: stabbed, bludgeoned, and drowned in a stream. The mystery brings brash young Inspector Laurenç to the postcard-perfect Norman village of Giverny, home to Impressionist Claude Monet's gardens and studio. Like any small town, Giverny has its secrets. But have they to do with greed? Lust? Missing paintings? Jealous husbands? Laurenç soon finds himself head over heels for a pretty schoolteacher—and in over his head. Dider Cassegrain brings Michel Bussi's bestselling novel to life in lush, delicate watercolors worthy of the famous canvases that lend the book its name: Monet's immortal Water Lilies…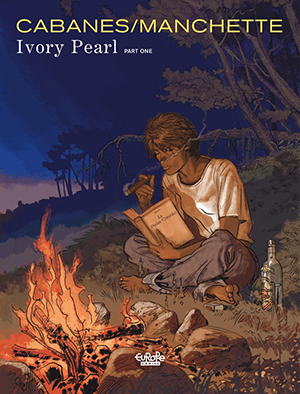 Ivory Pearl
Ivory Pearl is the final work by the French master of noir fiction, Jean-Patrick Manchette. But this wide-reaching geopolitical thriller, blending action and adventure, was only known to readers in its unfinished form, as written by Manchette before his passing in 1995. Now, using his father's notes, Doug Headline has finally put together the full tale, alongside artist Max Cabanes. Together, they have brought Ivory Pearl to vivid life in a graphic novel not to be missed.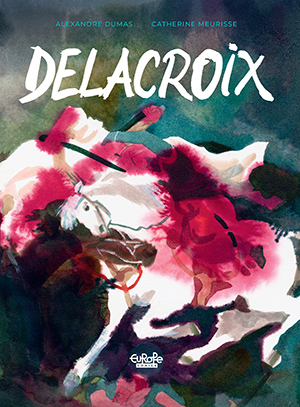 Delacroix
In 1864, a year after the death of Eugène Delacroix, Alexandre Dumas recounted the memories that marked his friendship with the great painter. From one anecdote to the next, Dumas' text reveals the personality of both painter and writer. All the while, a colorful portrait of the period takes shape; a period in which works of art are subject to fiery debates, intense admiration, and irrevocable rejection. With humor and passion, Catherine Meurisse invites herself into this very personal adaptation of Dumas' tribute to his friend.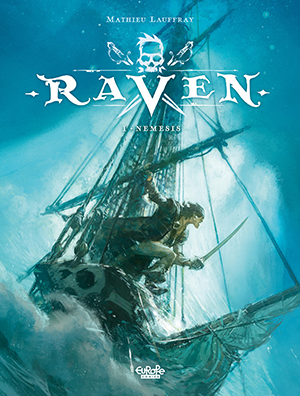 Raven
Raven is a fearless young pirate as capable of legendary exploits as he is of epic fails. In this inaugural volume, he finds himself on the high Caribbean seas on a search for a treasure meant for the Governor of Tortuga. Allied with the dreadful Lady Darksee, whose hope is to gain royal pardon, the terrible Governor must act quickly. But the impetuous and talented Raven has grand plans to beat them to it…
Jean is a medical student who's about to start her final residency rotation in gynecology. But she'd much rather practice surgery than listen to simpering women moan about their problems all day. Plus, this department is headed by the notorious Dr. Karma, renowned throughout the hospital for his stubborn mindset and unorthodox practices. However, in her first week, Jean begins to realize that Dr. Karma's reputation isn't fully accurate, and, perhaps, the complexities of women's stories are worth listening to and respecting. A modern classic of a revolution in women's medical care, adapted from the bestselling novel by Martin Winckler.
Susie has two older sisters: the vivacious Effie, and the elegant Sandra. Life is hard when you're the baby of the family! No one ever lets you do anything. No one ever pays any attention to you. Everyone makes fun of you. Bestselling children's author Susie Morgenstern takes readers back to 1950s Newark and all the everyday charms and heartbreaks of the year she turned ten: spelling bees, synagogue, Christmas lights, Halloween candy, nights out at the movies, sneaking fast food. In his joyous art, Johann G. Louis lovingly evokes the era and a young girl awakening to life.
Samuel is feeling blue, and for good reason! He's single, lives in a tiny Paris apartment, and is languishing in a job he hates. Alone on his birthday, he decides to amuse himself by calling the only phone number he knows by heart: the one for his childhood home. To his surprise, someone picks up… His past self! All 10-year-old Sam wants to do is play soccer, travel the world, and write books to impress girls. How will Samuel ever be able to tell him the truth without crushing his dreams? It's time he got his life back on track.
When Mary's parents die, she moves to England, where she is sent to a strange mansion in the middle of the Yorkshire moors, belonging to her uncle. It is here that she discovers the comfort of friendship… and a wonderful secret that she soon shares with her new companions: a garden forgotten by everyone, whose key, as if by magic, also opens the doors to broken hearts. This is a two-part graphic adaptation of Frances Hodgson Burnett's 1912 classic of children's literature.
"My name's Jules. From the window of my Paris apartment, I'm looking in horror at the piles of bodies in the street below. My parents are on the other side of the world. They're almost certainly dead. My older brother, Pierre, can only drown his sorrow in drugs, but I must look after Alicia, a little girl who somehow escaped the virus and is all alone. But what can I do for her? My only hope is to join the other Warriors of Time masters…This meeting is where I'll find out who Khronos really is…"
You choose which volume to read first. The first four are parallel stories, so it doesn't matter which one you start with. But you must finish with Khronos, where the four threads are finally brought together.
A man is invited to the Academy of Sciences to give a report on his incredible metamorphosis: in five years, he transformed from an ape into a man. He describes to the members of the Academy how, following his capture, he was forced to kneel, to demonstrate resilience, to observe, to adapt, and ultimately to renounce his animalistic state in order to survive and enter the world of men. But has he truly become human?
An adaptation of Ibsen's play: Dr. Stockmann discovers that his town's thermal springs are contaminated with bacteria, so he decides to warn everyone. But to fix the problem, expensive work would be necessary. The town's mayor, who is none other than the doctor's own brother, tries to silence Stockmann.
Header image: How Much Land Does a Man Need?  © Martin Veyron / Dargaud